Senjokaku Pavilion
千畳閣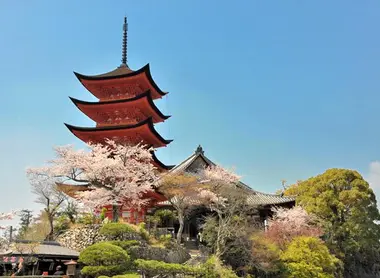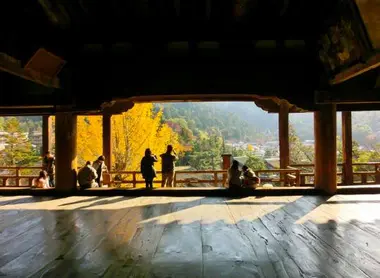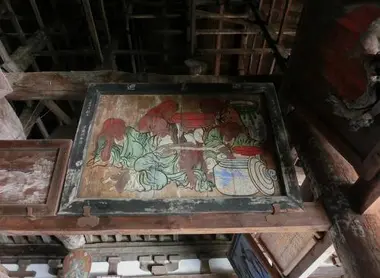 Les mille et un tatamis
Sur les premières hauteurs de Miyajima, les courants d'air marin traversent un immense hall tout de bois. Le Pavillon aux mille tatamis (Senjôkaku) s'élève au dessus du sanctuaire d'Itsukushima, cœur de la vie religieuse et touristique de l'île.
Its bare appearance may not intrigue you at first. Only unfinished walls and a hundred pillars. Although the building is pretty, there is something missing. But once inside, look up: the gigantic ceiling is covered with a mosaic of paintings whose subjects are as varied as the styles and periods of implementation. Medieval battles, Buddhist representations, landscapes and animals in a modern style, the eye does not know where to turn.
This pavilion was built on the initiative of one of the most famous figures in Japanese history: the shogun Toyotomi Hideyoshi (1536-1598). In 1587, he ordered the construction of a huge hall where the monks would copy sutras in a perfectly secluded spot in the midst of nature. But death prevented the war general from completing the building, whose columns were left bare, despite the vermilion color that had been allocated to them.
In addition to its exceptional ceiling, the corridor looks out on the island's bay and famous floating torii. Within walking distance is a five-story pagoda attached to the pavilion, adding height to the already long Senjokaku. Feel free to stop here for a breath of fresh air before starting the ascent of Mount Misen.
---
Address, timetable & access
All the themes of the city