Nagoya Aquarium
名古屋港水族館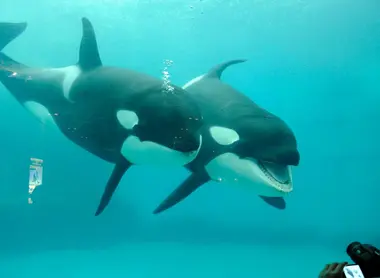 Orcas of the Rising Sun
A city avoided by most tourists, Nagoya has many sites that are worth a visit, including its port, with shops, restaurants, and an impressive aquarium.
Nagoya Port is one of the great successes of this large industrial city in Japan. Formerly an industrial wasteland, the port area has now become a pleasant place for families, with shops and restaurants for visitors to enjoy. The focus of this renovation is without doubt the aquarium.
Educational and fun
Like many Japanese aquariums it's also a place for children to learn, teaching visitors about the creatures of the Japanese seabed as well as the rest of the Pacific. It's a place meant to be fun as well as educational.
Orca show
But the crowd-pleasers are undoubtedly the orcas in the dolphinarium. Only two Japanese aquariums have ever managed to keep orcas successfully in captivity, and Nagoya is home to no less than three of them: Stella, daughter Linn, and granddaughter Earth. Along with the dolphins they are the stars of the shows that take place on the terrace of the aquarium.
Nagoya Aquarium is transformed once a day into a marine theme park, with large grandstands welcoming many families every day. Along with its Science Museum, Planetarium, and Marine Museum, Nagoya is a great tourist destination, particularly suited to those traveling with young children.
---
Address, timetable & access
All the themes of the city