Beaches Around Nagoya
Nagoya Area Guides: Beaches Near Nagoya 名古屋のビーチ
Nagoya has a number of beaches nearby to escape the city's extreme summer temperatures. Aichi Prefecture, of which Nagoya is the capital and largest city has a long coastline stretching from Toyohashi on the border with Shizuoka to the mouth of the Kiso River just before Kuwana in Mie Prefecture.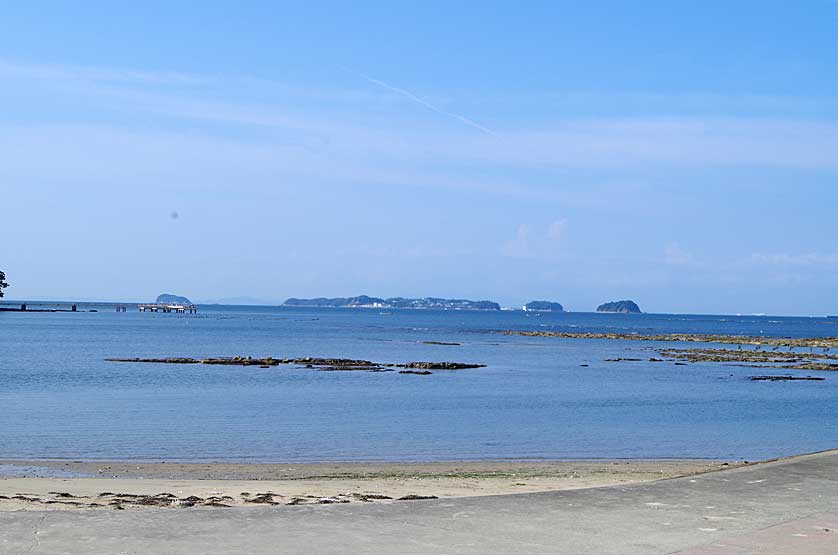 Deserted Beach, Sakushima, Aichi
The Chita Peninsula runs south from Nagoya jutting out into Ise Bay. Together with the Atsumi Peninsula that protrudes south west from Toyohashi, these two narrow peninsulas enclose the three bays of Atsumi Bay, Chita Bay and Mikawa Bay. Here the water is generally calm and protected from the open waters of the Pacific Ocean making for ideal conditions for fishing and a variety of water sports including swimming and wind surfing.
The presence of a number of small islands in these waters further adds to the possibilities of enjoying a maritime getaway and some excellent seafood in the Chubu area of central Japan.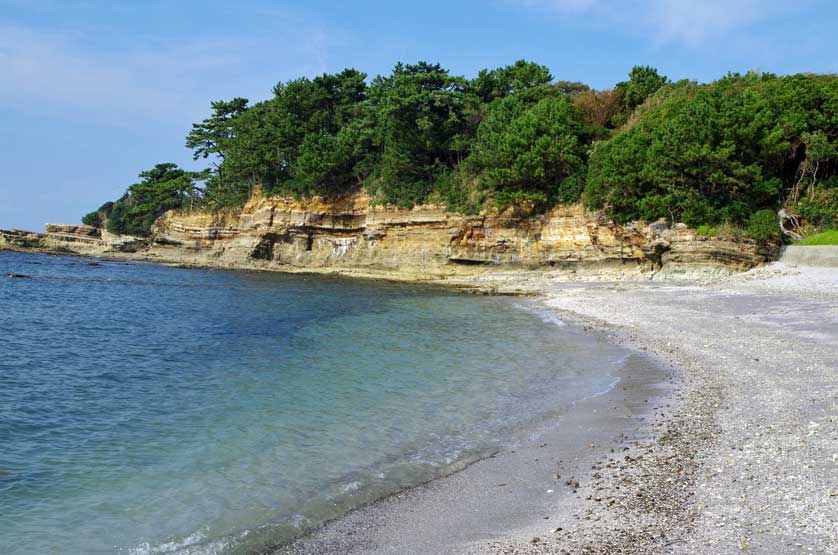 Deserted Beach, Sakushima, Aichi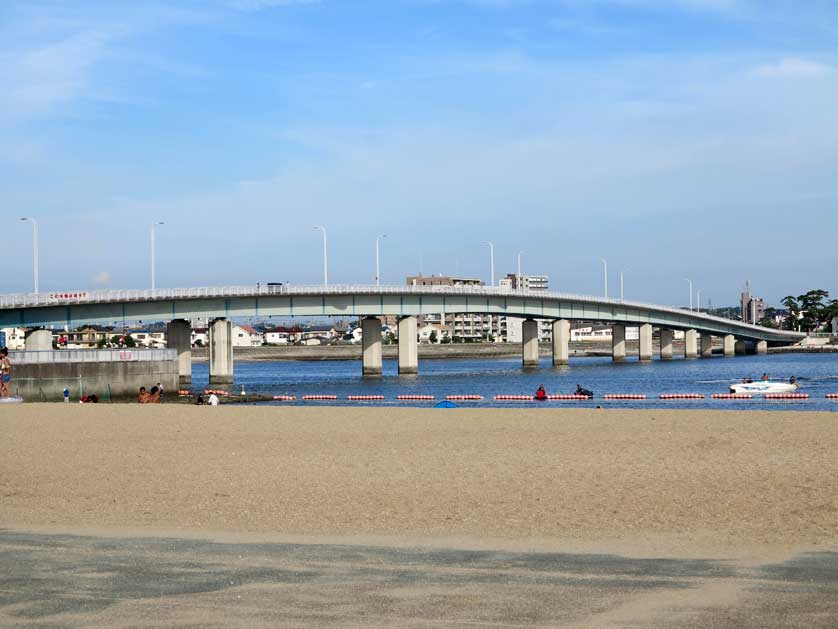 Blue Sun Beach, Shinmaiko, Nagoya
Blue Sun Beach
Blue Sun Beach in Shinmaiko on the east side of the Chita Peninsula is the nearest place to swim in the sea from Nagoya. Blue Sun Beach is part of the Shinmaiko Marine Park (新舞子マリンパーク) created in 1999 from landfill. The 400m-long strand of beach was made with fine, white sand brought from Nagasaki Prefecture in Kyushu. There are picnic areas, showers, changing rooms, regularly staged events, beach volley ball nets, picnic sections and a pleasant grassy area right behind the beach.
Tokoname Rinku Beach Park
Tokoname Rinku Beach Park (常滑りんくうビーチ) is located in Tokoname at the south western tip of Chita Peninsula before the bridge to Chubu International Airport (Centrair). Rinku Beach is the largest artificial beach in the Tokai area and is aimed firmly at the younger, party crowd. Throughout the summer season, from mid-July to the end of August, Rinku Beach stages regular events including live concerts and a weekend musical festival with domestic and foreign DJs (R&B, house, techno, hip hop, reggae). Facilities include barbecue areas, food trucks and water sports equipment hire (stand-up paddle boats etc). The area is known for its lovely sunsets and is close to a large Aeon mall and Costco.
Chidorigahama Beach, Utsumi
Further south of Blue Sun Beach on the western shore of Chita Peninsula is Chidorigahama Beach in Utsumi, which draws large crowds of mainly young people in August and wind-surfers and anglers throughout the year.
The 1.6m-long strand of beach has fine, white sand which stretches out in the shape of a gentle bow. Utsumi can be reached by Meitetsu train or car from Nagoya without having to take a boat. There is an outdoor stage, beach volleyball courts, a BBQ area and a separate landing area for jet skis.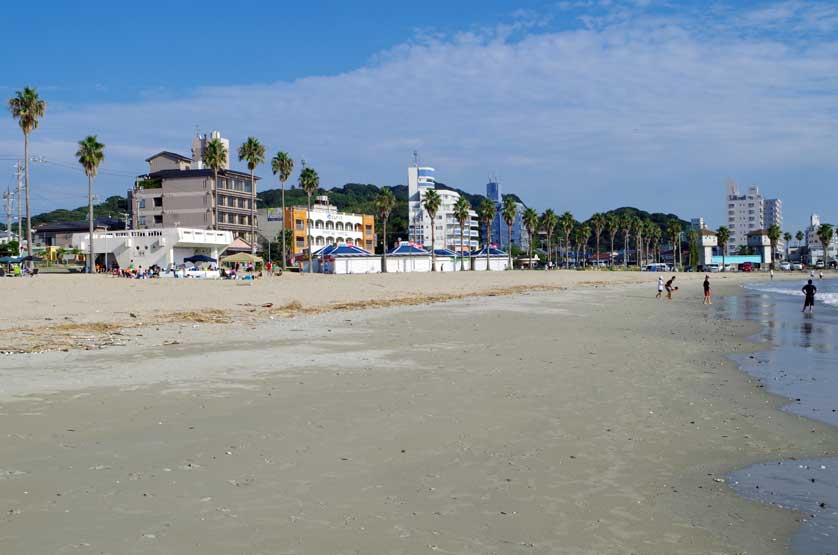 Chidorigahama Beach, Utsumi, Minami Chita, Nagoya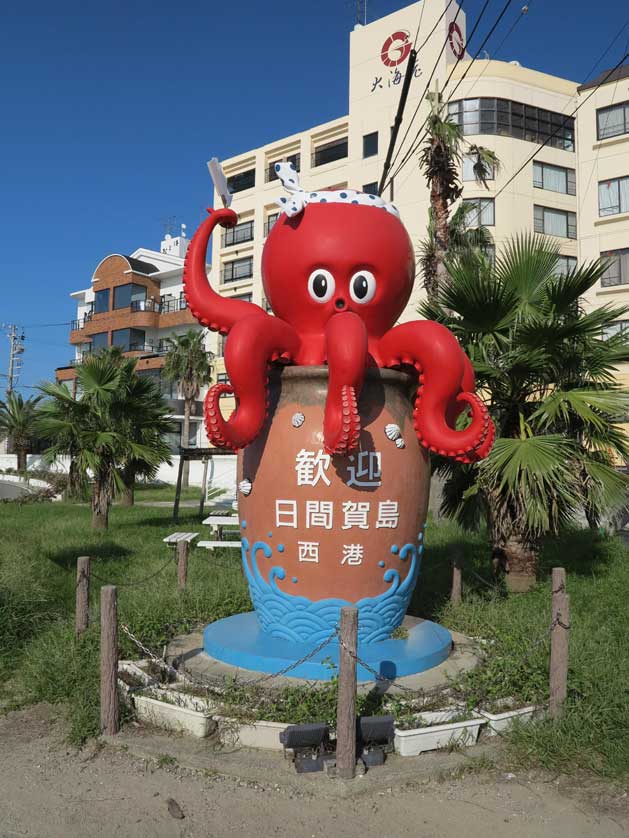 Sunset Beach, Himakajima, Nagoya
Himakajima
Himakajima, along with Shinojima, are two islands that are accessible by boat from the eastern side of the Chita Peninsula, from either Kowa or Morozaki.
Himakajima attracts young people who come for the remote feel and excellent seafood, especially the island's specialities of octopus and fugu (blowfish). A number of new ryokan have been built in recent years to cater for the growing number of visitors.
There are also boat tours to see wild dolphins and the possibility to play and touch dolphins from May until the end of September in the sea at Sunset Beach near the West Port. It is also possible to experience a hands-on fishing trip with professionals and learn how to cast nets and catch octopus as well as snorkeling and sea-kayaking for kids.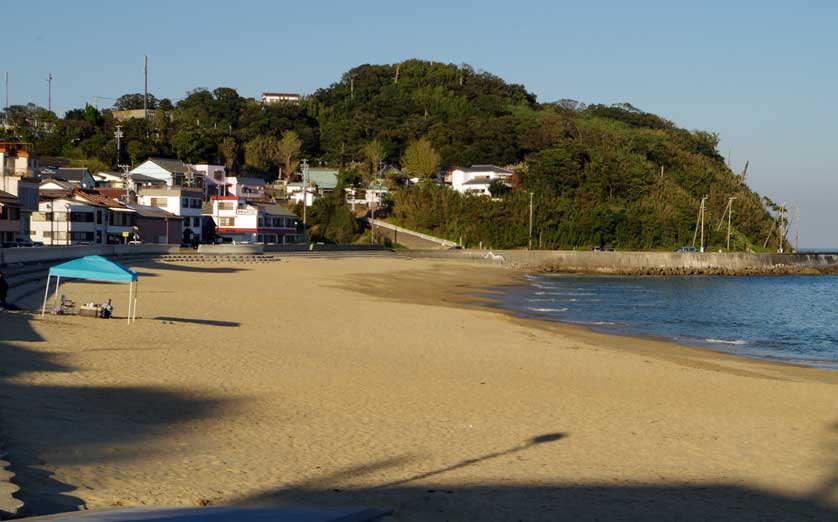 Shinojima, Aichi Prefecture
Shinojima
Shinojima has a more remote, less-visited feel than Himakajima due to its more hilly interior, though its main beach, lined with some grand ryokan and minshuku, is every beautiful indeed. The seafood cuisine on the island has an excellent reputation and appeals to couples with children and older folks, who come to relax and dine in style.
At certain times of the year it is possible to follow a walking course around the island and there are also a number of temples and shrines in the jumble of wooden buildings and narrow streets in the town above the beach.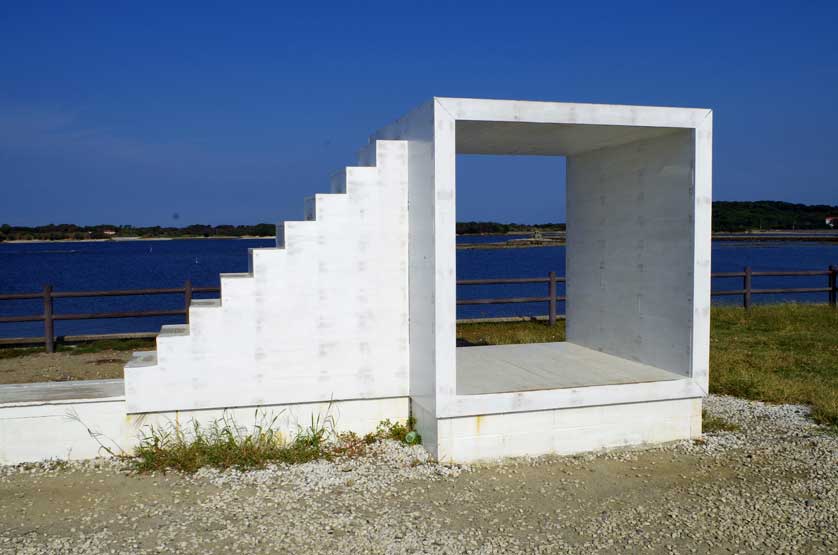 East House, Sakushima, Aichi
Sakushima
Sakushima Island has become increasingly popular after a series of modern art installations and sculptures were commissioned and located around the island, part of a project called ArtPlan21 to regenerate the island beginning in 2001. This recalls the art works on Naoshima in the Inland Sea, though the pieces on Sakushima are by less well-known artists.
Most visitors rent bicycles at either West Port or East Port and cycle around to visit the art installations on a stamp rally: The most impressive are Hirune House (Nap House), Kamome no chushajo (Seagull Carpark), East House and Apollo.
Sakushima attracts a mostly young crowd and is popular with university students. Although most visitors are day-trippers there are a number of ryokan to stay and enjoy the excellent seafood, especially the island's specialities of octopus and fugu (blowfish).
There are a number of great places to swim on the island, though getting here for a day trip is an effort and it is best to say overnight to really enjoy what the island has to offer.
Boats arrive from Isshiki Port near Nishio at both West Port and East Port on Sakushima. These are the two main settlements on the island.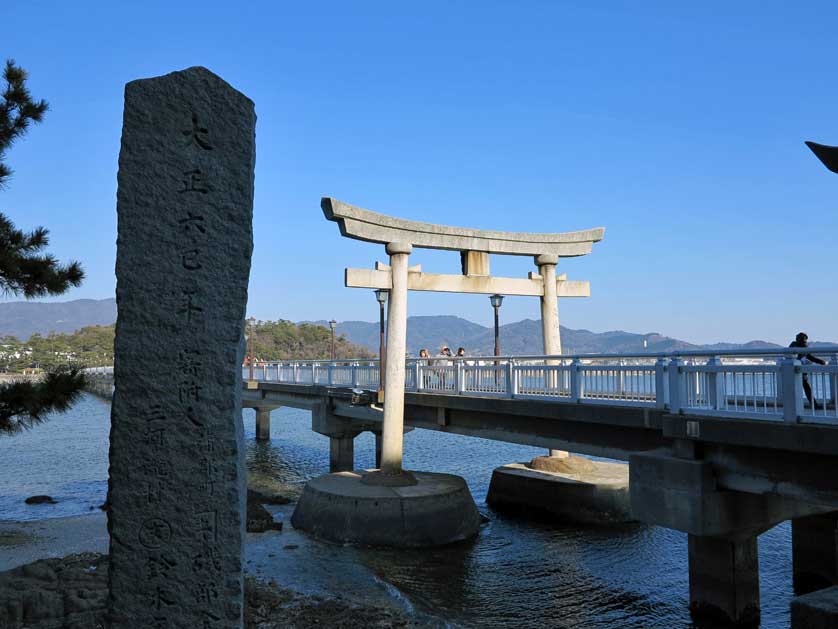 Torii gate at the entrance to Takeshima Island and Yaotomi Shrine, Gamagori.
Gamagori
Gamagori, situated in the east of Aichi Prefecture towards Hamamatsu and Shizuoka, combines some nice beaches with hot springs and the Laguna Ten Bosch marine resort, which attracts young families with its Ferris Wheel and fun fair, shopping mall (Festival Market) and a luxury hotel and spa - Hotel Laguna Hill.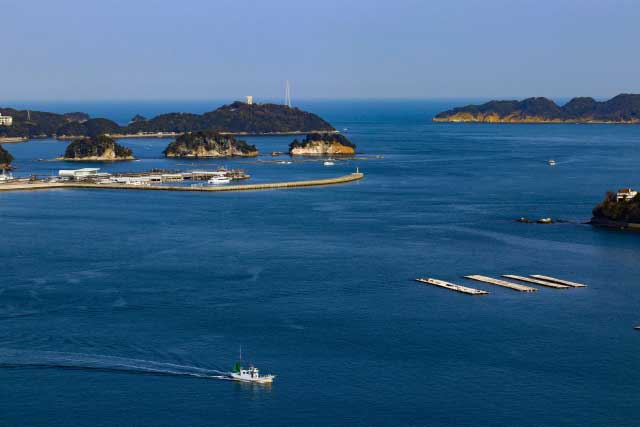 Toba
Heading south and west into Mie Prefecture and the Kii Peninsula from Nagoya Station opens up another area of beautiful coastline. Toba is probably the nearest resort here that can be visited on a day trip from Nagoya. Most well-known for the Mikimoto pearl industry based here, Toba has a number of museums and attractions to enjoy as well as its spectacular coastline and noted seafood cuisine.
Further down the coast are the seaside towns of Shima, Mihama, Shingu and Taiji, the latter now more famous for its dolphin drives and the movie The Cove, than its lovely clear seas that attract the dolphins in the first place.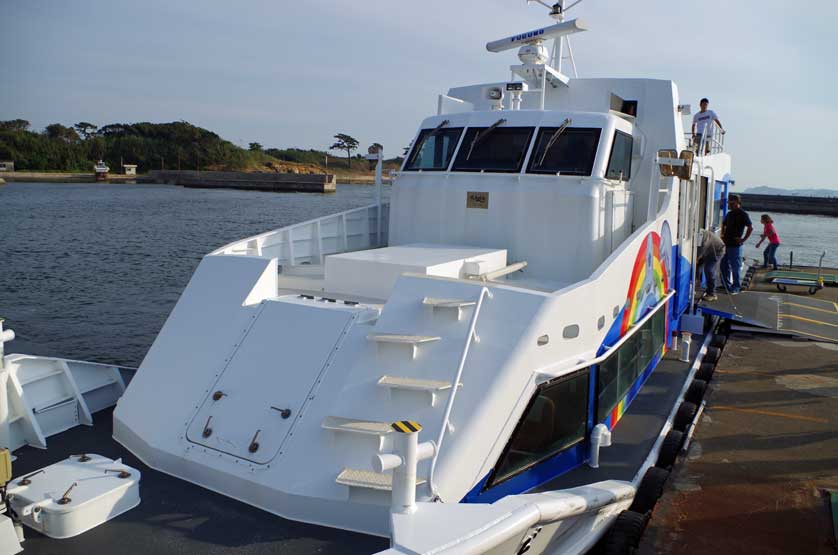 Express ferry at West Port, Sakushima, Aichi
Tsu
Tsu is much nearer to Nagoya than Toba by train and though by no means a resort does have some places for swimming in the sea in summer. Tsu's beaches, notably Niezaki and Akogigaura, draw avid wind-surfers throughout the year and swimmers and sun-bathers in summer.
View a map of Nagoya & Central Japan
Related Nagoya Resources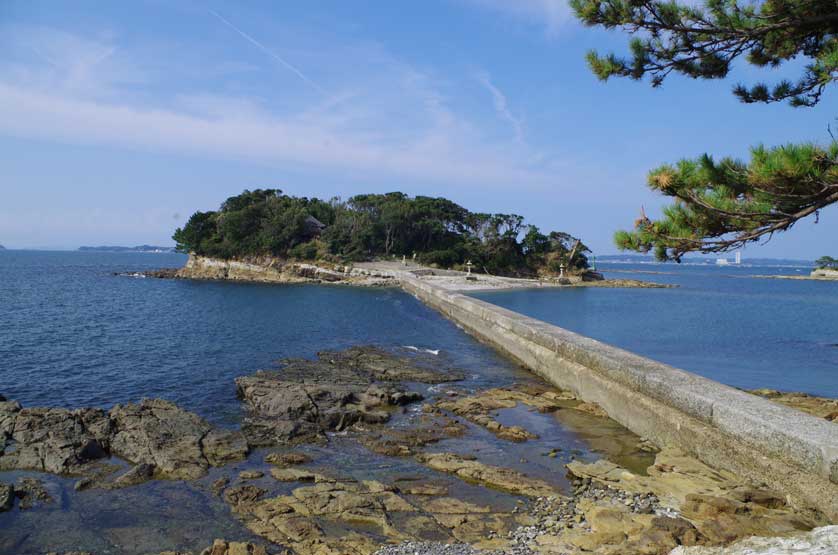 Bentenjima, Sakushima, Aichi Prefecture
Book Hotel Accommodation in Nagoya
Read a guide to beaches near Nagoya to enjoy swimming and marine sports at Utsumi, Gamagori, Sakushima and Himakajima.
All the themes of the city