Osu Kannon Temple
大須観音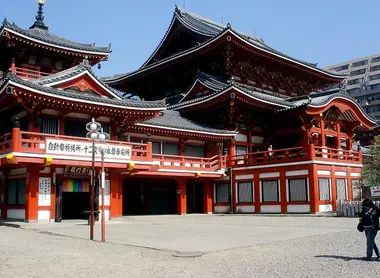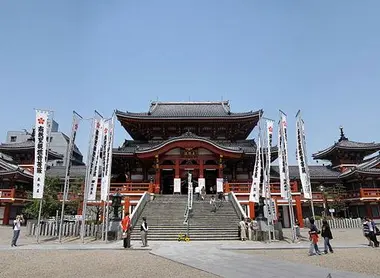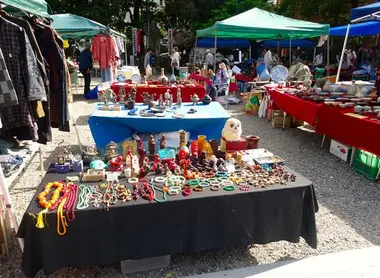 The Temple of Treasures
The Osu Kannon temple of the Shingon Buddhist sect, houses fabulous treasures despite a turbulent history!
Built around 1333 in the former village of Otsu-go in Gifu Prefecture now, the Osu Kannon Temple was repeatedly damaged by flooding. That is why the Shogun Tokugawa Ieyasu, the founder of Nagoya Castle, moved it to Nagoya in 1612.
Once safe from floods, next came the flames. In the 1820s, many of the buildings of the temple was destroyed by fire and the whole structure was reduced to ashes during World War II. The present temple dates from 1970.
Preserved treasures
Fortunately, the deity of the temple, the bodhisattva Avalokiteshvara, Kannon in Japanese (often called the 'Goddess of Mercy' in the West), wooden statue carved in the eighth century by the famous monk Kōbō- Daishi, escaped disaster and looks over the temple and its worshipers.
Osu Kannon is one the thirty-three Kannon of Owari, a group of Buddhist temples located in Aichi Prefecture (former Owari Province) dedicated to Kannon, one of the most revered in Japan's Buddhist deities.
Besides the precious statue of Kannon, the temple houses works of inestimable value.
A library built under the main building contains about 15,000 classic literatures, both Japanese and Chinese. You will also find the oldest manuscript of the Kojiki ("Chronicle of old things"), the first book on Japanese mythology.
A different time
Every 18th and 28th of the month, the grounds of the temple host a flea market. With about sixty stalls selling everything, it is a real Aladdin's cave.
Let those who can not visit the temple that day comfort themselves, right next to this sacred place is the Osu Shopping Arcade, a little dated, but home to over 400 restaurants and shops. Fans of Japanese pop culture will find cosplay, manga and anime shops, new J-pop and Japanese idols' goodies.
---
Address, timetable & access
All the themes of the city