Himeji Yukata Matsuri
姫路ゆかたまつり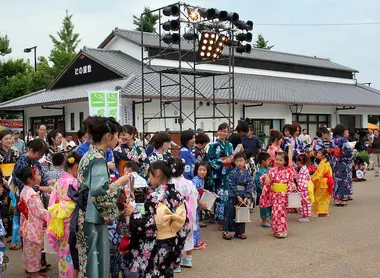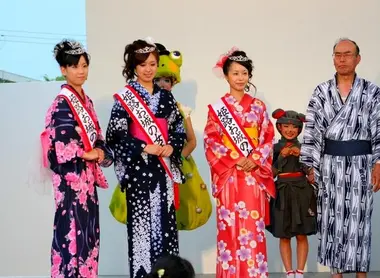 Casual Festival
They say it is the largest festival of its kind in Japan. Three days during which the colorful yukata replace jeans and gray suits. From June 22nd to 24th in Himeji, the Himeji Yukata Matsuri.
40 minutes from Kobe by train lies the city of Himeji. It is famous for its castle, part of the Unesco World Heritage List, and it is also known for its yukata festival. A tradition over 260 years old.
Three days of color
During the Himeji Yukata Matsuri, festival-goers can wear a yukata, a kind of simplified kimono. With 70% of visitors who play along, it is a rare opportunity to see so many Japanese in this dress. Shows are organized to see the latest trends. It is a true rainbow that brightens up the streets of Himeji. Yukatas in blue, red, black, green ... For 3500円, it is possible to rent a yukata from Jokamachi Style, near the castle.
Evening Festival
The festival takes place between 4:30 p.m. and 9:30 p.m. Around the city center, railway station and castle, there are more than 700 food stands to sample all kinds of culinary specialties. In addition to the shows and entertainment, visitors wearing a yukata receive discounts during the day. The zoo, museum and castle (re-opened 2015) are thus free. The bus service, meanwhile, offers a 50% discount.
A story of time 
The festival is held around Osakabe Temple. Originally, this place of worship, located on a hill in the city, was not accessible to the public. It was in 1742 that Masamine Sakaibara, the lord of Himeji Castle, decided to bring the temple closer to the town center and open it. A party was quickly organized to celebrate this event. Because of  the short notice, the Japanese could not buy kimono, so the Lord therefore allowed them to wear a yukata, giving birth to Himeji Yukata Matsuri.
All the themes of the city