Akasaka
赤坂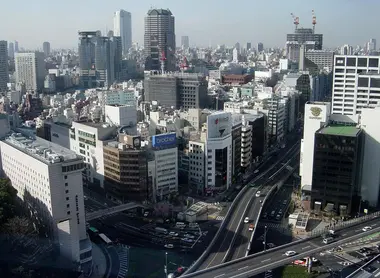 The red slope
Between its embassies and its great restaurants, Akasaka, located north of Roppongi, is one of the most exclusive areas in Tokyo.
It's a plant that would have given its name to Akasaka (literally the "red slope"): the madder plant (akane in Japanese), whose roots were once used to make red dye. Today, the green hills and the nature have given way to a business district, also known for its luxury hotels and great restaurants. And while this district is often ignored by tourist guides, it contains some interesting curiosities.
Important place for Japan's political life
Akasaka is home to several embassies, such as those in the United States and Canada, as well as Kantei, the home and workplace of the Japanese Prime Minister, located in the north of the district. 
Akasaka Palace, on the other hand, welcomes foreign heads of state during their official visits to Japan. This neo-baroque building, classified as a national treasure, rarely opens its doors to the public.
Entertainment
East of the palace, you will find the headquarters of the television channel TBS (Tokyo Broadcasting System) whose building, surmounted by a gigantic parable, is nicknamed "big hat" . The building is part of a new urban complex called Akasaka Sacas. 
This "city in the city", created in 2008, is composed of 4 other buildings: the Biz Tower (a residential building with many cafes, restaurants and shops on the first two floors), the Akasaka Blitz (a concert hall owned by TBS), the ACT Theater (where plays, musicals and ballets are performed) and finally a residential skyscraper.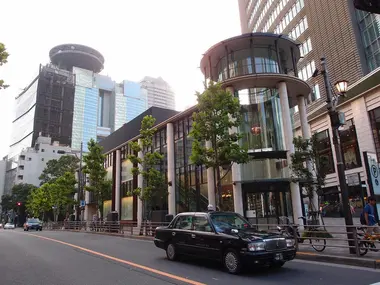 Nightlife
Often overshadowed by its tumultuous neighbor Roppongi, Akasaka has built its reputation thanks to its excellent restaurants and upscale nightclubs, like the Black List Tokyo, entry to which is reserved for members-only and their guests.
A touch of tradition
South of Akasaka is Hie-jinja shrine, a true island of calm and spirituality, much appreciated by local employees for their lunch break. You'll appreciate the contrast between the buildings and this gorgeous red torii alley, another red slope! 
This Shinto shrine is dedicated to Oyamakui no Kami, the god of Mount Hie, renowned for protecting from evil.
In June, the shrine comes alive with the Sanno Matsuri - one of Tokyo's biggest festivals - during which colorful processions march through the streets of Akasaka.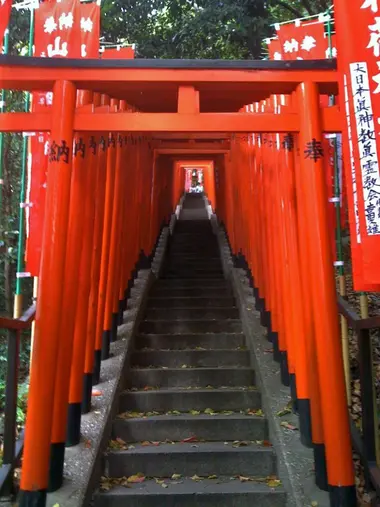 All the themes of the city