Asakusabashi
Asakusabashi, Tokyo 浅草橋
Asakusabashi is a district in Taito ward, east Tokyo. Asakusabashi is famous for its traditional Japanese doll shops, conveniently located budget accommodation for travelers, and its accessory stores selling sewing and hobby goods and apparel decorations.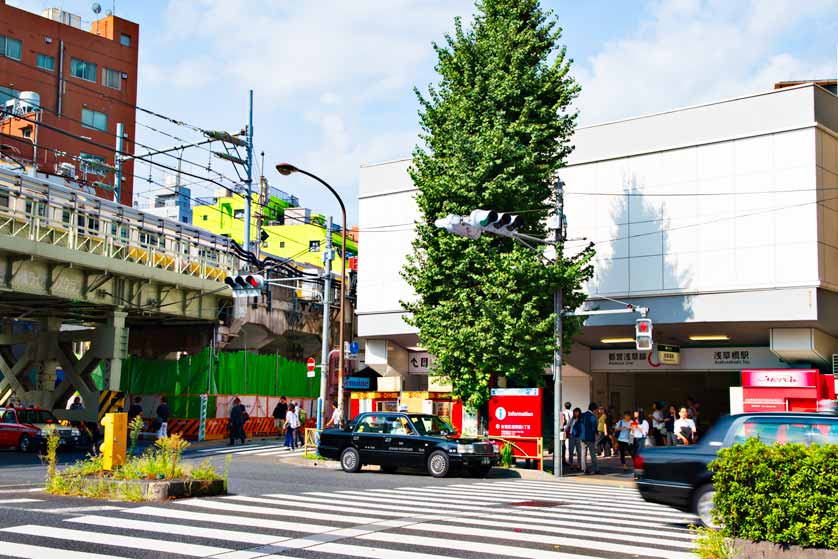 Asakusabashi Station on the JR Chuo/Sobu Line
Asakusabashi is between Akihabara, one stop west, and Ryogoku, one stop east, on the JR Sobu line. Asakusabashi is flanked on its south side by the Kanda River, which flows into the Sumida River just a few hundred meters further east. (Don't confuse Asakusabashi with Asakusa, 2 km north-north-east.)
Asakusabashi History
Asakusabashi means "Asakusa Bridge," and refers to the bridge where Edo-dori Avenue running in front of Asakusabashi Station crosses the Kanda River, about 150 meters south of the station. Asakusabashi was a very heavily used bridge in the Edo period, as it was on and shared by the Nikko Kaido and Oshu Kaido, which were two of Tokyo's five main highways.
Asakusabashi is often confused with the more famous, similar-sounding, tourist area of Asakusa, two stops north of Asakusabashi on the Asakusa Subway Line. But the name comes from this bridge having been the "bridge before the gate" of Sensoji Temple in Asakusa, showing how radically Sensoji Temple's scale has shrunk over three or four centuries.
From the late 18th to the mid-19th century, Asakusabashi was the site of Japan's most advanced scientific facility, an astronomical observatory called the Asakusa-tenmondai which stood near the south-west corner of Kuramae 1-chome intersection - now a designated smoking area.
Asakusabashi Doll Stores
Asakusabashi is most famous among Tokyoites for its doll stores, mostly in the Yanagibashi area across from Asakusabashi Station. The doll shops in Asakusabashi are old, established, expensive places visited mainly by grandparents buying for their grandchildren, and in general are not particularly welcoming places for the casual tourist. However, Kyugetsu is an exception, carrying a greater range of dolls and doll-related goods than the other stores, catering to all budgets, carrying good souvenirs, and with a more open atmosphere.
Spring is the traditional doll season in Japan. Hina dolls form a set depicting elegant old Heian era court life and are given to girls on March 3-the day of the Hina Matsuri ("Doll Festival"), also known as the Onna no Sekku ("Girl's Festival"), or Momo no Sekku ("Peach Festival"). The dolls are given as a prayer for the little girl's good health.
Corresponding to the March 3 (3/3) Hina Matsuri is the May 5 (5/5) Boys Day, known as Otoko no Sekku, or Tango no Sekku, in Japanese. Boys receive samurai dolls clad in traditional armor and bearing swords and spears. Koinobori carp streamers are another Boys Day decoration sold at these stores.
The kimekomi doll is another popular kind of Japanese doll, not linked to any season in particular, and is made of clay or wood. It is different in that everything, including hair and clothing, is carved into the doll itself and painted.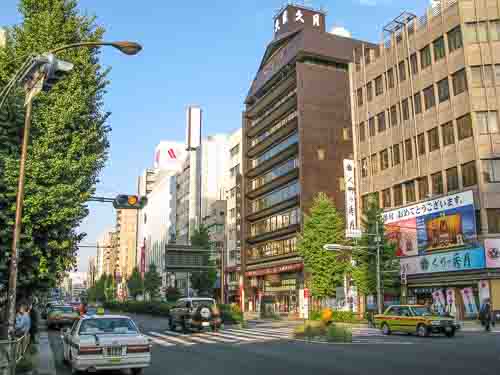 Kyugetsu Doll Store (dark brown) on ginkgo tree lined Edo-dori Avenue, Asakusabashi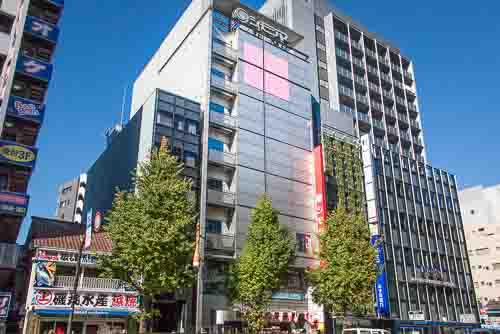 Shimojima accessories emporium (center), with Isomaru Suisan restaurant at left.
Asakusabashi Hobby Stores
Hobby and clothing accessory stores are a well-known feature of Asakusabashi. The whole area is dotted with numerous small shops selling everything from ribbons to buttons to beads to lace to sewing supplies. Shimojima is an emporium just a minute's walk north of Asakusabashi Station offering such goods, with 8 floors of everything hobby, craft, stationery, and decoration-related.
Asakusabashi and environs also have a lot of leather shops, selling leather goods such as belts, wallets and bags, as well as various kinds of leather itself.
Monomachi Handicraft Event モノマチ
The best time to sample Asakusabashi's creative side is during the time of the Monomachi event from late September to early November every year. Monomachi showcases the craftsmanship of the area. The numerous studios and craft galleries participating in the event open their doors to visitors with hands-on experience activities, samples of their work, and other attractions. The Monomachi event area extends northwards beyond Asakusabashi, but Asakusabashi forms its core.
Eating in Asakusabashi
The area around Asakusabashi Station is full of cafes, fast food outlets, small restaurants and traditional-style izakaya pubs. Many of the numerous hotels in Asakusabashi also incorporate a restaurant.
Toriyoshi Shoten Asakusabashi branch, just along from Asakusabashi Station, serves tasty traditional-style Japanese cuisine, beer and sake, with a particular emphasis on chicken. Open 24 hours a day, very cheap, and with speedy, hearty service.
Fushan 馥香 in Yanagibashi, is a renowned gourmet Chinese restaurant for diners with a higher budget looking for something a little special, with friendly, attentive service.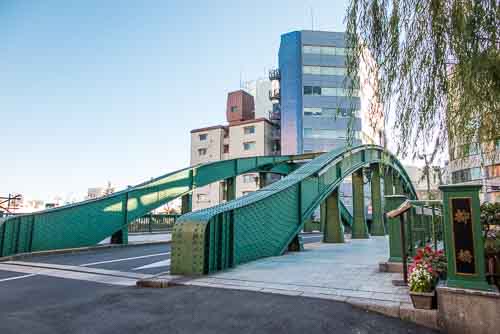 Yanagibashi Bridge
Yanagibashi 柳橋
Yanagibashi is the area just across the big Edo-dori Avenue from Asakusabashi Station, and has the area's biggest doll shops. From the 17th century Yanagibashi was Tokyo's most lively entertainment district, with numerous geisha houses along the riverfront. The Yanagibashi riverside is now the boarding point for the many yakatabune boats moored in the Kanda River, which take parties up and down the Kanda River and nearby Sumida River on pleasure boat cruises, both day and night.
Yanagibashi means "Willow Bridge," and Yanagibashi Bridge itself, linking the area to the main Keiyo-dori Avenue is an old metal truss bridge with a picturesque retro feel, built to replace the wooden bridge that was destroyed in the 1923 Great Kantō earthquake.
Walking from Asakusabashi Station east along the railway line, through Yanagibashi, will take you to steps by which to access the Sumida River. You can then walk all the way up the river to nearby Asakusa, with a view of the Tokyo Skytree all the way along - about a 20-minute stroll.
Asakusabashi Shrines
There are three ancient Shinto shrines in and around Asakusabashi, two of which: Ichogaoka Hachiman Shrine and Sakaki Shrine, are worth a short stop at. Ichogaoka Hachiman Shrine is very near Asakusabashi Station, Suga Shrine is a little further north up the road, and Sakaki Shrine is a short walk further on in the Kuramae area on the other side of Edo-dori Avenue.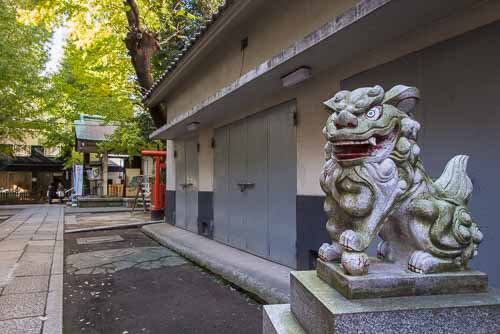 Lion at entrance to Ichogaoka Hachiman Shrine, Asakusabashi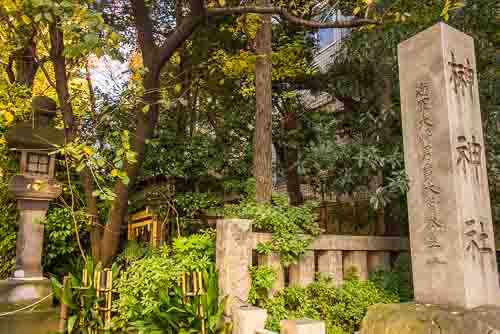 Entrance to Sakaki Shrine: stone plinth with shrine name, Kuramae
Ichogaoka Hachiman Shrine 銀杏岡八幡神社
Ichogaoka Hachiman Shrine, just a minute's walk from Asakusabashi Station, is said to have its roots in when the samurai commander Minamoto no Yoriyoshi (968-1048) planted a ginkgo tree branch on what used to be the hill that this shrine was on while on his way to subdue rebels in Chiba prefecture (and who surrendered before he got there!). Ichogaoka means "ginkgo hill." Hachiman was the tutelary god of warriors, worshiped by the Minamoto clan. In the Edo period the shrine became part of the grounds of the Edo (i.e., Tokyo) residence of the Matsudaira family of Fukui province and enshrined the province's ancestral guardian deity. At the time of the Meiji Restoration, it was redesignated as a local township shrine.
Ichogaoka Hachiman Shrine is associated with the priest, Shaku Gyochi (1778-1841), who, much like the Grimm Brothers in Germany at the same time, collected Japanese folktales and nursery rhymes.
The ginkgo reference in the shrine's name is very much in evidence in fall when the ginkgos on the shrine grounds (not to speak of the many lining Asakusabashi's main street) are dazzling gold. To get there, turn left out of the main entrance of Asakusabashi Station, take the first alley to your left and you will see the shrine at the end.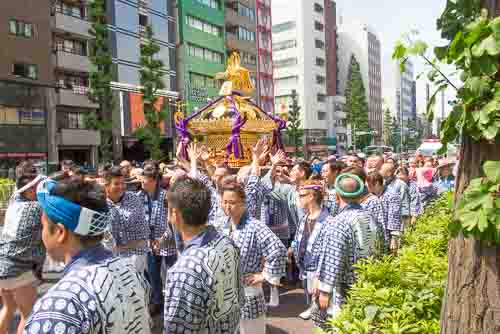 Portable shrine parade at Suga Shrine annual festival, Asakusabashi
Suga Shrine 須賀神社
Suga Shrine is on the main Edo-dori Avenue that goes past Asakusabashi Station. It is said to have been founded in 600 A.D., thus having its roots in early Tokyo history. It is dedicated to the god Gozu Tenno who was a blend of the Indian god Gavagriva and the Japanese god Susano, i.e., a Gion shrine. It was founded to pray for healing in response to a plague sweeping the area at the time. In the 17th century it became a tutelary shrine of Kaneiji Temple in nearby Ueno. In the Edo era it flourished with the support of the local merchants, the Kuramae area just to the north having been full of warehouses. It was forcibly separated from Kaneiji in the late 19th century due to Meiji government policy to separate Buddhism and Shinto and was renamed Suga Shrine. Until this time the shrine had gone by various names. It burnt down in World War Two and rebuilt in concrete in 1961. What the shrine has in history it somewhat lacks in charm, being the least picturesque of the three. Suga Shrine's annual festival happens on the last weekend of May.
Sakaki Shrine 榊神社
Sakaki Shrine is a small shrine located on the southern edge of the adjacent Kuramae district. More properly known as Dairoku Tensaka Shrine, it is said to have been founded in the 8th century, in the early Heian era, in connection with General Sakanoue no Tamuramaro's conquest of the native Emishi tribes of northern Honshu. It maintains its military connections with the name of Admiral (and twice Minister of the Navy) Mineo Osumi (1876-1941) inscribed, along with the shrine's name, on the stone plinth at the main entrance, to the right of the stone torii gate. The shrine became known as Sakaki Shrine only in 1873, with the forcible Meiji era separation of shrines and temples. In 1928, it changed location from a little further south, nearer the Kanda River, to its present site.
Sakaki Shrine's precincts are small and pleasant, with ginkgo trees that make for a beautiful sight in fall.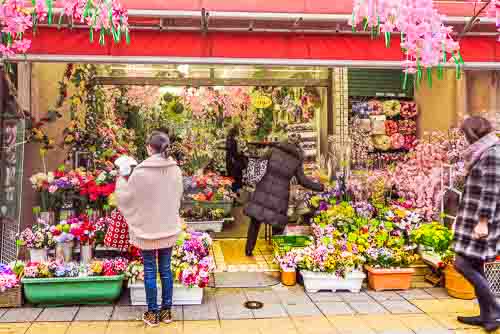 Artificial flower store in Asakusabashi, Tokyo
Asakusabashi Accommodation
Asakusabashi is renowned for its cheap accommodation options. Asakusabashi is particularly recommended for budget travelers with its easy accessibility, being on the JR Chuo/Sobu line, less than 15 minutes by train from Tokyo Station and less than 20 minutes from Shinjuku Station.
Super-budget accommodation
Anne Hostel is one of Asakusabashi's best known hostels, located about 5 minutes' walk from the East Exit of Asakusabashi Station in the very quiet Yanagibashi quarter, across Edo-dori Avenue. Anne offers (from more to less expensive): private rooms, traditional rooms, ladies' only rooms, and dormitories. A simple breakfast is included, as well as a free-use kitchen.
Tokyo Sumidagawa Youth Hostel offers accommodation at just 3,300 yen per night for non-members, cheaper for members, in the Yanagibashi area, about 5 minutes walk from the East Exit of Asakusabashi Station. Midnight curfew and lock-out (i.e., no guests in rooms) from 10 am to 4 pm.
Grids Hostel Lounge Akihabara is a new facility, having opened in April 2015, less than two minutes' walk from the West Exit of Asakusabashi Station (It is not in Akihabara, in spite of its name!). With separate floors for males and females, the hostel offers shared accommodation in the form of capsule rooms for around 4,000 yen and bunk beds in dormitory rooms for less than 4,000 yen. This clean, stylish hostel is air-conditioned, has a shared kitchenette, a communal lounge, and on-site restaurant.
Budget accommodation
Hotel Yanagibashi is a budget hotel only 2 minutes walk from the East Exit of Asakusabashi Station, across the main Edo-dori Avenue, and offers mid-budget accommodation with a choice of a double room with small double bed, a twin room, or a single room-all for less than 10,000 yen per night. Electric kettle and cable TV in room, free Wi-Fi in the lobby.
Web Hotel Tokyo Asakusabashi is a mid-budget hotel (i.e., an average of 7,000 to 8,000 yen per night, depending on season) in Yanagibashi, about three minutes' walk from Asakusabashi Station. En suite bathrooms with bathtub, non-smoking, free wired internet, a 23-inch LCD TV. Coin launderette and free-use internet PCs available.
Hotel MyStays Asakusabashi is a budget hotel just two blocks south of the West Exit of Asakusabashi station. Each room has a refrigerator, electric kettle and air purifier, and on-demand movies on the TV. Laptop computers can be hired from reception. Free use of laundry facilities. Less than, or around, 10,000 yen per night depending on the season.
Asakusabashi Access
Asakusabashi Station is on the JR Chuo-Sobu line and the Asakusa subway line. Asakusabashi is directly accessible from Narita Airport on the Keisei Access Express (Narita Sky Access Tokkyu and Keisei Honsen Kaitoku trains), which uses part of the Asakusa Subway Line track.
Near Asakusabashi
The Kuramae district directly north of Asakusabashi is becoming well known for its artisan studios selling leather goods and other handicrafts, and for its chic cafes. Like Asakusabashi, Kuramae also offers a wide selection of budget accommodation.
The electronics and nerd culture, gaming, manga and cosplay mecca of Akihabara is one stop west of Asakusabashi on the JR Chuo-Sobu line, and sumo town Ryogoku is one stop east.
The Tawaramachi district with its Buddhist goods street and Kappabashi kitchenware street is about 15 minutes' walk north of Asakusabashi.
If you're journeying to Ofuna or Kamakura, Bakurocho Station is just 5 minutes walk south of Asakusabashi Station, down Edo-dori Avenue. From Bakurocho station you can then take the Sobu Rapid Line/Yokosuka Line direct to Ofuna or Kamakura in less than an hour.
Book Hotel Accommodation in Tokyo Here
Asakusabashi in east Tokyo is best known for its traditional Japanese doll emporiums and sewing and hobby accessory stores.
All the themes of the city