Budokan
Tokyo Guide: Nippon Budokan
Budokan 日本武道館
The Nippon Budokan in Tokyo is an iconic building located in Kitanomaru Koen, more famous now as a venue for music concerts, but built as an indoor venue for judo for the 1964 Tokyo Olympics. The Budokan has been proposed to host the judo event for the 2020 Tokyo Olympics.
The main purpose of the 14,000 capacity Budokan (lit. "Japan martial arts hall") is staging national martial arts competitions of all kinds including aikido, judo, karate, kendo, kyudo (Japanese archery), naginata and shorinji kempo. Professional wrestling and kick boxing events are also held at the Budokan.
Indeed back in 1976 boxer Muhammad Ali fought a bout with Japanese pro-wrestling legend Antonio Inoki at the Budokan.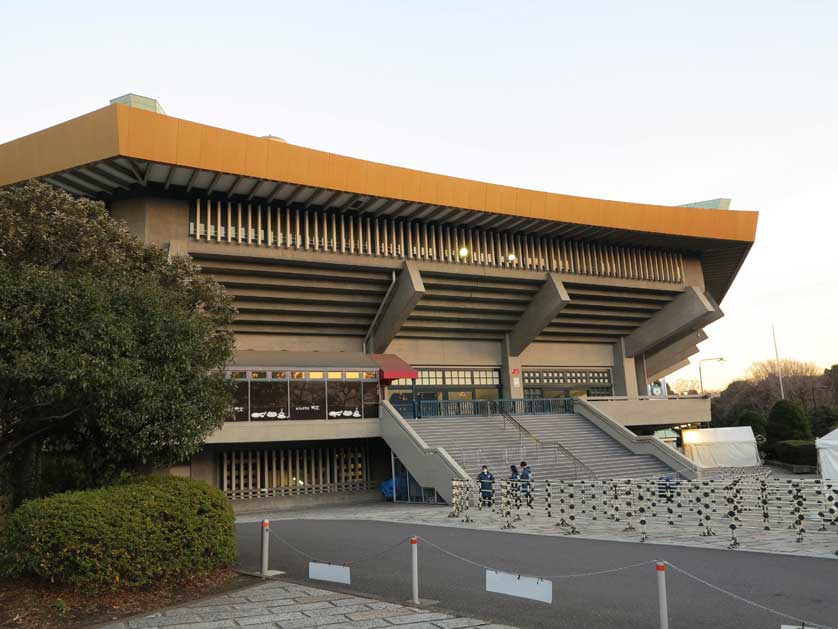 Budokan, Tokyo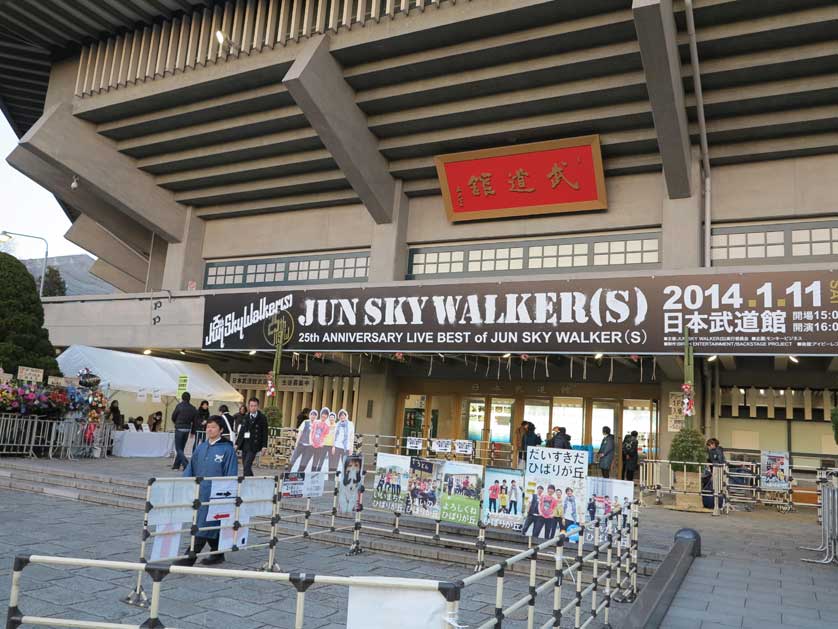 Jun Skywalkers Concert, Budokan, Tokyo
Budokan History
The Nippon Budokan was built as a martial arts venue for the 1964 Tokyo Olympics. It has a capacity for over 14,000 spectators and is modeled on the octagonal Yumedono (Hall of Visions or Hall of Dreams) in Horyuji Temple in Nara.
The Beatles were the first western pop group to perform here in 1966, despite opposition from traditionalists. Later in the 1970s 'live at the Budokan" albums were recorded by such artists and groups as Bob Dylan, Cheap Trick, Santana, Eric Clapton, Frank Sinatra, Deep Purple, YMO, Morning Musume (on numerous occasions), Bay City Rollers, Pearl Jam, Duran Duran, Hikaru Utada, Judas Priest and Avril Lavigne.
Budokan Events
The Budokan is also the venue for a number of annual events including The National Memorial Service for War Dead held each year on August 15, the day of Japan's surrender in World War II. The Emperor and the Empress of Japan and the Prime Minister attend.
In November, the Budokan hosts a 2 day military music festival by the Japan Self-Defense Forces (air, sea and land) along with the U.S. Army Japan Band.
As well as martial arts, national school calligraphy competitions are held at the Budokan.
The Budokan also has a publishing arm specializing in martial arts books.
The Tokyo Budo-kan in Higashi Ayase Park is a more modern martial arts venue near Ayase Station.
Budokan Access
The Budokan is located in Kitanomaru Park and is close to the Science Museum and the Crafts Gallery. At the other side of Kitanomaru Park are Yasukuni Shrine and the Chidorigafuchi National Cemetery.
The nearest Tokyo subway station is Kudanshita Station (Toei Shinjuku, Tozai, Hanzomon Lines). Car parking is available for around 500 vehicles. A nearby recommended hotel to the Budokan is Hotel Grand Palace (1-1-1 Iidabashi, Chiyoda, Tokyo 102-0072).
Google Map of Budokan
View Tokyo Map Japan in a larger map
Budokan
2-3 Kitanomarukoen
Chiyoda, Tokyo 102-8321
Tel. 03 3216 5100
Budokan: read a guide to the iconic Budokan in Kitanomaru Park, Tokyo a venue for martial arts and rock concerts.
All the themes of the city