Mount Takao Guide
Mount Takao: read a guide to Mount Takao. Mount Takao is a pleasant day trip to a beautiful, natural Japanese environment outside Tokyo.
Mount Takao: Tokyo's Mountain 高尾山
Kate Jones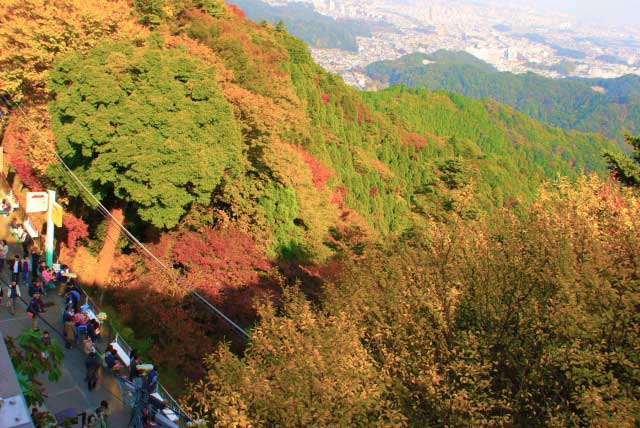 Tokyo, a city of millions of people, can sometimes be a little crowded, or even oppressive. Strangely enough, it's not too hard to get away from the city into a wilderness, Takao san, or Mount Takao, a small but beautiful mountain of 599 meters, rising on the edge of the larger mountain range about 40km west of Shinjuku.
Wonderfully, this beautiful and relaxing mountain, with its chairlift and cable-car, its temples and food stalls, and its walking trails and trees, birds and animals is less than an hour and a half from the bustle of central Tokyo.
Mount Takao can be very crowded on Sundays and holidays, but on weekdays it offers an escape from the crowds at any time of the year and is a refreshing cooler spot in the heat and humidity of a Tokyo summer. It is an especially popular destination during the plum blossom season in February and for viewing autumn leaves in November.
Distant view of Mt. Fuji from Mt. Takao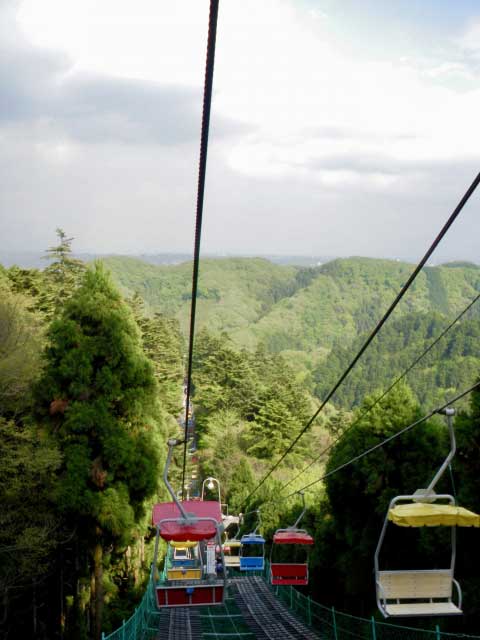 Mount Takao cable car, Tokyo, Japan
Round trip tickets to Mt Takao
Keio also offers special round trip tickets including a cable car or chair lift ticket. Leaving the endless busy-ness of Shinjuku, the train travels through Meidaimae and Chofu before reaching the busy junction of Kitano. Takaosanguchi is a cute country station and the end of the line. You can also take the JR Chuo line and change to the Keio line at Takao, another peaceful country station. This is more expensive, at 660 yen, and takes a few minutes more but may be worthwhile for those with Japan Rail Passes or staying close to the Chuo line.
Once outside Takaosanguchi station you can stroll through the town, checking out the souvenir shops and restaurants, or you can turn directly right and head for the trail or cable car or chair lift that will take you to Takao san. Walking all the way to the top will take about 90 minutes, but many people take the cable car or the chair lift to halfway up the mountain.
The one way fare is 470 yen for both cable car and chair lift, and the entrances to both are located close together, although getting to the chair lift departure point requires walking up two steep sets of stairs. Once you're there, it's quite a trip. You step onto the moving walkway, the chair looms up behind you, and you fall back into it.
There is no safety rail at the front of the chair but there is netting below the chair lift on the high bits so that if you fall you won't fall far. The view is extraordinary. The terminuses of both the cable car and the chair lift are also close together, the chair lift a little lower than the cable car. If you forgot to bring provisions, a stall at the cable car terminus sells small backpacks for 750 yen and another sells knotted walking sticks for 700 yen. There are also food stalls.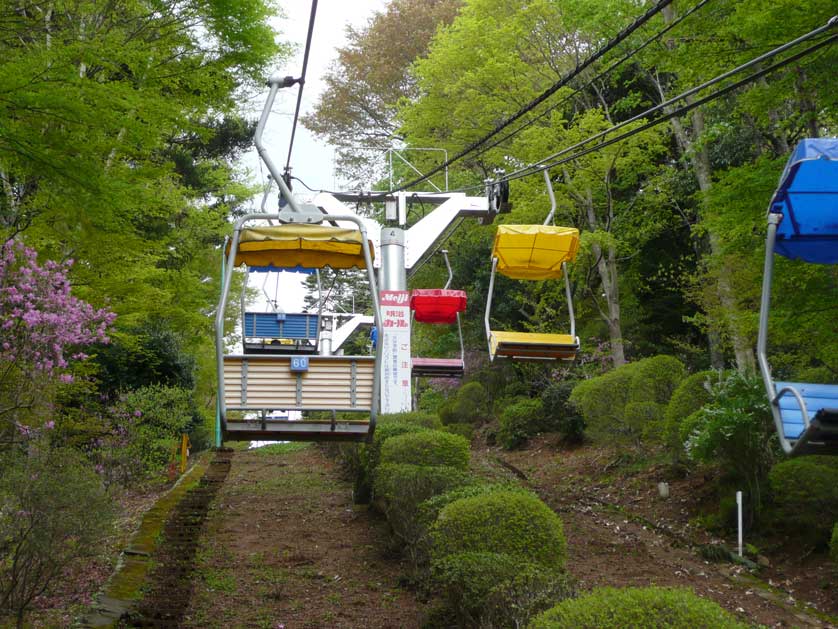 Mount Takao cable car, Tokyo, Japan
Views from Mt Takao
An observatory at the cable car terminus gives you a wonderful view of the mountain ranges, the Chuo Expressway and its tunnels below, and of Tokyo as far as Tokyo Bay in the distance. In summer you can see the view from a beer garden.
From the terminus, those who have taken the cable car or chair lift join those who walked from Takaosanguchi on the road up to the Mount Takao Visitors Centre. The first possible stop is at a monkey garden and botanical park. Next the path takes you through the Cedar Avenue to the Yakuoin Temple, about halfway between the cable car terminus and the summit of Takao san. The path is steep and the steps are many, but the temple is exceptionally beautiful. When the temples are left behind the path becomes a boardwalk, then more of a forested path.
Reaching the top, the Mount Takao Visitors Centre occupies a large flat sandy area bordered by stone walls and offering magnificent views of the surrounding mountains. The forests are beautiful shades of green, from the light green cedars to the dark green pines, and the different greens create an effect of shading and striping on the endless mountain ranges around. On a clear day you can see forever, as the song reflected, and sometimes, if there is no cloud you can see Mt Fuji, Fuji san.
Visitors who had come earlier (and presumably carried heavier burdens) were picnicking at the tables and seats place conveniently around the area, a casual game was being played with a soccer ball, photographs were being taken, and the general atmosphere was one of relaxation after healthy exercise.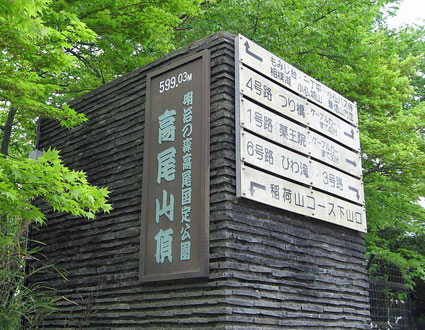 Sign on summit of Mt. Takao
Hiking on Mt Takao
For some visitors, of course, the walk to the peak was just a prelude to rather more strenuous walks around the area. If you are included amongst these, the Visitor Centre supplies a map of the trails. There are seven of them, focussing on different aspects of plants, forests, history and temples.
There are also noodle restaurants on the top of Mount Takao, as there are at other spots around the town and mountain. You can also enjoy other snacks and buy drinks and snacks from machines at many spots along the way. Stalls, which line the way to every tourist feature in the world, also sell everything from souvenirs to toy cars, Mt Takao pins (from a lucky dip machine) to both tasteful and tacky charms for decorating your mobile phone.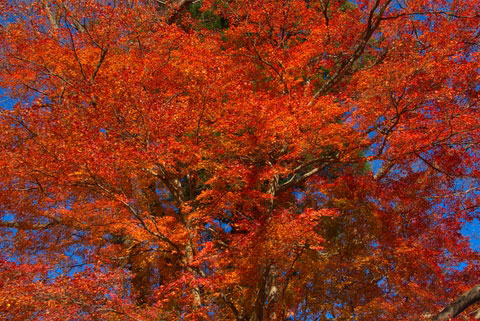 Mount Takao is known for its beautiful autumn foliage
Signs at various spots also illustrate birds and animals that can be seen in the park. Mount Takao is designated as a quasi-national park. As in all national parks, rules forbid picking flowers or interfering with the wildlife. There are no rubbish bins; visitors are invited to "take their trash home."
A great variety of people visit Mount Takao - grandparents and young children on a day out, young, cool couples and older couples, extended families, groups of friends and rare foreigners.
Above all, Mount Takao is peace and quiet, in small natural buildings in a beautiful natural environment.
Getting to Mt. Takao
A trip to Takao san really needs a full day to get there and back and to appreciate its possibilities. The easiest and cheapest way to get there is to take the Keio Takao Line train from Shinjuku Station. Start with a semi-special express to Kitano Station and change there to a local train for Takaosanguchi Station. It takes about an hour and costs 390 yen.
For a full listing of Tokyo Museums & Art Galleries click here
View from Mt Takao
Book Hotel Accommodation in Tokyo Near Mount Takao
All the themes of the city