Nihonbashi Guide
Tokyo Guide: Nihonbashi 日本橋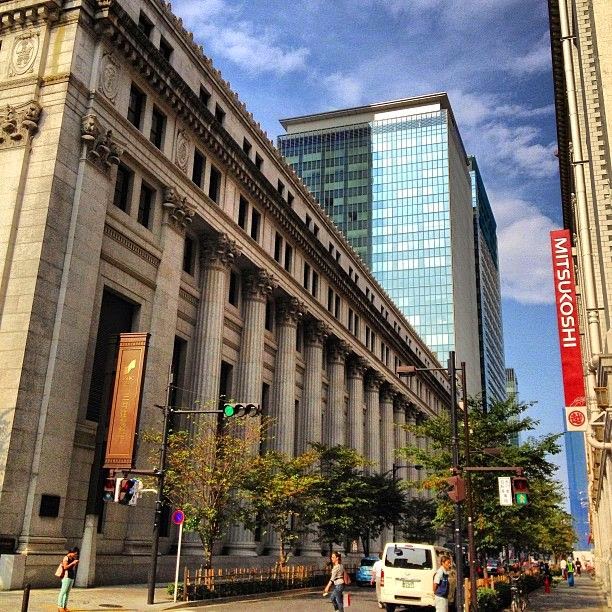 Mitsukoshi Department Store, Nihonbashi
Nihonbashi ("Japan Bridge"), just north-east of Tokyo Station is one of Tokyo's oldest commercial districts, with its four-century old Mitsukoshi department store, and is distinguished by spacious, elegant shopping - primarily for the older generation - and the grand old bridge after which the area is named. Nihonbashi is also home to the Bank of Japan and the Japan Mint. Nihonbashi is served by two adjacent stations: Nihonbashi Station (Ginza, Tozai & Asakusa Lines) at its southern end, and Mitsukoshimae Station (Ginza Line) at its northern end.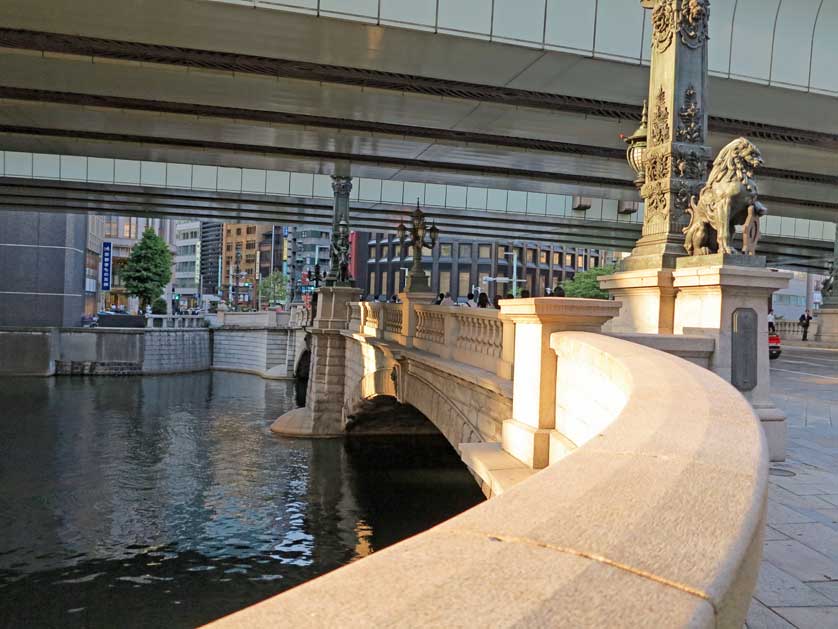 Nihonbashi Bridge with fly over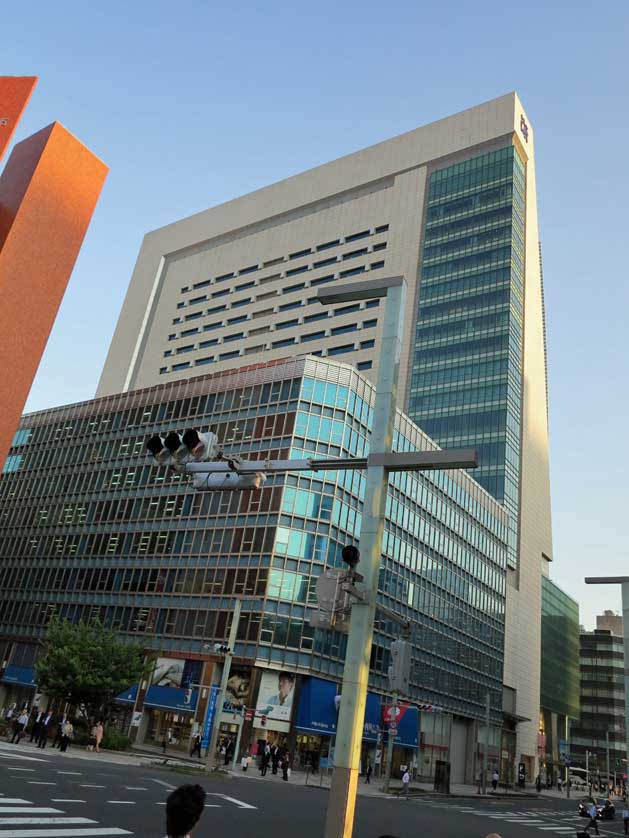 Nihonbashi, Tokyo
Nihonbashi History
During the Edo Period (1603-1867) of Japanese history, Nihonbashi was the starting point of the Gokaido (the five main roads leading to and from Tokyo - the Tokaido, Nakasendo, Nikko Kaido, Oshu Kaido and Koshu Kaido). This favorable location, constantly converged on by great numbers of travelers, led to the area becoming one of Tokyo's foremost commercial centers.
A wooden bridge called Edobashi was first built across the river in 1603 and was a favorite scene for artists of the day. The current stone bridge dates from 1911 and is still the marker for distances to and from Tokyo. Look out for a bronze plaque halfway across the bridge, which is now overshadowed by an overhead expressway.
Nihonbashi Shopping
Many banks and leading retail companies have a presence here, alongside more traditional shops and stores which date from an earlier period.
Department Stores & Malls
The venerable Mitsukoshi Main Store Nihonbashi is in front of Mitsukoshimae Station, on the north side of the bridge, and opened in 1935. Mitsukoshi is Japan's oldest department store dating back to 1673, when it was called Echigoya, selling kimono fabric. The "Harrods of Japan" - Mitsukoshi is a high-end department store and a tourist attraction in its own right, which for the serious shopper is a paradise of some wonderful and unique stores.
The founder Mitsui Takatoshi would go on to become the founder of the Mitsui business conglomerate and Mitsukoshi would be a leader of Japanese retail introducing both home delivery and imported foreign goods to the Japanese market.
Coredo Muromachi is a three-building shopping complex across from Mitsukoshi, and is one of several shopping projects run throughout Tokyo by Mitsui Shopping Park Urban. Coredo Muromachi has numerous quality restaurants, cafes and stores. Famous stores here include Kiya (a Japanese cutlery and kitchen knife shop), Ninben, which has specialized in dried bonito flakes for over 300 years and Hakuza, known for its quality gold leaf products from Kanazawa.
Yuito, right next to Coredo Muromachi, is another modern development housing a mixture of specialist stores, including a branch of Georg Jensen silverware, and restaurants on the lower floors of a 21-story tower.
The Nihonbashi Mitsui Tower contains upmarket eateries and the popular and long-standing Sembikiya Sohoten fruit store on its second floor. The Mandarin Oriental Hotel is also in Nihonbashi Mitsui Tower.
Takashimaya Department Store, is near Nihonbashi Station, on the south side of the bridge, has been here since 1933 - a history reflected in its grand old architecture, and has a noted food court with imported delicacies.
Coredo Nihonbashi, just three blocks north of Takashimaya, is a sister shopping complex of Coredo Muromachi, and has an array of restaurants, both Japanese and Western, and an extensive line-up of fashion and accessory stores.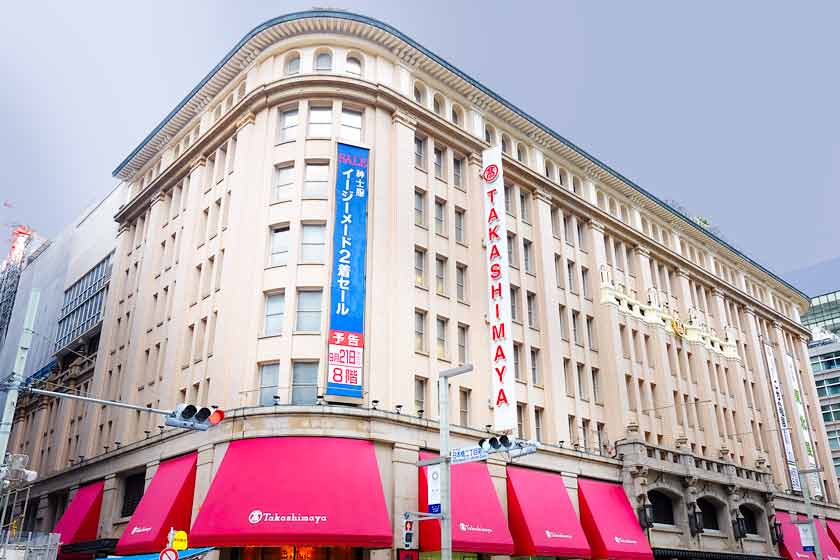 Takashimaya Department Store, Nihonbashi
Japanese Confectionery & Crafts
Yamamotoyama near the Takashimaya Department Store, has been selling green tea and traditional sweets since 1690.
Eitaro Sohonpo is another Japanese sweet shop, in Nihonbashi since 1857. Other traditional stores in Nihonbashi that date back to the Edo era include Yamato-Noriten famous for dried seaweed, Ibasen, which retails Japanese fans including sensu (folding fans) and uchiwa, and Kanmo selling traditional fish-cakes.
Ozu Washi store specializes in Japanese washi paper and offers a workshop in producing the paper. Haibara is another store selling Japanese washi paper used, for example, in shodo (Japanese calligraphy).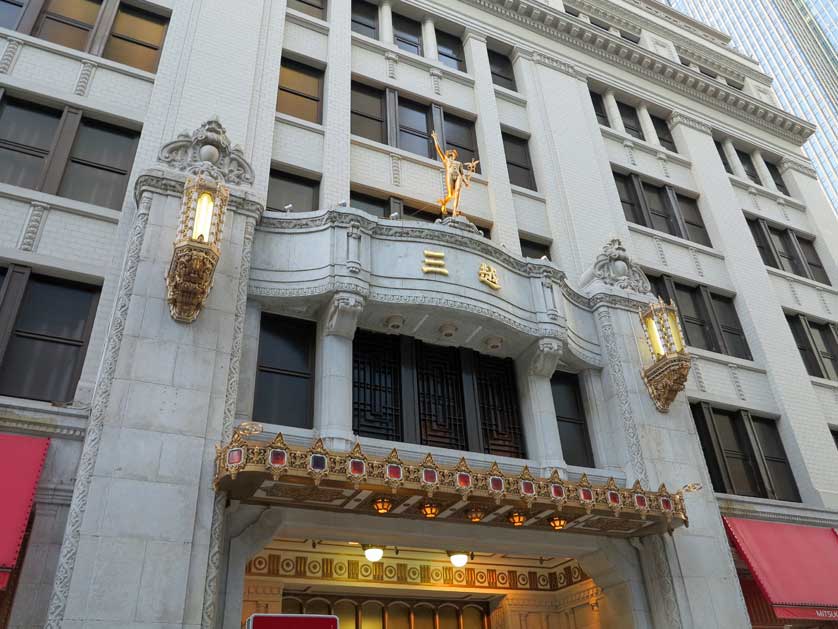 Mitsukoshi Department Store, Nihonbashi, Tokyo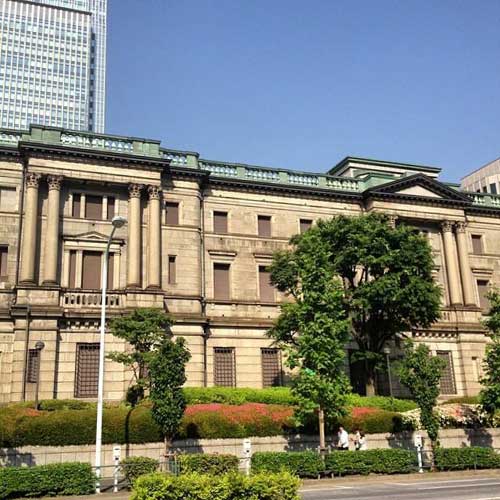 Bank of Japan, Nihonbashi, Tokyo, Japan
Nihonbashi Museums & Historical Spots
The Mitsui Memorial Museum is next to the Mitsukoshi Department Store, in the Mitsui Main Building, which opened in 1929 and is fronted with classical columns. The entrance to the museum, though, is actually through the lobby of the adjacent modern Nihonbashi Mitsui Tower.
The Bank of Japan building (the grand Old Building and its adjoining modern wing) is behind the Mitsui Memorial Museum and the Nihon Mitsui Tower, and has a nearby Currency Museum dedicated to the history of Japan's currency with displays of paper money and coins.
The Bank of Japan is built on the site of the original Kinza, a mint for gold coins. The nearby Ginza district was the early mint for silver coins. Across the river are the remains of the stone gate of Tokiwabashi-mon - the front gate of the outer moat of Edo Castle.
The Tokyo Stock Exchange (TSE) is also located in Nihonbashi, accessible from Exit D2 of Nihonbashi subway station.
The site of the former Nihonbashi Fish Market (which then moved to Tsukiji in 1935, then Toyosu in 2018) is at Exit B6 of Mitsukoshimae subway station.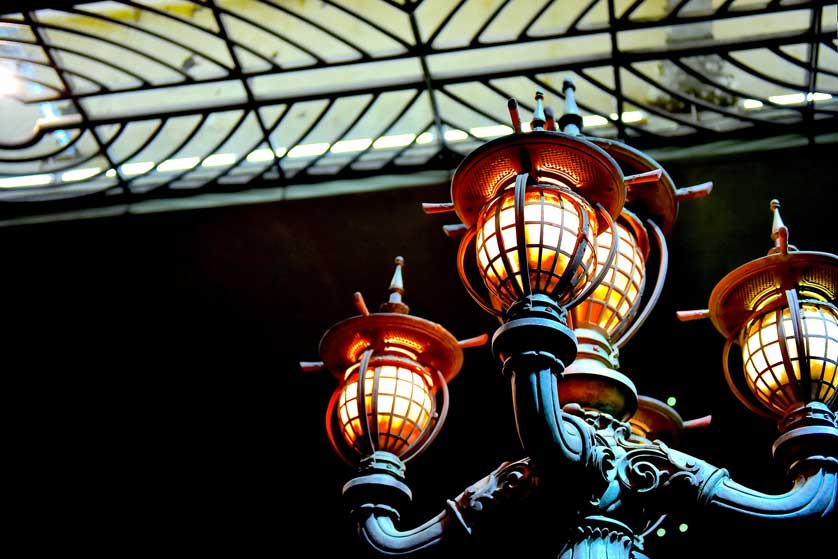 Nihonbashi Bridge, Nihonbashi, Tokyo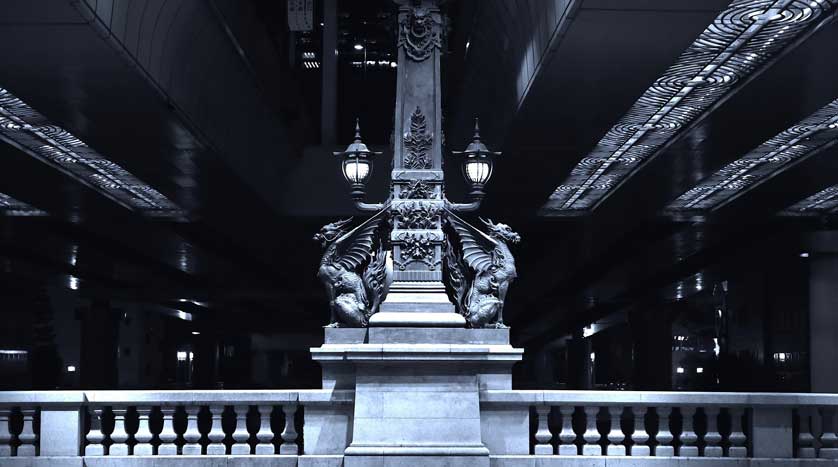 Nihonbashi Bridge, Nihonbashi, Tokyo
Nihonbashi Hotels
Hotels near Nihonbashi include the four star Hotel Metropolitan Marunouchi, the three star Keio Presso Inn and the luxury, five star Mandarin Oriental Hotel.
Access - getting to Nihonbashi
Nihonbashi Station, south of the river, is on the Ginza, Tozai and Asakusa lines of the Tokyo subway; Mitsukoshimae Station, north of the river is on the Hanzomon and Ginza lines. Nihonbashi is also a 10 minute walk from either Tokyo Station (Nihonbashi Exit) or Kanda Station.
For a full listing of Tokyo Museums & Art Galleries click here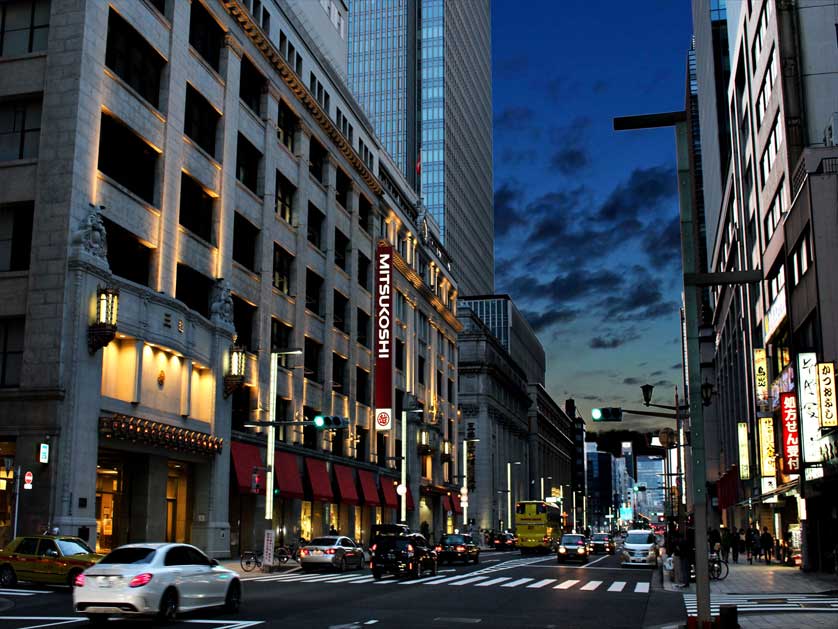 Mitsukoshi Department Store, Nihonbashi, Tokyo
Nihonbashi: read a guide to the historic Nihonbashi district in Tokyo, home to the Mitsukoshi Department Store, the Bank of Japan and Takashimaya.
All the themes of the city