Okachimachi Station
御徒町駅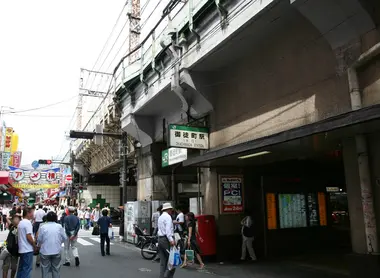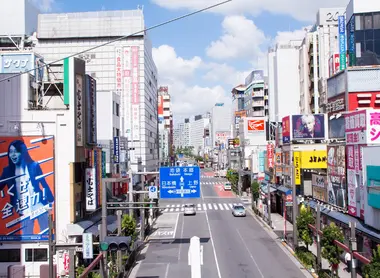 Something for everyone
Located in the district of Taito, in the northeast of Tokyo, Okachimachi station is located between the two famous stations of Ueno and Akihabara.
Okachimachi Station sits in the center of a bustling shopping district that stretches south from Ueno Station.
It was inaugurated on November 1, 1925, and is now served by two lines, managed by JR East:
The Yamanote line that loops through Tokyo,
The Keihin Tohoku line which connects the cities of Saitama, Kawaguchi, Tokyo, Kawasaki, and Yokohama.
Okachimachi Station is wedged between the big Ueno stations to the north and Akihabara to the south.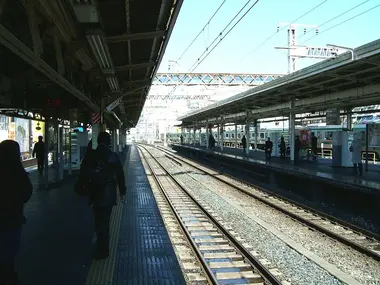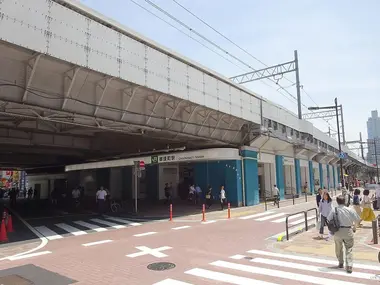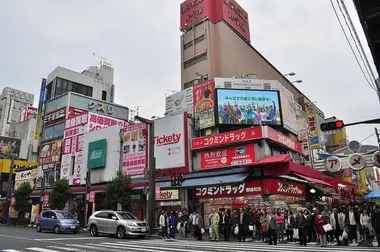 There are also many train stations all around it. Indeed, as a result of the fact that different companies are managing public transport in Tokyo, it is quite common for several stations to be built very close to each other.
Thus, you will find around the stations of Ueno-Okachimachi with the Oedo line, Ueno-Hirokoji with the Ginza line, Naka-Okachimachi with the Hibiya line, Yushima with the Chidoya line, as well as that of Shin-Okachimachi with the Oedo and Tsukuba Express lines.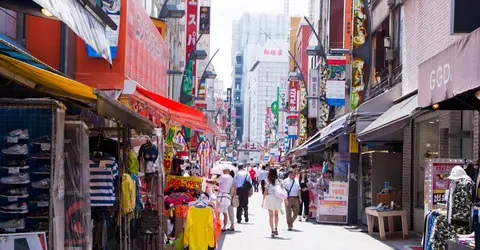 Ameya Yokocho
By taking the north exit, you will come directly to the entrance of a particularly well-known place in the city of Tokyo.
Ameya-Yokocho (also nicknamed "Ameyoko") is a busy and busy shopping street. It houses more than 180 small stalls where you can find everything: food, clothing, and objects of all kinds.
It is said that you can still feel the atmosphere of the black markets there, many in the last century in post-war Japan, a retro experience!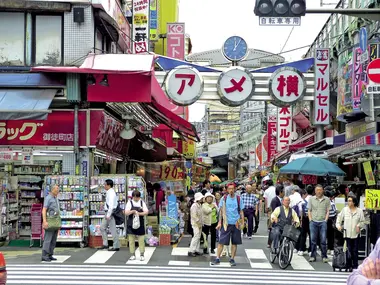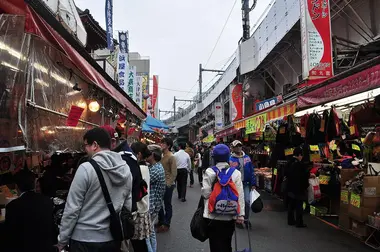 Ameyoko developed parallel to the Yamanote line and the stores are under the train tracks connecting Okachimachi to Ueno station.
Ueno Park
Exiting Okachimachi station, you will arrive in a few minutes on foot at the south entrance of Ueno Park. You will thus have direct access to the Shinobazu pond, its thousands of lotuses, and its small boats, as well as to the Shinobazunoike Bentendre temple.
Entering the park from the south, you will come face to face with the Shitamachi Museum.
The museum presents the history of the region and the daily life of its inhabitants during the Edo period (1603-1868).
The first floor highlights the living spaces of the time, such as shops and houses, with identical reconstructions.
The second floor exhibits objects that show how people lived in the area. There is even an area where visitors can view old toys.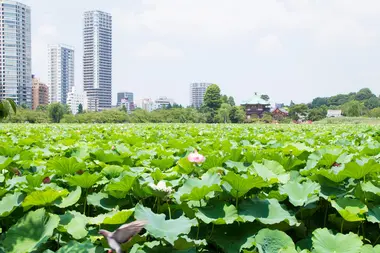 All the themes of the city