Oya History Museum
Japan Museums: Oya History Museum, Utsunomiya 大谷資料館, 宇都宮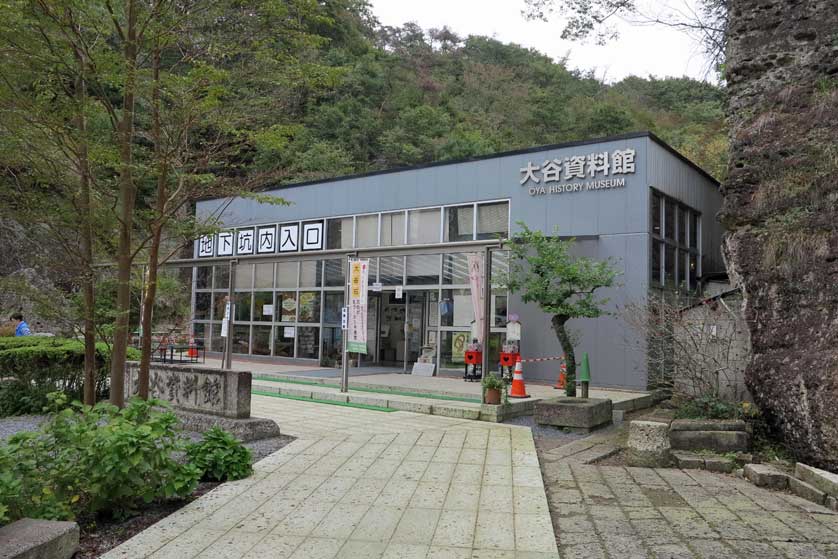 Oya History Museum Entrance, Oya Valley, Utsunomiya, Tochigi Prefecture
Oya History Museum is a short walk or drive from Oyaji Temple past the Oya Keikan Park.
This impressive museum is located in the town of Oya, just 7 km north west of Utsunomiya in Tochigi Prefecture.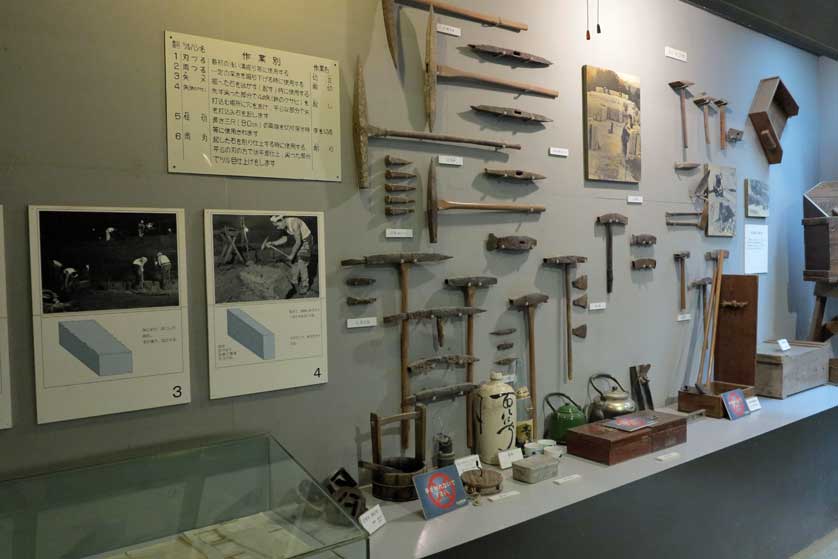 Exhibits on display, Oya History Museum, Oya Valley, Utsunomiya, Tochigi Prefecture
Exhibits
The part of the Oya Stone Museum that is above ground has a collection of exhibits related to the quarrying of Oya stone below ground.
There are stone cutting tools of all shapes and sizes, black and white photographs of the miners at work, the happi coats and aprons they wore, lanterns for lighting and scale models of buildings carved from Oya stone.
There are even the original lunch boxes, kettles, drinking flasks and cups the miners took with them deep underground.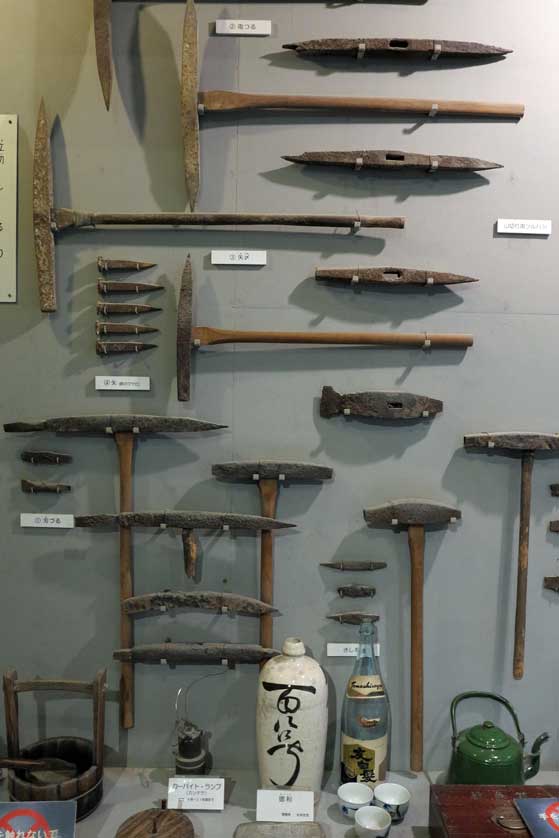 Oya History Museum, Oya Valley, Utsunomiya, Tochigi Prefecture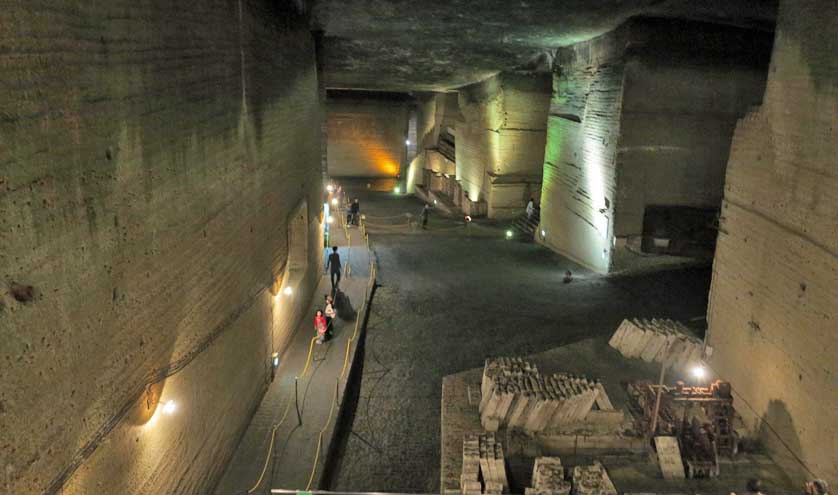 The descent into the underground quarry, Oyaji Temple, Oya Valley, Utsunomiya, Tochigi Prefecture
Quarry
Early in the 20th century, Oya stone quarrying went underground. Below ground, the stone resources were even bigger than on the surface. The move underground meant also that the rock formations above ground could be preserved while a large quantity of stone could be produced at the same time.
Entering the underground quarry hall, visitors walk 60m down on an iron staircase to reach the floor of the quarry hall. The hall itself is about 30 meters high. Temperatures are refreshing down there with 7° Celsius the average throughout the year. The highest temperature is 13° Celsius with the lowest 2° Celsius. The average temperature is similar to that of a refrigerator and the quarry is used to store vegetables, wine and Japanese sake.
During World War II, Nakajima Zero fighter airplanes were constructed in the underground hall, safe from American air raids.
The hall, at some sections opening up to sun rays from above-ground, is incredibly large and you can spend a long time exploring it. Some sections feature vintage mining tools, others display more recent art installations.
Altogether the cavern is the size of a baseball stadium at 140 by 150 meters and over a period of 70 years 300,000 cubic meters of stone amounting to ten million pieces have been removed from the cavern.
Oya stone is easily worked and is usually used for decorative areas, building facades, interiors, sculptures and walls. It is not considered strong enough for major construction. Much is made of the American architect Frank Lloyd Wright's use of the stone in his iconic 1920's Imperial Hotel in Tokyo. The hotel no longer stands but parts of it including the lobby have been preserved at Meiji Mura in Inuyama just outside Nagoya.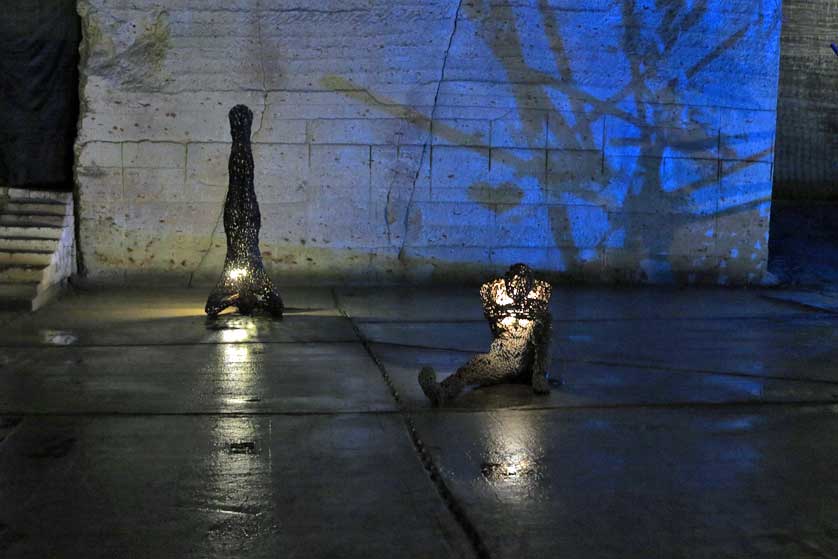 Modern art installation, Oya Stone Museum, Oya Valley, Utsunomiya, Tochigi Prefecture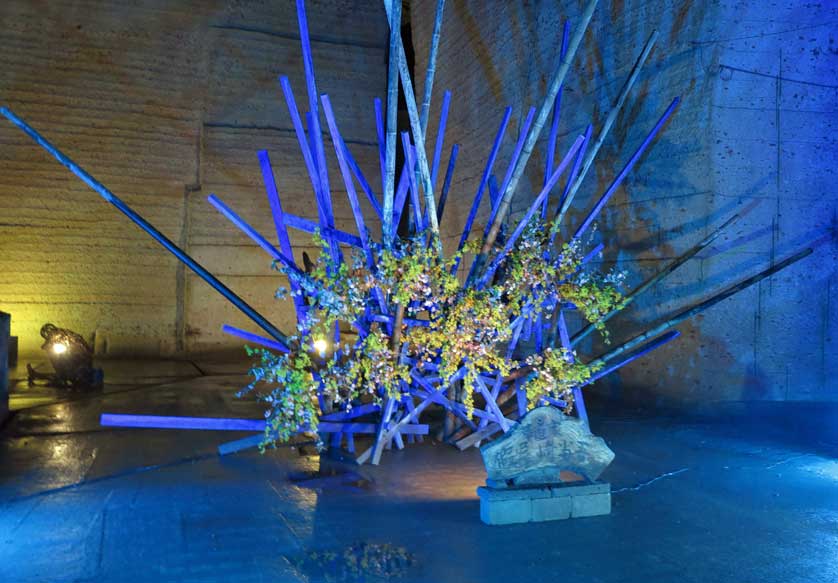 Modern art installation, Oya Stone Museum, Oya Valley, Utsunomiya, Tochigi Prefecture
Movies, Music & Art
The huge hall has been featured in many movies and music videos, a poster display at the entrance and down below gives a few examples.
Because of its good acoustics, the hall is also occasionally used as a concert venue. Some of the bands who have shot promotional videos in the cavern include Luna Sea, X Japan, Glay, Da-Pump and B'Z - all veritable royalty of J-Pop.
Even weddings take place down in the cavern as a photo display at the entrance shows, along with contact info for the wedding agency.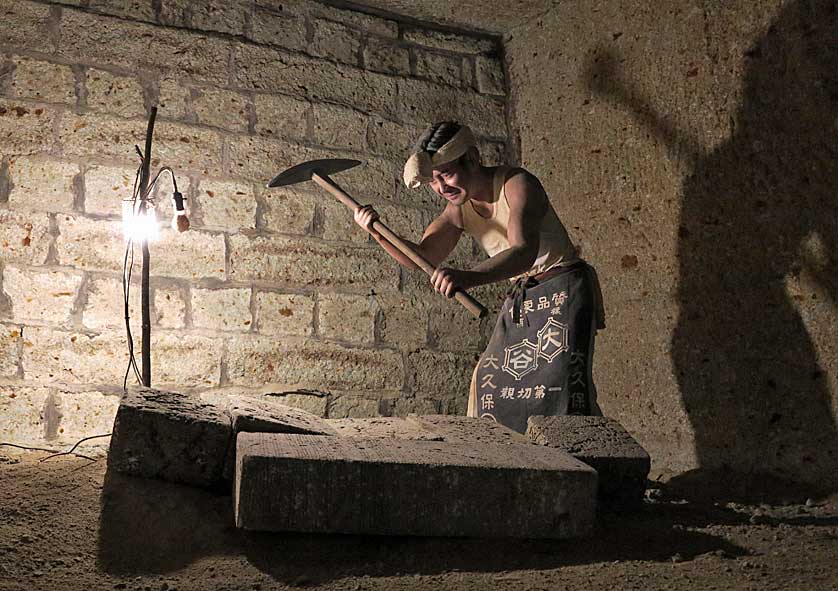 Mannequin showing a miner at work, Oya Stone Museum, Oya Valley, Utsunomiya, Tochigi Prefecture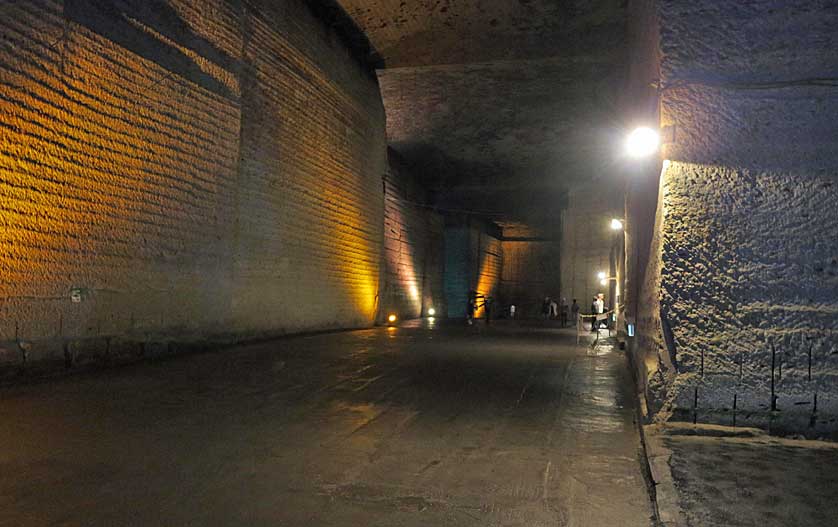 Oya Stone Museum, Oya Valley, Utsunomiya, Tochigi Prefecture
Accommodation in Utsunomiya
Much of the hotel accommodation in Utsunomiya is clustered around Utsunomiya Station. Recommended places to stay in Utsunomiya include the Richmond Hotel Utsunomiya-ekimae, Richmond Hotel Utsunomiya-ekimae Annex, Hotel Mystays Utsunomiya, Chisun Hotel Utsunomiya and Hotel Sunshine Utsunomiya. See here for a full listing of over 20 hotels in Utsunomiya.
Access - how to get to Oya Stone Museum
Oya Stone Museum
909, Oya-machi
Utsunomiya
Tochigi 321-0345
Tel: 028 652 0232
www: oya909.co.jp
Hours: April - November 9 am - 5 pm; December - March 9.30 am - 4.30 pm; closed on Tuesday from December to March.
Admission: Adults 800 yen; Junior High students and Elementary students 400 yen.
Regular Kanto buses from Utsunomiya Station run out to Oya. The journey takes about 30 minutes. Get off at the Oya Kannon-mae (大谷資料) bus stop. On weekdays buses run from 6.16 am until 8.37 pm. On weekends the first bus is at 6.27 am. The fare is 450 yen.
By car exit the Tohoku Expressway at the Utsunomiya IC.
Oya Museum Rockside Market, Oya Valley, Utsunomiya, Tochigi Prefecture
Further Attractions in Utsunomiya
Book Hotel Accommodation in Tokyo Japan
Oya History Museum in Oya just outside Utsunomiya consists of an above ground museum and a huge subterranean cavern where Oya stone was mined.
All the themes of the city