Tokyo Area Guides
Tokyo area guides: see a listing of Tokyo area guides with Tokyo sightseeing information for Ginza, Marunouchi, Roppongi, Shibuya and Shinjuku.
Tokyo Area Guides 東京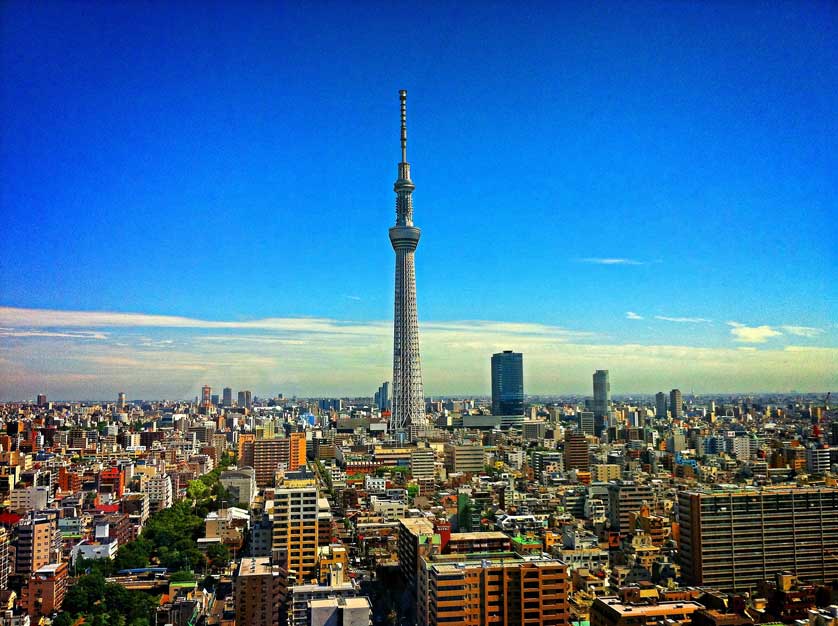 Tokyo Area Guides
Find all you need to know about the various wards, cities, and areas that make up Tokyo, Japan's exciting and energetic capital.
Each Tokyo area guide gives you such information as where to relax in what park, square, shrine or temple, what museums, restaurants, bars or clubs to check out, where to go on a Tokyo date, and what is of historical and cultural interest or, where possible, where to stay in Tokyo.
Browse the various areas and find a new face of Tokyo, waiting to be explored and, most importantly, enjoyed!
Akasaka, Akihabara, Ameyayokocho, Aoyama
Akasaka is a bustling shopping, restaurant and entertainment area right next to Nagatacho, Japan's seat of politics. From its down-to-earth pubs to its more elegant establishments, Akasaka offers a wide range of nighttime enjoyment, every night of the week.
Akihabara is the electronics and nerd culture capital of Japan where you can find cheap cameras, audio, games and computers and all the manga and cosplay fun you could ever want. Electronics and oddball goods are available from small side-street stores through to massive emporiums.
Ameyayokocho ("Ameyoko") is a pedestrian-only shopping alley for mainly food and goods stores in Tokyo's downtown Ueno area. Produce and wholesale-type foodstuff stores give Ameyoko a lively face-to-face buzz like few other places in Tokyo.
Aoyama is fashion boutiques proffering a "different" look, lining pleasant, sloping streets. Wallet ready or not, size up the latest in young Japan's sense of street cred. Also has a huge, unkempt park-like cemetery!
Asakusa, Asakusabashi, Azabu, Daikanyama, Fukagawa & Morishita
Asakusa, centered around Sensoji Temple, is the crowded, boisterous heart of east Tokyo. Peruse the endless rows of stalls selling Japanese trinkets and souvenirs. Get taken for a rickshaw ride round the area, or go on a cruise of the Sumida River. Asakusa is a real photo opportunity.
Asakusabashi, two train stops south of Asakusa, is famous for traditional Japanese doll shops, decorative accessory shops, and good budget hostels and hotels with easy access from anywhere in Tokyo.
Asakusa-dori Avenue between Tawaramachi and Inaricho stations is a stretch of road near Asakusa that is famous for its many stores selling religious goods, both Buddhist and Shinto.
Azabu is a picturesque, exclusive residential area of Tokyo, characterized by expensive housing, and stores stocked with imported foodstuffs not always easily found elsewhere in Tokyo. Only one stop from the nightlife of Roppongi.
Daikanyama is where the young, thinking hip set go to find what they'll wear, what they'll hang on the wall, and who they'll see in the cafes. Eminently strollable, green, pleasant sloping streets.
Fukagawa & Morishita, dotted with temples, parks, and gardens forms a quiet, settled area of old Tokyo. Fukagawa is renowned as the area in Tokyo where the famous haiku poet Basho was most active.
Kappabashi
Ginza, Goldengai, Harajuku, Ikebukuro
Ginza is Tokyo's luxury brand shopping street, where the very rich shop and the curious watch. Be dazzled by the endless international boutiques and explore the the big, established department stores.
Goldengai is Tokyo nightlife frozen in time from before Japan got rich. Rows of dilapidated little pubs are where the denizens of Tokyo's wilder, seamier side share their stories.
Harajuku with its wild and crazy street fashion is the brash, young face of Tokyo. A jumble of shops cater to those young things with visions of pop'n'rock stardom in their eyes.
Ikebukuro is a low-priced, vibrant area of Tokyo with a large student population, a few rough edges, but plenty to do in the way of shopping, eating and entertainment. Has the huge Sunshine City complex.
Imperial Palace, Jinbocho, Kagurazaka, Kichijoji
Imperial Palace or Kōkyo is the Emperor's and Empress's residence and forms the geographical heart of Tokyo. This huge, moated property is the site of a former shogun's castle, and much of it is open to the public.
Jinbocho is Tokyo's book town: an area filled with small book stores specializing in almost every genre of scholarship, literature and art imaginable.
Kagurazaka, a former geisha district, is a sedate and handsome slope in Tokyo, and now has a French influence. It offers traditional (and expensive) dining opportunities in its numerous well-known ryotei restaurants, free of all the glass the plastic.
Kichijoji with its magnificent Inokashira Park and Ghibli Museum is somewhat west of Tokyo. The park is not to be missed for its spring blossom, and the museum showcases the work of animation master, Hayao Miyazaki.
Kinshicho, Koenji, Marunouchi and Yaesu, Mount Takao
Kinshicho is a large, self-contained business and shopping district in the east of Tokyo, across the Sumida River. The Sumida Triphony Hall in Kinshicho is the home of the New Japan Philharmonic Orchestra.
Koenji with its vibrant and down-to-earth nighttime scene is a center of alternative culture in Tokyo, best known for its reasonably priced restaurants and bars.
Marunouchi and Yaesu form Tokyo's most upscale business district, on the eastern flank of the Imperial Palace, with the headquarters of some of Japan's most prestigious companies, and stores catering to the more sophisticated tastes.
Mount Takao is one of the most easily accessed wilderness areas from Tokyo and is a popular destination for hikers. There is a chair lift for those who want to ascend in scenic comfort, and trails for those who want to exert themselves.
Kojimachi, Nagatacho, National Diet Building, Nihonbashi, Ochanomizu
Kojimachi is a business area just west of the Imperial Palace in Chiyoda ward. Kojimachi flanks Shinjuku-dori Avenue for the 1.5 km between the Hanzomon Gate of the Imperial Palace (with its nearby Hanzomon Station) past Kojimachi Station and on westwards to Yotsuya Station.
Nagatacho is the seat of government in Japan, and home to the avant garde residence of the Prime Minister, as well as the Supreme Court, and the National Diet building.
Nakano is best known for the Nakano Broadway shopping mall, the best place for pop culture goods in west Tokyo.
National Diet Building, (or Kokkai-gijidō) somewhat Indian-inspired in its architecture, is where both houses of parliament meet. It is approached by a beautiful vista of trees, and can be toured most weekdays.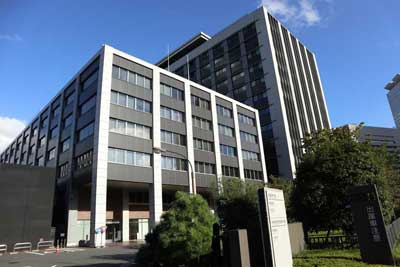 Nagatacho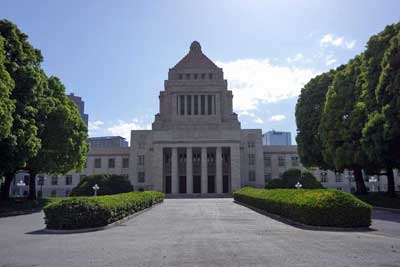 National Diet Building
Nihonbashi, named after its ornate, iron bridge, is a historically significant part of Tokyo. It is most famous as a business district, and is where the Mitsui clan has long dominated.
Ochanomizu, Kanda, Yushima are known for musical instrument stores (Ochanomizu), book stores and a nascent pop-art scene (Kanda) and the Confucian Yushima Seido Shrine.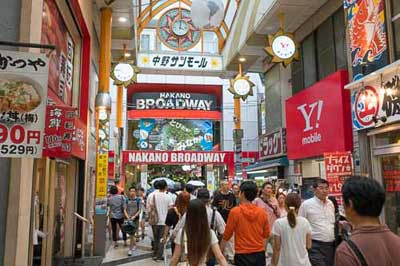 Nakano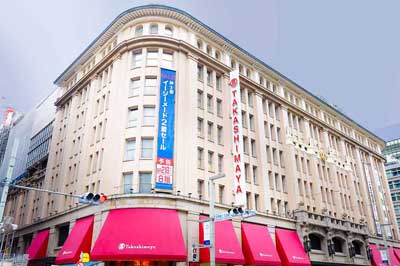 Nihonbashi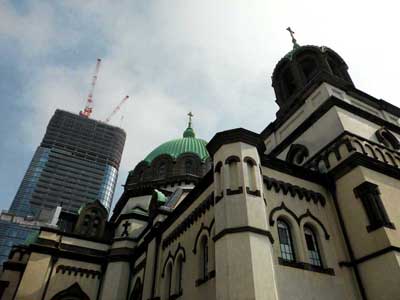 Kanda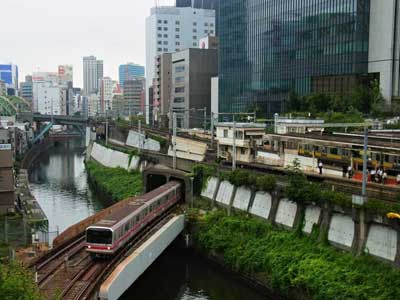 Ochanomizu
Odaiba, Okubo, Omotesando, Roppongi, Ryogoku, Toyosu
Odaiba is space-age Tokyo on the sea, with its monorail, ultra-modern Big Sight exhibition space, museums, and amusement facilities. Odaiba makes for an exhilarating taste of high-tech leisure.
Okubo is Tokyo's Korean town, and is filled with Korean restaurants and Christian churches. Okubo also has a sizable Chinese community, and is home to the prestigious Waseda University.
Omotesando is one of Tokyo' s most elegant shopping boulevards, in the fashionabbble Aoyama district, and right next to Harajuku.
Roppongi has ultra-modern skyscraper shopping and culture complexes, and is also well-known as the nightlife area most popular with the international population of Tokyo. Roppongi also has some renowned museums.
Ryogoku, the sumo capital of Japan, in the east of Tokyo, beside the Sumida River. Watch sumo when its in season at the Kokugikan, and, even out of season, enjoy the chanko-nabe restaurants and the sight of huge men with topknots walking and cycling around the town.
Toyosu, is a spacious man-made island in east Tokyo, with numerous large condominiums, LaLaPort shopping mall and the free Gas Museum. Tsukiji Fish Market relocated here in 2018 after considerable delay.
Shibuya, Shinjuku, Shiodome Shiosite, Shirokanedai
Shibuya is Tokyo's youth fashion center, and one of Tokyo's most popular shopping districts, always thronged with people. Shopping, dining, drinking, Shibuya is, in particular, paradise for quirky, cutesy fashion and the girls who wear it.
Shimokitazawa is a hip potpourri of a neighborhood four train stops west of Shibuya that encapsulates Tokyo's backstreet chic - and is home to numerous small music and stage performance venues.
Shinagawa was the first post-town out of old Edo on the Tokaido highway and retains vestiges of its historic past.
Shinbashi is the raw heart of Tokyo: a very central office, entertainment and cheap accommodation area that stays true to its past.
Shinjuku is the commercial and administrative heart of Tokyo, with endless shopping opportunities and a ceaseless nightlife, including Tokyo's biggest gay and lesbian district and the city's biggest red light district. West Shinjuku is home to the Tokyo metropolitan government.
Shiodome Shiosite is a spacious development dominated by the gargantuan Caretta Shiodome high-rise shopping, office, and entertainment complex. The area's many other huge new architectural projects offer a wide range of entertainment opportunities.
Shirokanedai is sedate area of Tokyo that nevertheless has numerous parks, gardens, museums, and neighborhood cafes. Those with an interest in nature and art are sure to find something to their liking in this placid district.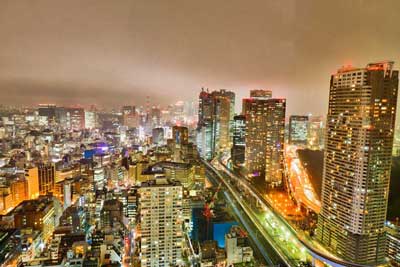 Shinbashi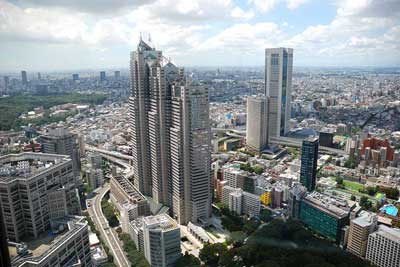 Shinjuku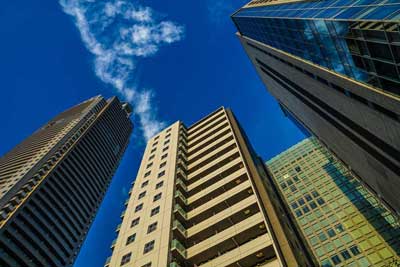 Shiodome

Shirokanedai
Tocho, Tokyo Disneyland, Tokyo Skytree, Tokyo Tower, Tsukiji, Yanaka, Yurakucho
Tocho, or the Tokyo Metropolitan Government Building, is a huge twin-tower complex in West Shinjuku. The building is worth the visit for its eye-catching architecture, and the lookout floors provide breath-taking views of Tokyo on a good day.
Tokyo Disneyland and Tokyo Disneysea in neighboring Chiba Prefecture are both considered rites of passage for many young Japanese.
Tokyo SkyTree is the capital's tallest structure at 634m and has become one of the city's most popular attractions.
Tokyo Tower is a venerable Tokyo landmark broadcasting tower, its 333m high profile defining the city. It provides good views of Tokyo, and is full of unexpected attractions for the family.
Tsukiji was the site of Tokyo's central seafood market, and was where the daily supply of the city's fish was auctioned off early every morning. Tsukiji was a dyed-in-the-wool Japanese-style hubbub not to be missed. The market moved in 2018 to Toyosu Market.
Uechun is a small pedestrian-only shopping street in the Ueno area of Tokyo that has an old-time Tokyo vibe, and plenty of shoe and second-hand shopping in particular.
Yanaka shows you what pre-WW2 Tokyo neighborhoods looked like, as it escaped Allied bombing. This green, spacious area is dotted with temples, shrines, parks, and a few museums and galleries.
Yebisu Garden Place is a "city within a city" entertainment, office and retail area located on the site of the former Yebisu brewery.
Yoshiwara in present-day Senzoku yon-chome in Taito-ku was the former licensed pleasure quarter of Edo Period Japan.
Yurakucho is a shopping, dining and entertainment area in Tokyo sandwiched between Hibiya Park to the west, the upscale Marunouchi central business district to the north and the luxury shopping district of Ginza to the east.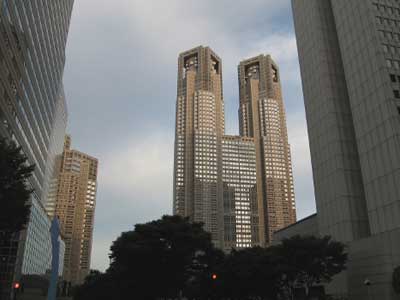 Tokyo Tocho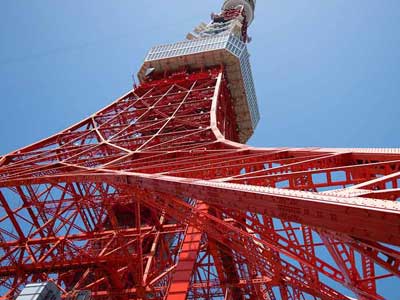 Tokyo Tower
Atami, Fussa, Kamakura, Kawagoe, Saitama
Atami is a traditional hot spring resort on the Izu Peninsula less than two hours from Tokyo famous for its seafood restaurants. Atami offers an easy escape from the Tokyo rat race where you can soak away your cares.
Fussa in west Tokyo has a strong American influence due to the presence of the Yokoya Air Base in the town.
Kamakura, the former medieval capital of Japan is a town about an hour by train from Tokyo, and is rich in the cultural legacy of its long and distinguished history.
Kawagoe, in Saitama prefecture, is a charming old castle town a short train ride out of Tokyo that retains its old beauty and traditions. It contains the ruins of a castle, numerous old shrines and temples, and old-style Japanese dining opportunities.
Saitama is a bedroom prefecture of Tokyo that nevertheless has a very popular Railway Museum and areas of great scenic beauty. Saitama Stadium is Japan's largest dedicated soccer stadium, and another famous stadium, the Saitama Super Arena, is where large music concerts regularly take place. Rural areas of Saitama Prefecture include Mount Dodaira, Mitsumine Shrine, Mount Hiwada and parts of Chichibu Tama Kai National Park.
Book Hotel Accommodation in Tokyo Japan
All the themes of the city