Tokyo Cycling
Cycling In Tokyo: find information on cycling in Tokyo including where to rent a bicycle and where to ride.
Tokyo By Bicycle 自転車での東京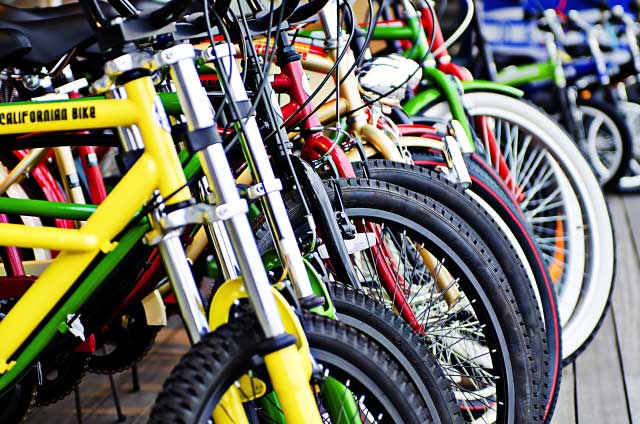 Cycling in Tokyo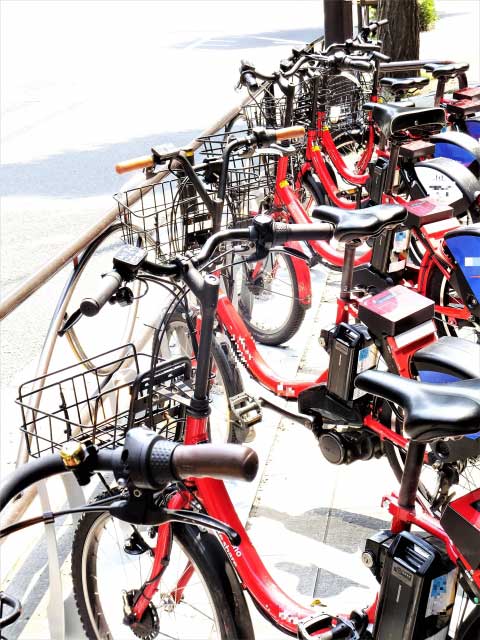 docomo Share Bicycles in Tokyo
Images by Guillaume Marcotte
Tokyo, with its hyper-efficient subway system and dense traffic jams, may not seem the best place to enjoy cycling but more and more people are getting around Japan's vast capital on two wheels.
Two recent trends are boosting the popularity of cycling in Japan: the personal fitness boom and a growing concern for the environment (not unconnected with the rise in the price of gas).
Cycling is suddenly cool again especially on fixies: single-geared, brakeless fixed-gear racing bikes, that are still made in Japan for keirin racing and can cost anything up to 300,000 yen for a hand-made thoroughbred bike. Nowadays the laws have changed and fixies need to have brakes attached.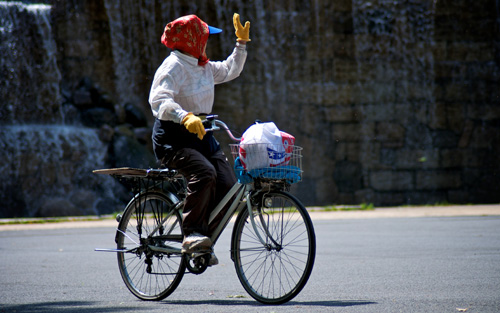 The ubiquitous mama-chari or mom bike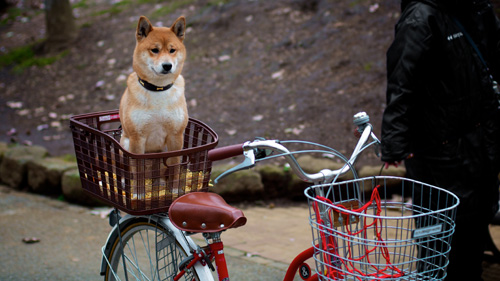 Even dogs are carried on bicycles in Tokyo
Many people's experience of cycling in Tokyo may just be nipping down to the convenience store or taking the kids to school on a mamachari, but an increasing number of Tokyoites are commuting to work by bicycle or getting out on long rides at the weekend.
Tokyo is not yet Amsterdam, Copenhagen or even London when it comes to marked cycle lanes and other facilities for cyclists (indeed Tokyo has only 40 km of dedicated cycle lanes, most incorporated into sidewalks) but awareness is slowly growing and as more and more people switch back to two-wheels for the journey to work the pressure will increase for the authorities to plan more for bicycle traffic.
In response to the increase in two-wheeled traffic the Tokyo police have begun to enforce the law more strictly and come down heavily on fixie (piste) riders without brakes, illegal parking (by installing coin-operated bike parks on sidewalks), carrying passengers and riding while holding an umbrella, wearing ear-phones or talking on a mobile phone etc.
Tokyo maybe vast but the area of central Tokyo within the circle of the Yamanote Line is a manageable 5-10 km from Tokyo Station and there are a number of routes that take you off the busy main thoroughfares and on to quieter roads. Sundays are much more pleasant for cycling than a normal weekday.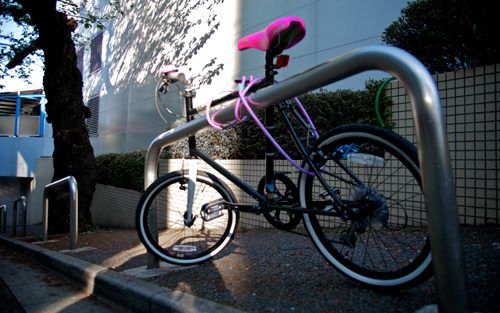 Bicycle theft is common in Japan so keep your bike securely locked
The capital has a growing number of rental bicycle shops, specialist cycle shops, cycling clubs and cycle tour companies. Near Tokyo Station bicycles can be rented from Tokyo Bike from the Sky Bus ticket counter in Marunouchi (Tel: 03 3215 0008).
For the 2020 Tokyo Olympics a public bicycle hire scheme is envisaged similar to such schemes in Paris and London with docking stations around the city. (See docomo bike share below).
A bicycle-sharing scheme E-cycle (eサイクル)is in operation in Edogawa in Tokyo with around 500 bicycles and a number of docking stations. (www.city.edogawa.tokyo.jp/e058/kurashi/kotsu/e_cycle/port.html)
Tokyo Rental Bikes
Cycle Trip - has road bike rentals from one day to multiple days.
Happy Cycle Tokyo - has town bikes and e-bikes for rent.
bbbase bicycle station - has road bikes for hire near Ryogoku Station.
docomo bike share - operates in Tokyo (Bunkyo-ku, Chiyoda-ku, Chuo-ku, Koto-ku, Meguro-ku, Minato-ku, Ota-ku, Shibuya-ku, Shinagawa-ku, Shinjuku-ku) and other places in Japan (Yokohama, Kawasaki, Sendai, Osaka, Nara). Users must first register and give credit card details.
Giant stores throughout Japan do daily cycle rental. There are outlets in Beppu, Biwako Moriyama, Imabari, Maebashi, Matsue, Miyazaki, Onomichi and Sendai.
Bicycle Shops in Tokyo
Y's Road - is a chain of bicycle shops in Tokyo and other parts of Japan (Fukuoka, Hiroshima, Kobe, Nagoya, Osaka).
Loro does folding bikes, recumbents and tricycles with branches in Kyoto, Osaka and Yokohama.
Cycle Doctor - bicycle and wheelchair maintenance mobile service comes to your home or office.
Il Cuore - specialist bicycle shop in Taito-ku.
Bicycle Shops in Chubu
Cycle Joy - is a chain of bicycle shops in the Chubu area of central Japan around Nagoya.
Tokyo Cycle Tours
Cycling Clubs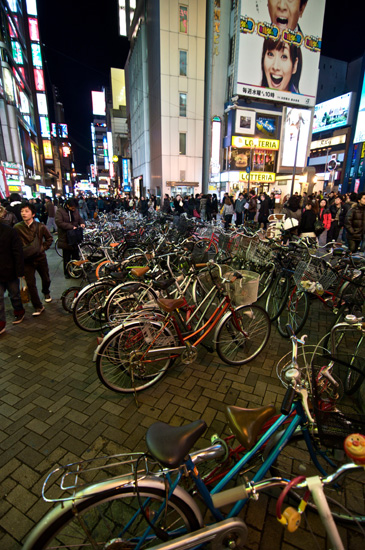 Illegal bicycle parking is a problem in Japan's big cities and the authorities are cracking down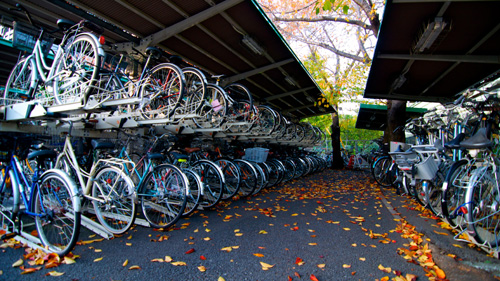 Many stations in Japan have free or pay-for bicycle parking facilities

Cycling Essentials
A helmet and lights for night riding are essential.
It is against the law to cycle without lights/reflectors and while drunk.
Watch out for car doors opening.
Pedestrians have the right of way on the sidewalks.
Bicycles can only be taken on trains in a bicycle bag.
Accidents involving bicycles account for 38% of traffic accidents in Japan.
Running a red light can incur a fine of 50,000 yen; dangerous cycling on sidewalks 20,000 yen.
Further information
Images Guillaume Marcotte
See more images of Japan by Guillaume Marcotte
All the themes of the city