Yanaka Ginza
Yanaka Ginza: read a guide to the shopping areas of Yanaka Ginza and Yuyake-dandan Steps in Taito-ku, Tokyo.
Tokyo Area Guide: Yanaka Ginza 谷中銀座
Yanaka Ginza
Yanaka Ginza is a shopping lane in Tokyo's traditional Yanaka temple district in Taito ward. Yanaka Ginza partly preserves and partly recreates something of the atmosphere of old Tokyo. The name "Ginza" is taken from the more famous Ginza shopping street about 8km further south in Chiyoda ward that boasts Japan's biggest selection of high-end stores.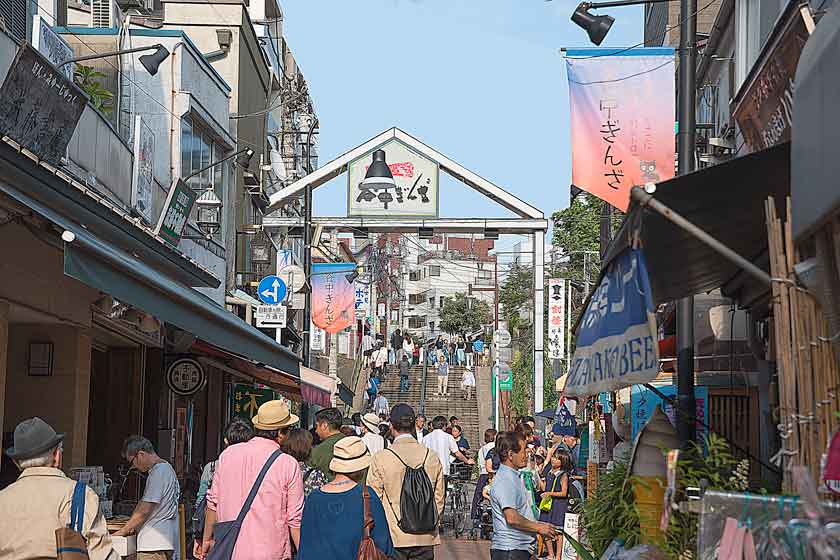 "Yuyake-DanDan" steps at one end of Yanaka Ginza, Tokyo
Yanaka Ginza is a miscellany of little stores offering mainly traditional-style Japanese snacks and sweets, trinkets, souvenirs, clothing, and other accessories. The shops along Yanaka Ginza cater as much to tourists (including from other parts of Tokyo) as locals. Yanaka Ginza's stores are very accessible, most opening out onto the street for easy browsing, and purchasing of readily edible treats or little handcrafted items perfect for giving away as gifts, or maybe keeping as mementos.
Yanaka Ginza is characterized by color and decoration, but its main charm lies in the relaxed atmosphere that prevails even when busy with visiting shoppers - with none of the strident hawking and pushy bustle that characterizes Taito ward's other traditional-style shopping street, the nearby Ameyayokocho.
Yanaka Ginza is only about 170 meters (185 yards) long, but the wealth of things and places to see, do and stop at will keep the visitor passing down it occupied for a good 20 minutes or so--longer if you stop for a bite to eat.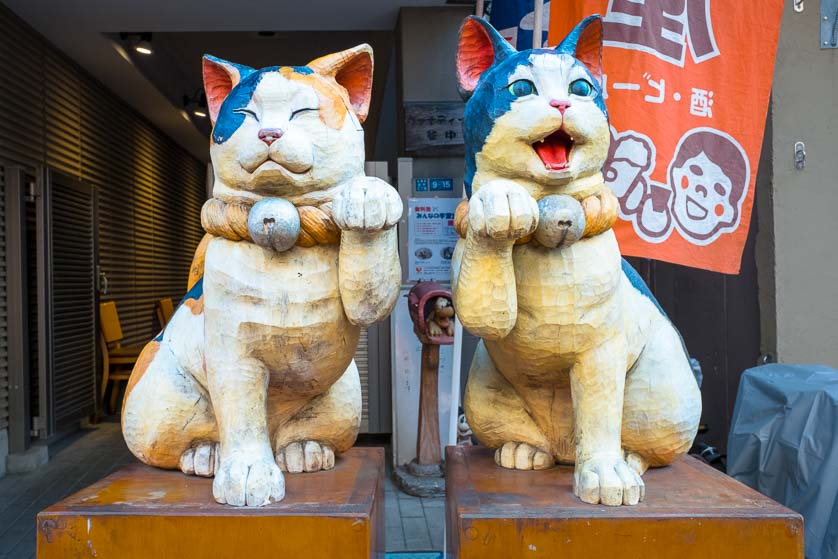 Two of Yanaka Ginza's seven lucky Maneki Neko beckoning cats
Seven Lucky Manekineko Cats
One of Yanaka Ginza's attractions is its Seven Lucky Cats. The Maneki Neko Lucky Cat is a traditional figurine of a feline beckoning in luck with one raised paw. There are seven such wooden maneki-neko figurines placed throughout Yanaka Ginza. They say that finding all seven makes the finder's wishes come true!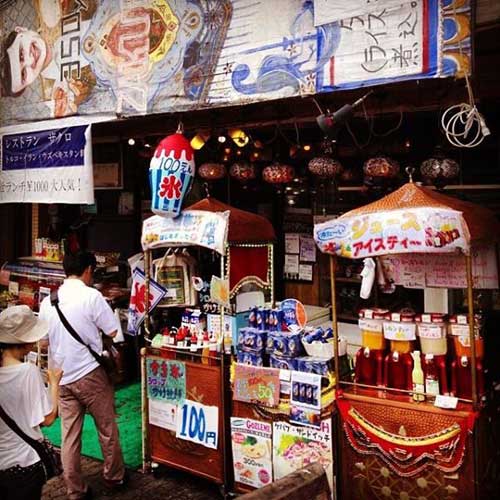 Shopping in Yanaka Ginza, Tokyo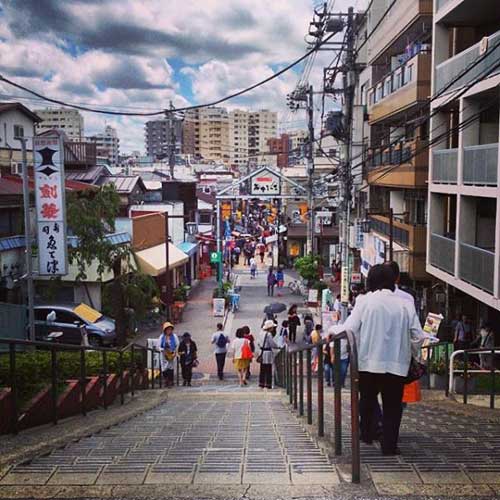 Yuyake-dandan Steps, Yanaka, Tokyo
Yuyake-dandan Steps
The eastern end of Yanaka Ginza is accessed from Nippori Station down the Yuyake-dandan steps: 36 steps that descend a gentle 4.4 meters (14 feet). Yuuyake-dandan means "Sunset steps" and was so named in 1990 as a result of a naming competition in a local community newspaper on the occasion of the steps' renovation. The view of Yanaka Ginza from the top of the steps is a typical one in TV programs and print articles featuring the area, and its elevation makes the top of the stairs as good a place as any near Nippori Station to view the sunset - no doubt with the right person.
Yomise-dori
The western end of Yanaka Ginza, towards Sendagi, ends in a T-junction with Yomise-dori: another old-style shopping avenue, but one that caters more to local residents than tourists. Yomise-dori still has enough of interest in terms of old local flavor to warrant exploring.
Access
From Nippori Station, Yanaka Ginza is only about 3 minutes' walk. Turn left out of the West Exit of Nippori Station, follow the road up as it slopes and take the right road where it forks.
From Sendagi Subway Station, Yanaka Ginza is only about 3 minutes' walk. Go out Exit 2, cross the road using the pedestrian crossing and go left up up Shinobazu-dori. Take the first turn on your right, then the first on your left, then the second on your right.
Google Map to Yanaka Ginza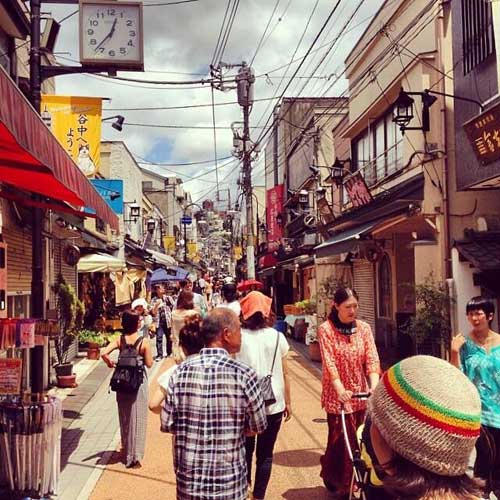 Shopping in Yanaka Ginza, Tokyo
Nearby Attractions
The large, elegant Nezu Shrine is a short walk south-west of Yanaka, and is particularly famous for its spring Azalea Festival, featuring its slopes of luxuriant azalea gardens.
For a full listing of Tokyo Museums & Art Galleries click here
Book Hotel Accommodation in Yanaka Tokyo
All the themes of the city