Yurakucho Guide
Yurakucho 有楽町
Yurakucho is a shopping, dining and entertainment area in Chiyoda ward, Tokyo, sandwiched between Hibiya Park to the west, the upscale Marunouchi central business district to the north and the luxury shopping district of Ginza to the east.
Yurakucho offers a somewhat more down-to-earth experience of Tokyo than these its neighboring districts, especially by night with tiny alleys full of reasonably priced eateries and a buzzing but laid-back, approachable atmosphere.
Yurakucho is only a stone's throw from the south-east corner of the Imperial Palace moat, and one stop south of Tokyo Station on the Yamanote line. The Yamanote line's elevated tracks and its girders define Yurakucho, hovering over and providing the dingy lamplit focus of much of it. Yurakucho Station dates from 1910, and its original brick arches still support the overhead railway. Underneath the tracks and in the alleys along the eastern side are the many small restaurants and bars that make Yurakucho such a well-known place to socialize after dark. Surrounding both sides of the station are large-scale buildings mainly for shopping. The east side of the station features a sprawling pedestrian plaza that provides some open space, in contrast with the closeness of the girders.
Yurakucho subway station on the Yurakucho line adjoins the north-eastern edge of JR Yurakucho station.
On Sundays Yurakucho is closed to traffic, making for an extra-relaxed pedestrian atmosphere.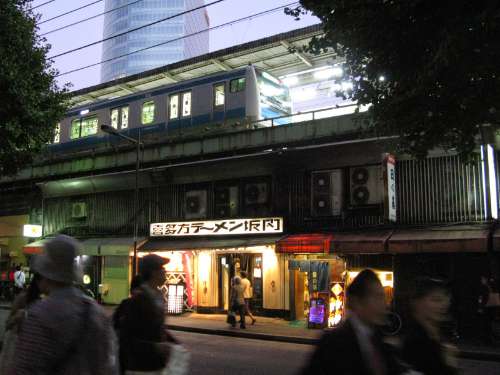 Kitakata Ramen shop underneath Yurakucho Station at night.
Yurakucho Eating and Drinking
The area around Yurakucho station is known as Gaado-shita ("Below the Girders") in Japanese. Gaado-shita is an area of alleys full of mostly traditional beer-and-grill spots for socializing, such alleys being called yokocho in Japanese.
The yokocho are atmospheric and old neighborhood in style, hung with lanterns and typified by little barbecue and noodle shops, tiny izakaya pubs that businessmen crowd into after work, game parlors, Japanese fast-food chain stores, yakitori, yakiniku, and coffee shops both one-off and chain.
The west side of Gaado-shita just north of the station has been given a makeover, retaining something of the area's old charm in its European-inspired bars and restaurants, but without the somewhat gritty, retro edge of the east side that conjures up the Japan of a few decades ago.
Some well-known Yurakucho spots to eat and drink include Shin-Hinomoto featuring seafood and a British owner/chef, and Saka Bar Shinsuke for tasty Japanese fare that goes particularly well with sake, but simply strolling the yokocho will provide you with more than enough choices.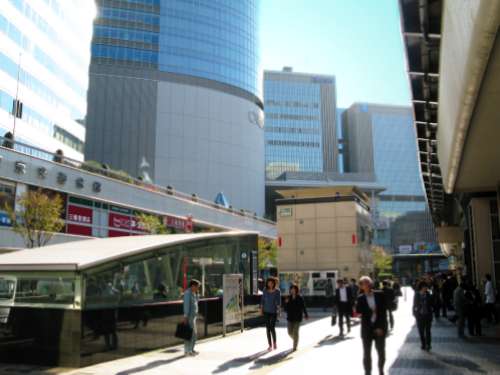 JR Yurakucho Station east side, Itocia in background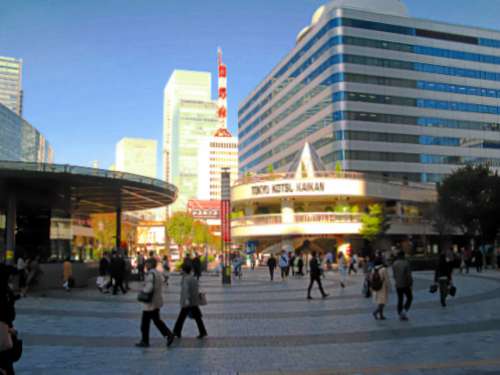 Yurakucho Station east side, Tokyo Kotsu Kaikan
Yurakucho Shopping
The Central Exit of Yurakucho Station opens out onto a large plaza dominated by the 21-story Yurakucho Itocia building and its adjacent 4-story Itocia Plaza annex, completed in 2007. Yurakucho Itocia houses the Yurakucho Marui department store on its B1F to 8F, with mainly fashion for young men and women. (Yurakucho Marui hours: 11 a.m. to 9 p.m. every day except Sundays and public holidays when open 10:30 a.m. to 8:30 p.m.) Itocia also has numerous places to eat and drink, in Itocia Plaza and on the B1 Itocia Food Avenue. Itocia Plaza has cinemas on the 4F.
Tokyo Kotsu Kaikan is a somewhat dowdy neighbor to Itocia, but has numerous "antenna" stores on its B1 and 1F featuring mainly foodstuffs from all over Japan, each offering the delights of a particular, often far-flung, region of Japan (typically open from about 10 a.m. to about 7 p.m.).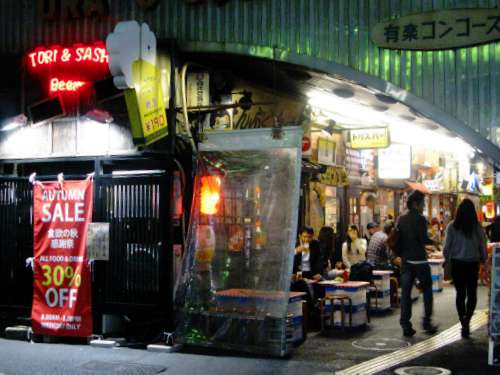 Yuraku Concourse by night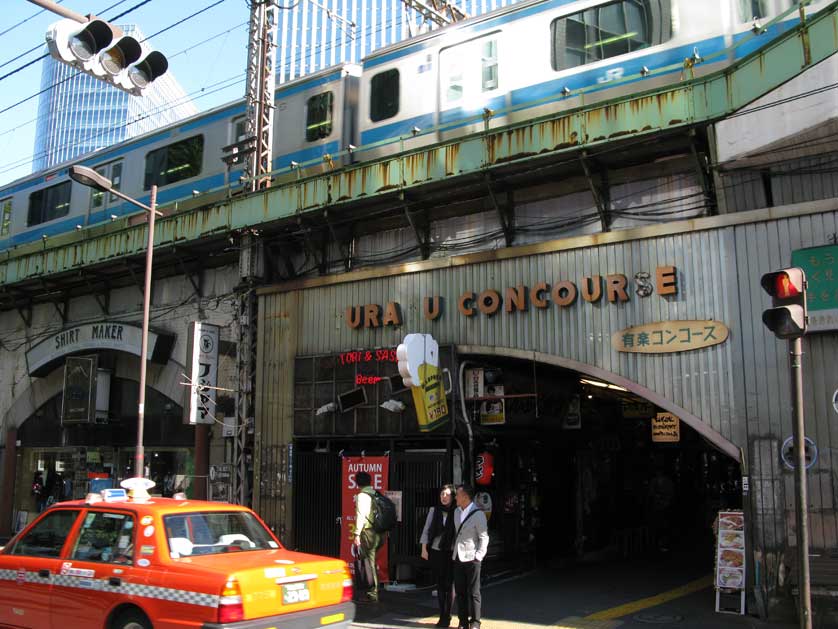 Yuraku Concourse by day.
Bic Camera Yurakucho is an 8-floor emporium (6 floors above ground, 2 floors below) with everything in the way of electronics and home appliances. Much of the alley between Bic Camera and the JR Yamanote line is the Bic Camera Outlet store, an annex store that sells display and other not-quite-new appliances for reasonable prices. Bic Camera Yurakucho is directly in front of the Central West and Hibiya exits of Yurakucho Station. Bic Camera Yurakucho hours: 10 a.m. to 10 p.m. every day of the year.
Loft Yurakucho is a spacious, modern one-floor department store for the quality- and design-minded shopper, offering everything from designer homeware to a huge array of gift-type items and novelty goods, to select stationery, clothing accessories and even items with a trad-mod touch, such as ceramics. Loft Yurakucho is accessible from the Central and Kyobashi exits of Yurakucho Station. Loft Yurakucho hours: 10:30 a.m. to 9:30 p.m. every day (but until 9 p.m. on Sundays/public holidays).
Muji fashion store is a huge, multi-floor branch of this famous low-cost fashion and furniture chain, and shares the same building as Loft and is right beside it. Muji includes a very spacious Cafe&Meal Muji, and even offers reasonably priced bicycle rental. Muji hours: 10 a.m. to 9 p.m.
Nearby Yurakucho
Tokyo International Forum is a cutting-edge art and convention center, Tokyo's largest, striking in its architecture. The Forum's long, sweeping, 11-floor glass lobby, inspired by the shape of a boat is its most conspicuous feature. Tokyo International Forum is full of works of art, hosts a variegated program of shows, plays and musical performances, and has several restaurants and cafes. Tokyo International Forum is located just beyond Bic Camera if you are coming from Yurakucho Station.
The Mitsuo Aida Museum, commemorating the work of calligrapher and poet Mituso Aida (1924-1991) is located on the B1 floor of Tokyo International Forum. Hours 10 a.m. - 5:30 p.m. (last admission 5 p.m.) Closed Mondays (except when Monday is a national holiday). Admission: 800 yen for adults.
Festivals
The first week or so of August from midday onward is Yurakucho Uchimizu Week, uchimizu being a traditional communal water-splashing ritual related to hygiene and keeping cool. The event features many cultural activities including street music performances traditional and contemporary.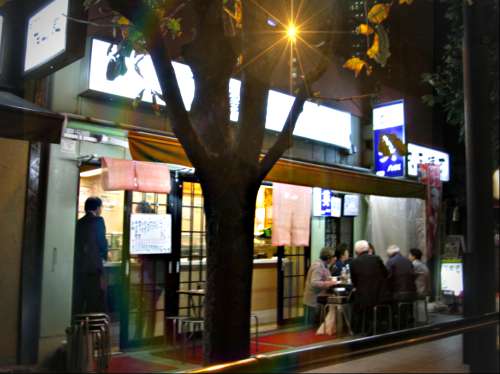 Outdoor dining, Yurakucho, Tokyo.
Hotels in Yurakucho
The nearest hotels to Yurakucho station are only a short walk away in the adjoining Hibiya, Marunouchi and Ginza districts.
The Peninsula Tokyo Hotel in Hibiya is the closest—and grandest, with a commanding view over the Imperial Palace moat and Hibiya Park, and stands out for its unique looks, especially at night when illuminated. The rooms are comfortable, spacious, luxuriously decorated, and incorporate a Japanese touch. There is WiFi and plenty of other mod cons in every room, rooms are very quiet, and the hotel has gym, spa and pool facilities, several restaurants, and English-speaking staff.
The remm Hibiya Hotel is also very close and caters more to the business-style traveler than the luxury set. The remm Hibiya is quite a new hotel so is modern and comes with good facilities including a massage chair in each room. Rooms are somewhat small at about 15 sq.m. but this is about right for the price in central Tokyo. There is free WiFi in rooms, and the free breakfast is provided by the on-site Muji Cafe.
The Imperial Hotel is just behind the remm Hibiya Hotel and right next to Hibiya Park. What was once Tokyo's foremost hotel retains its sense of quiet elegance in a building designed by Frank Lloyd Wright. The hotel is very big, with a traditional feel, but the rooms are modern and well-equipped (including WiFi). The Imperial offers impeccable, old-style service and comfort, and very good restaurants.
The Mercure Hotel in nearby Ginza is a more budget-minded option, but features modern, jazzy, almost quirky interior decoration guaranteed to keep you charged and smiling. There is free wired internet in rooms, WiFi in public areas, and helpful staff. Being in nearby Ginza the nearby amenities 24-hour convenience in the form of supermarkets, convenience stores, restaurants and cafes, fast food, and immediate access to Ginza Itchome subway station.
The Tokyo Yaesu Hotel in nearby Yaesu is only a minute or so walk from Tokyo Station (and therefore easy walking distance to Yurakucho) and offers inexpensive but optimally located accommodation to the traveller looking to pay less. The Tokyo Yaesu is modern and up-to-date with WiFi in all rooms and attentive and meticulous service. While it does not have a fitness room, it is equipped with everything else the visitor to Tokyo needs in the way of convenience and amenities. The rooms are small but highly functional.
Access To Yurakucho - how to get to Yurakucho
Yurakucho Station on the JR Yamanote line, Yurakucho Station on the Tokyo Metro Yurakucho subway line, and Hibiya Station on the Tokyo Metro Hibiya line all provide immediate access to Yurakucho. Ginza station on the Tokyo Metro Hibiya line and Hibiya Station on the Tokyo Toei Mita line are also very close to Yurakucho.
Yurakucho and environs are full of taxis night and day, which can be hailed from almost anywhere.
Yurakucho Map
Yurakucho is a small, happening central Tokyo neighborhood where Tokyoites socialize in small traditional bars and restaurants, and Yurakucho also provides ample shopping and entertainment opportunities.
All the themes of the city