Tokyo Top Five Pools
A guide to five of Tokyo's best swimming pool complexes, indoor and outdoor, that include lots of fun water-related activities and entertainment, ideal for the hot summer months.
Top Five Tokyo Pools
Tokyo might not be among the world's hottest cities, but in summer you'd be readily forgiven for thinking it was. The extremely high humidity of the Japanese summer can be exhausting. So where best to refresh than in one of Tokyo's clean, fully equipped, and convenient pools and water entertainment complexes?
The following is an overview of five of the greater Tokyo area's best pool/water entertainment facilities, all well connected by public transport.
Note that the first three are part of much larger fun parks.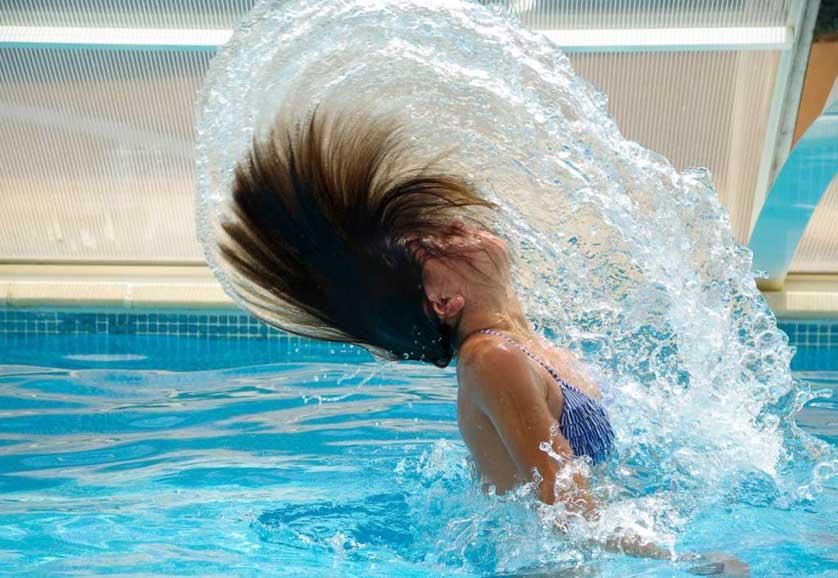 Tokyo Swimming Pools
Toshimaen Pool - Nerima Ward
Toshimaen Pool, in Tokyo's Nerima ward, has a huge main pool, into which you can plunge by way of some fun twists and turns down the circuitous Hydropolis water slide at full slippery speed. Toshimaen Pool is a massive water recreation complex that even incorporates a a futsal court and a fishing pool. A fishing pool - yes, that's in sprite of Toshimaen Pool being on the banks of the Shakujii River in Nerima ward, Tokyo. Access is by either of two stations, both named "Toshimaen": on the Seibu Toshima Line (the closer one) and the Toei Oedo Subway Line (a short walk east). Pool hours change according to the day and season, sometimes closing at 5 pm, sometimes at 9 pm, so be sure to check the hours beforehand. Toshimaen Pool's season starts about the end of June and ends around early September. 4,200 yen for adults for the pools plus free rides on everything: or 2,900 yen for adults for the pools only, with plus pay-per-use for other attractions.
3-25-1 Kohyama, Nerima-ku, Tokyo. Tel.03 3990 8800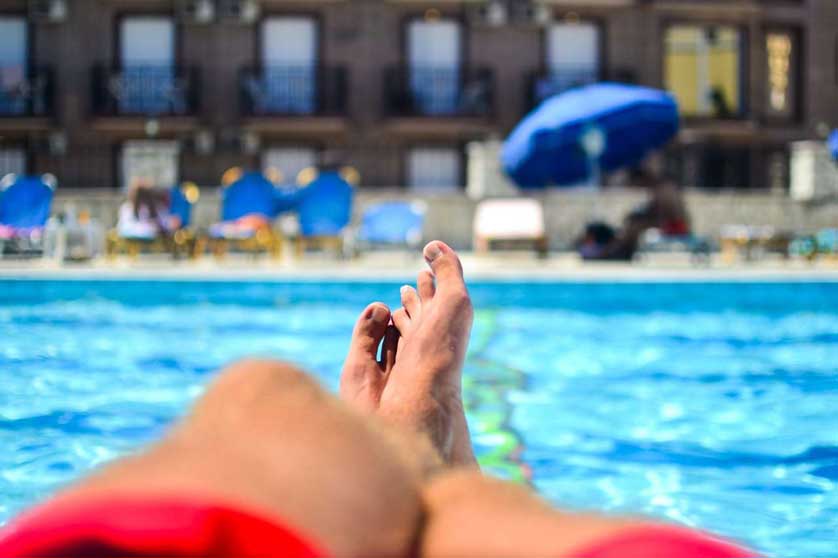 Tokyo Swimming Pools
Tokyo Summerland - Akiruno City
Tokyo Summerland is another giant water recreation facility, with a total of ten pools, both indoor and outdoor, eight scenic night pools, and ten water slides. The Adventure Dome is a giant indoor pool complex, and the whopping Adventure Lagoon attraction right next to it sends the waterbaby on a 650-meter "water journey," which takes a good half hour to navigate. But whether you want to get wet or stay dry, Tokyo Summerland has something fun for everyone. Novelty rides, games and challenges abound, and are so plentiful you'll find something new every visit. Tokyo Summerland is usually open from 10 am to 5 pm daily, except on Thursdays, when it is closed. However, in the busiest season, July to September, it is open seven days a week. Tokyo Summerland is in Akiruno City in the far west of Tokyo, on the banks of the Akino River. The bus from Keio-hachioji Station takes 35 minutes. Tokyo Summerland's regular entry fee adults is 2,000 yen for admission, or 3,000 yen for a free pass to everything. Add 1,500 yen to these prices during the summer season: July 1 - October 1.
600 Kamiyotsugi, Akiruno, Tokyo. Tel. 042 558 6511
Yomiuriland Pool Wai - Inagi City
Yomiuriland Pool Wai is a water attraction in a much bigger amusement park. If you love splashing around in the water, then there is a lot to experience here. However, there are also water-themed shows to entertain when you're out of the pool and relaxing. The theme here is "tropicana", with all the zany designs and bright colors you'd expect. Yomiuriland Pool Wai has it all: a big water slide, fountains, a pool that constantly sprays the swimmers with water, entertainment and lots of restaurants, cafes, and other refreshment spots. Once the afternoon fun in the water is over, you can relax in the restaurant, overlooking a pool, in the evening. Yomiuriland Pool Wai is quite far out of Tokyo, in the westerly Inagi City, near Kawasaki. Open 10 am to 5 pm, or 9 am to 9 pm, depending on the season - so please confirm in advance. There is a bus from Keio Yomiuriland Station. Yomiuriland Pool Wai costs 3,200 yen for adults, or 6,000 yen for a one-day pass giving you full access to and free use of the amusement park.4015-1 Yanokuchi, Inagi-shi, Tokyo. Tel. 044 966 1111
Showa Kinen Park: Rainbow Pool - Tachikawa City
The Rainbow Pool in big, beautiful Showa Kinen Park runs only during summer. It is located west of Tokyo, in Tachikawa City. Entrance to Rainbow Pool requires a separate ticket from the Showa Kinen Park entry ticket. But entry to Rainbow Pool automatically gives you access to the Park: a great bonus! Its six hectares (fifteen acres) has nine swimming pools. The names alone: Adventure Pool, Monument Pool, Wave Pool, Running Water Pool, Waterslide Pool, and more, give a hint of the various themes and kinds of fun they provide. The Rainbow Pool season is from July to September. For younger children, there is Water Playland next door, with pools suitable for toddlers (supervised, of course). The Rainbow Pool requires a separate entry fee. The Rainbow Pool complex comes equipped with showers and lockers, but visitors must bring soap and shampoo themselves. Don't forget your flip-flops or sandals because the concrete gets hot. The opening season is from mid-July to about the beginning of September, but is split in two with about a five-day break in the middle of July. In the first half of the period, it is closed Mondays and public holidays; in the second half it is closed Sundays. Rainbow Pool costs 2,500 yen for adults (15 years old and over). There is also a pool for the physically challenged that costs 500 yen to use.3173 Midoricho, Tachikawa-shi, Tokyo. Tel. 042-528-1751
Tama Aqua Blue - Tama City
Tama Aqua Blue is an all-indoor pool complex in Tama City, west of central Tokyo. Unlike the above four, Tama Aqua Blue is open throughout the year. The pools at Tama Aqua Blue are also heated, so no gasps when jumping in. There is a fifty-meter main pool for ordinary swimming. There is also a jet Jacuzzi with nozzles for a delightful water massage, a mist sauna, a water slide, and a wave pool. The pool opens at 9 am almost every day, and closes at either around 7:30 pm (on Sundays and public holidays) or 9:30 pm (Monday to Saturday) depending on the season. It is open every day throughout August. The admission fee is only 610 yen for adults. However, in the summer months of June, July, August, 610 yen is only for two hours of use, plus an additional 300 yen per extra hour. Access: 8 minutes walk from Karakida Station on the Odakyu Tama Line.3-15-2 Minamino, Tama, Tokyo. Tel. 042 338 7667
Map
Keep in Mind
Always comply with staff instructions. For example, most pools prohibit tattoos, body paint, etc. and require any piercings to be removed before entering the water. No alcohol or drunkenness.
Proper swimwear is required at most pools. Swimming in a T-shirt and ordinary shorts, for example, is generally prohibited.
Check with staff before buying your entry ticket if you have any concerns regarding such matters.
Also, it is regular practice at many pools for there to be a five-minute break every hour, when everyone must exit the pool.
All the themes of the city