What to do in Tokyo when you suffer from jet lag?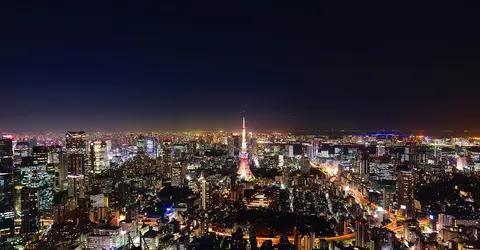 The places to know when you are jet lagged in Tokyo
With ten or more hours of time difference, flights from the West can sometimes cause some inconvenience when you arrive on Japanese soil. Sleeplessness, fatigue, digestive problems, or hyperactivity, the best way to avoid these effects is to adapt to the Japanese sleep cycle. A cycle to which it is not necessarily very easy to adhere, especially when you arrive in Tokyo in the middle of the evening and you have slept your way on the flight... To start the trip on a good note, here are some interesting places, which will allow you to reset your body gently.
If you need a little boost to get your body back to shape, taking a hot bath or reading can be a great way to relax and reset. "Sento, manga, dodo", the formula is quite simple to operate in the capital where many establishments are open until late at night.
Sento, Tokyo's public baths
In addition to enjoying the benefits of hot water, Japanese public baths are open after midnight. Some even offer cold baths or baths with essential oils, and are therefore perfectly suited to relax, and why not get back to sleep a little later in the evening. Note that there is an admission fee (less than 500 yen per person), and shower products and bath towels are to be brought by yourself.
Our selection
Above Takadanobaba Station is Seikai-yu , an Edo -designed sento, where Mount Fuji frescoes welcome visitors until one o'clock in the morning. There is also a sauna and a hot tub.
Address: 3 Chome-8-31 Takadanobaba, Shinjuku City, Tokyo 169-0075
Opening hours: every day from 3 pm to 1 am, closed on Thursdays
Admission : adult 460 yen ($3.85/3.50€), under 12 years old 180 yen ($1.50/1.35€), under 6 years old 80 yen ($.70/.60€)
Directions: 8 min on foot from Takadanobaba station (Yamanote, Tozai, Shinjuku lines)
Near Ochiai-Minami-Nagasaki station, Sakae-yu is a very modern sento that includes a semi-outdoor bath, a sauna, and even a bath whose water would bring good luck!
Address: 2Chome -6-2 Nishiochiai , Shinjuku City, Tokyo 161-0031
Hours: 3 pm to midnight, closed Monday and Friday
Admission: adult 470 yen ($4/3.60€), under 12 years old 180 yen ($1.50/1.35€), under 6 years old 80 yen ($.70/.60€)
Directions: 9 min walk from Ochiai-Minami Nagasaki Station (Oedo Line)
Cafes open at night in Tokyo
Whether it 's chains like Starbucks and Tully's , or small independent shops, cafes usually close late in Tokyo . In France, we are satisfied with an espresso accompanied by a cigarette, in Japan, the cafe is like a real restaurant. From starter to dessert, you can then come and have lunch or dinner there. What differentiates them from strictosensu restaurants is actually their cozy side, which helps to relax when the background music lends itself to it.
Our selection
A few steps from Hachiko (Shibuya), the Udagawa Cafe Bar offers the possibility of dining until 5am!
Address: 18−4 Udagawacho, LD&K Building 1/2F, Shibuya, Tokyo 150-0042
Hours: daily from 11 am to 5 am.
Directions: a few minutes walk from Shibuya station (Yamanote, Hanzomon, Ginza lines)
With its cocktails and salads, FRAMES Nakameguro is a must-visit address for night owls, since the cafe is open until three in the morning on weekdays and until five on weekends.
Address : NM Bldg 1F, 1-18-6 Kamimeguro, Meguro-ku
Opening hours: Monday to Friday from 11:30 am to 3 am and until 5 am on weekends
Directions: In front of Naka-meguro station (Hibiya, Toyoko lines)
Moon Mica Takahashi Coffee Salon
In Yotsuya-sanchome, the Moon Mica Takahashi Coffee Salon is quite enigmatic. Open only when the sun goes down, this little café offers homemade pastries and herbal teas that only the owner knows the secret to.
Address: 4 Chome−28−16 Shinjuku, Yoshioka Building 3rd Floor, Tokyo 160-0004
Hours: Monday to Thursday, 5 pm to 10 pm.
Directions : 10 min walk from Yostuya-sanchome station (Marunouchi line)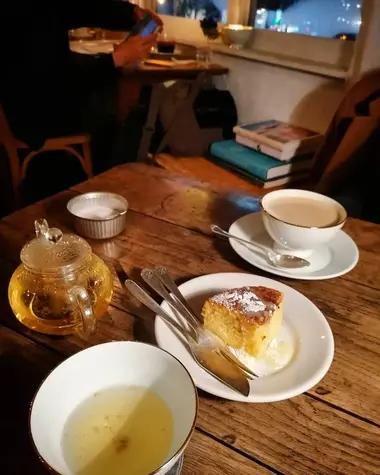 Manga Kissa or manga cafes
A way to discover new titles and perfect your Japanese, manga kissa (or manga café) is a crazy experience to do at least once in Japan. Not only can you read manga there, but you can also eat and drink there. As these establishments are open 24/7, it is also possible to spend the night there. In case you encounter fatigue at the turn of a page.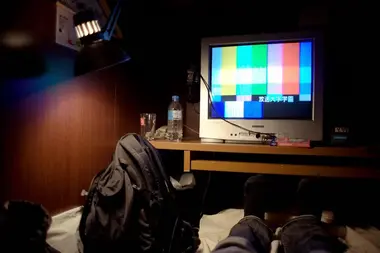 our selection
GeraGera Manga Cafe is a well-established kissa manga chain in Tokyo. Recognizable by its frog logo, this manga cafe has several very practical little boxes where customers can read, surf the net...
Address: 
Ikebukuro ( 1Chome-20-9 Minamiikebukuro, Toshima City, Tokyo 171-0022 ),
Shinjuku (〒160-0021Tokyo, Shinjuku City, Kabukicho, 2Fヒューマックスパビリオン),
Asakusa (〒111-0032Tokyo, Taito City, Asakusa, 1 Chome−42−4 ヒューリック浅草1丁目ビルB2F),
Asagaya (〒166-0004Tokyo, Suginami City, Asagayaminami, 2 Chome−14−10倉橋ビル2F)
Opening hours : every day, 24 hours a day
Takarajima24
With locals scattered all over the city, Takarajima24 is a good option for anyone who wants to hang out at a cheap manga cafe. In addition to books, wifi and DVDs, this chain offers a free shower and a reduced-price menu to lucky holders of their 20 hr pack, a formula at only 3,000 yen ($25/22.75€) that will appeal to all.
Address:
Ikebukuro (〒171-0021Tokyo , Toshima City, Nishiikebukuro, 1 Chome−25−1 B1F~B3F恩田ビル),
Shinjuku (〒160-0021Tokyo, Shinjuku City, Kabukicho, 1 Chome−6−8 B1F~B2F歌舞伎町ビルアミューズ),
In kasaka (2 Chome-13-20 Akasaka, Minato City, Tokyo 107-0052)
Opening hours: every day, 24/7.
Karaoke open all night
A must for Japanese nights, karaoke is renowned for its catchy music and its long hours. Open until four in the morning on average, these rooms are a good way to let off steam while pushing the song. You can also eat and drink there at will depending on the formula chosen, and the spaces are often equipped with benches to be able to rest between two pieces.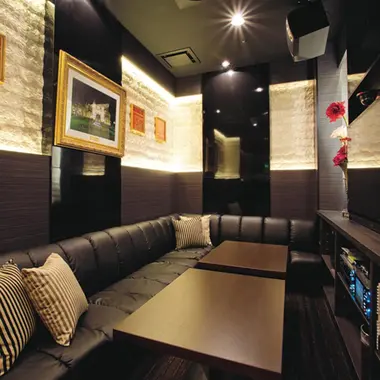 Our selection
With its low prices and open bar, Karaoke Kan is one of the most popular karaoke chains in the country . Abroad, it owes its success in particular to Sofia Coppola, who featured the Shibuya brand in Lost in Translation.
Address:
Roppongi (4Chome-9-9 Roppongi, Minato City, Tokyo 106-0032 ),
Shinjuku (1 Chome-5-12 Nishishinjuku, Shinjuku City, Tokyo 160-0023),
Akihabara (〒101-0023Tokyo, Chiyoda City, Kanda Matsunagacho, 2 竹林ビル)
Hours: daily, 11 am to 5 am.
French RivieraGinza
With its chic atmosphere and gourmet menu, Côte d'Azur Ginza offers a deluxe experience to all microphone lovers . There is also billiards and darts.
Address: 〒 104-0061Tokyo, Chuo City, Ginza, 7 Chome−2−22, DOWA BUILDING, B1F
Opening hours: every day, from 11 am to 5 am.
Route: a few minutes walk from Ginza station (Ginza, Hibiya, Marunouchi lines)
All the themes of the city