Travelling alone in Japan: Our top tips for a solo trip
日本での一人旅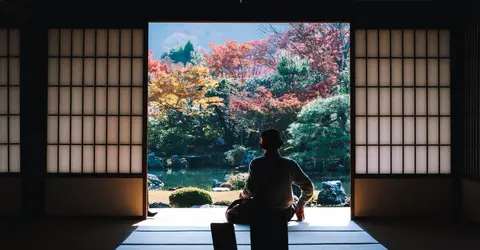 Freedom, cultural immersion, and unforgettable encounters: solo travel in Japan will be an experience like no other. Discover a place where every step will lead to a unique adventure, where spontaneity and authenticity come together. Travelling solo in Japan means freeing yourself from constraints to immerse your body and soul in a fascinating culture, where discovery and wonder are around every corner. Explore the bustling metropolises, be surprised by the local flavors, and vibe to the rhythm of this country that is steeped in tradition and modernity, all in total freedom.
Today, more and more people are embarking on solo travel to Japan. Indeed, it's not always easy to travel in a group and prepare a trip to a country like Japan, with all the demands and availability of all those involved, and once you're there, organizing your trip will also be a headache. The idea of going at it alone may have already crossed your mind. And it's a good idea! Japan is a country where it's extremely easy to visit and travel solo! Historically, Japanese domestic tourism was very much based on business-related manners. So, Japan is a place that has adapted to the many solo travellers who come to spend a night or two in a given place for work or leisure. So you will be able to see many places adapted for solo travelers, such as hitori restaurants (restaurants for solo dining), hitori karaoke (karaoke for one), hitori bars (bars you can enter alone), or Japanese capsule hotels where you book a single bed in a dedicated pod instead of a room!
But if you'd rather meet people during your trip and share an evening, an adventure, a drink, or any part of your journey, there are plenty of possibilities to meet other people too! In this article, you'll find all our tips for solo travel in Japan to optmize your stay, whether you want to enjoy your trip on your own or meet up with fellow travelers on the spot!
Discover our "Japan solo" tour!
What are the typical obstacles or worries about going travelling alone?
Travelling alone to a faraway country, especially when you don't necessarily master the language, will give rise to quite normal apprehensions. These doubts, questions, and anxieties mainly revolve around the language barrier, the safety of traveling alone in the country, social isolation and the general organization of the trip.
Do I need to speak Japanese or English to go to Japan?
The answer is no! The language barrier may seem insurmountable, but it's not. If you don't speak Japanese, and you're not fluent in English, don't let that stop you from paying a visit to the country! In a place like Japan, English may not be as widely spoken or used as much compared to many western countries, and many will find it difficult to understand and respond, however, your best bet for communicating and understanding what's going on around you will be your phone (find out about the different options for accessing the Internet in our guide). With instant translation applications for Japanese like Google Translate or Yomiwa, you will be able to communicate, but with the camera option, you'll also be able to translate Japanese road signs, restaurant menus, or documents written in Japanese without any hassle! What's more, if you stay in Japan's major cities, you'll almost always be offered language options in English. If your interest in Japan extends to studying the Japanese language, solo travel to the country itself will be one of the best ways to practice your Japanese in an authentic environment. Be sure to practice your Japanese as much as possible during your stay!

Travelling solo without being completely alone?
Solo travel doesn't necessarily mean being alone the entire time, as you will be able to meet many different people during your vsiit, be it other travelers or Japanese locals! Social isolation and loneliness are also the main fears of solo travelers, especially those who are very sociable and extroverted by nature. However, there are many ways to meet new people during your trip, whether for an evening or as a travelling companion. One way is to stay in youth hostels or sharehouses, where many travelers, usually solo, are ready to share their adventures, do activities or book multi-day excursions. You can also check out sites like MeetUp or Tokyo Gaijins, which organize meetings and activities all over Japan! But also take the opportunity to talk and meet with locals at bars or restaurants and share the experiences you've had during your vsiit!

Is it dangerous to travel solo in Japan?
In terms of safety, Japan is one of the safest countries in the world. Japan has a relatively low crime rate, though it's always good to practice caution regardless of where you travel to, and be sure to trust your gut and practice caution if you're ever in doubut. Japanese culture is also world-renowned for its emphasis on respect for common rules and other people's property. If you lose your precious belongings in transit or on the street, go to the lost and found counters (忘れ物 wasuremono), where they may already be waiting for you.

Do I need a visa to travel to Japan?
No, if you hold a passport from places like countries in Europe, the United States, or Canada, you will be able to visit for up to 3 months (90 days) as a tourist without needing a visa to enter Japan. For passports from other regions, we advise you to check your eligibility on the Japanese embassy website.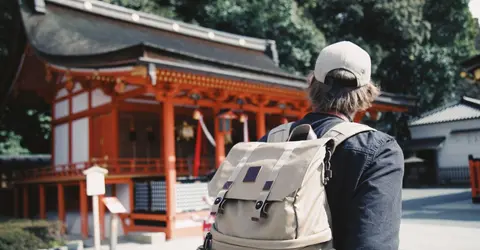 Tip 1: Plan your trip in advance... but not too much!
It's important to find out all you can about the country you're going to, so that you can define your expectations for the duration of your trip and find out everything there is to see. It would be a shame to miss out on a superb temple or a festival that only takes place once every year. However, it's far from ideal to plan your schedule hour by hour. It's important to let yourself be carried along by opportunities and encounters, and not to close yourself off to the unexpected. Visit a city or town and let yourself be carried away by its atmosphere and attractions. That way, you'll be able to unearth some rare gems!
Our travel tip: Find out about all the attractions and places to visit in the cities on your itinerary, as well as excursions in the surrounding area. Select the ones you want to do, then let explore based on such!
Tip 2: Pack light!
Don't overpack! It's often said that you should leave for Japan with an empty suitcase to make room for all the things you'll be buying on the spot, and it's true! Going to Japan is a big trip, and you often want to bring back a whole bunch of souvenirs, and share your trip with your loved ones. But even if you don't plan to be tempted by everything you can find there, pack light. It may seem obvious, but you'll soon find yourself bogged down and cluttered in Japan. In many small stations, in town and country, there are not always elevators or escalators. You'll have to carry your suitcases up and down the stairs, and sometimes there are a lot of them, especially in stations!
Similarly, space per person is more limited in Japan. Trains and subways don't necessarily leave room for suitcases, especially during rush hour. You'll have a hard time getting around on public transport and won't have a very pleasant trip.
The ideal solution is a practical, compact backpack! If you prefer to travel with a suitcase, one will suffice! You can even opt for just a carry-on if you feel its appropriate for your visit!
Other things to know :
There are coin lockers where you can leave your luggage and visit the city without carrying anything around. If you can't get to your hotel to leave your luggage there, this is also a good alternative.

In Japan, there's a service known as Takkyubin, a luggage delivery system for travelling light, so you can collect your bags directly from the address you specify, wherever you like!
Tip 3: Choose the right hotels
When traveling solo, hotel reservations can be your most costly expense, as you can't split the price. However, in Japan, there are many different ways to keep costs down, but also to meet new people and make friends!
Capsule hotels
Opting for a capsule hotel in Japan is ideal for solo travelers, thanks to its economy and practicality. These compact, capsule-like private spaces include a bed, lamp, safe and small storage space, always guaranteeing sufficient privacy. In these capsule hotels, amenities such as shower rooms, kitchen and rest areas are shared, encouraging interaction and the possibility of finding fellow travelers if you wish!
Youth hostels or guesthouses
Guesthouses are very popular in Japan, easily available in Tokyo's numerous districts and countryside. Affordably priced, they offer comfortable accommodation ranging from private rooms to shared dormitories, making them an excellent alternative to hotels. You can share convivial moments with travelers from all over the world and make new friends. What's more, unlike hotels, hostels often offer activities, outings and evenings out, allowing you to immerse yourself in the local culture and receive invaluable advice from locals on how to explore the most interesting places.
Ryokan, traditional Japanese inns
During your stay, you'll probably want to try out a ryokan, a traditional Japanese inn. Rooms can be relatively expensive. However, some ryokan offer comfortable dormitories. This way, you can enjoy the comfort and experience of a ryokan with all its conveniences: traditional architecture and, of course, warm onsen, at a lower cost.
Tip 4: Optimize moving around!
There are many ways to get around Japan, including its highly-developed train rail network. The Japan Rail network will take you to every corner of Japan. Make the most of it! Analyze your needs and decide on the most appropriate itinerary. If you're taking the train, the Japan Rail Pass is an economical and practical option for getting from one end of the country to the other quickly. Train travel in Japan is some of the most praised in the world, and it's definitely optimal for solo travelers looking to get all around the country quickly and easily. Feel free to explore the different options between the national JR Pass and the regional JR Passes.
If you're planning a solo trip to Japan before December 31, 2023, make sure you book your Japan Rail Pass before September 30: on October 1, the price of the pass will increase significantly. But since a JR Pass can be used within 3 months of being ordered, you'll be able to activate it and travel around Japan by train until December at the best possible price.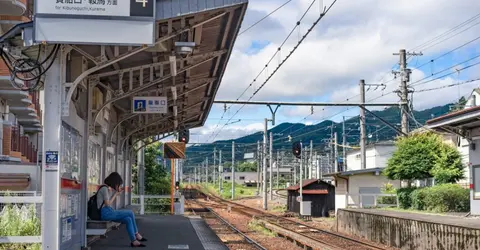 If you're planning to drive when you travel to Japan, especially in remote areas such as Okinawa or other rural prefectures, where public transport is much rarer, remember to have your driver's license translated if needed. This is a mandatory procedure for driving in Japan for some nationalities, France included. 
And don't hesitate to explore the various transfer options available from the airport to help you get around more smoothly. There are numerous means of transport linking Haneda or Narita airport to central Tokyo, as well as from Kansai airport to central Kyoto or Osaka. A good idea, especially if you're leaving early in the morning or want to avoid unforeseen events on the road.
Tip no. 5: Eat alone? You bet!
Japan is a country that is largely accessible, even when alone. For the more introverted among us, it's a wonderful opportunity to enjoy your time without having to socialize. While in the West, eating solo in a restaurant can sometimes feel uncomfortable, this is not at all the case in Japan. Eating alone is even normal. A whole host of facilities are designed to ensure that you don't have to communicate or socialize at all if you don't feel like it. You can even find restaurants that have made this their specialty, offering barbecues for solo customers (where two are usually required), restaurants that do not require interactions with wait staff, or even tables for one person only!
Tip no. 6: Book your own activities
Whether in a group or on your own, experiential travel activities a great way to discover the country and its culture. From cultural activities such as a tea ceremony in Kyoto's old town or a sumo show in Nagasaki, to nature excursions such as hiking in national parks or cycling around the lakes of Hakone near Mount Fuji, there's something for everyone, all over Japan. You can also sign up for group excursions, which take place over 2 or 3 days and during which, under the guidance of a local guide, you set off to discover a particular place or cultural theme. So, for example, if you've always dreamed of spending the night in a temple with Buddhist monks, this is possible as part of an excursion.
It's also a great opportunity to meet other travellers with similar interests.
But be careful. Safety is always first and don't take any major risks! If you want to hike solo or go swimming where there are no locals, check with the locals or tourist offices beforehand. Some of Japan's forests and national parks are home to wild animals such as bears, and currents and tides may also surprise you if you are around teh coast.
Tip 7: Stay connected!
In Japan, it's best to stay connected. It'll save you a lot of trouble on the road. Whether it's finding your way with Google Maps, asking for information, translating a menu, booking a train ticket or finding the address of a good restaurant or an activity to do in the area, you'll hardly be able to do without the Internet, especially to show the people back home all the amazing stuff you're up to!. You will find wi-fi in cafés and konbinis, and even at the top of Mount Fuji, believe it or not. 
There are 3 options: buy a Japanese sim card for data, pocket wifi, or expand your network internationally with your operator, but this last option is generally the most expensive. If you're traveling solo, the best and most economical option is the sim card.
Some other things to know :
You can use some Google Maps functions offline to save data.

The MapsMe application is also a good alternative. It allows you to download maps in advance, so you can use them offline afterwards.
To find out more about our SIM cards, click on the product page.
Tip 8: Get off the beaten track!
You're on your own, so make the most of it! You won't have to convince anyone to go anywhere with you, and booking transportation and hotels will be much easier. Get away from the golden route (Tokyo, Kyoto, Osaka, Hiroshima) and visit some of Japan's more remote areas, and discover some of the rare gems that are less popular because they're less accessible. In just a few hours by train, car or plane, for example, you can visit the marvellous island of Hokkaido in the north of the country, famous for its abundant snow in winter and its fields of flowers in summer. Above all, it's an excellent place to escape the high temperatures and humidity of the Cape during the summer months. The Japanese Alps are also a magnificent region to discover for lovers of the great outdoors and tradition, the island of Shikoku for spiritual enthusiasts, with its famous pilgrimage of 88 temples, and the Tottori region for its sandy dunes.
Japan boasts a myriad of very different landscapes and a rich history: it's up to you to discover and explore this fascinating country, on your own, according to your preferences!
In conclusion, it's very easy to travel to Japan on your own. Whether you want to discover the country on your own, or meet new people and share unforgettable moments, there's something for everyone. With the help of our many tips, you can tailor your trip to suit your desires!
All the themes of the city