Sasayuri Ann
ささゆり庵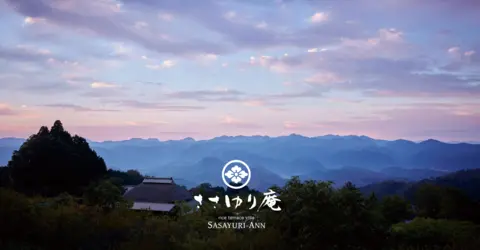 The lily hermitage
The lily hermitage: a very pretty name for a bicentenary cottage completely renovated and made available to visitors, in the village of Fukano, in the prefecture of Nara.
Once upon a time there was a valley and mountains where wild lilies grew, sasayuri. But pollution and urbanization led to their virtual disappearance until the inhabitants of the village of Fukano (ranked among the 100 most beautiful mountain villages in Japan), sorry not to be able to admire their pretty flowers anymore, decided to replant.
Sasayuri-Ann: accommodation between tradition and luxury
It is in this bucolic place that the Sasayuri-Ann cottage is located, which has also escaped the misdeeds of modernization. Its thatched roof , so characteristic of traditional mountain houses, has been completely renovated as well as the interior which combines old decorative elements and comfort worthy of the greatest hotels. And since autumn 2014, the house has been open for rental (from 2 to 10 people) for an extraordinary experience.
To read: The minshuku
Here, no concrete or steel, but pine beams and flooring, a smoked bamboo ceiling and an entirely thatched roof. In the living room, an irori (hearth dug into the ground) invites relaxation and conviviality. You can cook traditional dishes there, while chatting around the hearth. This room serves as a dining room, living room and bedroom, as in Japanese houses of the past. From its huge bay windows , we have a splendid view of the rice fields and the surrounding mountains.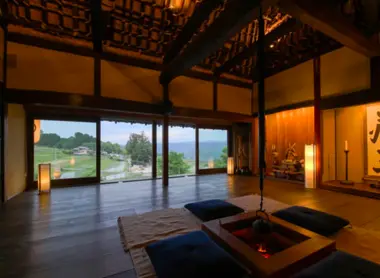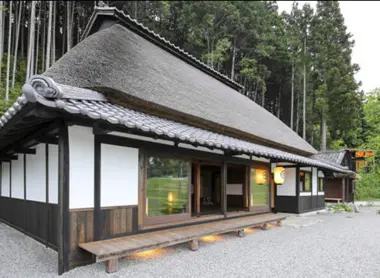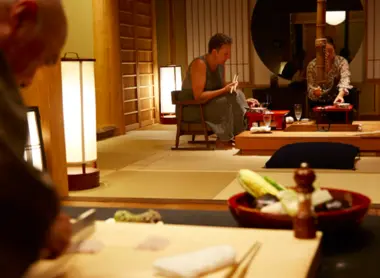 The entrance hall separates this main room from the other rooms: a second living/dining room, a fully equipped kitchen, a laundry room with two washing machines, a cloakroom and two toilets. As for the bathroom, it makes you want to bask for hours in the magnificent and large cypress bathtub which can hold 400 liters of hot water.
Under the roof, spaces have been set up for rest or study.
Japanese hospitality
Although this accommodation ensures total privacy, a staff (English speaking), just as efficient as discreet, is at the disposal of customers.
For meals, guests can choose between a catering service (to be ordered 3 days in advance) with dishes cooked by a nearby restaurant or (depending on the menu chosen) by the chef of the Michelin-starred restaurant Manso, or even cook for themselves in the superbly equipped kitchen . Breakfast is included and makes great use of homemade products.
Closer to Japanese culture
Various cultural workshops are offered as an option: zazen sessions, flute or Japanese drum lessons,   flower arranging and other activities to immerse yourself in Japanese culture.
See also: Ikebana, Japanese floral art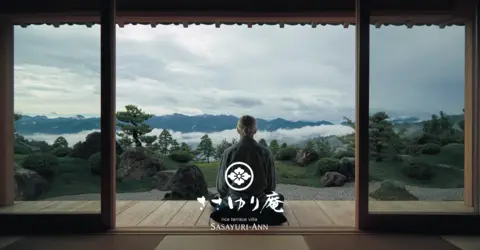 The surroundings of the villa also offer many possibilities : a space is reserved for campfires, bicycles, kayaks and even motorbikes are for rent to enjoy nature and the surrounding countryside is a delight.
A single means of access
A free shuttle service is available for guests (upon request) from and to Nabari Station (approximately 10 minutes by car to the villa) on the Kintetsu line.
For an even more exceptional experience , the owner of the premises offers a 50-minute helicopter ride from Kansai International Airport or other locations on request with access to the village heliport for an arrival with great fanfare!
We would like to be able to live the rest of our days as a hermit in this mountain cocoon...
---
Address, timetable & access
All the themes of the city