Tokyo Dome City ASOBono
東京ドームシティ アソボ〜ノ!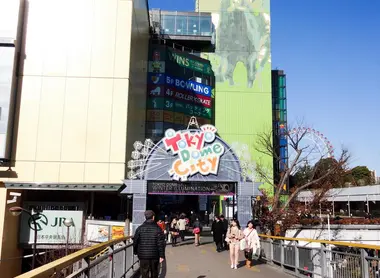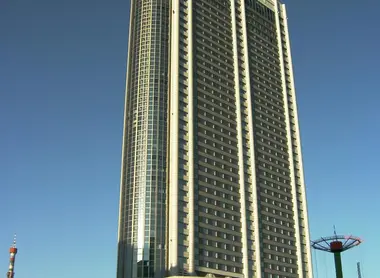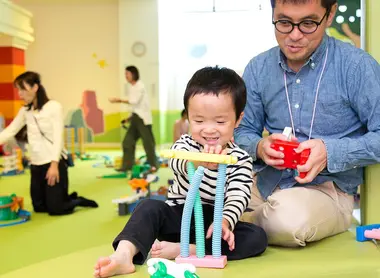 Plenty of play areas
If you don't know how to occupy a small child (or several), then here is the ideal formula of the ASOBono so that he has fun like crazy for hours with lots of games and fun activities. And it's at Tokyo Dome City that it's happening!
Everything for everyone, all the time!
The Tokyo Dome City is a gigantic complex in which you can stay for days, both to watch baseball games of the local Yomiuri Giants team, to shop in the many shops of the mall, to have fun on the carousels amusement park, relax after all these emotions in the LaQua Spa center and even spend a night at the hotel on site, in the establishment designed by the architect Kenzô Tange, one of the greatest architects of our time.
And we come to what interests us today, the play area for children from 0 to 6 years old : ASOBono, which is one of the largest play areas in the capital, supervised by Bornelund, a Japanese manufacturing company quality toys.
It consists of several distinct spaces:
Special baby area (from 0 to 24 months): everything is planned there to ensure the well-being of babies and their parents, with adapted toys, very secure spaces and "Baby Rooms" where the mother can breastfeed in peace and change her child.
Espace Mer (Adventure Ocean): a gigantic pool of balls awaits you, so that children can dive into happiness... delirious in the middle of more than 50,000 colored balls. A boat dominates the area, from which they descend by means of a large toboggan. If you add a climbing wall and trampolines, you won't see your child again for quite a while!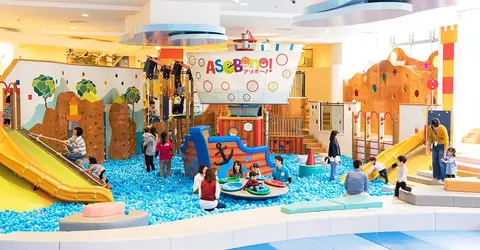 Space Forest (Toy Forest): here it's quieter, with board games, construction games and a space dedicated to the Sylvanian family, these cuddly rabbits who capsize the little ones.
City space (Colorful Town): in this place, the child can imagine someone else, become a vegetable seller, cook or waiter in a restaurant, take care of of a house like the grown-ups thanks to role-playing games and the dinette with even the disguise. Dolls and a bookcase complete this beautiful picture.
Espace Gare (Plaisir Station): you know very well that in Japan, everything related to the train is very popular, very young children already love to play with miniature trains, to think of themselves as a station master. This is why this space was created, with 100m 2 of Plarail to build and hundreds of trains to run, not to mention small Tomika cars.
Needless to say that a single day is not enough to go around! Your toddler will no longer want to take off, but you must stay with him to accompany him in his games, it is also the concept of the place, to ensure a good parent-child relationship through play . It is not a daycare where you leave your child even if animators are there to manage the spaces, you must stay. But you will find that you will have a lot of fun together and on a rainy day that could ruin your tourist program, this plan B will prove to be perfect.
This type of play area can be found in other cities in Japan, in a smaller size, but still in a large shopping center.
You need to buy a ticket to access it, which allows you to go out and come back as you see fit. For example, you can take a break, go out for some fresh air or eat at one of the restaurants in Tokyo Dome City , such as the Moomin Bakery&Café . It is not allowed, for hygiene reasons, to eat in the ASOBono. On the other hand, you can drink there in spaces provided for this purpose, there are even vending machines for drinks.
To go further: Tokyo for explorers in shorts
---
Address, timetable & access
Address

Phone

+81 (0)3-5800-9999

Timetable

Suidôbashi (JR or Toei lines) or Korakuen (Tokyo Metro) or Kasuga (Tokyo Metro) stations

Price

1 hour: 930 yen (7€20) Full day: 1,650 yen (12€80) Accompanying parent: 930 yen (7€20) Lockers: 210 yen. Stroller parking.

Access

Monday to Friday: 10 a.m. to 6 p.m. Saturday and Sunday: 9:30 a.m. to 7 p.m.
All the themes of the city