Hirosaki Guide
Hirosaki Guide 弘前市 青森県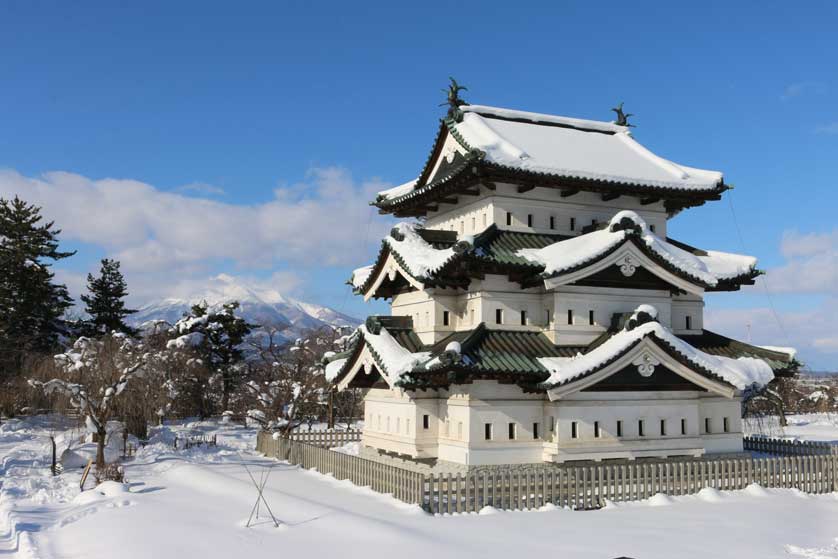 Hirosaki Castle, Hirosaki, Aomori Prefecture
Hirosaki, situated in Aomori Prefecture in the distant northern region of Tohoku, is just over thirty minutes west by express train from the prefectural capital of Aomori City.
Hirosaki escaped the World War II devastation suffered by nearby Aomori City. Hirosaki 's varied architectural heritage of Edo Period castle, temples and samurai residences, as well as later Meiji era churches, libraries and civic buildings, many built under western influence, makes for pleasant strolling through different ages of Japanese history.
With a population of just over 170,000, Hirosaki has an easy-going, laid-back charm and can be seen in a full day or half-day trip from Aomori, but the city's many and varied attractions deserve an overnight stay or longer.
Hirosaki, and Aomori Prefecture in general, is known for its production of apples, Japanese sake, for the annual Neputa Festival in early August, and its haunting Tsugaru jamisen folk music.
Things to see and do in Hirosaki
Hirosaki's main sites are congregated around Hirosaki Castle, which is a short ride on the tourist Loop Bus from JR Hirosaki Station, or a thirty minute walk.
Hirosaki Castle covers a huge area of over 49 hectares, and its large grounds, which are ten times larger than Tokyo Dome, include the Hirosaki City Museum, a Botanical Garden (Arboretum), a lotus pond and the Butokuden Rest House, which was built in 1911 as a martial arts training hall and is now open as a cafe and shop.
Hirosaki Castle (Hirosaki Park) was begun in 1603 by the first feudal lord of Tsugaru, Tamenobu, and completed in 1611 by his successor, Nobuhira. The surviving three story keep was rebuilt in 1811 after the original was destroyed by lightning and includes the Hirosaki Castle Museum.
Hirosaki Park has a number of other original turrets or yagura (Ninomaru Tatsumi Yagura, Ninomaru Hitsujisaru Yagura and Ninomaru Ushitora Yagura) and impressive wooden gates or mon (Sannomaru Otemon Gate, Sannomaru East Gate, Ninomaru South Gate, Ninomaru East Gate and Kitanokuruwa North Gate), all designated as Important Cultural Properties, as well as several stone-flanked moats and eight bridges (Sugi-no-Ohashi, Gejo-Bashi, Hane-Bashi, Shunyo-Bashi, Yoshita-Bashi, Ichiyo-Bashi & Kamenoko-Bashi).
Hirosaki Park is even more famous for its thousands of cherry trees in spring, and maples in fall. The cherry blossom and maple leaves make for a spectacular sight and draw thousands of visitors from all over Japan in spring and autumn. In particular, Hirosaki Park is one of three parks in Japan that is traditionally famous for its yozakura, or "night blossom."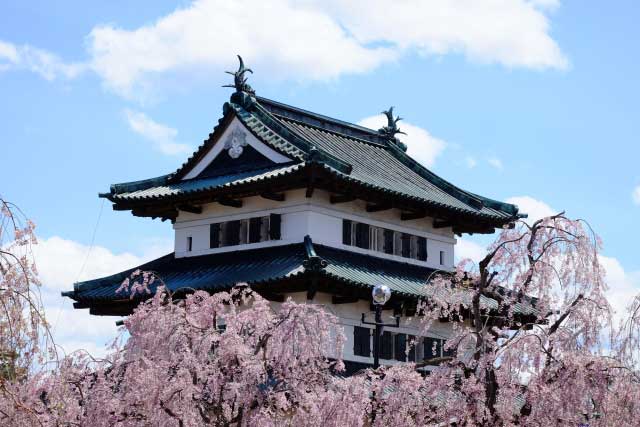 Hirosaki Castle is set in the beautiful grounds of Hirosaki Koen park with its many scenic moats and bridges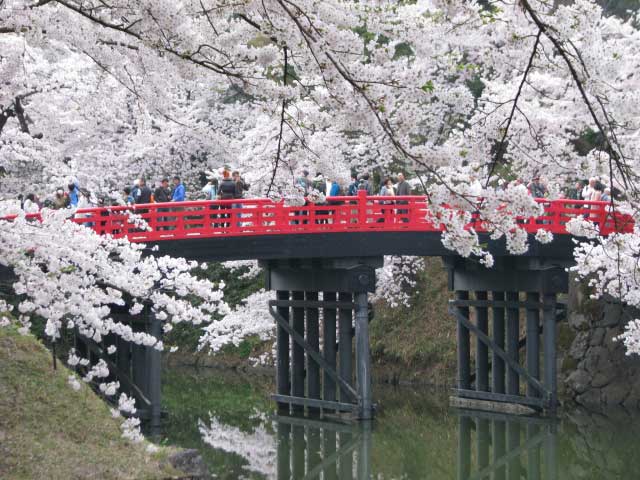 Hirosaki Castle is a lovely place to walk, jog or picnic and most of the grounds, which are now Hirosaki Koen, are free to enter
Walking north out of the north gate of Hirosaki Castle brings you to the Nakacho preservation area of old Edo-era samurai and merchant residences (most of which are closed on Tuesdays). The Nakacho Preservation Area in Hirosaki contains a number of preserved samurai and merchant dwellings from the Edo Period.
These historic, wooden buildings and gardens include the Ito Residence, the Former Umeda Residence, virtually next door, the Former Iwata Residence, the Ishiba Residence (Tel: 0172 32 1488), the home of former straw merchants now in the liquor business, and the Kawasaki Dye Works (Tel: 0172 35 6552), where natural indigo dyeing is still practiced and visitors can buy indigo products and try their hand at traditional indigo dyeing techniques. Across the road from the Kawasaki Dye Works is the Tsugaru-han Neputa Village (Tel: 0172 39 1511), where visitors can see Neputa floats, buy Tsugaru crafts including embroidery and lacquerware and hear live performances of Tsugaru jamisen - jamisen being the traditional three-stringed instrument better known as the shamisen.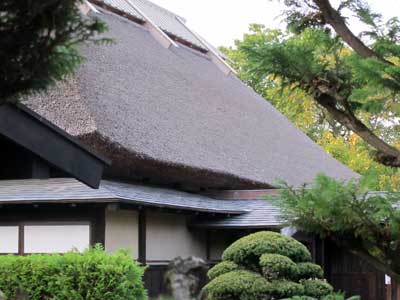 Nakacho Preservation Area, Hirosaki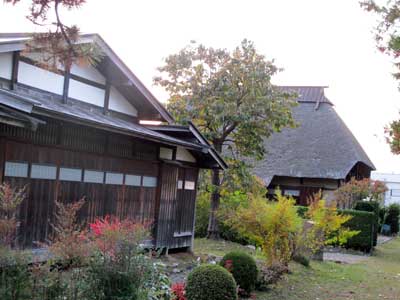 Nakacho Preservation Area, Hirosaki
Museums, Churches & Historic Buildings in Hirosaki
East and south of Hirosaki Park are some wonderful churches and buildings dating from the Meiji Period (1868-1912), when Japan was opening up to western influence and many foreign missionaries and teachers left their mark on the city.
Hirosaki's European style buildings include the Former Hirosaki City Library (Tel: 0172 82 1642) complete with octagonal dome-shaped twin towers designed by Japanese architect Horie Sakichi (1845-1907) and the nearby Former To-o Gijiku Missionary Residence (Tel: 0172 37 5501), a house built for the foreign teachers who taught at Aomori's first private school. The building is now a French-style cafe.
The Fujita Memorial Garden (Tel: 0172 37 5525) was built for Fujita Kenichi, the first president of the Japan Chamber of Commerce, in 1921, and includes a period villa and garden with pond and irises.
The Hirosaki Gakuin Foreign Missionary Residence (Tel: 0172 38 6111) was built for foreign teachers at Hirosaki Girls' School.
The Aomori Bank Memorial Hall (Tel: 0172 33 3638), also by Horie Sakichi, was Aomori's first bank and mixes western and Japanese styles.
The Episcopal Anglican Ascension Church (Tel: 0172 34 6247) is a red-brick, Gothic-style church designed by the American James Gardiner and built by the Japanese architect Hayashi Midori in 1924. The historic church contains Japan's only reed organ, which is still in use today.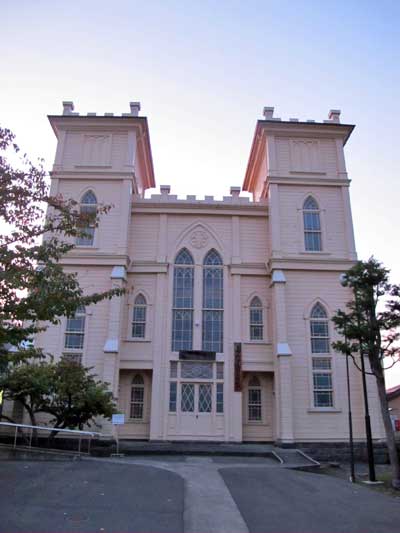 The Hirosaki United Church of Christ in Japan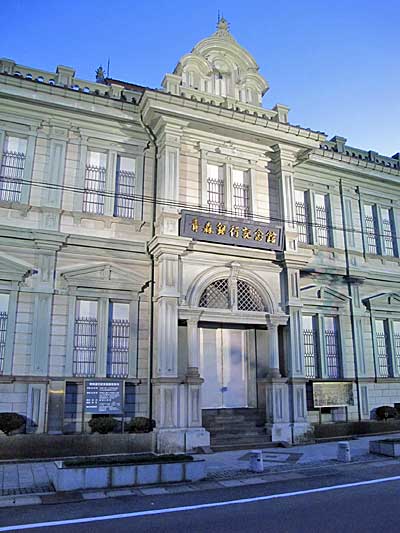 Aomori Bank Memorial Hall, Hirosaki
Hirosaki Catholic Church, Aomori Prefecture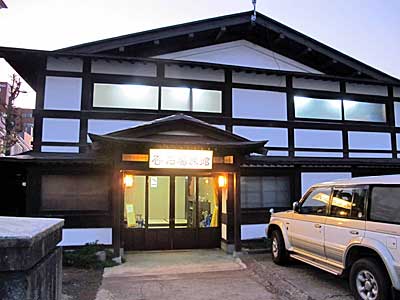 Ishiba Ryokan, Hirosaki, Aomori Prefecture
Hirosaki Catholic Church (Tel: 0172 33 0175), is a wooden Romanesque building built by Yokoyama Tsunekichi, the brother of Horie Sakichi. The altar was donated by the St. Thomas Church in Amsterdam and the interior has stained glass windows depicting local scenes, including Aomori apples, Mt. Iwaki and Tsugaru-jamisen.
The Hirosaki Church United Church of Christ in Japan (Tel: 0172 32 3971) dates from 1875 and is the oldest Protestant Church in the Tohoku region. The building is modeled after the Notre Dame Cathedral in Paris and was designed by Saito Isaburo, a son of the prolific Horie Sakichi.
The Hyakkoku-machi Exhibition Hall (Tel: 0172 31 7600) was built in 1886 as a kimono shop by wealthy local merchant Miyamoto Jinbei and used as a bank until 2001. Now the building is a cafe served by kimono-clad waitresses.
Hirosaki Temples & Hirosaki Shrines
Hirosaki's main temples and shrines are mostly located south of Hirosaki Castle Park. These include the 30m-tall five-storied pagoda at Saishoin (Tel: 0172 34 1123) built by Nobuyoshi Tsugaru to commemorate those who died in the subjugation of the Tsugaru area.
Seiganji Temple (Tel: 0172 34 5532) served as the western guardian temple of Hirosaki Castle and is noted for its unique shingle roofed gate with four supporting pillars, which is unique in Japan.
Kakushuji Temple (Tel: 0172 32 7460) is the family temple of Tamenobu, the first lord of Tsugaru and contains the Momoyama-style mausoleum of the daimyo.
Sazaedo Hall was commissioned by the rich merchant Nakata Yoshibei in 1839 and the octagonal wooden building has a complex interior stairway.
Kumano Okuteru Shrine (Tel: 0172 32 7663) and Hirosaki Hachimangu Shrine (Tel: 0172 32 8719) are Hirosaki's two main shrines of interest.
Shopping In Hirosaki Guide
Hirosaki's main shopping area is in the streets leading out from Hirosaki Station and includes a branch of the Ito Yokado Department Store. Things to buy in Hirosaki include local Aomori prefecture apple products, sake, bunako (various objects including vases and dishes made from beech wood), lacquerware, baskets and embroidery.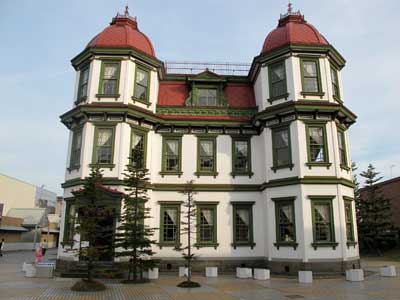 The historic Former Hirosaki City Library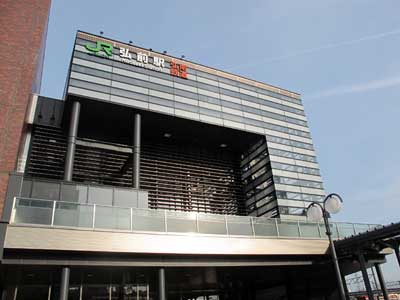 The modern Hirosaki Station
Around Hirosaki
Aomori
Just 30 minutes by express train east of Hirosaki is the prefectural capital of Aomori, which has a number of modern museums, department stores and transport links to the Shimokita Peninsula and Hachinohe.
Towada-ko
Towada-ko (Lake Towada) is Japan's third largest and third deepest lake, known for the clarity of its water. Tour boats sail the lake from Yasumiya bus terminal from where there are buses to Hirosaki and Aomori city. By car Towada-ko is around 90 minutes to 2 hours driving time south east from Hirosaki along national Highway 102. A further 30km along Route 454 is the small village of Shingo and the Tomb of Christ - where locals claim that Jesus Christ did not die on the Cross but came to live in northern Japan as a rice farmer.
Mt. Hakkoda
Route 103 from Aomori city leads up to Hakkoda-san, consisting of eight dormant volcanoes, and an area known for its winter skiing and summer hiking to admire Hakkoda's many alpine plants. The Hakkoda Ropeway goes up to Tamoyachi-dake at 1326m from where the Odake peak is a short hike at 1584m. There are a number of onsen hot spring resorts in the area including Sukayu Onsen - famous for its huge mixed Senninburo bath open to both sexes (a rarity in Japan), Jogakura Onsen, Sarakuya Onsen and Yachi Onsen. Hakkoda-san is known for its "Snow Monsters" - trees glazed with snow and for a variety of winter events including winter walks along roads flanked with snow up to 9m in height.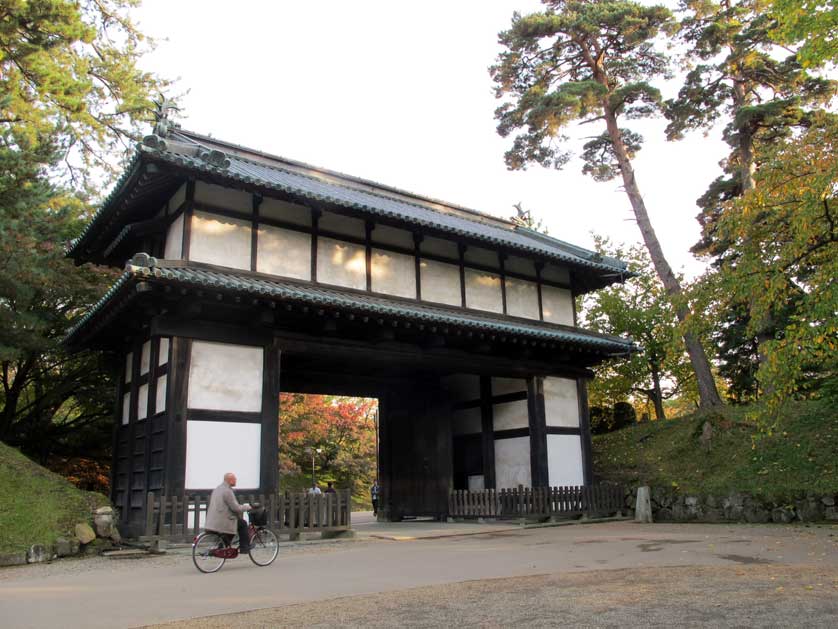 Hirosaki Castle North Gate
Oirase Gorge
Running 14km between Yakeyama at the foot of Hakkoda-san and Nenokuchi on the shore of Towada-ko is the fantastically beautiful Oirase Gorge, where the crystal-clear Oirase River runs along the road through a beautiful deciduous forest, known for its spectacular foliage colors in autumn. A number of icy rapids and plunging waterfalls add to the beauty of the place, whose main center is the charming Ishigedo. Oirase Gorge is a favorite with cyclists and hikers and is a must-see if you are in Aomori Prefecture.
Shimokita Peninsula
The long and bleak Shimokita Peninsula is shaped like an ax-head north east of Aomori city and is best known for Osore-zan, the "fearful mountain" that is believed to be the gateway to the afterlife and the home of wandering spirits. Osore-Bodaiji Temple sits adjacent to a sulfurous crater lake and people come to commune with dead relatives through mediums, often blind women, called itako. The temple closes on November 1 for winter and reopens in May. Other settlements on the Shimokita Peninsula are the fishing and agricultural towns of Mutsu, with train connections to Noheji, and Wakinosawa, which has ferries back to Aomori. Omazaki is the northern most point in Honshu.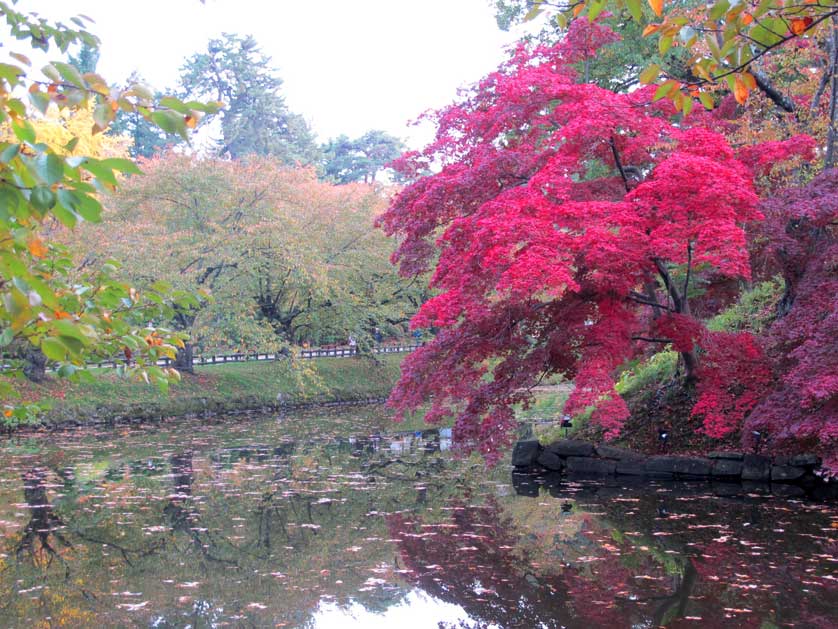 The colors of the fall leaves are reflected in a moat at Hirosaki Castle, Hirosaki Koen, Aomori Prefecture
Asamushi Hot Springs
The onsen resort of Asamushi lies to the north east of Aomori city on Mutsu Bay and is a 90 minute drive from Hirosaki along national Highways 7 and 4. There are a number of hot spring hotels and free foot baths in front of JR Asamushi Onsen Station.
Hirosaki Accommodation Guide
Hotels in Hirosaki are congregated near Hirosaki Station and include the Toyoko Inn, the Best Western Hotel New City Hirosaki, the Hotel Route Inn Hirosaki Ekimae, Dormy Inn Hirosaki, and the Business Hotel Shinjuku.
Hirosaki Festivals
The Neputa Festival in Hirosaki runs from August 1-7 and consists of a night-time procession of around sixty illuminated lantern floats featuring legendary stories depicted in the design of the floats.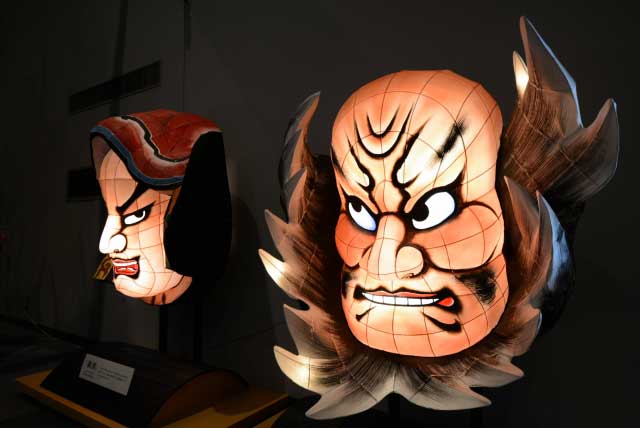 The Neputa Festival in Hirosaki runs from August 1-7 and is the city's big bash
Access - Getting to Hirosaki
Air
Aomori Airport has daily JAL flights from Haneda Airport in Tokyo (80 minutes), Shin-Chitose Airport in Sapporo (50 min), and Itami Airport in Osaka (95 mins), as well as a Fuji Dream Airlines flight from Komaki Airport in Nagoya (1 hour, 20 mins) as well as four times a week flights to Seoul (1 hour, 15 mins) operated by Korean Airlines. There are buses from Aomori Airport to Hirosaki (55 mins; 1000 yen), Aomori Station (35 mins; 680 yen) and Goshogawara (55 mins; 1000 yen).
Trains To Hirosaki
From Tokyo Station or Ueno Station JR Tohoku Shinkansen Hayate via Omiya, Sendai, Morioka and Hachinohe to Shin Aomori Station and then change for a train to Hirosaki.
Travel time is 3 hours, 20 minutes from Tokyo Station to Shin Aomori and the current fare is around 23,000 yen. All seats are reserved.
To Hakodate Station in Hakodate in Hokkaido by Hokkaido Shinkansen the journey time is 93 minutes from Shin-Aomori Station via Shin-Hakodate-Hokuto. Change at Shin-Hakodate-Hokuto for a Hakodate Liner to Hakodate Station (about 20 minutes).
There are express trains from Hachinohe to Hirosaki (90 minutes). The overnight Shindai Tokkyu Express from Aomori to Osaka takes 14 hours, 47 minutes.
Express trains to Aomori Station from Hirosaki via Shin Aomori Station take 36 minutes or around 50 minutes on a local train. The Konan Railway runs from Hirosaki Station (Exit Exit) to Kuroishi in 30 minutes and from Chuo-Hirosaki Station to Owani on the Owani Line also in 30 minutes.
There are Aoimori Railway trains from Aomori to Noheji (change for JR Ominato Line trains to Yokohama and Shimokita Station in Mutsu on the Shimokita Peninsula), Misawa and Hachinohe. From Shin Aomori Station there are trains to Kanita, Minmaya and Tappizaki on the Tsugaru Line.
The Resort Shirakami is a special sightseeing train that runs from Akita via Goshogawa and Hirosaki to Aomori. The Resort Shirakami travels along the 147km-long Gono Line with beautiful views of the Japan Sea coast, the Tsugaru Plain and the Shirakami Highlands. Three types of train with different liveries and set-ups make the journey: the Aoike, the Buna and the Kumagera. The entire journey takes 5 hours. There are 3 services daily with one service running just the Aomori to Hirosaki leg and the other two running from Akita to Hirosaki and back.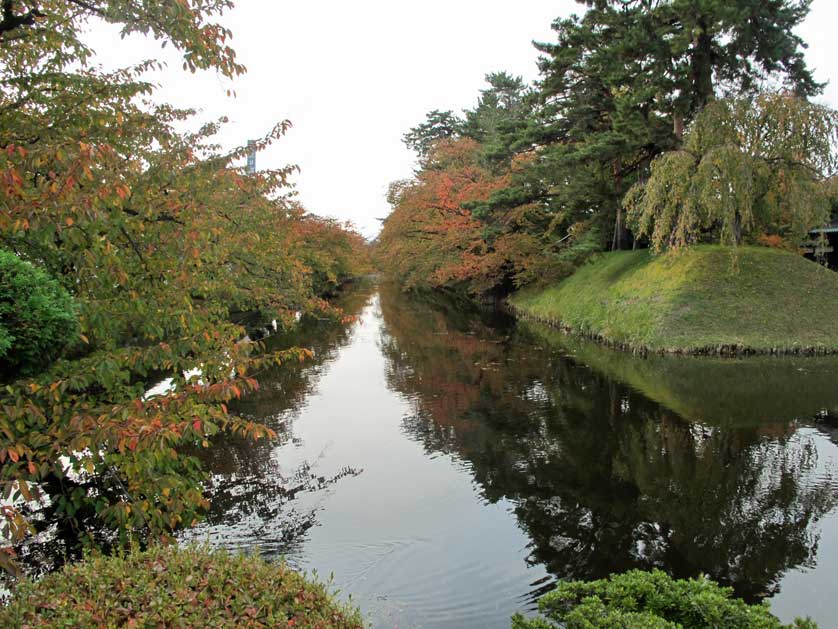 Hirosaki Castle Moat
Bus To Hirosaki
Hirosaki has long-distance highway bus connections to Tokyo (9-10 hours), Sendai (4 hours, 50 minutes) Yokohama (9 hours, 45 minutes) and Morioka (4 hours, 50 minutes).
Ferry To Hokkaido
There are Tsugaru Kaikyo ferries from Aomori Port to Hakodate in 3 hours, 40 minutes. (Tel: 017 766 4733) and also from Oma at the tip of the Shimokita Peninsula to Hakodate in 1 hour 40 minutes (2 sailings per day). There are eight daily sailings on the Aomori - Hakodate route including two on the luxury Blue Dolphin ship.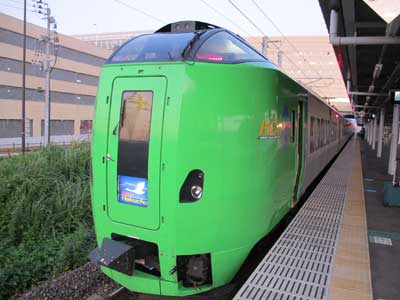 The Hakocho Express used to connect Aomori with Hakodate in Hokkaido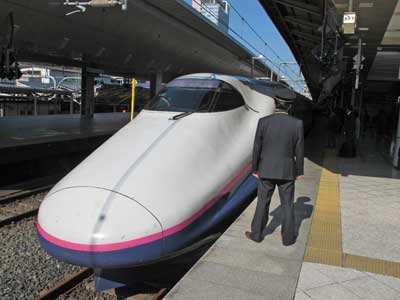 The Hayate Shinkansen runs from Tokyo Station to Shin-Aomori Station
Getting Around Hirosaki
Hirosaki city center is easily walkable or traversed by bicycle. There are also three 100 yen Loop Buses: the Dote-machi Loop Route, the Joto Loop Route (via Omachi) and the the Joto Loop Route (via Watoku); the summer only (April-November) 200 yen Tamenobu Bus runs from Hirosaki Station to Ringo Koen (Apple Park). Take the Dote-machi Loop Bus from bay 2 outside Hirosaki Station to Hirosaki Castle and alight at Shiyakusho-mae, Bunka Center-mae or Chuo Koko-mae.
Hirosaki car and bike rental
There are a number of places to rent both cars and bicycles in Hirosaki.
Tourist Information Centers
The main tourist information center in Hirosaki is at Hirosaki Station (Tel: 0172 26 3600). The modern Hirosaki City Sightseeing Information Center (Tel: 0172 37 5501) is close to Hirosaki Castle and Former Hirosaki City Library and has displays of floats from Hirosaki's Neputa Festival.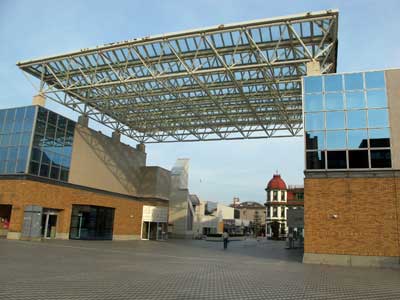 The Hirosaki City Sightseeing Information Center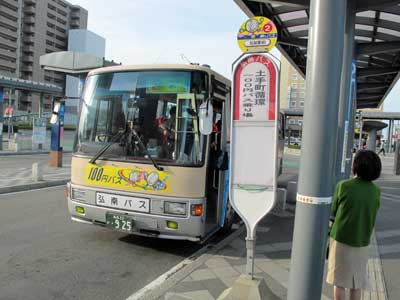 100 yen Loop Bus to Hirosaki Castle Park outside Hirosaki Station
Maps of Aomori Prefecture & Hirosaki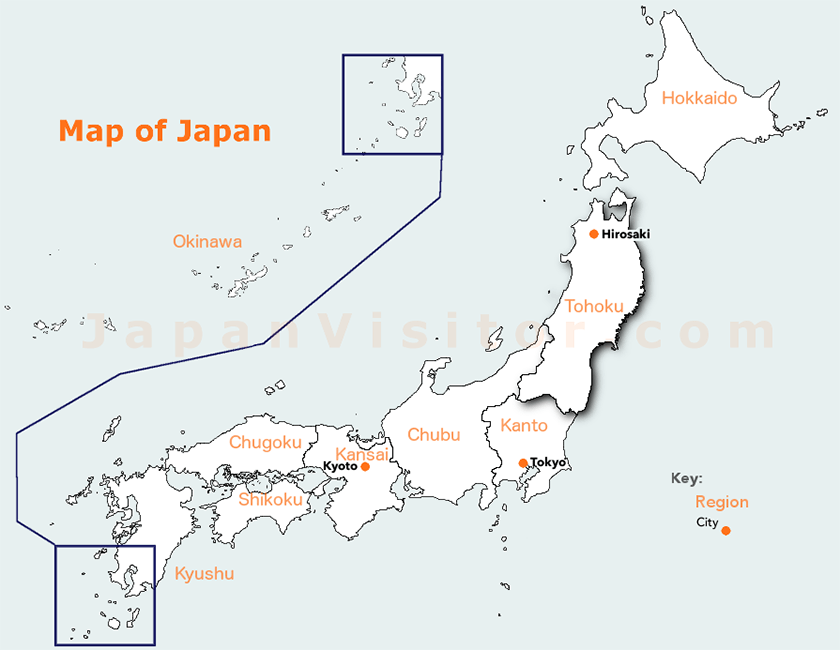 Hirosaki Map
Hirosaki Castle
Book Hotel Accommodation in Hirosaki Aomori
Hirosaki: read a travel guide to Hirosaki in Aomori prefecture famous for its huge castle park and western-style buildings.
All the themes of the city