Tanabata Festival
Tanabata Star Festival. Read an account of the Tanabata Star Festival in Shimizu, Shizuoka.
Tanabata Star Festival in Shimizu 七夕
Tanabata Star Festival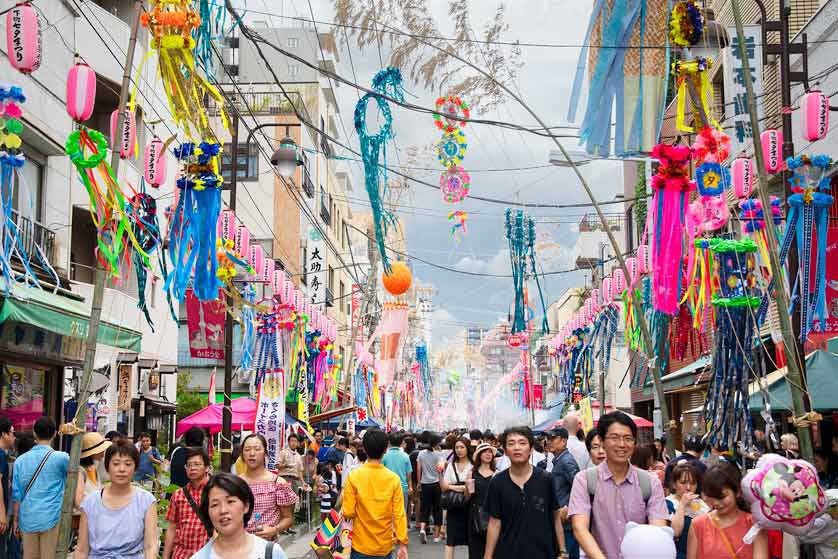 Jennifer May
Bamboo rods dripping with colorful decorations hanging all over your town signals that the Tanabata festival is about to arrive.
In Shizuoka, the decorations are put out in front of every shop downtown and look like models of fireworks with bright, pastel-colored balls hanging down wilted wires. Not much more happens for Tanabata in downtown Shizuoka, but in Shimizu (a recent addition to Shizuoka city) they go all out.
Tanabata festival has a great history. It evolved from the Chinese Star Festival Qi Xi, the Festival to "Plead for Skills".
Children would ask for better sewing, craftsmanship, writing skills, and write wishes on small pieces of paper. It was first celebrated in the Kyoto Imperial Palace in the Heian Period and then spread throughout the country during the early Edo period.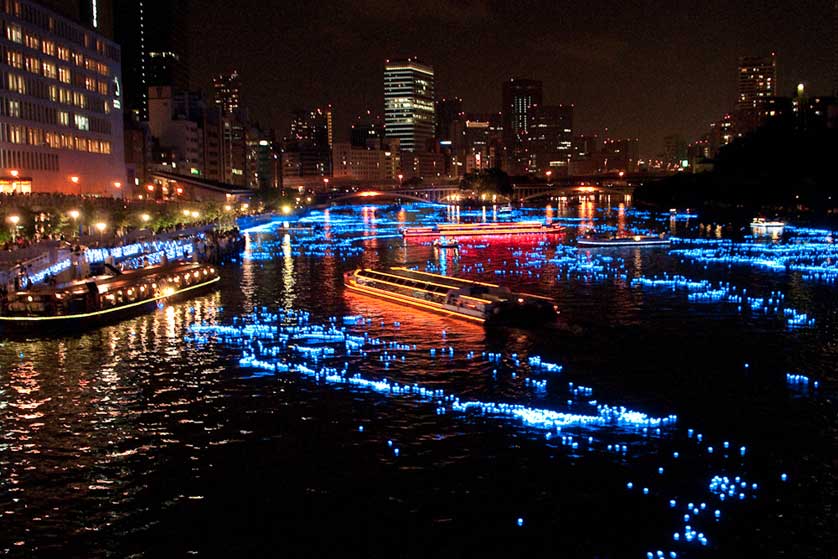 Ogawa River at Tanabata Festival, Osaka, Japan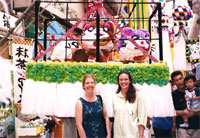 The people added their Obon traditions to the Tanabata festival celebrations, like setting fire to the decorations or sending them floating on a river around midnight. Although this festival has been fading away in recent times, some communities celebrate full-force with huge decorations and food stalls filling long streets and spectators wearing yukata.
The romantic legend behind the Chinese Star Festival is the story of Orihime (the star Vega) and Hikoboshi (the star Altair), and has various versions. Each version is about the silk weaver Orihime who made kimono or cloth for the Gods, and Hikoboshi who was a cow herder.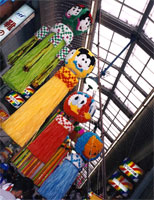 The couple met and fell in love. Hikoboshi saw Orihime every day and they neglected their work. This made the Gods (or Orihime's father) angry, so they (he) separated them.
They were forced to live on opposite sides of the Amanogawa (Milky Way), and allowed to meet only once a year on July 7th.
Some say the usual half moon on July 7th, based on the lunisolar calendar, is used as a boat to cross the Milky Way so the lovers can meet.
Others say magpies spread their wings to create a bridge over the Milky Way so the two can meet.
However, if it is raining on that night the magpies won't make the bridge, so Hikoboshi and Orihime cannot meet.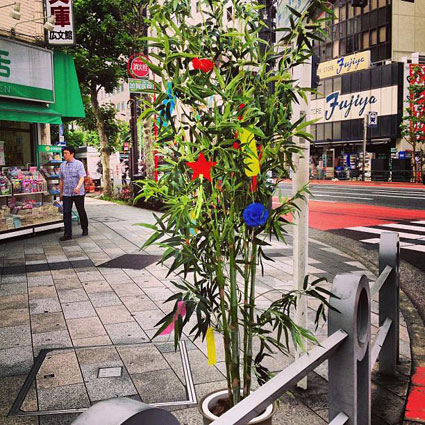 Tanabata Star Festival Decorations, Tokyo, Japan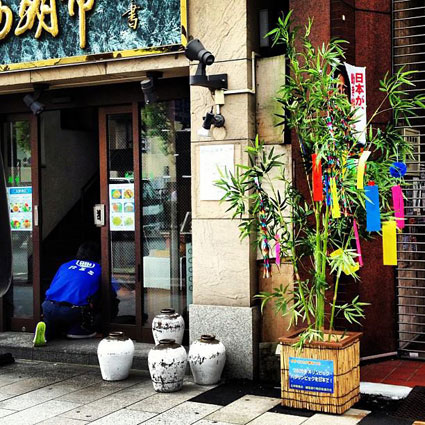 Tanabata Star Festival Decorations, Tokyo, Japan
In the not so distant past, every household displayed a bamboo pole decorated with colored paper and small ornaments to celebrate Tanabata. On the papers were written short poems expressing a wish for romance or in the example above, a wish for Tokyo to host the Olympic Games.
Young girls believed they could gain skill in weaving and sewing if they observed the festival. The end of the festival was marked by sending the bamboo pole down the river ridding them of misfortune.
In some areas, the poles were put out in the rice fields to protect the crop, or as a prayer for a good harvest. Tanabata festivals have faded away in many urban areas, but are very much alive in other areas.
The most famous Tanabata celebration is held in Sendai and is considered a major tourist attraction, the biggest is held in Kanagawa. Because the seventh month, seventh day festival date is based on the lunisolar calendar, Tanabata may be celebrated in August on our Gregorian calendar.
Sendai usually celebrates in August, and Kanagawa in July, so it is possible to make it to both if you enjoy festival food, wearing yukata, and the streamer decorations.
If you are like me, and would rather avoid elbow-to-elbow crowds, you might consider a trip to Shimizu, or another smaller town, to experience the Tanabata festival in a little more relaxing atmosphere.
The Shinkansen doesn't stop at Shimizu, but Shimizu is only 11 minutes (3rd stop) on the JR Tokaido line from Shizuoka city going toward Tokyo. The JR station in Shimizu is a great place to start wandering down the street, under the brightly colored streamers.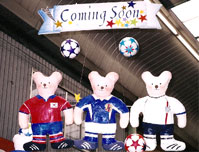 Shimizu does an outstanding job with the streamer decorations. They hang all along the shopping street from Shimizu JR station down toward S-Pulse plaza. These decorations are creative and fun and most definitely make for an exciting shopping and eating atmosphere.
They are all made of paper and look as though it takes days or weeks to make them. They take the forms of famous Japanese characters, Disney characters, and cute critters. We saw one in the shape of a Christmas-type stocking. Some decorations are not traditional and carry the theme of the shop they decorate. A sports shop had soccer bears hanging out in front.
Young girls are everywhere in their bright yukata. Food stalls tempt passers-by with delicious odors. It is hard to choose from so many photo ops. I suggest going later in the afternoon, and plan your stroll to end at the port, beach, or S-Pulse Plaza to stargaze and witness the reunion of Orihime and Hikoboshi, or just locate the two if the date is not exact.
There are a lot of great restaurants at S-Pulse Plaza. There is also a grocery that stocks a wide variety of really good cheeses and sells decent wine. So if a restaurant is not your deal, you can purchase and eat out on one of the benches, in the grass, or on the beach next to the water. There is a fireworks display to end the festival. It is worth a trip to Shimizu for the Tanabata festival experience. I truly enjoyed it.
Japan Articles by Jennifer May
Having Surgery in JapanUnderwear TheftIwakuni Castle
Kamikochi Hiking Guide
All the themes of the city