Gay Shinjuku
Read a Tokyo gay guide to a gay night on the town in Tokyo's gay Shinjuku Ni-Chome.
How to hit Ni-Chome: a guide to Tokyo's gay town ゲイ新宿2丁目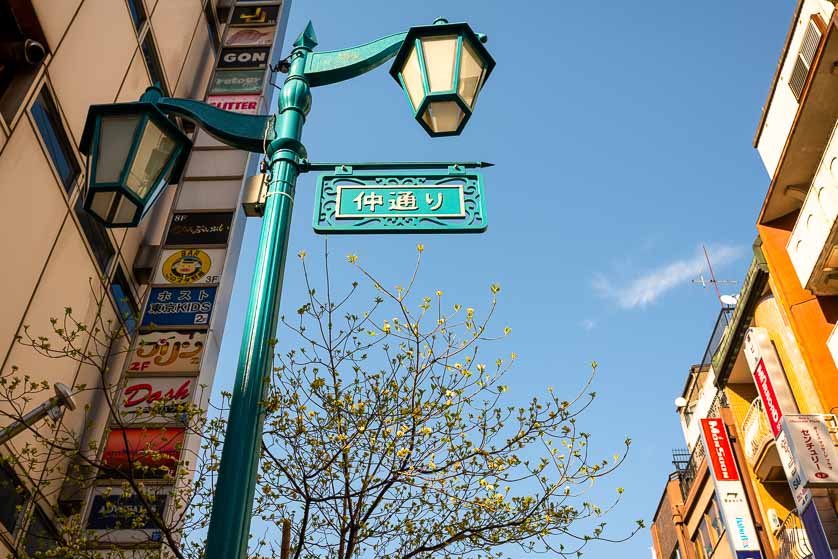 "Naka-dori," the main street of gay Shinjuku Ni-chome
You've just come to Tokyo, you're passing through Tokyo, you've just come out in Tokyo, you're "curious" in Tokyo - whatever it is, there's Shinjuku Ni-Chome (knee-cho-may: "Shinjuku block no.2"). Shinjuku N-Chome is a dense, multifarious neighborhood of tiny bars and club. Ni-Chome never sleeps, and offers something for the gay visitor any time of day or night (but especially at night!)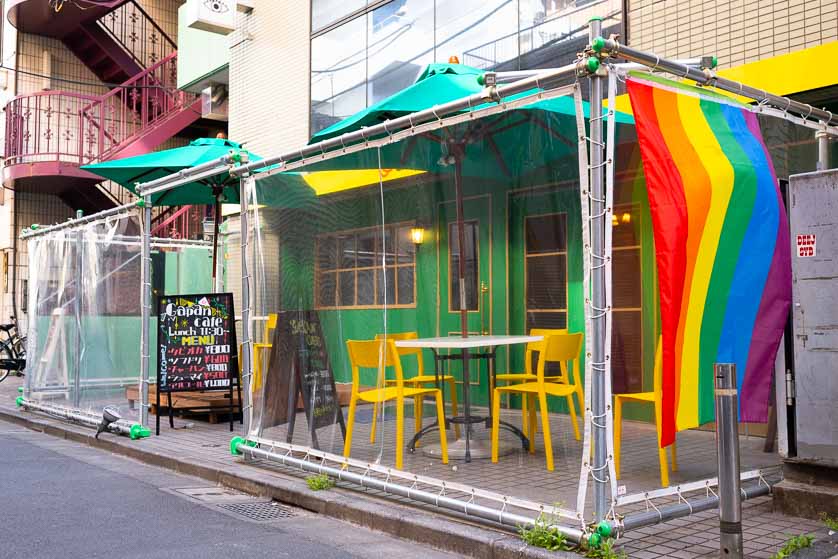 Rainbow Flag at Gapan Cafe, Shinjuku 2-Chome, Tokyo
Not even 10 minutes walk from the east side of Shinjuku station, 2-Chome is as unremarkable from the outside as any Japanese street block.
Shinjuku 2-Chome intersection - turn left here off Shinjuku-dori Avenue
From Shinjuku-dori, turn left at Shinjuku 2-Chome intersection (at the big Sekaido art and crafts store).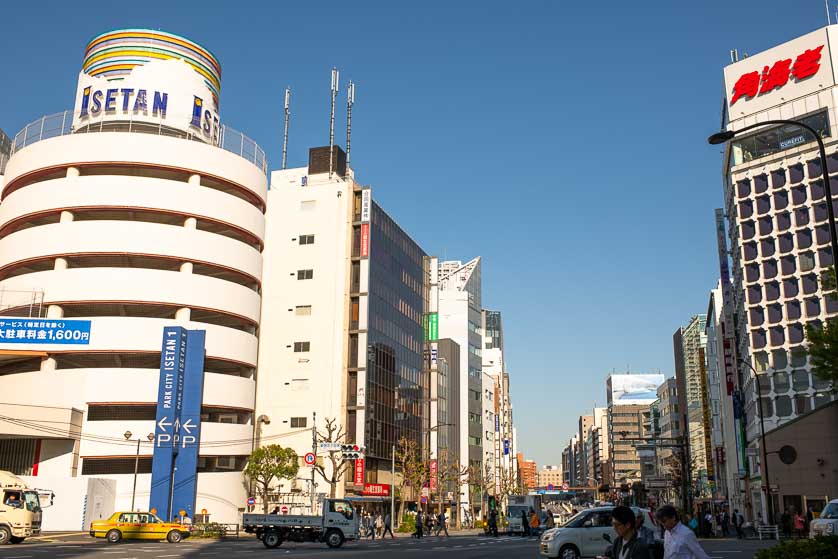 Shinjuku 5-Chome Higashi intersection - turn right here off Yasukuni-dori Avenue
From Yasukuni-dori, turn right at Shinjuku 5-Chome Higashi intersection.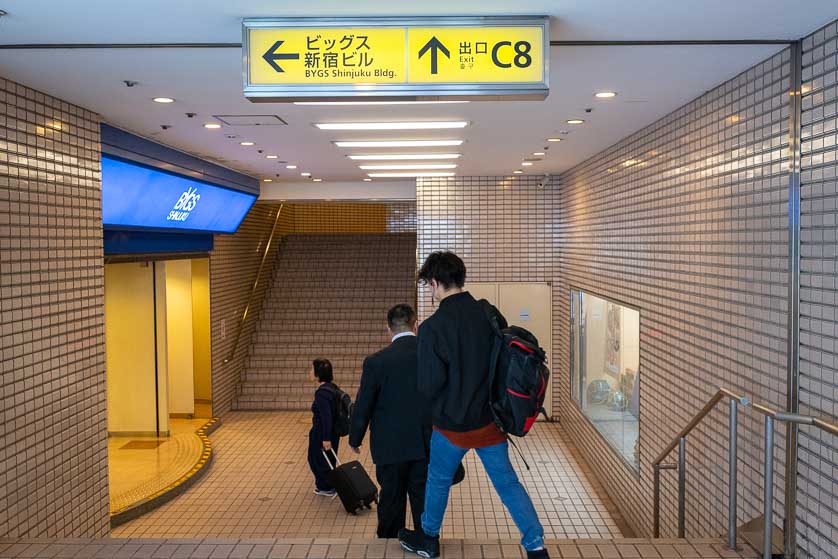 Shinjuku Metro Promenade Exit C8 - you can walk all the way here underground from Shinjuku Station
From Shinjuku Station, go all the way along the underground Metro Promenade to Exit C8.
Then, venture into the alleys of Ni-Chome and, bang, you're going to be surprised at how much you didn't count on seeing.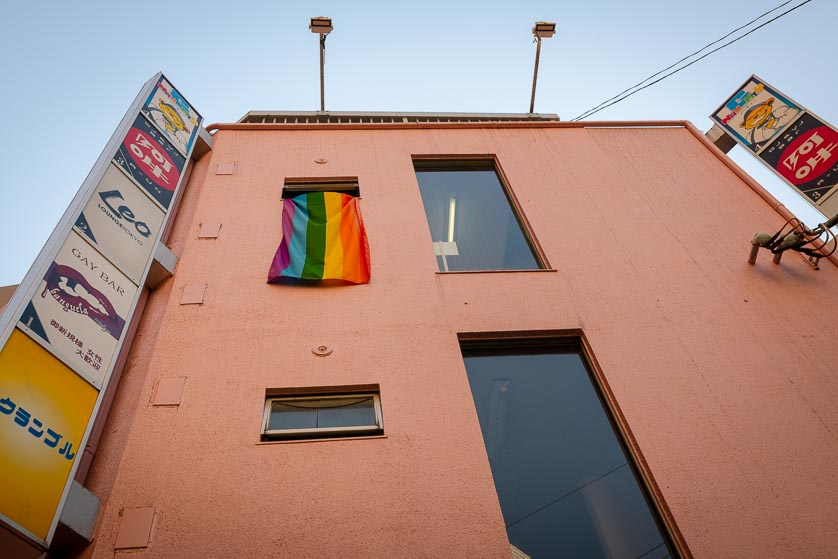 The Takara Building in Shinjuku Ni-Chome, full of gay and lesbian bars
Shinjuku Ni-Chome is the gay center of Tokyo, which is the world's largest urban agglomeration, with over 34 million people. That alone makes Shinjuku Ni-Chome something to write home about (or at least text your besty). Compared with the gay quarters of major Western cities, 2-chome stands out in two ways: first for its small-scale profuseness.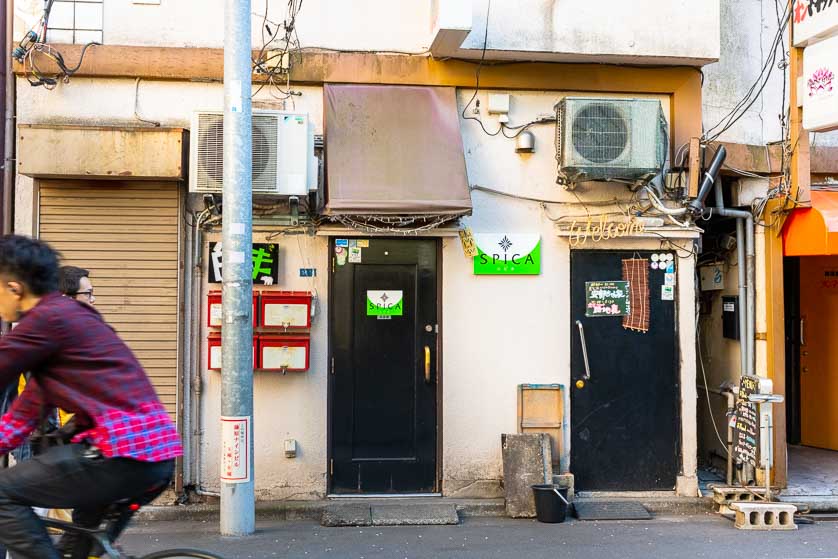 Backstreet gay bars in Shinjuku Nichome, Tokyo
You are not going to find any big establishments with a capacity of any more than a few dozen people. Tokyo does have major gay and lesbian club nights (see, for example Gay/Lesbian What's On), but not in Ni-Chome.
Everything is tiny, but it's there in great abundance. Shinjuku Ni-Chome also stands out for its multifariousness. We all know gay and lesbian. We all know the scenes as well. Well, we think we know them.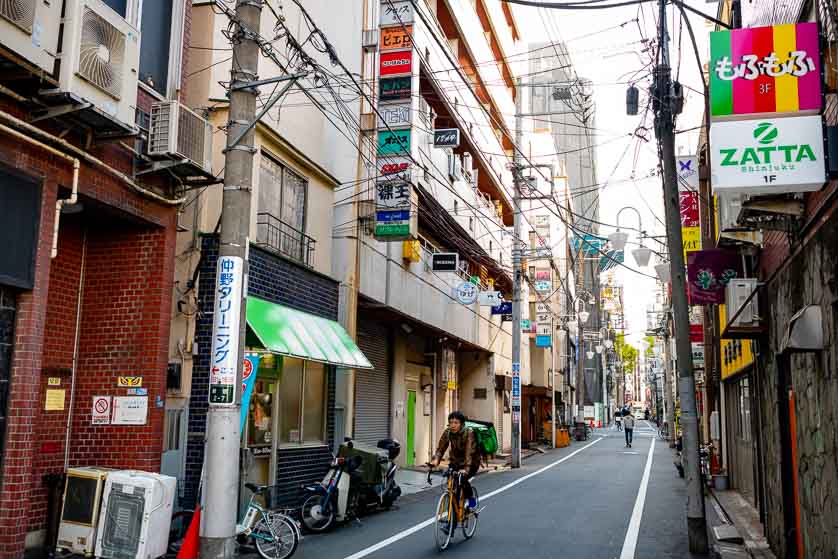 Street of bars in gay Shinjuku Ni-Chome, Tokyo
But until you come to Japan you are unlikely to have seen just what a scene can be in a way that is as concrete, organized, established, and taken for granted as it is in that focus of gay Japan: Ni-Chome.
Signs for gay bars in Shinjuku 2-Chome, Tokyo
The abundance of bars in Shinjuku Ni-Chome is something easily verified by a ten-minute stroll around its narrow precincts. Glance into the foyers of buildings and up at their sides for confirmation. The whole area is a crazy checker board of lit-up bar signs. The colors, shapes, sizes, fonts all talk about being gay. But each speaks the dialect of a particular scene.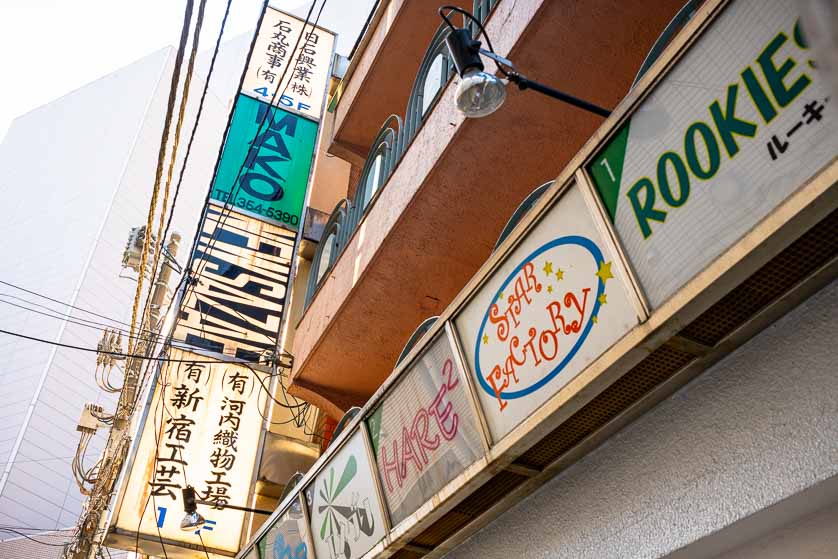 New Sazae and other gay bar names in Shinjuku 2-Chome, Tokyo
The names themselves form a delightfully diverse vocabulary possible only in Japan where English is still foreign enough to treat entirely as you please and whose meanings and associations have a Japanese-shaped history of their own. To map these dialects out would take a decade and superhuman catholicity of taste.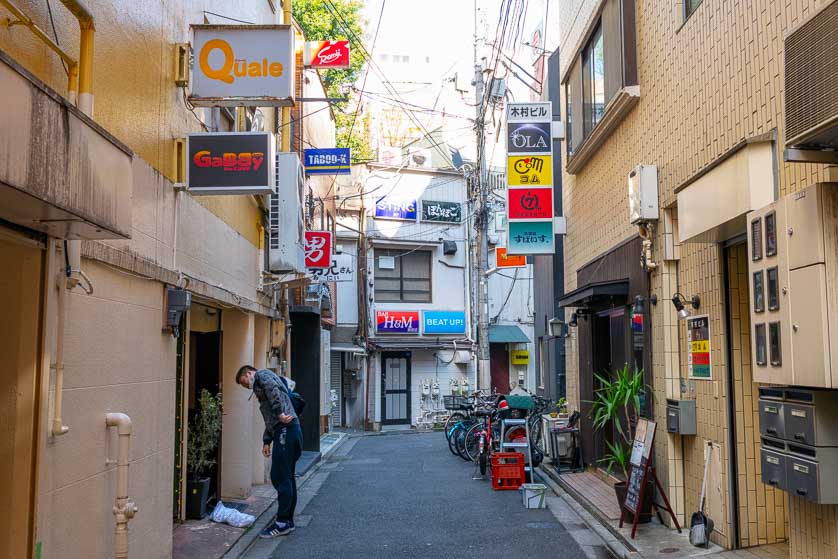 Alley in Shinjuku 2-Chome off the main Nakadori Avenue
At any one time, most of the bars represented by these signs each hold no more than about 15 people - max! In a space this small, the "master" ("master-san"—or "mama-san" - to the customers) defines who comes. Those who come are generally regulars, and generally subscribe to a particular scene, or, in Japanese, sen: short for senmon: "specialty," area of expertise'. With individual bar space at a premium, there is little room for diversity. The hapless foreigner who wanders innocently in off the street via close echoing staircases or a clanking old elevator may actually find himself lucky, at least for a time.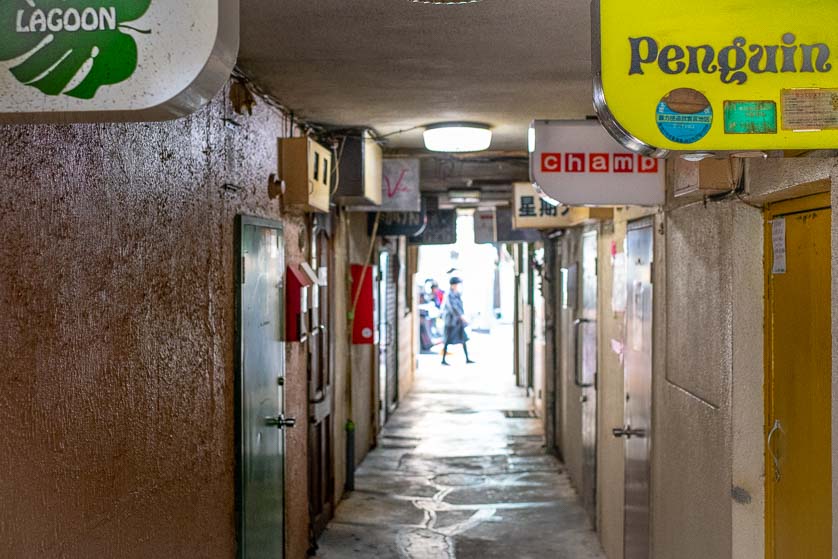 Passageway of LGBTQ bars in Shinjuku 2-Chome, Tokyo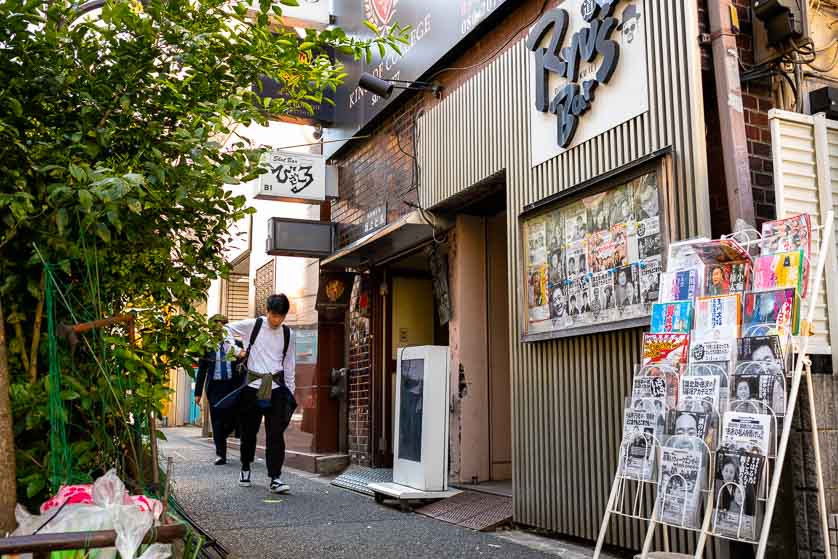 King of College, gay Shinjuku Ni-chome
However, if you're an innocent to the language and the culture, such serendipity can be rare. If you find yourself in the wrong place, you may be oh-so-politely tolerated, perhaps ignored, or—in the very worst case—refused service and asked to leave (yes, it sometimes happens). It's best to stick to the beaten track at first, which is where we will point you to here.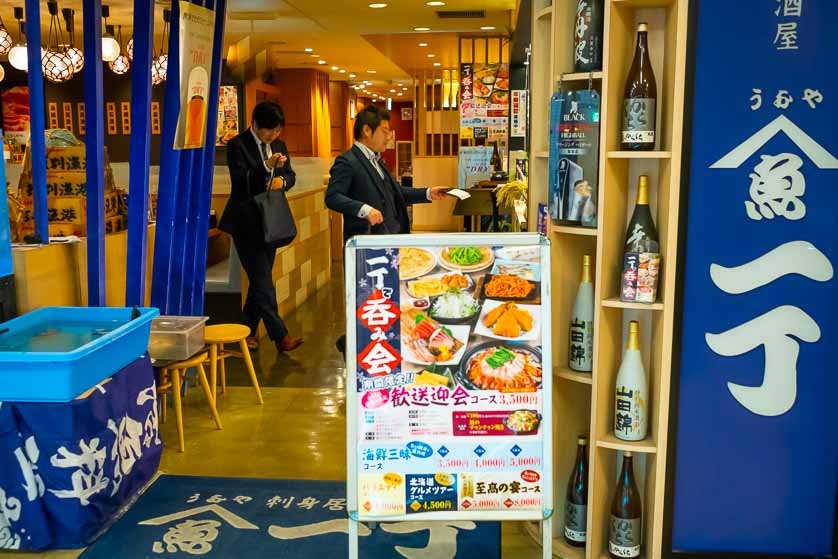 Uoya Itcho restaurant in Bygs Building, Shinjuku Ni-chome
If you haven't eaten, and its still early evening, why not make a complete gay night of it and head to Ni-Chome for dinner? The Bygs Building (on block 'C' of the gay Shinjuku map) has an excellent izakaya (Japanese-style restaurant) called 'Uoya Itcho' on the B1 basement floor. Uoya Itcho is big enough to never have to wait long, it's cheap enough to eat and drink your fill for under 3,000 yen, the food is good enough to be memorable. Uoya Itcho is well patronized by gay and lesbian visitors to the district, but the waiting staff generally seem to be straight. The menu at Uoya Itcho is extensive, running from the hale and hearty: fat unpeeled potato fries with cheese sauce, to the exquisitely otherworldly: a whole skewered and sashimi-ed fish, still vainly arching its back, wide-eyed and gaping at its own garnishings.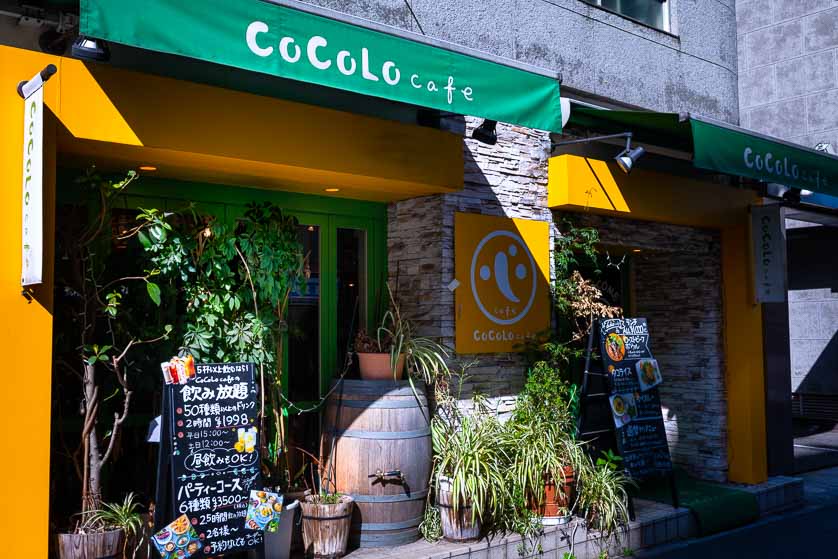 Gay-friendly Cocolo Cafe, Shinjuku 2-chome, Tokyo
Another option is Cocolo Cafe, an LGBTQ-friendly establishment that is a restaurant as much as a cafe. CoCoLo serves not only tea (all sorts of it), coffee, and snacks, but substantial meals as well. CoCoLo has smoking and non-smoking sections, which are well separated. Open noon to midnight.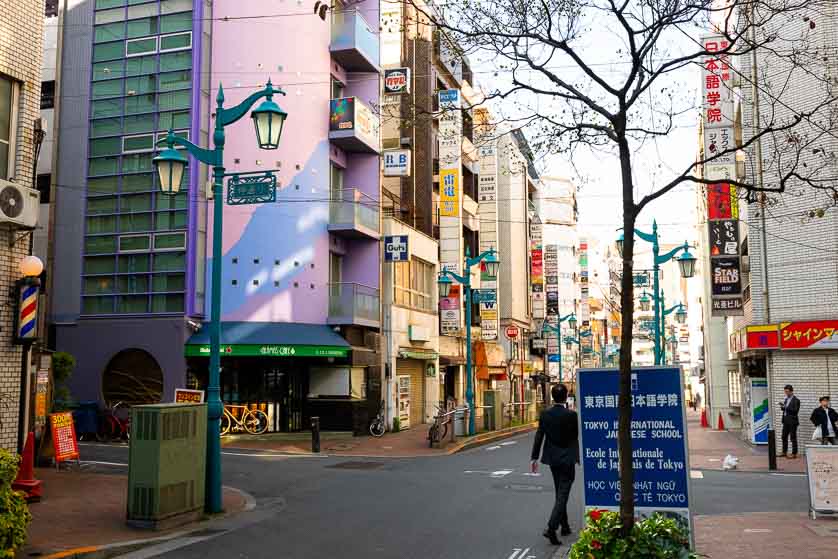 Nakadori Avenue, the main street of gay Shinjuku Ni-chome, Tokyo
AiiRO Cafe is one of Ni-Chome's two open-air bars. It is distinctive for its novel traditional vermilion torii gate entrance. Like the other, bigger one, Dragon Men, AiiRO's openness gives the crowd there the kind of fluidity that few other Ni-Chome places have.
AiiRO Cafe, a gay bar in Shinjuku Ni-Chome, Tokyo
AiiRO is the ultimate in easy-come easy-go: a great place to get chatting to strangers. Especially when the weather's warm, the crowd at AiiRO spills way out into the street, giving it something like the feel of a block party. There are flyers at both AiiRO and Dragon for other bars and events, and, if you really need to know something, the staff of both bars speaks adequate English.
Lumiere LGBTQ store, Shinjuku 2-Chome, Tokyo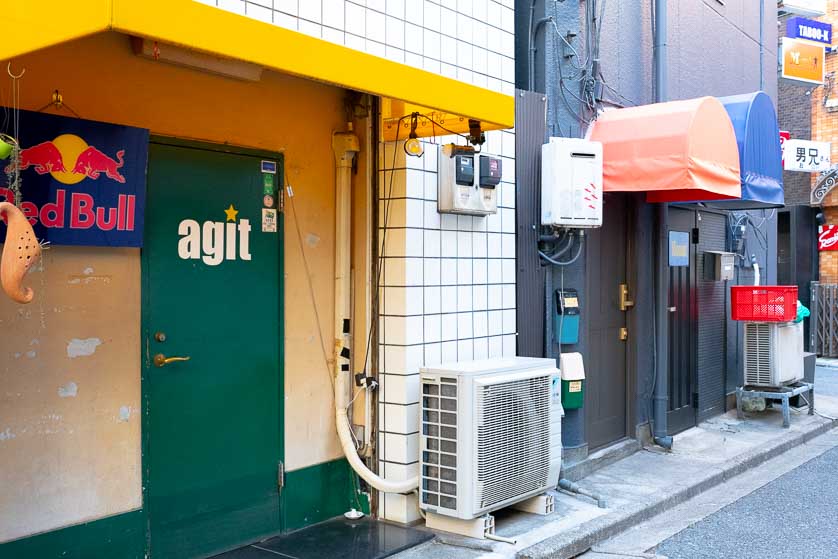 Agit, a lesbian karaoke bar in Shinjuku Ni-Chome, Tokyo
Take the first on your left after Nakadori and on the second block you come to, on the left, you'll see the entrance to Bar GB downstairs.
GB is dominated by the big central square bar, around which the customers sit and stand. The staff at GB is welcoming and friendly. The drinks at GB are generous, and GB is rarely less than full.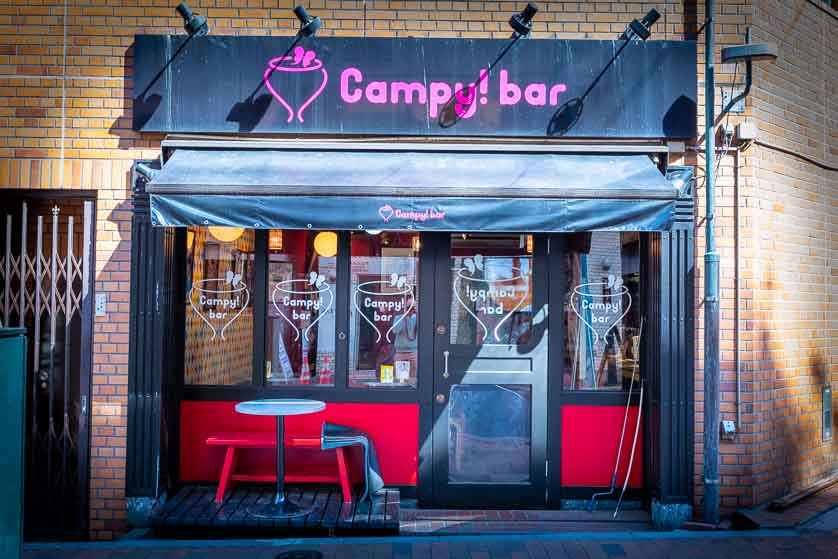 Campy! Bar, run by a drag queen, on Naka-dori Avenue, Shinjuku Ni-chome
Campy Bar is a more recent gay bar that has quickly become a Ni-Chome classic. Campy Bar was started in 2013 by the celebrity drag queen, Mlle. Bourbonne. Located on the main Nakadori Avenue, it is a fun, flirty place for a cocktail or two - or three or four. And Campy Bar has the kind of reputation that makes it a stopping point for friendly straights as well.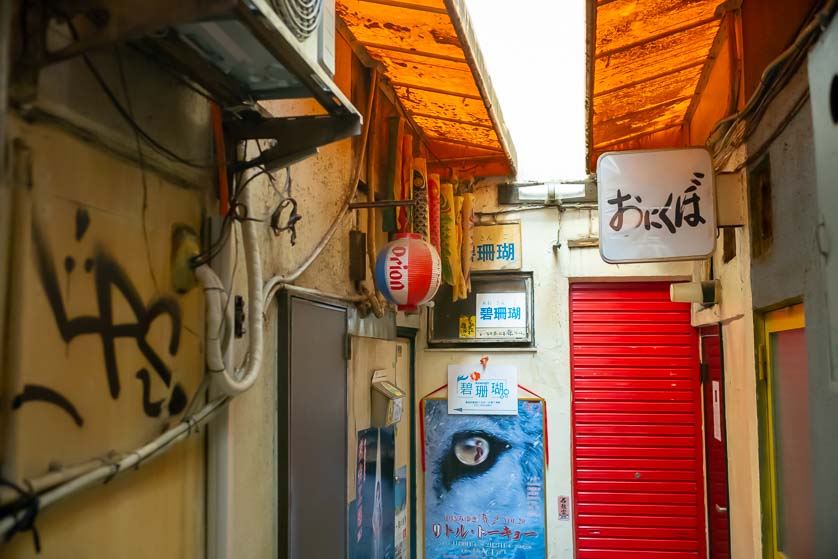 Small gay bars tucked away in Shinjuku 2-chome, Tokyo
Down an alley off Nakadori Avenue is Vox, an "all-gender" bar that serves shots for a standard 500 yen (300 yen cover charge on entering). With a DJ booth, Vox hosts various different parties throughout the year (extra charge for event nights). This mod, intimate, friendly bar is a great place to get to know people. Look for the rainbow flag hanging outside.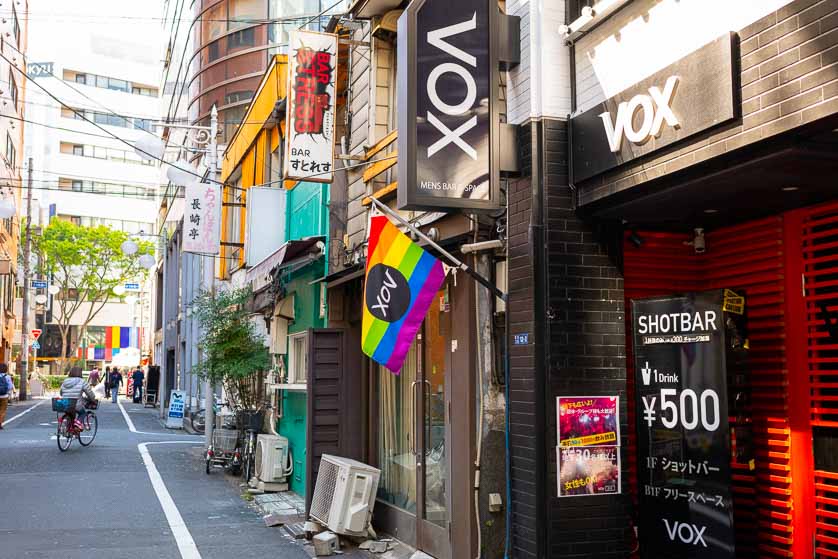 Vox gay bar and club, Shinjuku 2-Chome, Tokyo
Once it's heading for midnight, you might feel like a more all-out dose of fun. Take another look at the flyers you picked up. Like the bars for the Japanese, the club nights are also strictly segregated.
There might even be a big gay party on that evening somewhere off Ni-Chome.
Arty Farty is often a good place to start. Arty Farty is a second floor dance club with as diverse a crowd as you'll find anywhere on Ni-Chome. Like anything gay in Japan, however, it is generally young, with few over-40s, but whoever turns up is not going to feel out of place.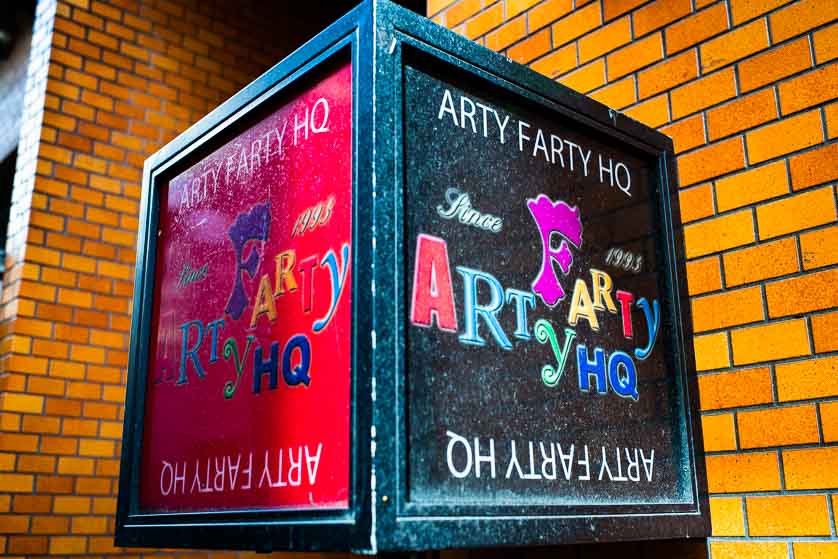 Arty Farty dance club, Shinjuku Nichome, Tokyo
No matter how quiet things might seem on the street, Arty Farty is routinely jam packed on Saturday nights - somewhat less on Friday nights. On walking in you line up at the bar. Even at its most packed it doesn't take more than five minutes to get served. Unlike the other clubs, entrance is free, but buying a drink - upon which you get a stamp on your hand - is obligatory before you can enter the dance floor, a step or two down from the bar. The place is usually thronged, with generally two-thirds to three-quarters of the crowd on the dancefloor. The decor is, as the name suggests, whackier than it is conventional, but not very noticeable when it's crowded.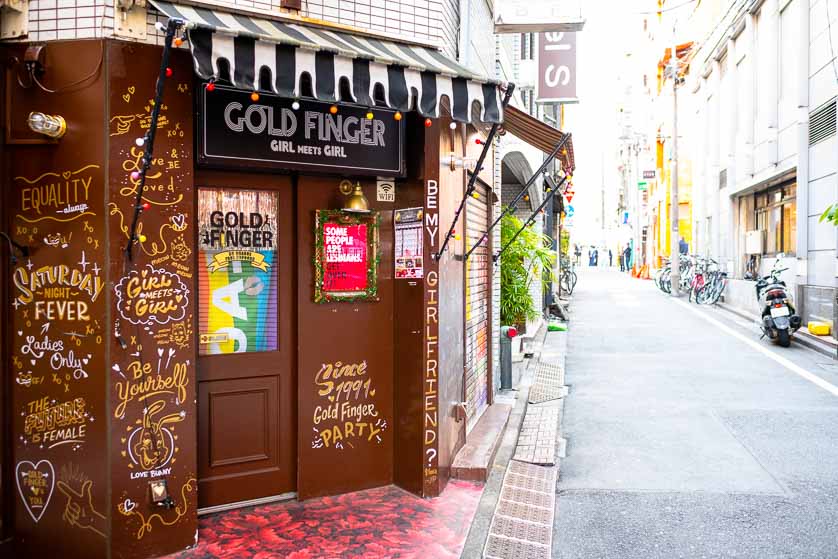 Goldfinger wimmins bar in Shinjuku 2-Chome, Tokyo
Ni-Chome caters to gay women as well as gay men. One of the longest running lesbian nights here is Goldfinger, around since the early 1990s and still going strong. The bar known as Goldfinger is not exclusively lesbian, but Saturdays here from 6pm on, when it is known as "Club Goldfinger," are. If you're a woman and get here early on a Saturday evening, between 6pm and 9pm, it's all you can drink for 2,000 yen. Fridays are "LGBT Karaoke Night," for both gay men and women.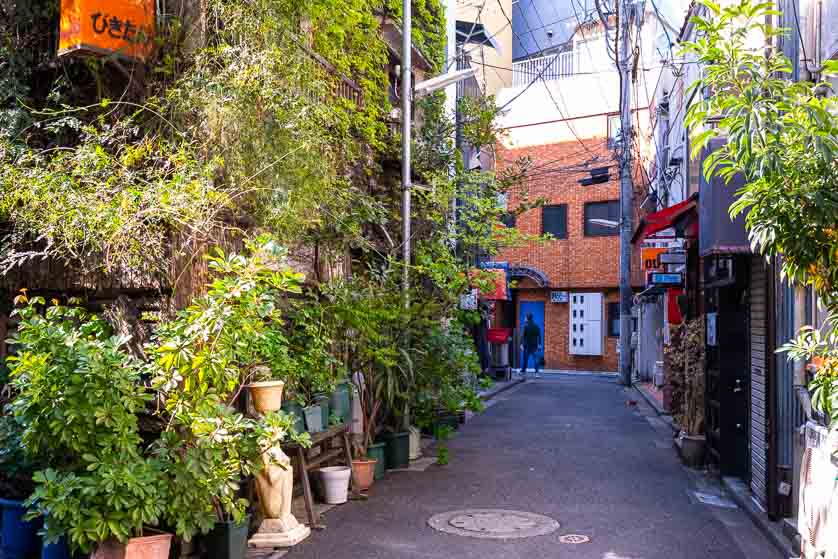 Elegant greenery-covered Bikitan bar at left, with gay bars behind, Shinjuku 2-chome, Tokyo.
Arty Farty has a sister club known simply as the Annex. It is quite a different space from Arty Farty in that, while still small, it has way more headroom - to the point of incorporating a mezzanine floor. Club Annex tends to go cater to the beefier more macho crowd, but by no means exclusively, and attracts a somewhat less frenetic crowd on Saturday nights than Arty Farty. Annex is recommended for those who want to drink and dance without feeling like they're commuting on a crowded Tokyo train.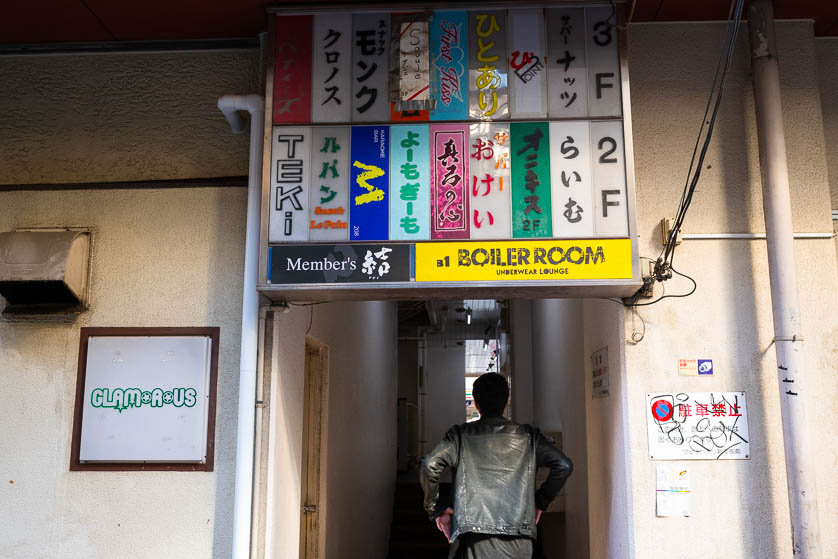 Entrance to Boiler Room and other LGBTQ bars, Shinjuku 2-chome, Tokyo
Whatever time you stumble back out into faintly lightening air, Ni-Chome will still be peopled. if you're hungry, there's a raamen (Chinese noodle shop) across the road from the Bygs Building, or the 24-hour Shinjuku-Gyoen branch of Freshness Burger (the more gay-friendly option) on the other side of Shinjuku-dori avenue across from Block V.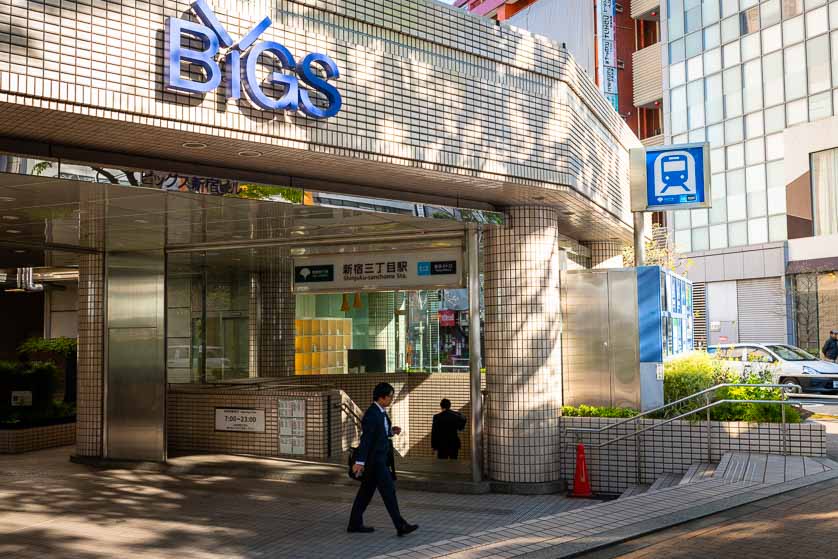 BYGS Building, the "front door" to gay Shinjuku 2-Chome, Tokyo, and containing subway Exit C8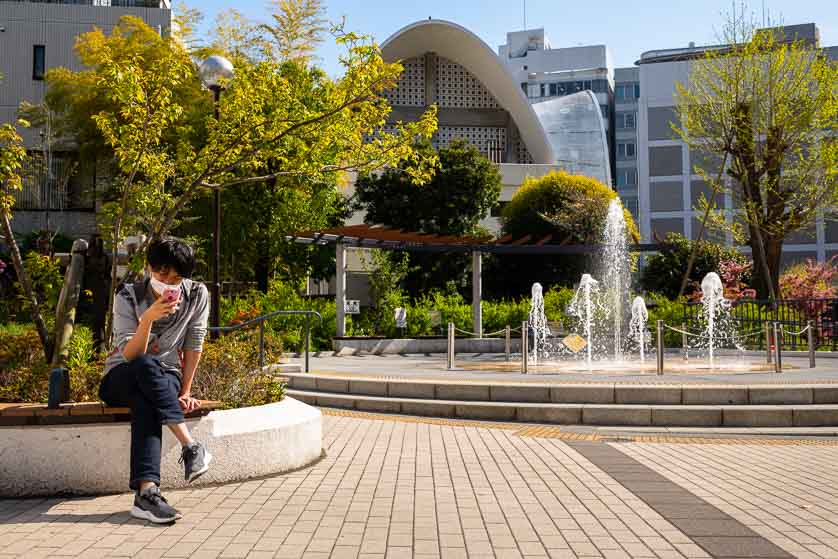 Shinjuku Park, at the east end of Shinjuku 2-Chome, Tokyo
All the themes of the city