Yurakucho Station
有楽町駅

In the heart of Tokyo
Yurakucho Station is one stop south of Tokyo Station on the Yamanote Line and also on the Keihin-Tohoku Line and Tokyo Metro Yurakucho Line.
Yurakucho Station is located in Yūrakuchō in Chiyoda-ku in central Tokyo.
Yūrakuchō Station is on the circular Yamanote Line, the Keihin-Tohoku Line from Omiya in Saitama Prefecture to JR Kawasaki Station in Kawasaki and Yokohama both in Kanagawa Prefecture and the Tokyo Metro Yūrakuchō Line of Tokyo metro.
Yūrakuchō Station, now operated by JR East, opened in 1910 with the subway station following in 1974.
There are connections on the Yamanote Line to Tokyo Station (just one stop), Hamamatsuchō (for Haneda Airport), Shinagawa, Shibuya, Shinjuku, Ikebukuro, Nishi-Nippori, Nippori, Ueno, Akihabara and Harajuku.
The Keihin-Tohoku Line connects Yūrakuchō to Kawasaki and Yokohama Station to the south and Ōmiya in Saitama to the north.
The Tokyo Metro Yūrakuchō Line runs through Yūrakuchō from Wakoshi Station in Wako, Saitama Prefecture and Shin-Kiba Station in Kōtō-ku, Tokyo.
Hibiya Station close to Hibiya Park and the Imperial Palace is on the Chiyoda Line, Mita Line and Hibiya Line and is linked to Yurakucho Station by underground passage.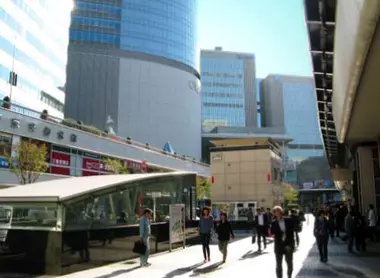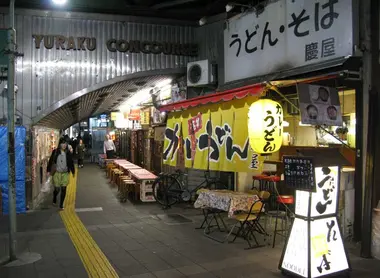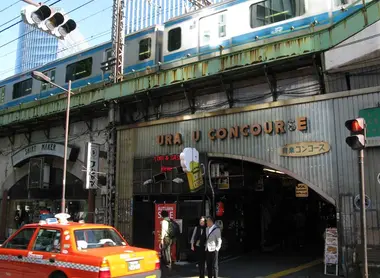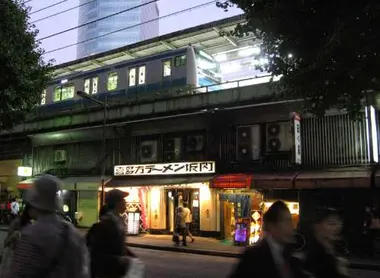 Around Yurakucho Station
Yūrakuchō Station has two exits: the Central Exit (West Exit) and the East Exit. The East Exit has a sprawling pedestrian plaza that provides some open space and a number of shopping opportunities.
The Yūrakuchō area has a shitamachi feel around the station with a number of cheap eateries, izakaya and arcades under the elevated tracks running both north and south of the station for over 500m. This area, known as Gaado-shita ("below the girders" ガード下), is a favorite of the Tokyo salaryman after work.
There's a large Bic Camera store near Yurakucho Station. To the west is Hibiya and to the east the ritzy Ginza. Tokyo International Forum, a large convention and exhibition center is close by.
All the themes of the city