Hibiya Park
Read a guide to Hibiya Park, Tokyo. Hibiya Park is a relaxed, spacious, cosmopolitan block of woodlands and greenery right in the heart of Tokyo.
Hibiya Park 日比谷公園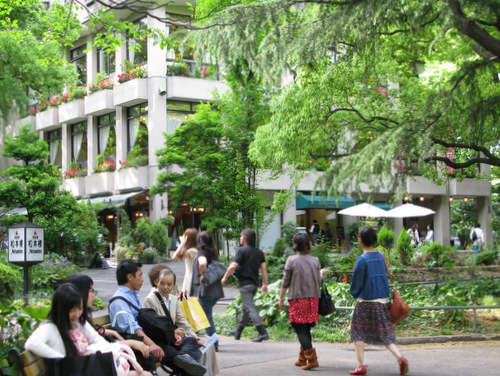 Relaxing in Hibiya Park, Tokyo
Hibiya Park is a 16 hectare (40 acre) public park bordering the southern moat of the Imperial Palace. Hibiya park is Japan's first public Western-style park.
History
Hibiya Park was the grounds of feudal lords during the shogunate, and became a military parade ground during the early years of Japan's modernization in the late 19th century. It was then made a public park in 1903.
Hibiya Park is where the 1905 Hibiya Riots were sparked. This 30,000-strong popular protest was against the terms of the Portsmouth Treaty, the peace treaty brokered by the US between defeated Russia and victorious Japan.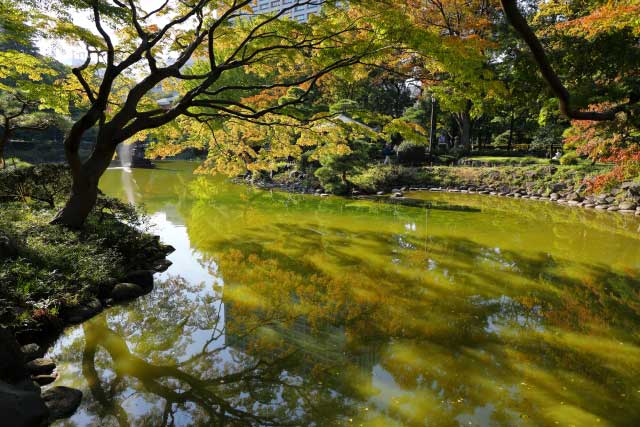 Hibiya Park, Tokyo
A newly nationalistic Japanese public believed the treaty was a sell-out, spurred on in this opinion by a largely vitriolic press (at least one paper even advocated the assassination of the Cabinet!).
The ensuing riots spread over Tokyo, with 17 killed, hundreds injured, nearly every police box (koban) in the city destroyed, a pro-Treaty newspaper's offices burnt down, and martial law imposed for almost 3 months.
This marked the birth of a decade of violent mass political action in Japan, as well as of Japanese nationalism.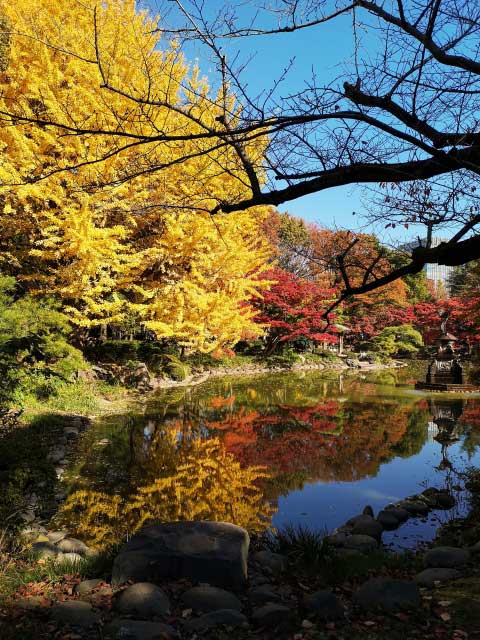 Fall leaves, Hibiya Park, Tokyo

World War Two
During World War Two, nearly all the trees in the park were cut down for timber and the fences, etc. melted down for steel. Post-war restoration work was crowned in 1961 with the construction of the big 30m-(90 ft) diameter fountain.
Layout
Hibiya Park has two large Western-style flower gardens, one of mainly tulips - with a large fountain, the other of roses. There are several restaurants in the park, and a few stores selling refreshments.
There are two outdoor music domes, one large, one smaller, where you are likely to hear music or see a festival of some kind taking place, especially on weekends.
There is a small Park Museum, Hibiya Library, a public hall, a tennis court, and underground car parking.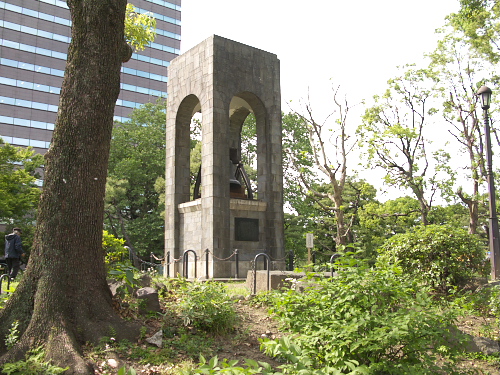 Liberty Bell, Hibiya Park, Tokyo
Hibiya Park has a wide range of seasonal flora and fauna, including, if you're lucky enough to spot any, kingfishers!
There many varieties of trees in the park, the most notable being Ginkgo biloba (AKA maidenhair trees), which form an avenue in the very middle of the park. The crowning glory of the avenue, right next to the Matsumotoro Restaurant, is the massive "Kubikake-itcho" ginkgo, 6.5m (21 ft) in circumference and 24.5m (80 ft) in height and about 400 years old. It was moved there in 1899 from its original location about 450m (0.3 mile) away to make way for roadworks - the moving process taking almost a month. The "Kubikake" ("to put one's neck on the line") nickname is for the park's chief designer, Dr. Seiroku Honda, who put his neck on the line in insisting that it be saved.
The pond with the bronze crane (bird) fountain in it dates from 1905. Keep an eye out for live cranes, too, that make the park home.
Hibiya Park is dotted with charming mementos from around the globe: a piece of stone money from Yap Island, a block of gneiss from Antarctica, a Viking stone epitaph, and a statue of Remus and Romulus donated by Italy in the 1930's, to name a few.
There is a hillock in Hibiya Park crowned with a Liberty Bell, donated by the United States in 1952.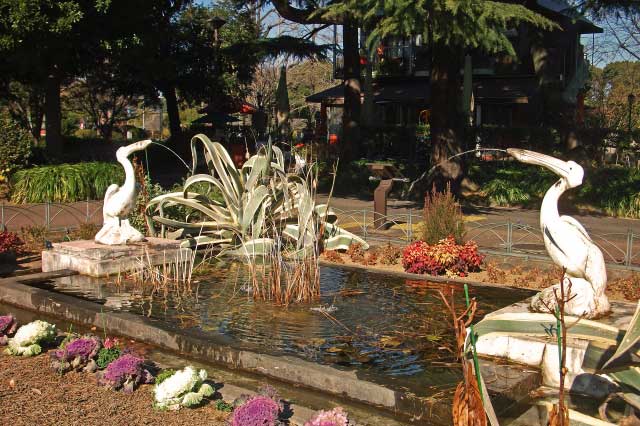 Hibiya Park pelican garden, Tokyo

Hibiya Park YouTube Guide
Enjoy a short, variegated scenic tour of Hibiya Park, Tokyo with this YouTube video.
Hours
Open 24 hours, 365 days.
Admission
Free
Hibiya Park Access - Getting to Hibiya Park
From Kasumigaseki station (Hibiya & Marunouchi subway lines), Exit B2.
From Hibiya station (Hibiya & Chiyoda subway lines), Exits A10 or A14.
From Yurakucho Station (Yurakucho subway line), Exit B2 in Yurakucho, go left and walk 150m (500 ft).
From Yurakucho station (JR Yamanote line), 8 minutes walk.
Google Map to Hibiya Park
Nearby Hibiya Park
The Imperial Palace is just north across the road from Hibiya Park. Tokyo Midtown Hibiya is a 7-floor shopping, dining and entertainment center just east across the road from Hibiya Park. Immediately south of Tokyo Midtown Hibiya is the Tokyo Takarazuka Theater, the Tokyo presence of the famous Takarazuka Revue, and the five star, luxury Imperial Hotel Tokyo.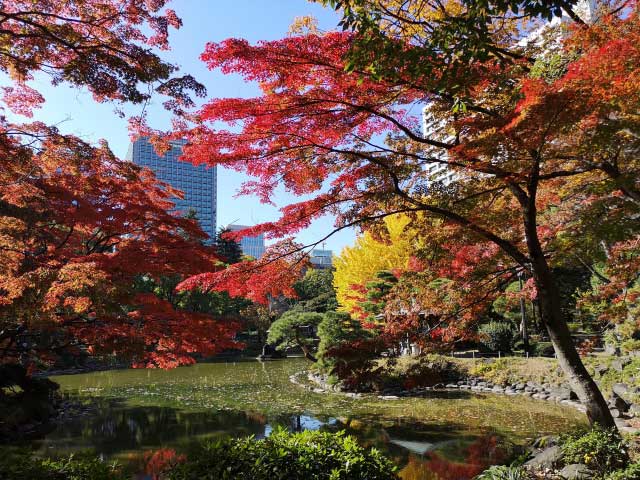 Fall leaves, Hibiya Park, Tokyo

Book Hotel Accommodation in Tokyo Near Hibiya Park
All the themes of the city