Autumn in Aomori
秋の青森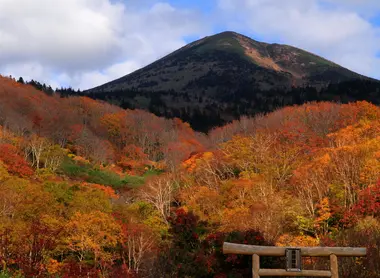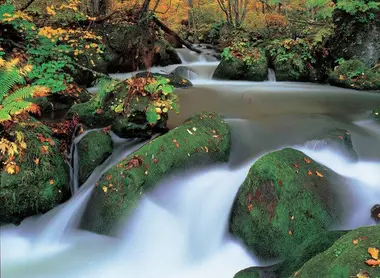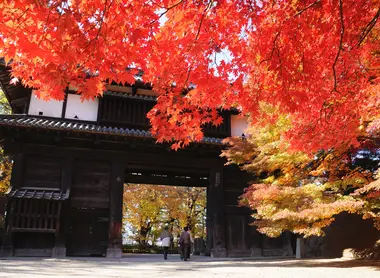 Aomori in golden reflections
Aomori Prefecture is best known for its summer festivals, Nebuta Matsuri in Aomori and Neputa Matsuri in Hirosaki, known for its cherry blossoms around the feudal castle. Autumn brings the striking colors of koyo to the entire region in the most beautiful places. And even if the weather is not ideal for enjoying the lush nature, you will always find activities to keep you entertained!
Koyo by the water
The Oirase Keiryu Gorge is a pretty river dotted with waterfalls that runs through a large forest. In autumn, a simple walk in this forest becomes a delight for nature and photography enthusiasts because all the colors are available to you. From Lake Towada to Yakeyama, a 14km path has been laid out to take full advantage of the beauty of the place; through a bicycle (to be rented on-site), you can only appreciate it in the best possible way.
Lake Towada, between Aomori and Akita, is located in Towada-Hachimantai National Park. It invites you to contemplate the colors of autumn from its shores, simply on foot or by boat on the lake. For almost an hour, you will sail on the calm waters of this immense, filled caldera. If you want to be closer to nature and water at the same time while exercising, you can rent a canoe or a boat.
Read: Lake Towada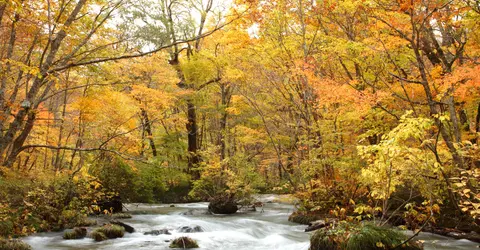 Take height
You can go to Mount Hakkoda, north of Towada-Hachimantai National Park, for a breathtaking view. After ten short minutes of traveling in the sky, through a cable car overlooking a magnificent forest with golden reflections, you will arrive at the top of Mount Tamoyachi at 1,324 meters above sea level, in the Hakkoda mountain range. From up there, the view is breathtaking. Mount Iwaki, Shirakami Sanchi, the plain of Tsugaru, Mutsu Bay, and beyond the first foothills of the big island of Hokkaido are offered to your gaze. All coated with the colors of koyo, a great photo opportunity! To make the most of it, several hiking trails are offered from beginner to advanced from the arrival station of the Sancho koen cable car.
After a good walk, relaxation is essential, and you know it well, in Japan, it is in an onsen that this happens. Sukayu onsen is waiting for you. A spa resort with very acidic sulfurous waters that will cure all your ailments. The Hiba Sennin Buro, literally the "thousand-person cypress bath," is a famous spot in the area, a historic mixed bath for 300 years.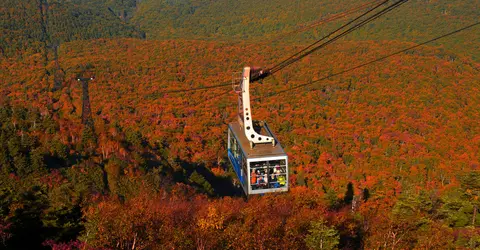 Autumn indoor
The weather isn't great, and you need to find indoor activities. We have everything planned; here are some addresses:
The Towada Art Center is a contemporary art museum where you can experience a new spatial experience called the house of art. Each work has its exhibition room and is connected by a glass corridor. The exhibition continues in the courtyard and onto the roof, with international artists such as Yayoi Kusama, Yoko Ono, Ron Mueck, and Yoshitomo Nara, the native artist of Aomori.
The Aomori Art Museum is located next to Sannai Maruyama Iseki, an archaeological site dating from the Jomon civilization (15,000 - 300 BC) that is very interesting. As for the art museum, the building was designed by architect Jun Aoki in harmony with Sannai Maruyama. You will find beautiful works, including the big white dog by local artist Yoshitomo Nara and 170 other works by him, and beautiful pieces by Marc Chagall.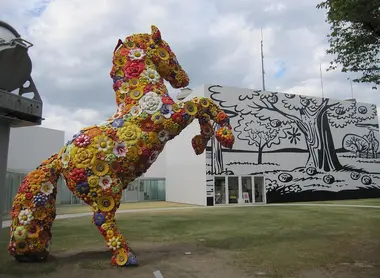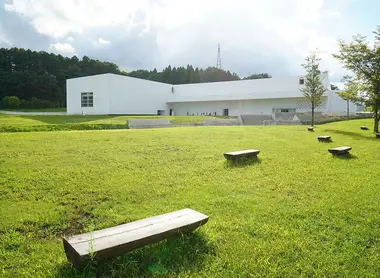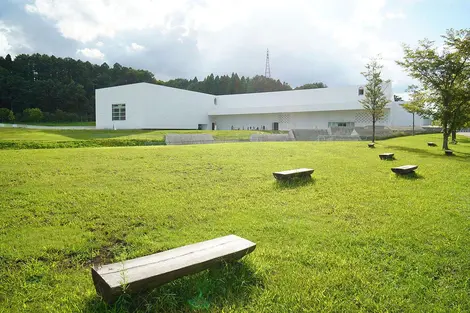 Auga Shinsen-ichiba and Furukawa-ichiba are two markets in Aomori where you can taste the tastiest seafood in the area, which is famous for it. Freshness and quality are always there, so don't miss it!
See also: Culinary specialties of Aomori.
The Nebuta Warasse Museum, located very close to Aomori Station and the port, offers you to know the whole history of this famous matsuri, with the exhibition of 4 large floats.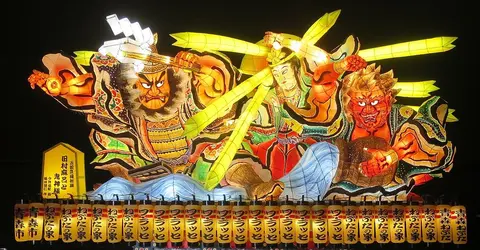 ---
Address, timetable & access
Address

Timetable

4 hrs from Tokyo by Shinkansen.
All the themes of the city