Echizen Pottery Village Fukui
Echizen Pottery. Read about the ancient art of Echizen pottery making, revived and preserved in Fukui prefecture, Japan.
Living the Echizen Style 越前
by Alan Wiren
The Roots of Echizen Pottery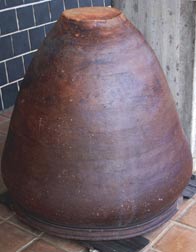 Trace any culture to its beginnings and you will likely find pottery there. Japan is no exception.
The first definable periods of Japanese culture, the Jomon and the Yayoi, are named after the kinds of pottery being made in Japan during those times.
The working of clay is such an ancient craft that it presents students with both a mystery whose clues are often obscured by the passage of millennia, and an invaluable, if incomplete, record of ancient times.
To better understand the development of Japanese pottery, the highly accomplished potter and historian Fujio Koyama classified pottery found at archeological digs in Japan into six different styles that had been produced from medieval times until the First World War.
"The Six Old Kilns"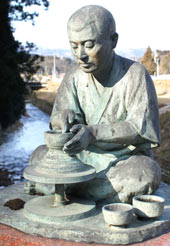 Each pottery style was centered on a particular area. These he called "The Six Old Kilns" of Japan. One of them was an area north of Kyoto on the Japan Sea coast.Its earliest name was Echizen - now Fukui Prefecture.
Echizen pottery is a style that appeared toward the end of the Heian period (794-1192). The surviving examples are diverse in character and heavily influenced by other styles of the same era.
Echizen ware is made from iron-rich clay that turns a dark, reddish-brown when fired.
Traditionally, it is not glazed, but often has subtle patterns of color that result from more or less accidental events that occur during both the shaping and firing of the pieces, such as, for example, ashes from the wood fire clinging to them.
The Echizen Revival
Although it has been cited as one of the styles best suited to objects used in tea ceremony, the most common historical examples of Echizen pottery are large storage vessels and other utilitarian items. In fact, it was because the potters of this area failed to respond to the change in demand in the sixteenth century, when tea ceremony became widely popular, that the Echizen style began to fade from view.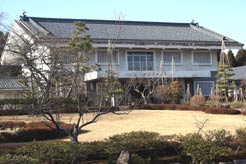 In modern times Fukui Prefecture has been making efforts to rekindle the spark of its Old Kiln. In 1970, it established the Echizen Pottery Village.
The Echizen Pottery Village combines several strategies to preserve and revitalize the Echizen pottery style.
Echizen Pottery Village
To encourage professional interest, Fukui's government has offered land at low rates to professional potters who choose to live in or around the village. To enliven public interest, the village provides a number of opportunities for visitors to immerse themselves in the experience of Echizen pottery.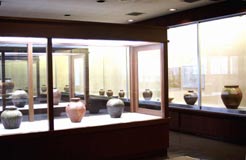 The center of the village is a large park, with the Fukui Prefectural Pottery Museum on the north side. Opened one year after the village was established, it is a fine place to get acquainted with the Echizen style. Its extensive collection of objects spans the history of Echizen ware.
The cost of admission is only 100 yen for adults - free for those under high school age or over sixty. The museum is associated with a school, and some students' works are displayed in the lobby along with contemporary works of professionals in the Echizen style.
Echizen Pottery School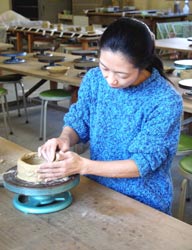 The school holds a variety of morning and afternoon classes that are open to the general public. Even if you spend only a day in the village, you can still get your hands dirty with a little Echizen clay.
A lesson where you get to shape an object of your own design will cost you a mere 1,000 yen. Take your kilogram of clay, choose from a variety of glazes to be applied before your piece is fired, and leave the rest to your hands.
A different lesson will give you the opportunity to paint a design on a ready-made object. A tea bowl costs 400 yen, a small vase 1000 yen. You can reserve an hour's use of an electric potter's wheel and a kilogram of clay for 2000 yen.
Instructions in basic technique are given on a videotaped presentation that is replayed whenever a new student joins one of the classes. An instructor is always on hand to help out if needed.
The finished product is mailed to you, postage paid on delivery, within a month.
Next to the museum is a traditional tea house and garden where green tea is served in Echizen ware cups.
The Echizen Ware Promotion Room offers the complete experience of shaping an object, preparing it for the kiln, firing it, and putting it on exhibit. They maintain a large kiln in the village, and will rent it out for use by groups of 100 or more from June through December at a cost of 10,000 yen per person.
Sculpture Park and Ceramic Arts Center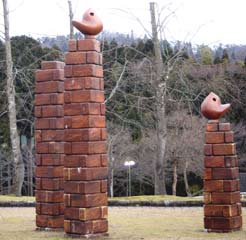 Crossing the park from the museum, heading south, brings you forward in time to the present day.
Passing through takes you past large, contemporary sculptures here and there, including a piece by the renowned Kansai artist Okamoto Taro.
You will also find the Ceramic Arts Center, a facility that provides a venue for ceramic artists from around the world to display their work and to exchange ideas about their craft. When you reach the opposite side, you can browse and buy contemporary examples of Echizen pottery in the small shop there.
Echizen Pottery Village Accommodation
There are two Japanese-style inns on the borders of the park: Jyukouen to the south and Tangetsu to the north. They are both traditional lodgings where you can take advantage of hot spring baths and eventually nestle into futons laid out on tatami-matted floors.
At dinnertime the staff will set the table in your room with abundant servings prepared according to a thoroughly esthetic culinary tradition that dates back as far as the style of the Echizen ware on which they are presented.
The inns have only five rooms each (one room can accommodate six or seven guests), so reservations are essential. One night for a couple costs about 30,000 yen.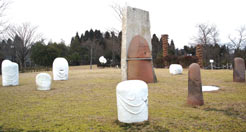 A much more affordable option is Wakatake-so, the village's self-service accommodation. The cost is from 3,300 yen per person for a night. Cooking facilities are available, but be sure to bring your own food. There are no grocery shops within walking distance from the park.
Wakatake-so has eight rooms that accommodate four to five people each. Whether you are staying there, or not, you can use its hot spring baths for a fee of 400 yen.
When to Visit Pottery Village
When planning a visit to the Pottery Village, choosing your timing can be important. On the last weekend in May, for example, the town of Miyazaki, where the village is located, holds the Echizen Pottery Festival. The festival features Echizen ware at substantially discounted prices and live performances of musical and other entertainment.
In October the village hosts a public tea ceremony using traditional Echizen ware. Fukui is famous for its crabs that are best enjoyed in winter, and for its bamboo shoots that are harvested in early spring.
Access - Getting to Echizen Pottery Village
Takefu Station on the JR line is the closest express stop to Echizen Pottery Village. From there take a bus bound for Ota about thirty minutes to the Togeimuraguchi bus stop, just outside the village entrance. Takefu is 13 minutes by Limited Express train from Fukui Station in Fukui city.
Contact
To reserve accommodation call Jyukouen at 0778-32-2332, Tangetsu at 0778-32-2270, or Watake-so at 0778-32-2753.
To reserve the Echizen Ware Promotion Room pottery making experience call 0778-32-3200. Reservations for the museum school's classes are not necessary.
For more information see the Echizen Pottery Village's English website athttp://www.echizentogeimura.comor call 0778-32-3200.
Other Japan articles by Alan Wiren
All the themes of the city