volcanic holes of Owakudani
大涌谷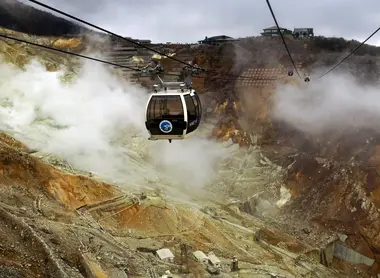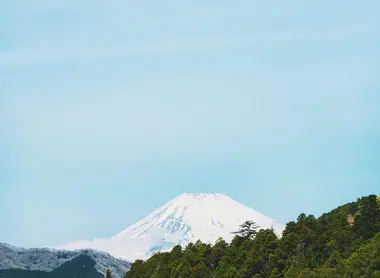 Hakone's "Great Boiling Valley"
THE OWAKUDANI VOLCANIC VALLEY IS ONE OF THE PLACES NOT TO BE MISSED IF YOU ARE VISITING HAKONE! LOCATED ON THE HEIGHTS OF LAKE ASHI, VISITORS GO THERE AS MUCH FOR THE IMPRESSIVE SULFUR ERUPTION OF ITS NATURAL HOT SPRINGS AS FOR THE MAGNIFICENT VIEW OF THE LEGENDARY MOUNT FUJI.
Sulfur Eruptions and Mount Fuji at Owakudani
The very unique landscape of the Owakudani Valley was created following the last eruption of Mount Hakone some 3,000 years ago. Located around the crater of this volcano, Owakudani is an active volcanic area where you can find and admire hot springs and rivers from which impressive sulfurous vapors emanate.
It is these eruptions of sulfur and the captivating smell of the places that have made it famous.
Owakudani being on the heights of Hakone, in addition to enjoying a privileged view of the various hot water basins from which these thick fumes come out, you can enjoy a breathtaking view of Mount Fuji. Although less well-known than the viewpoint from Lake Ashi below, it is worth the trip.
Near these sulfurous hot springs, you will also find a small boutique temple and a ramen restaurant. Something to invigorate your mind and body before continuing the adventure.
For the more adventurous, a hiking trail starts from Owakudani Ropeway Station and continues to Mount Komagatake, from where you can take the Komagatake Ropeway to Lake Ashi.
The hike takes about 2 hours and is very enjoyable. But be careful, it is for experienced hikers and you will need suitable equipment.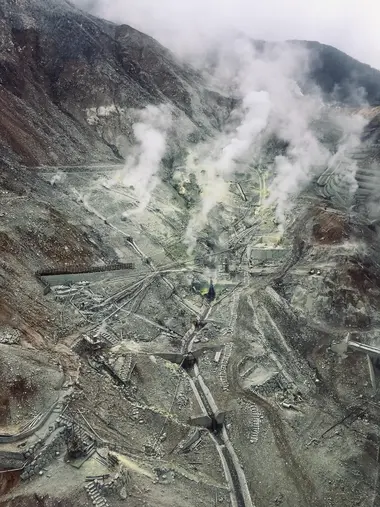 Black eggs: Kuro-tamago
What is the local culinary specialty? Kuro Tamago!
Here you can buy black eggs cooked in the hot springs of the volcanic valley. This particular color that makes these hard-boiled eggs famous is because the shells are blackened by sulfur from the Owakudani springs during cooking.
A local legend says that eating these black eggs would prolong life by seven years!
You will find them in particular in the small Owakudani Kurotamago Kan shop, just next to the fuel station.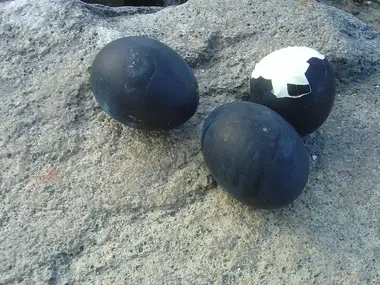 How to get to Owakudani?
Owakudani is easily accessible with the Owakudani cable car which offers a magnificent view of Mount Fuji.
Owakudani is indeed also the name of one of the stations of the Hakone cable car, going from Gora to Togendai stations. Gora is accessible from Hakone-Yumoto Station via the Hakone Tozan Railway Line. Togendai lies on the shores of Lake Ashi and is connected by boat from Moto-Hakone and Hakone-machi.
You can also drive there, but the road is often blocked and parking is limited.
Be careful, Owakudani and the gondola are regularly inaccessible when the volcano, still active today, wakes up. So remember to check, before going to the region, the mood of Mount Hakone ...
---
Address, timetable & access
Address

Timetable

Take the cable car from Togendai Station (1,050 yen) to Owakudani Station.

Price

1,050 yen for the cable car
All the themes of the city