Takeda Castle Ruins
Takeda Castle in Hyogo Prefecture, though ruined, has become increasingly popular recently thanks to a certain seasonal weather pattern known in Japanese as unkai (sea of clouds).
Takeda Castle Ruins, Asago, Hyogo 竹田城跡
Jake Davies
The ruins of Takeda Castle are in Asago, in the northern part of Hyogo Prefecture. Though the Takeda Castle ruins have no buildings, either original or reconstructed, and just consist of stone walls and foundations, they have become very popular in the past few years thanks to being the site of a certain seasonal weather pattern known in Japanese as unkai, which means "sea of clouds".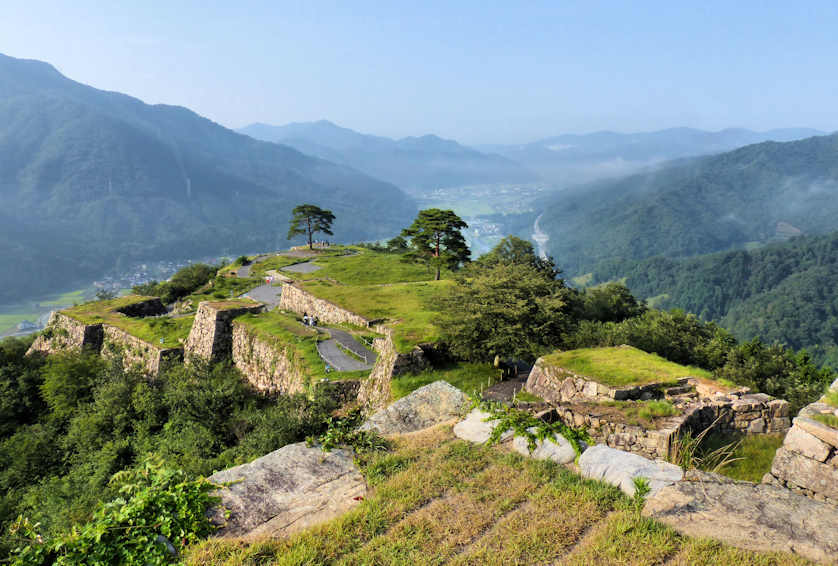 Takeda Castle in Hyogo Prefecture
Created when a combination of weather conditions occur simultaneously, valleys fill with clouds (fog) and when viewed from high viewpoints like mountaintops look like a sea of clouds.
Of course such a phenomenon is not unique to Japan, but Japan has many spots known for unkai - the top of Mount Fuji being perhaps the best known.
Around Takeda Castle the conditions for unkai occur maybe two dozen times during the autumn and only lasts for a couple of hours after sunrise, so seeing it will take some planning and luck, but if successful you will get to see the "Castle in the Sky" as the successful advertising campaign has identified the castle. Bitchu-Matsuyama Castle in Okayama Prefecture also shares this phenomenon of unkai and is another "Castle in the Sky."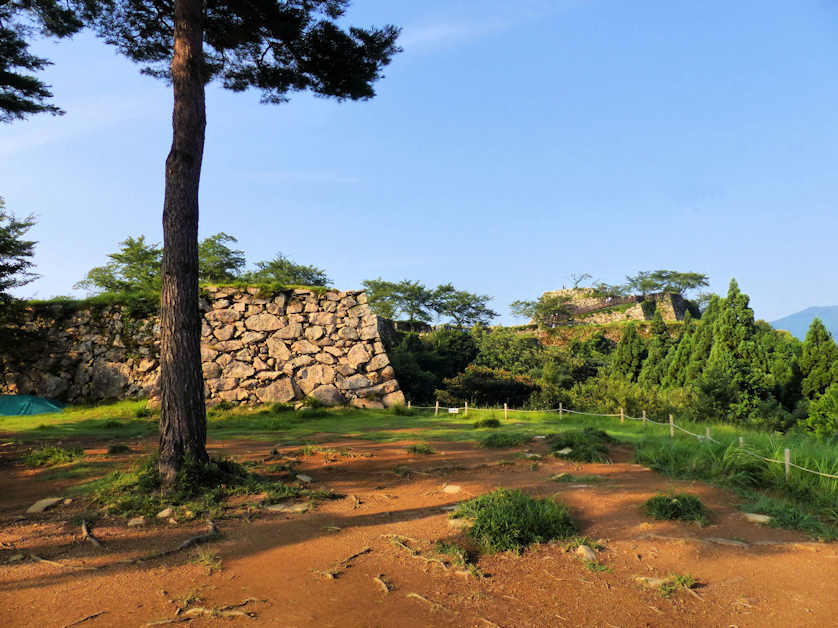 Takeda Castle Ruins, Hyogo Prefecture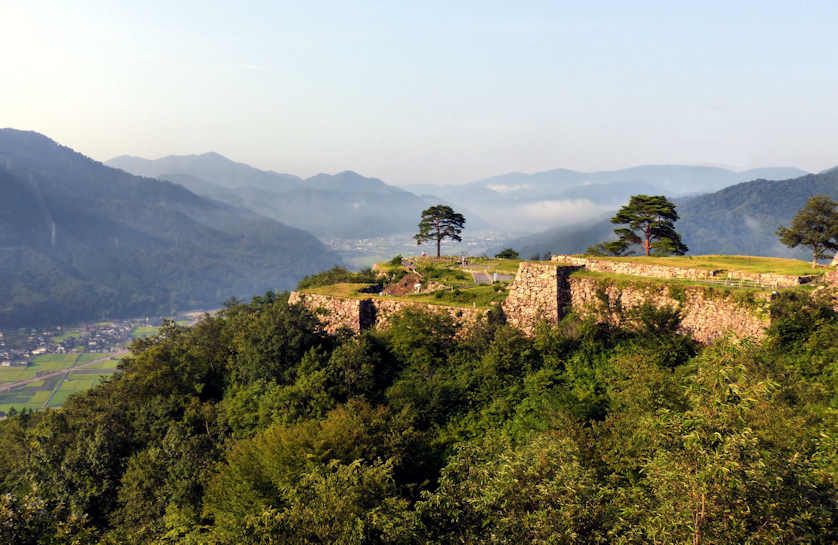 Takeda Castle in Hyogo Prefecture
Takeda Castle History
Sometimes called Torafushi ("Flying Tiger") Castle, Takeda Castle was built as a stronghold of Izushi Castle which lies about 20 kilometers further north. Located on a mountain ridge 353 meters above sea level it occupied a strategic position overlooking the main highway between Tanba and Tajima and the Maruyama River.
Built in 1441 on the orders of Mochitoyo Yamana, his retainer who did the construction, Mitsukage Otagaki, was given control of the castle. In 1577 Hideyoshi conquered the castle and gave it to his younger brother Hidenaga, but he moved to Izushi Castle two years later and Takeda Castle was taken over by Akamatsu Hirohide, who extended the castle to the size it is now.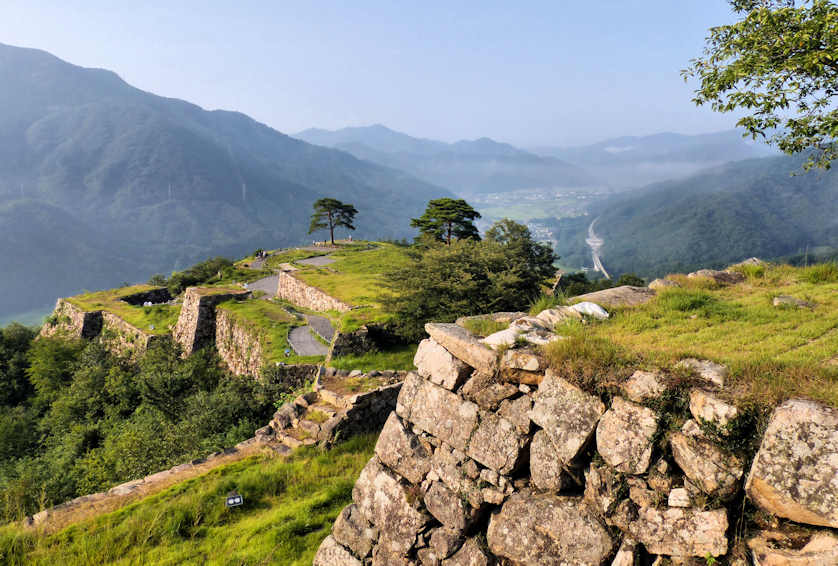 Takeda Castle Walls, Hyogo Prefecture
Hirohide initially fought against the Tokugawa at the Battle of Sekigahara in 1600 but switched sides. However he was accused of arson by Ieyasu and was forced to commit suicide. Following his death the castle was abandoned.
Though only ruins, the castle is impressive, with an elongated plan along the ridge, staggered on several levels which gives rise to its second nickname, the "Machu Picchu of Japan." The views, even without unkai are expansive. Along the base of the mountain, behind the railway station, are a row of temples that were originally the first line of defense for the castle. Some scenes from the Kurosawa movie Kagemusha were filmed at Takeda Castle.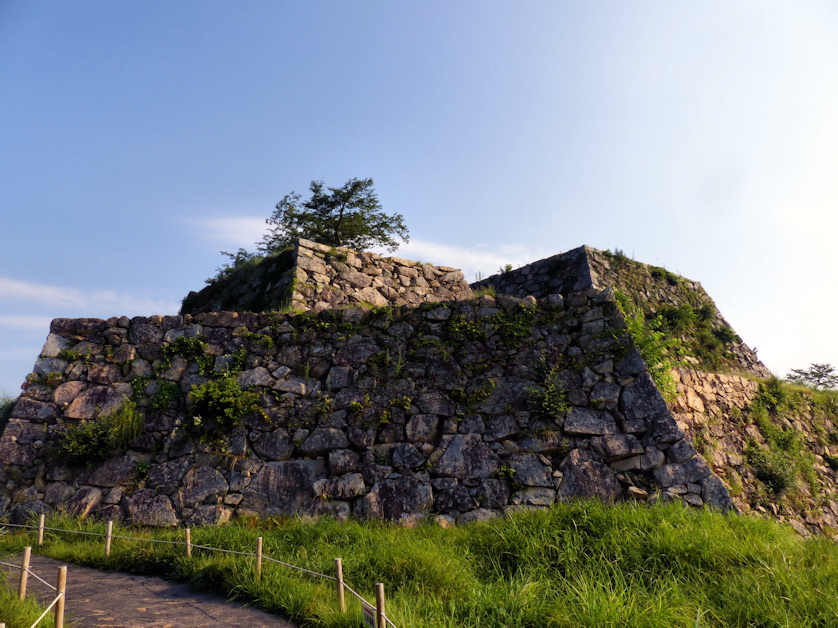 Takeda Castle in Hyogo Prefecture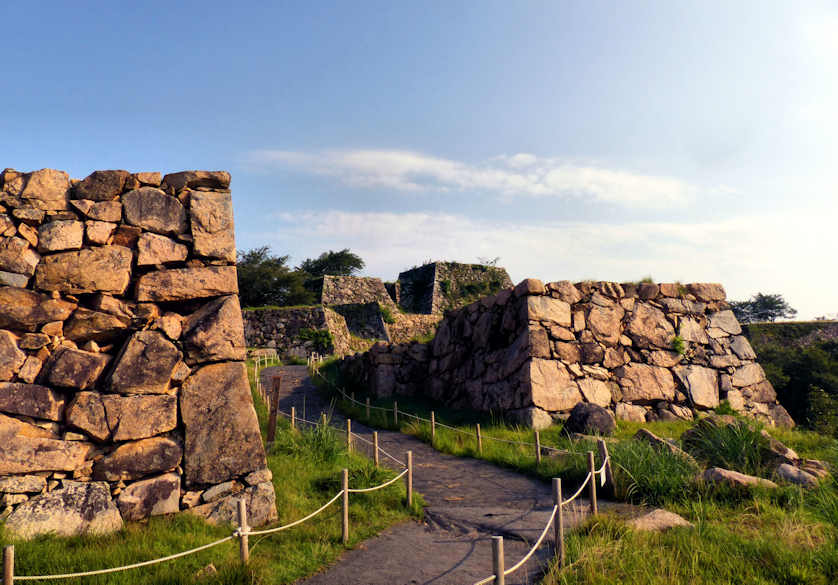 Takeda Castle in Hyogo Prefecture
Takeda CastleWadayamacho Takeda, Asago-shiHyogo 669-5252Tel: 079-674-2120
Admission: 500 yen for adults. Under 16 free.
8am to 6pm March to May
6am to 6pm June to August4am to 5pm September to November10am to 2pm December to January 3rd, then closed until March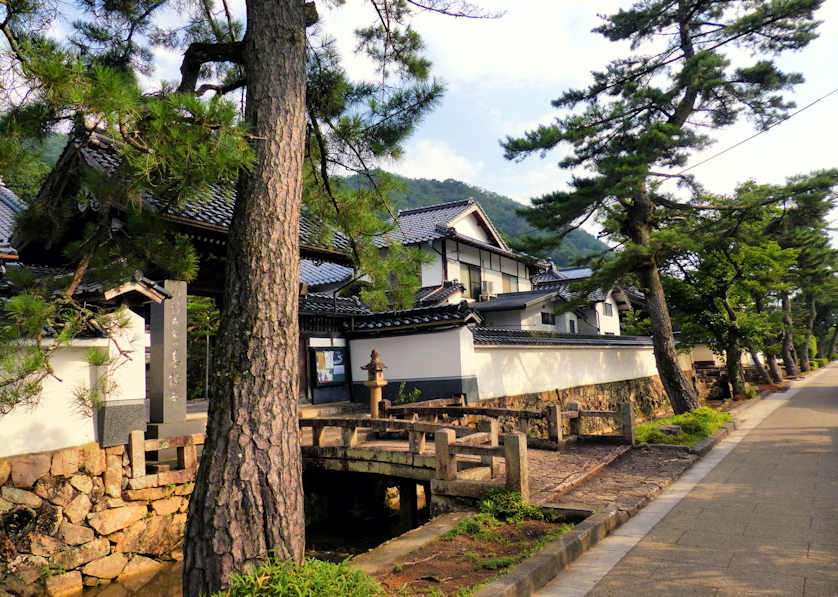 Temple near Takeda Castle, Asago, Hyogo Prefecture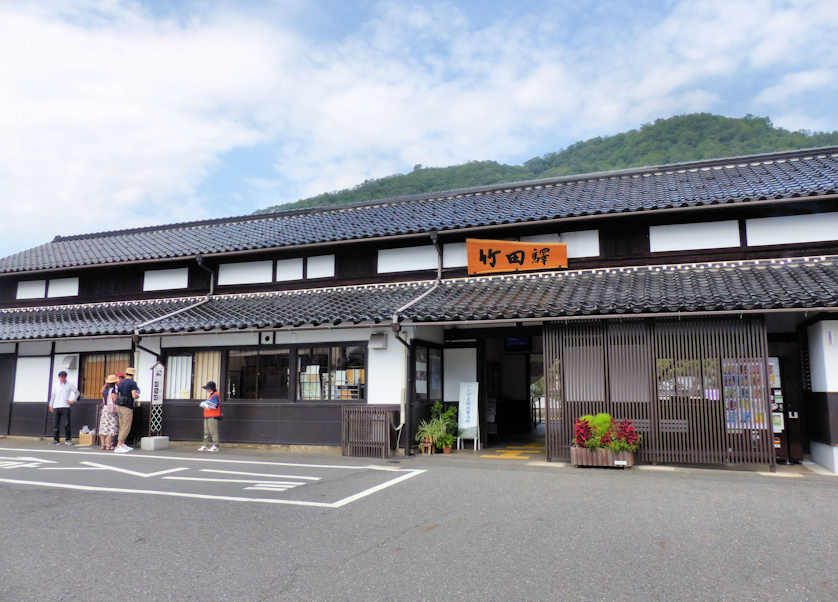 Visitor Center for Takeda Castle close to Takeda Station

Access To Takeda - how to get to Takeda Castle
There are two walking trails up to the castle. The Ekiura trail starts right behind the station and the Hyomai Shrine trail begins a few hundred meters further north at the shrine. It takes 40 minutes to an hour to climb. A bus or taxi can take you up to a parking lot much closer to the castle but still involves a walk to reach the ruins. The bus circumnavigates the mountain.
A series of viewpoints across the river in the Ritsuunkyo Valley offer superb views of the castle, especially the iconic view during unkai. It takes about 40 minutes to walk to the lowest viewpoint or ten minutes by taxi.
A small visitor center is located next to the station.
JR Takeda Station is on the Bantan Line which connects Himeji and Wadayama station in Hyogo Prefecture. JR Takeda Station is about 2 hours from Himeji or 2.5 hours from Kyoto or Osaka. A JR Japan Rail Pass would be valid on this route.
169 Wadayama-cho Takeda-jo-ato, Asago, Hyogo Prefecture 〒669-5252
Book Hotel Accommodation in Japan Near Takeda Castle
All the themes of the city