Hori Teien Tsuwano
Hori Teien: read a guide to the old Hori family Edo Period house and gardens at Hori Teien, Tsuwano, Shimane Prefecture.
Hori Teien 旧堀氏庭園, 津和野
Hori Teien is the estate of the Hori family in the small settlement of Muraki about 10 km west of Tsuwano in Shimane, and is well worth a visit if you are interested in Edo Period manor houses and traditional gardens.
About 300 years ago the Tokugawa Shogunate claimed the area as theirs as there was a small copper mine here and they installed their loyal vassals the Hori family to oversee it. The Hori were known as The Mining Kings as they also oversaw the nearby silver mine Iwami Ginzan.
The manor house burnt down in 1788, so the current manor house dates from this time. The whole house is open to visitors, including the huge kitchen, bathroom, etc and in an ancillary building is a small collection of historical artifacts including the obligatory suit of samurai armor.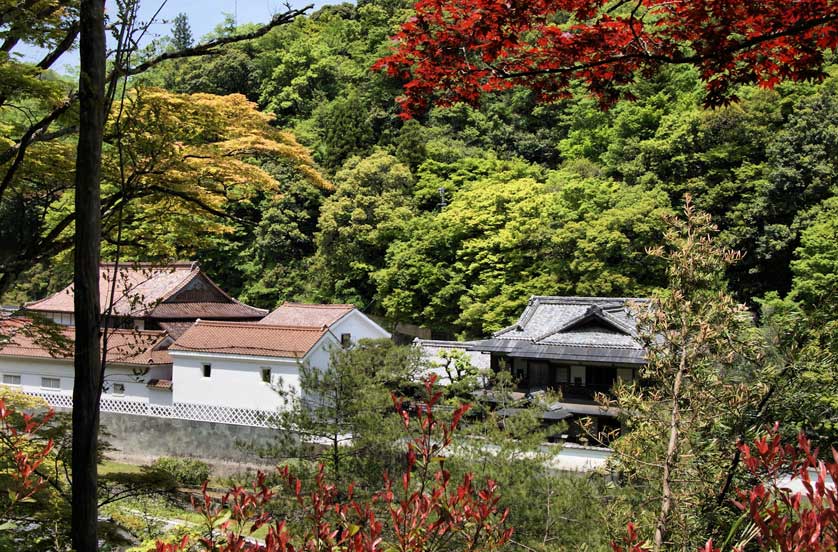 Hori Teian, Tsuwano Shimane Prefecture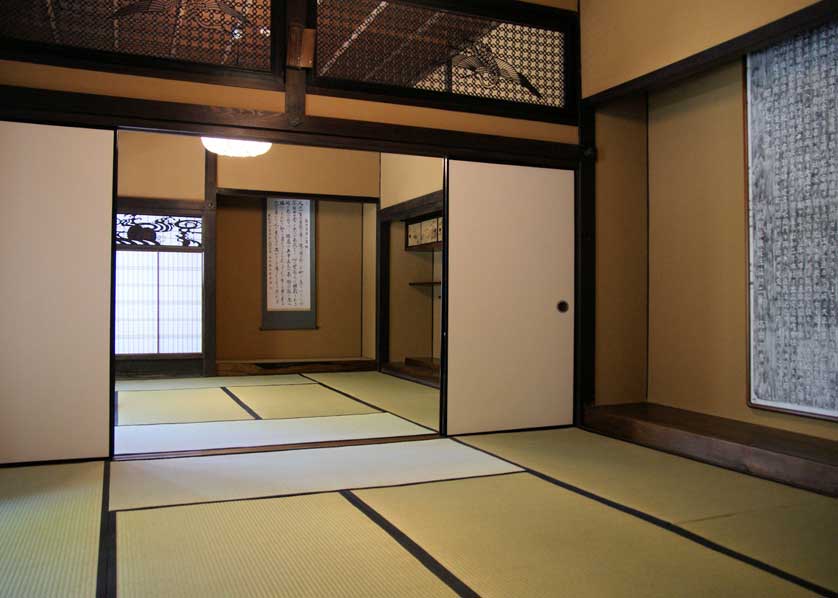 Hori Teian, Tsuwano Shimane Prefecture

Rakuzan-so
The adjacent guesthouse, the Rakuzan-so, is a somewhat more elegant building, built in 1903 by Tojiro Hori, the fifteenth generation of Hori to live here. Rakuzan-so was built in the style of Momoyama Period Kyoto residential architecture by a head carpenter brought from Osaka.
The two floors represent heaven and earth, with transoms carved of radishes and turnips on the first floor and swallows and ivy on the second. Both floors have great views out over the garden and from the second floor a second garden across the road, the Warakuen, can be viewed.
The garden, the Chisen Kaiyushiki, is laid out against the hillside and centers around a pond fed by a two tier waterfall and a 300 year old maple tree. Chisen Kaiyushiki is a strolling garden, and while not large, paths wind up and down the steep hillside allowing for a variety of views of the garden. With plum blossoms, cherry blossoms, irises, and narcissus, it can be enjoyed at any time of the year.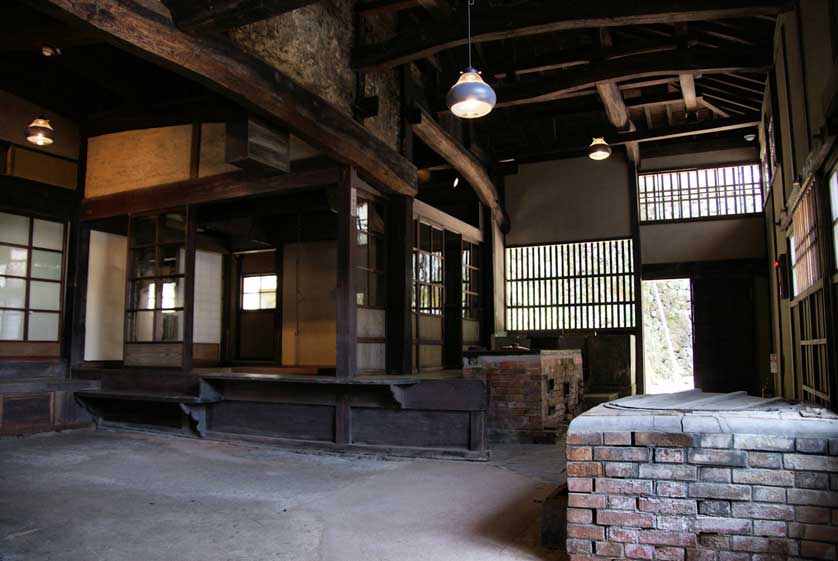 Hori Teian, Tsuwano Shimane Prefecture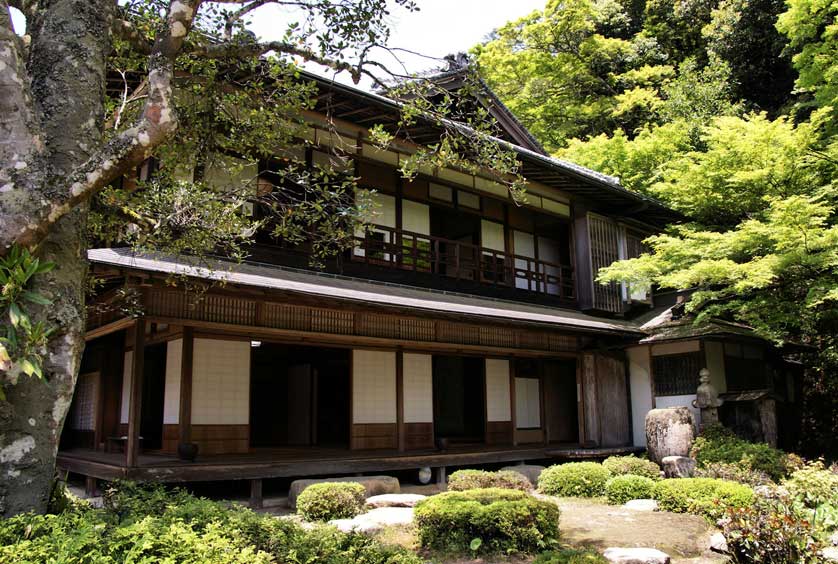 Hori Teian, Tsuwano Shimane Prefecture
The most appealing thing about Hori Teien is that the houses and gardens can be enjoyed without hordes of other visitors as its remote location is somewhat off the main tourist track.
Open: 8 am to 5 pm (9 am-4 pm in winter)
Entrance: 500 yen
Tel: 0856 72 0010
Hori Teien can be reached by an infrequent local Iwami Kotsu Bus from Tsuwano station for Nagano. Get off at Hori Teien (approx. 25 minutes).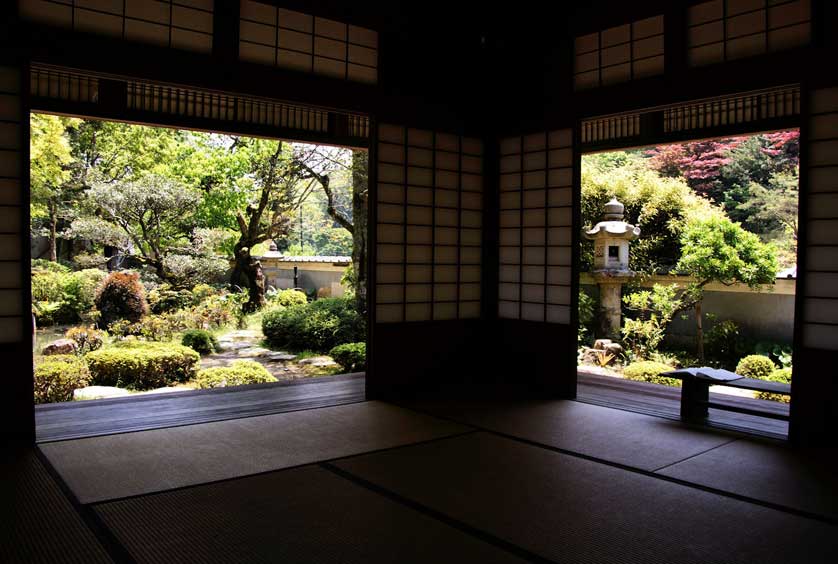 Hori Teian, Tsuwano Shimane Prefecture

Tsuwano & Hori Teien Access
Air
Iwami-Hagi Airport is the nearest airport, and has flights to Tokyo Haneda Airport (85 minutes) and Osaka Itami Airport (65 minutes).
Train
Tsuwano JR station is on the Yamaguchi Line, 40 minutes from Masuda, and 70 minutes from JR Ogori Station (2 hours 30 mins from Shin Osaka or 5 hours 35 mins from Tokyo). The Yamaguchi Line connects Tsuwano with the Shinkansen at Shin-Yamaguchi Station.
The most interesting way to arrive in Tsuwano is by the Yamaguchi Go steam train. The train makes one round trip a day from Shin-Yamaguchi station on Saturdays, Sundays, and holidays from late March through to November. The train features carriages refurbished in a variety of different era styles. The journey takes about 2 hours each way, and stops in Tsuwano for 3 hours. Tickets are much sought after and enquiries should be made to Shin-Yamaguchi or Yamaguchi JR stations.
Bus/Car
By car, Tsuwano which is on Route 9, is about 30 minutes from Masuda, around one hour from Hagi. Express buses take 1 hour, 15 minutes to Hagi while by local bus the journey time is approximately 2 hours.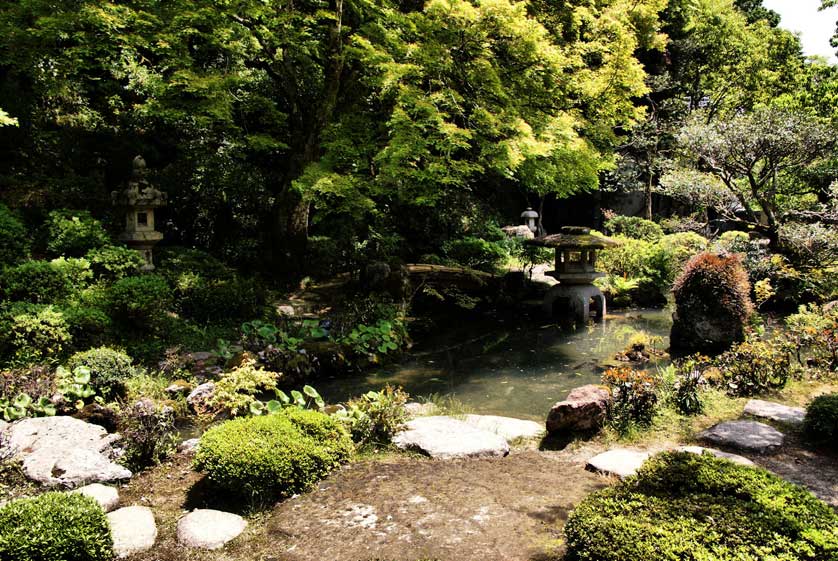 Hori Teian, Tsuwano Shimane Prefecture

Book Hotel Accommodation in Japan
All the themes of the city