Matsusaka Travel Guide
Matsusaka 松阪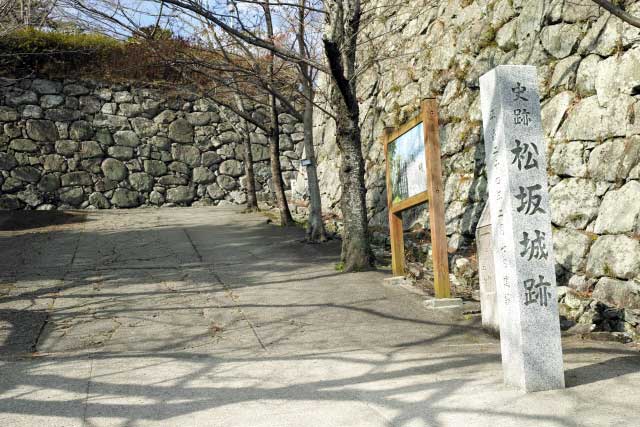 Matsusaka is a castle town in Mie Prefecture on the east coast of the Kii Peninsula. Traditionally a merchant town in the Edo era, Matsusaka does not feature in most guide books but has much to see and do.
Matsusaka History
Matsusaka prospered in the Edo period (1600-1868) mainly as a production center for high-quality indigo-dyed cotton, featuring a distinctive striped-pattern that originally came from Vietnam. Matsusaka kimonos became popular in the city of Edo (present-day Tokyo) and many merchants opened stores in Edo, Osaka and Kyoto selling their wares. A number of merchants from Matsusaka were the millionaires of their day, including the founder of the Mitsui Group.
Matsusaka retains many of its Edo-period merchant houses, still intact. This combined with the traditional indigo-dyed goods still on offer in stores, Matsusaka's famous beef, the castles ruins, an interesting museum - and the town's easy accessibility from Osaka or Nagoya - make Matsusaka a worthwhile day-trip or half-day trip.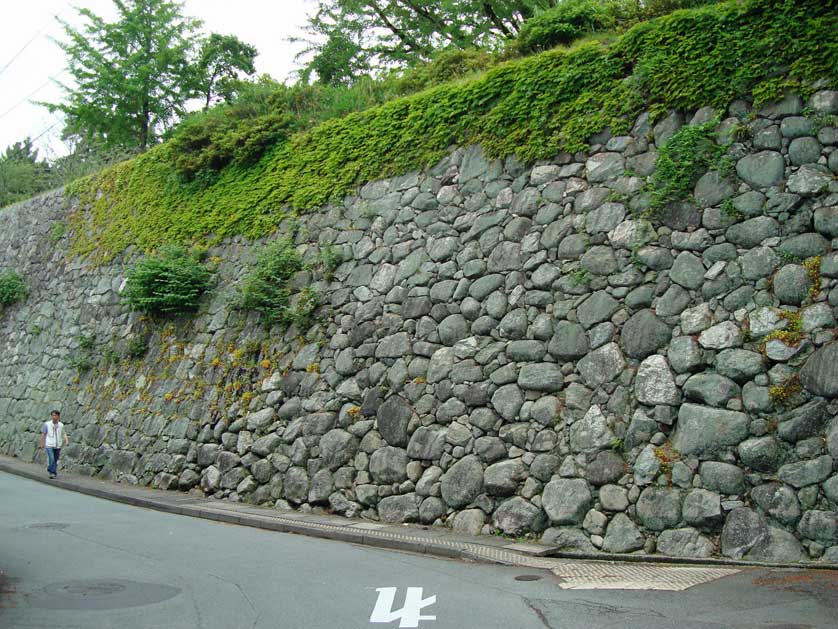 Matsusaka Castle walls, Mie Prefecture
Matsusaka Castle Ruins
Matsusaka Castle now lies in ruins except for its impressive stone walls, but the site, now known as Matsusaka Park, provides fine views of the town below, has a number of interesting museums in the castle park, and cherry-blossom and wisteria blooms when in season.
Located on a hill south west of Matsusaka Station, the castle dates from 1588 when it was constructed by daimyo Ujisato Gamo - a noted man of culture who later converted to Christianity. Originally the castle's keep (donjon) had three storeys and a separate armory.
The pleasant castle grounds now contain the Motoori Norinaga Memorial Museum (Tel: 0598 21 0312; admission 400 yen). Motoori Norinaga (1730-1801) was the leading scholar of his generation, and a poet, and the museum houses the 44 volume "Kojiki den", a commentary on Japan's oldest history book, the Kojiki, that took Motoori 35 years to complete. The Suzunoya (House of Bells) - a restoration of Norinaga's house and study. Hours 9am-4.30pm, closed Monday.
The Museum of History & Folklore (Tel: 0598 23 2381; admission 100 yen) has a quirky collection of early stereos, radios and electrical appliances as well as indigo cotton looms.
Below the castle walls is the Gojoban-Yashiki Residence (Castle Guards' Houses; Tel: 0598 26 5174) where the samurai guards of the castle and their extended families used to live. The impressive rows of 19 wooden houses are still inhabited today, including six by direct descendants of the original soldiers.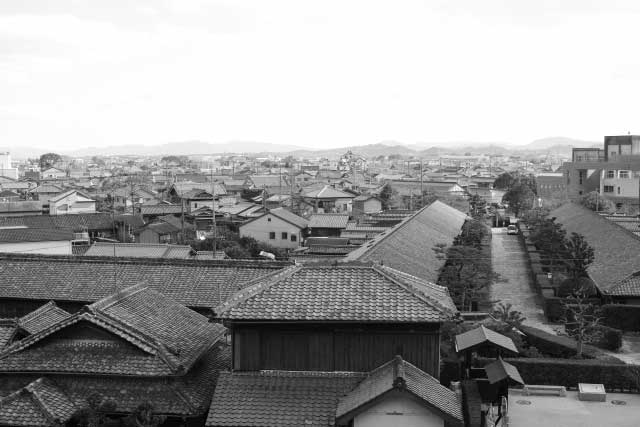 Gojoban Yashiki, Matsusaka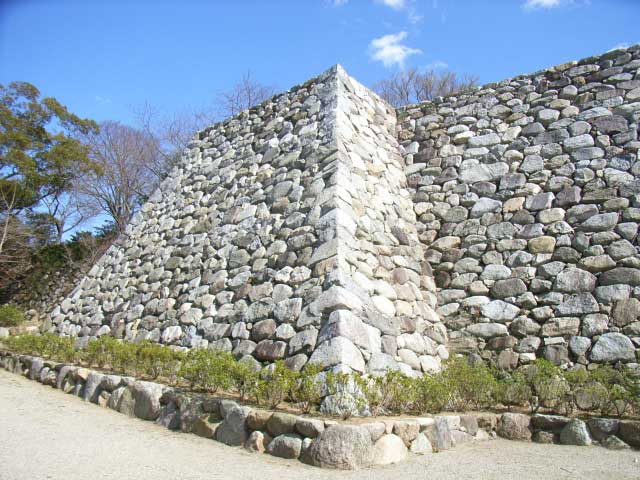 Matsusaka Castle walls, Mie Prefecture
Matsusaka Merchant Area
On the approach to Matsusaka Castle ruins is the old merchant area of the city with many traditional, wooden shops still selling indigo cotton goods. The former residence of Sheizawemon Odzu has been preserved as the Memorial Museum of Matsusaka Merchant (Tel: 0598 21 4331; admission 200 yen). The two-storey house has splendid tatami rooms, peaceful pocket-sized gardens, two thick-walled storehouses and a beautiful step- (kaidan) tansu under the stairs. The well, money-boxes, kitchen and toilets are still in place and the museum really evokes the atmosphere of an Edo-era business.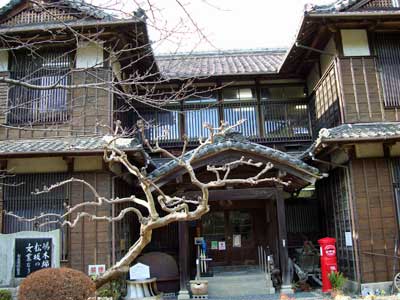 Matsusaka Museum of History, Matsusaka, Mie Prefecture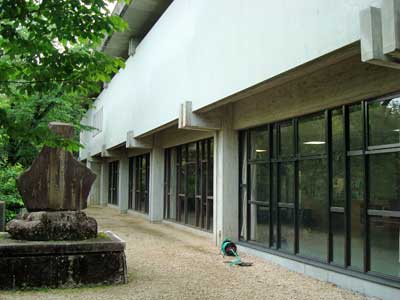 Memorial Museum of Motoori Norinaga, Matsusaka, Mie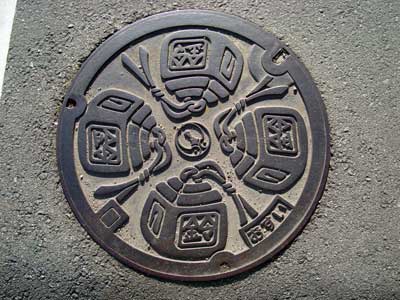 Manhole cover, Matsusaka, Mie Prefecture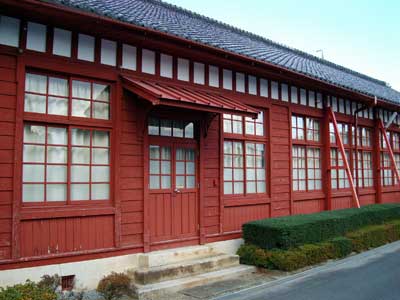 Matsusaka in Mie Prefecture
Ozu Yasujiro Seishunkan Museum
Ozu Yasujiro Seishunkan Museum
On the other side of town from the castle and merchant area is the interesting Ozu Yasujiro Seishunkan Museum (Tel: 0598 22 2660). Ozu Yasujiro (1903-63) was a film director best known for his classic film Tokyo Story (1953).
Born in Tokyo, he moved to his father's home town of Matsusaka in rural Mie Prefecture aged 10 and lived in the town until 1923 when he returned to Tokyo to begin work as a cameraman at the Shochiku Film Company.
As a film director, his major themes of family life portray ordinary people in ordinary situations struggling to adapt to the changes of post-war Japan. Ozu's films such as Early Spring, The End Of Summer and Early Summer are both mysterious and poignant.
Shopping and Eating in Matsusaka
Matsusaka has a number of excellent traditional Japanese sweet shops. Look out for the branch of Torayauiro (Tel: 0596 23 5005; Ise HQ) on the corner of the Honmachi intersection just down from the station on your right, indigo stores for cotton fabrics, kimonos and bags such as the Matsusaka Momen Tezukuri Center (Tel: 0598 26 6355) and a number of places to buy Matsusaka beef. The cows reared to produce this specialty are supposedly virgins and raised on a diet including beer and a full-body massage! The meat is soft and finely marbled.
Matsusaka Accommodation
The following are recommended places to stay in Matsusaka, all near Matsusaka Station.
Ace Inn Matsusaka is a budget business-style hotel very near Matsuzaka Station, with all the typical basics, including ensuite bathroom and toilet, a complimentary welcome drink and choice of three kinds of pillow.
The Grand Court Matsusaka is walking distance from the station, offers no-frills accommodation, but with a range of amenities including coin launderette. Good food.
Hotel Route-Inn Matsusaka Ekihigashi is a modern hotel with free wired internet and safe in all rooms. Coin launderette, business centre, and massage chairs. Good buffet breakfast. Helpful staff.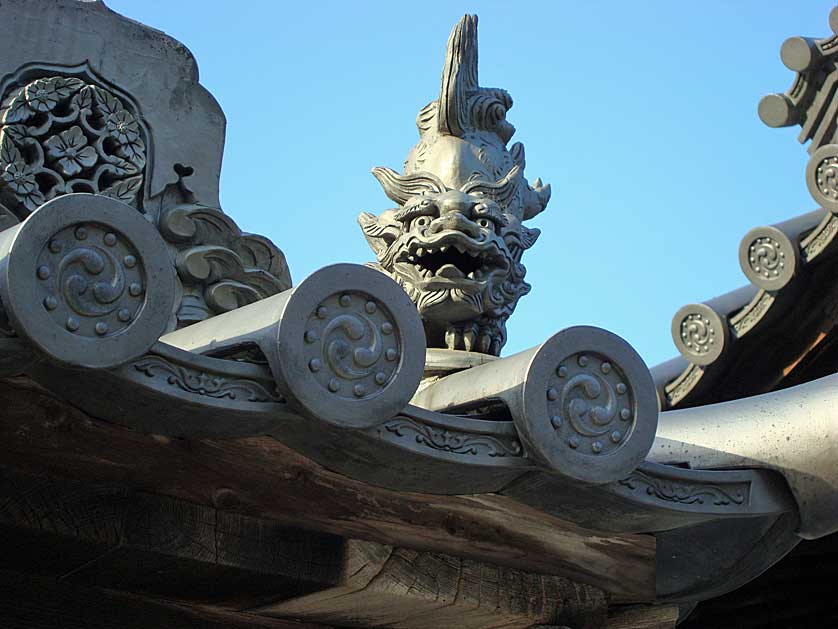 Onigawara gargoyle, Matsusaka, Mie Prefecture
Festivals in Matsusaka, Mie
Matsusaka has a number of festivals throughout the year including a version of Kyoto's Gion Matsuri in July with portable shrines (mikoshi) paraded through the streets by happi-clad participants. In November, there is a parade of costumed samurai warriors to celebrate the Ujisato Festival in honor of Gamo Ujisato, the feudal lord who established Matsusaka Castle.
Access - Getting To Matsusaka
Train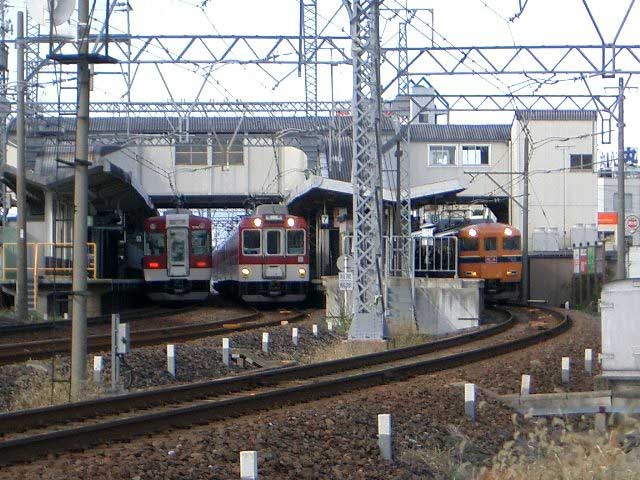 Matsusaka Station
Access to Matsusaka from Nagoya Station to Matsusaka Station on the Kintetsu or JR Line. Journey time is 1 hour, 10 minutes. Trains from Kintetsu Namba Station in Osaka take 90 minutes. From Matsusaka to Tsu is less than 20 minutes by train.
Matsusaka is small enough to cover on foot or there are irregular buses to the historic zone from the station or take one of the plentiful taxis. (Kintetsu Taxi: 0598 21 5543).
There is a high-speed ferry from Matsusaka Port to Chubu International Airport across Ise Bay. There are 8 boats a day and the fare is 2,100 yen one-way for the 45 minute journey.
The Suzunone loop bus circles the downtown area and is 100 yen per ride.
The Tourist Information Office (Tel: 0598 23 7771) is on your right as you exit the station.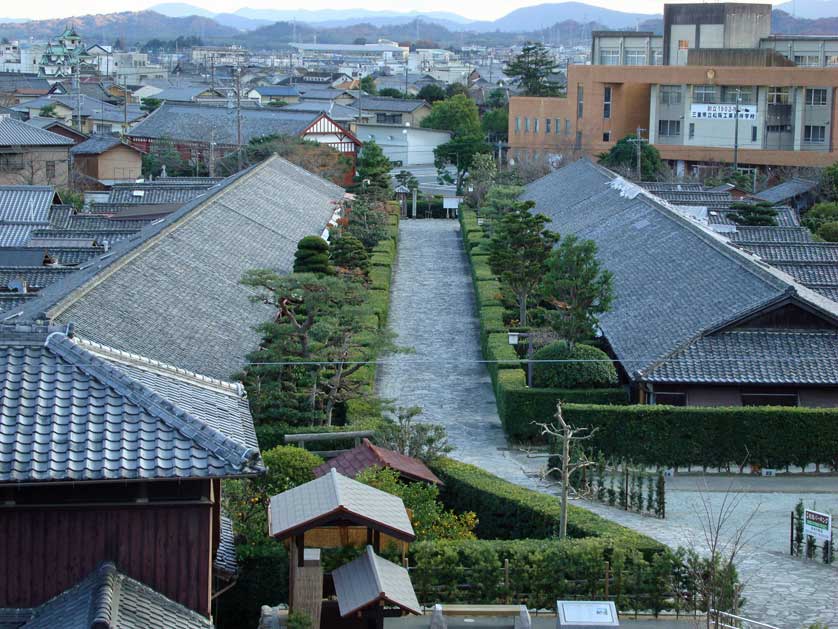 Gojoban Yashiki, Matsusaka
Matsusaka Map
Book Hotel Accommodation in Japan
Matsusaka Guide: read a guide to Matsusaka in Mie Prefecture including Matsusaka Castle and the traditional merchant and samurai houses in town.
All the themes of the city