Yoiyama Festival & Gion Matsuri
Yoiyama Festival is part of Kyoto's Gion Matsuri and takes places on July 16 every year - read a guide to Yoiyama and the Gion Matsuri.
Yoiyama (July 16th): Kyoto's Magical Night 宵山
Yoiyama
Every year on the night of July 16th Kyotoites turn out in their cotton
summer kimonos - yukata - to look at the famed Gion floats that will be used in the Festival the following morning.
The night before Gion Matsuri (festival) is in many ways far superior to the tourist crush under sweltering skies that is the actual Gion Matsuri.
On the night before, the famous floats--the "Hoko" that will pass by far in the distance on festival day--are on display in the streets
in the neighborhood northwest of Shijo-Karasuma.
Large sections of downtown are closed to automobile traffic for several
nights preceding July 17th, and stalls selling chicken, beer, fried octopus, trinkets for children, and more are set up.
Young people come in groups or on a date; families come to show off their children; and older people make an evening of it.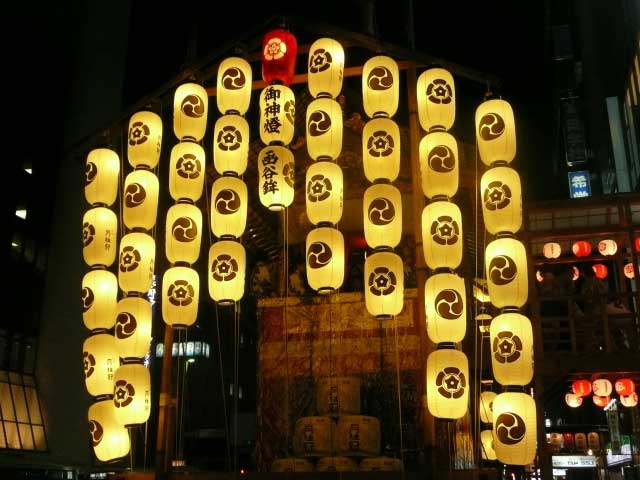 Float at Yoiyama with illuminated lanterns, Gion Matsuri Festival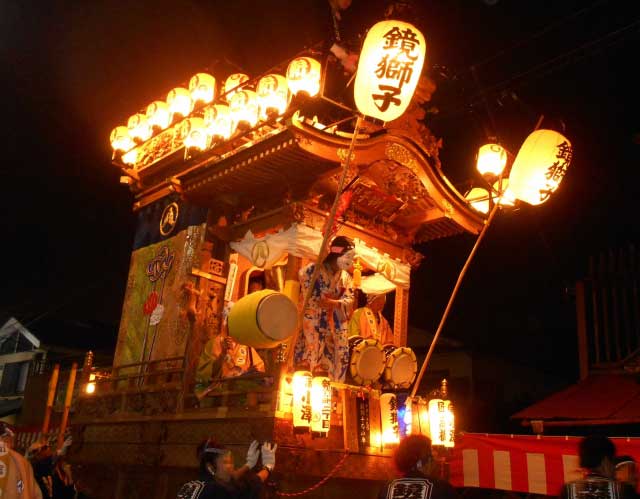 Yoiyama, Gion Matsuri Festival
In addition to the floats on display during Yoiyama, the "kon-chiki-kon" of Gion-bayashi music can be heard and children chant short songs to attract customers for the talismans they sell. Traditionally, people who live in this part of downtown open up the front parts of their homes and shops,
allowing passersby a look at their valuable heirlooms: byobu - painted screens, kimono, armor, textiles, decorative folding fans, etc.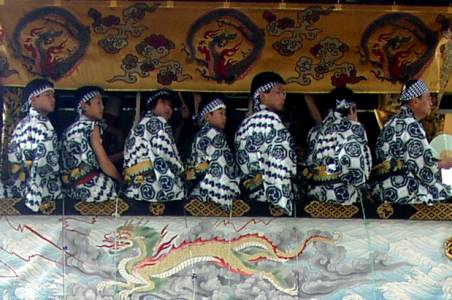 Gion Matsuri Festival Float
Gion Matsuri 祇園祭
The Gion Matsuri procession of floats, some of them over 6m in height from the ground to the roof, takes place on July 17th each year. It has its roots in the plagues and illnesses of many centuries ago.
In bygone days, the residents of the city often fell victim to annual summer pestilences. To keep the plague at bay, people would pray at Yasaka Shrine. This morphed into a formal, annual event that continues to this day. The actual festival lasts the whole month of July with various events taking place during this time.
The decorated floats divided into two groups and are known as hoko and yama and collectively as yamaboko. Altogether there are 9 of the larger hoko and 23 of the smaller yama. The floats carry priceless tapestries from the Nishijin area of Kyoto as well as pieces from abroad that came down the Silk Road.
The procession on July 17, known as yamahoko-junko, begins at 9am at Shijo-Karasuma Station and slowly moves to Kawaramachi-Shijo by about 9.40 am then to Kawaramachi-Oike and Kyoto City Hall at around 10.30 am and then to Shinmachi-Oike at around 11.30 am.
There is another procession of floats on July 24 (hanagasa-junko) preceded the previous evening by another Yoiyama. The procession of July 24 begins at Karasuma-Oike at 9.30 am, moves to Kawaramachi-Oike just after 10 am, then Shijo-Kawaramachi by 10.40 pm and finishes at Shijo-Karasuma at around 11.20 am.
Gion Matsuri concludes on July 31 with a ceremony at the Eki Shrine within Yasaka Shrine.
Yoiyama & Gion Festival Access
From Kyoto Station, take the Karasuma Subway Line two stops north to Shijo Karasuma Station (which is also on the Hankyu Line for Osaka).
Maps are available in the station or at any exit. Follow the crowds.
Alternatively, for a more gradual introduction to the vast crowd - Yoiyama Festival is certainly not for the claustrophobic - exit at Oike Subway Station, one stop north of Karasuma Station and follow the crowds south.
Many people also arrive at both Shijo and Sanjo Stations from Osaka. Shijo Kawaramachi is the start of the Hankyu Line to Umeda. Sanjo Station is on the Keihan Line to Yodoyabashi Station.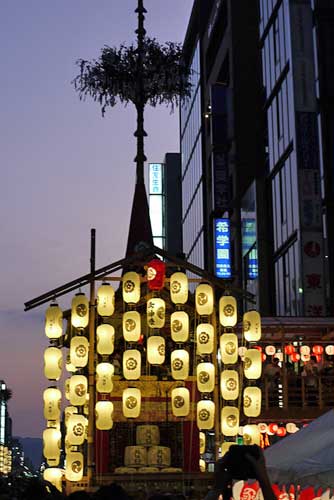 Float at Yoiyama with illuminated lanterns, Gion Matsuri Festival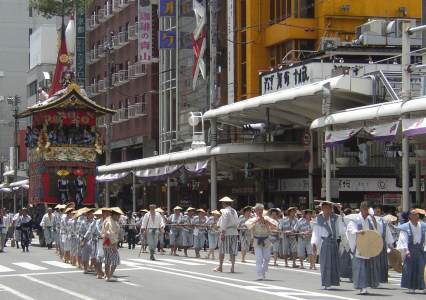 Gion Matsuri Festival
Book Hotel Accommodation in Kyoto Japan
All the themes of the city