Ise Grand Shrine
Ise Grand Shrine 伊勢神宮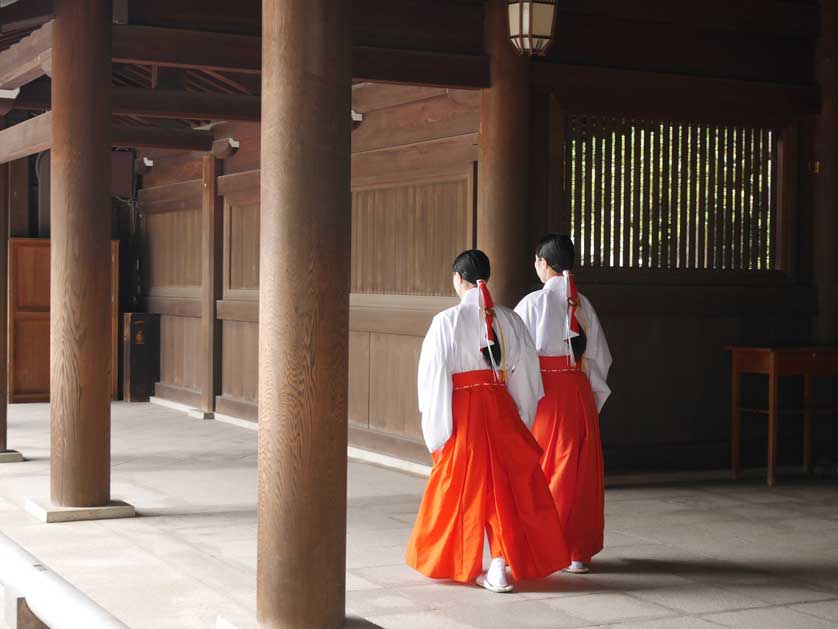 Shrine Maidens, Ise Jingu, Mie Prefecture
Ise Jingu (Ise Grand Shrine) is is Japan's most sacred Shinto shrine and dates back possibly as far as the 3rd century. It is in Ise City, which is in the Ise-Shima region of Mie Prefecture.
The chief priest or priestess of the shrine must be a member or descendant of Japan's Imperial family.
Formally known as just "Jingu," it is actually a collection of shrines divided into two different areas: the Geku, near the center of Ise City, and the Naiku, 3 km south-east on its outskirts.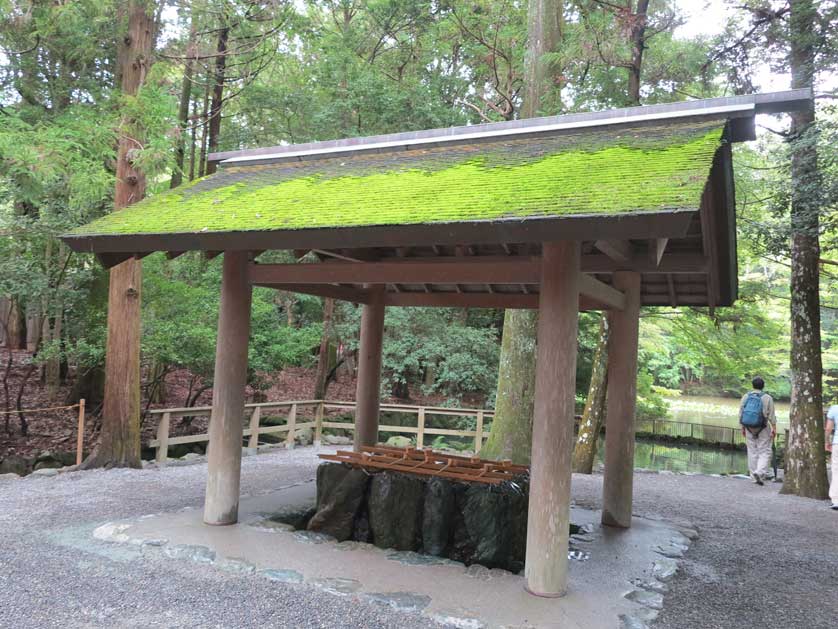 Chozuya water basin, Ise Jingu, Mie Prefecture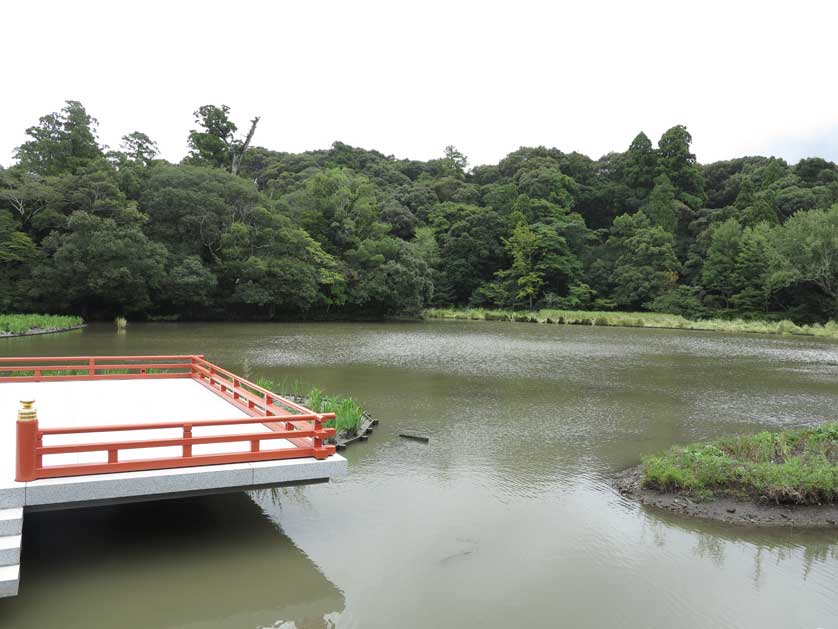 Geku Shrine Grounds, Ise Jingu, Mie Prefecture
Ise Jingu Shrine History
There are various legends surrounding when Ise Jingu was first established. The Nihon Shoki has a date over 2,000 years ago, for example. The first shrine buildings were, however, created by Emperor Temmu (678-686) with the first rebuilding by his wife, Empress Jito, in 692. Before that the area would have been just a sacred space with no buildings.
Ise Shrine actually consists of two shrines: the Naiku Inner Shrine and the Geku Outer Shrine.
Naiku 内宮
Naiku, which dates from the 3rd century, enshrines Amaterasu-Omikami, the sun goddess, the guardian of the nation and the protector of the Imperial family.
Close to the entrance to Naiku are the Shoha Art Museum and the Sarutahiko Shrine. The Sarutahiko Shrine is dedicated to Sarutahiko Mikoto, the guide to the Shinto gods when they descended to Earth. The Shoha Art Museum displays watercolors by Ito Shoha (1877-1968), a daughter of a former priest of the temple.
Geku 外宮
Geku, which dates from the 5th century, enshrines the Shinto goddess of clothing, food and housing - Toyouke Omikami.
Both shrine precincts are set in ancient forests of giant cryptomeria trees (sugi), with lakes, ponds and large stones much in evidence.
The wooden buildings of the shrines are rebuilt every 20 years and re-consecrated in solemn nocturnal ceremonies. The next rebuilding project is set for 2033. The wood is presently brought from the Kiso Valley in Nagano Prefecture, though a replanting project is underway in the forests around the shrines, so that one day the timber can once again be supplied locally.
Naiku houses the sacred mirror of the Emperor, one of the three pieces of regalia of the Japanese Imperial family, the others being sacred jewels in the Imperial Palace in Tokyo and a sacred sword in Atsuta Shrine in Nagoya.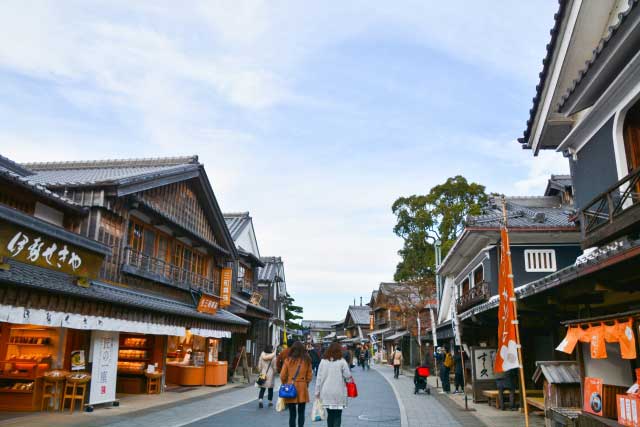 Oharaimachi at Ise Jingu, Mie Prefecture, Japan
Both the Naiku and Geku shrines and their grounds are free to enter between sunrise and sunset. There is a free English language guide to both sites available at both shrines. Performances of dance and music are often performed at the shrine office building in the Naiku.
The main access to the Naiku takes the visitor along the Oharaimachi, a modern reconstruction of an Edo merchants' quarter with some good places to eat and drink. On weekends this area is thronged with visitors, who sample the many local foods and drinks on offer including soba noodles, unadama - eel balls - Ise craft beers and red bean paste buns. Oharaimachi and Okage Yokocho also have a number of souvenir shops, many of them specializing in wood products such as statues.
Ise Town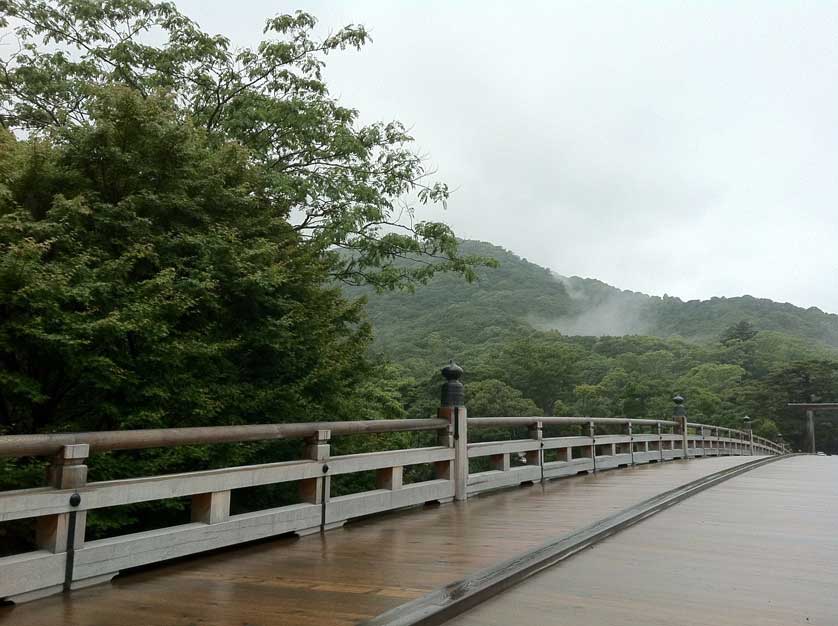 Uji Bridge, Ise Jingu, Mie Prefecture
Besides Ise Jingu, Ise town offers an area of traditional Japanese merchant houses in Kawasaki Kaiwai, a 15-20 minute walk from Ise Station.
Many of the buildings have been taken over by NPOs to showcase local industries and crafts and there are some atmospheric places to eat in the area or stroll on the canal bank.
A taxi to the area from the station will cost around 600 or 700 yen. There is a local weekend produce market on the street leading from Ise Station to Geku Shrine. Local delicacies in Ise include lobster (Ise-ebi), noodles, (Ise-udon) and the sweet dessert akafuku, a rice cake with red bean jam.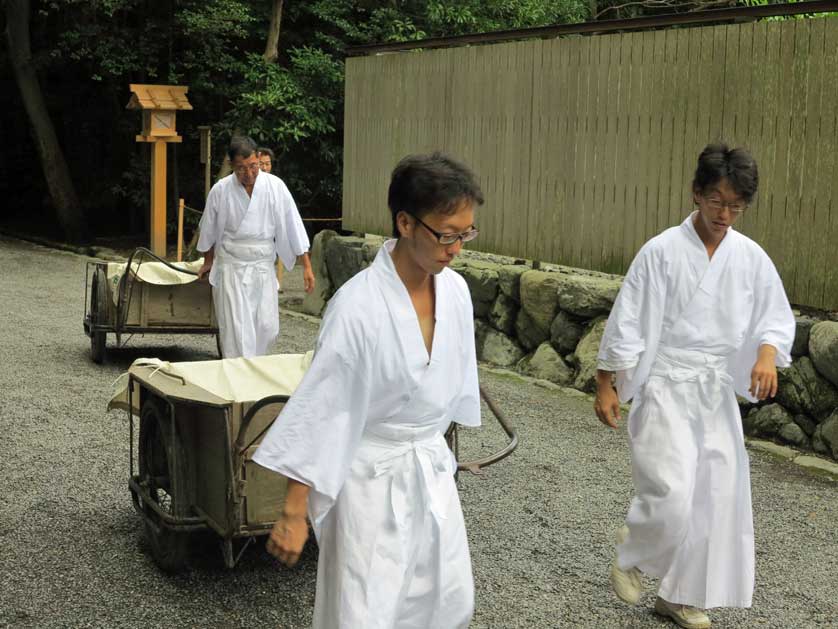 Priests at Geku Shrine, Ise Jingu, Mie Prefecture
Accommodation in Ise City
The following three accommodations are recommended options for staying in Ise City close to Ise Jingu.
Isuzu Guest House provides very hospitable, comfortable location in a serene neighborhood of Ise City right next to the Naiku Inner Shrine of Ise Shrine. Close to the bus stop and local stores, clean, cosy and with all the right, personal touches to guarantee an enjoyable, memorable stay. Very helpful English-speaking owner.
Hoshidekan is an atmospheric old Japanese inn in a building that dates from the 1920s, walking distance from the main Ise train station and the Geku Shrine. Great for those on a budget, Hoshidekan offers solid Japanese hospitality that won't break the bank, in charming old Japanese-style decor - so long as you don't mind a shared bathroom and toilet. Free Wi-Fi throughout, computers in the lobby, and a garden outside. English-speaking owners.
Isegekusando Iseshinsen is - in spite of its tongue-twister of a name - one of Ise-Shima's most highly rated traditional Japanese inns, partly for its location right near Iseshi Station and only 5 minutes' walk from the Geku Outer Shrine of Ise Jingu.There are natural hot spring baths here for guests' enjoyment, free, fast and stable Wi-Fi throughout, and wired internet in each room. This spotless clean, elegant hotel serves excellent food, featuring marine produce caught in the bay, has an on-site restaurant, and offers a massage service. Spacious rooms.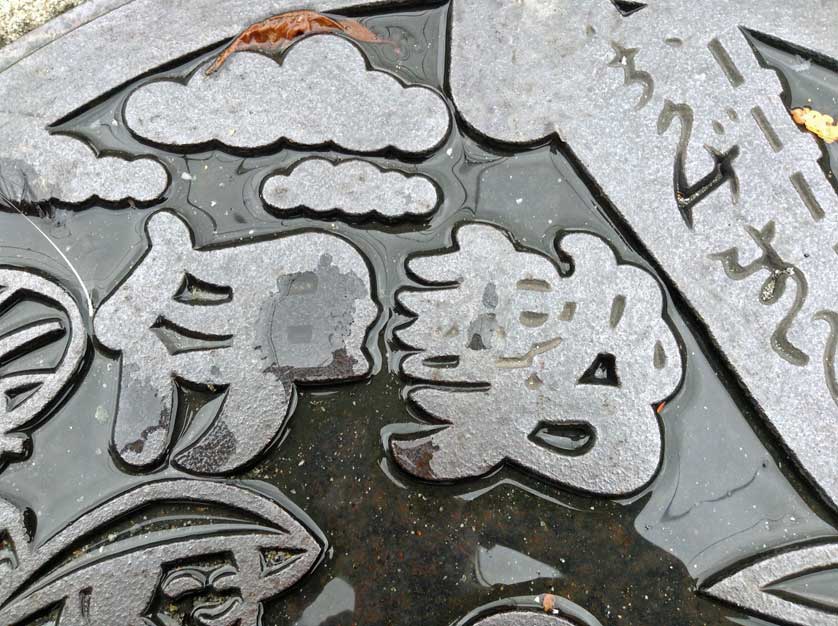 Manhole cover, Ise, Mie Prefecture
Ise City Access
Ise is easily reached by Kintetsu Railway from Osaka (2 hours from Namba), Nagoya (1 hour, 20 mins by tokkyu) and Kyoto (2 hours, 10 mins). The Kintetsu stations in Ise are Uji-Yamada and Ise-shi. It is possible to take a JR train from both Osaka and Kyoto to Ise but the journey involves multiple changes. The JR station in Ise is Ise-shi, which is shared with Kintetsu.
A way to arrive in luxury is to take a Kintetsu Line Shimakaze Express train from either Namba Station or Nagoya Station to Ise. The Shimakaze leaves Nagoya Station at 10.25 am for Kashikojima and Namba at 10.20 am on weekdays and 10.40 am on weekends for the same destination.
Ise Shrine Access
On Foot
From Iseshi Station
Ise Shrine Geku is 5 minutes walk from the JR side of Iseshi Station on the JR Sangu Line and the Kintetsu Yamada Line. Look for the big torii shrine gate in front of the station and walk straight on from there.
From Ujiyamada Station
Ise Shrine Geku is 10 minutes walk from Ujiyamada Station on the Kintetsu Yamada and Toba lines. Go left out of the station and down the road, turn right at the Mizuho Bank (Iwafuchi intersection) and go all the way down Route 22 until it makes a turn to the right. At that point, stop and go left, and you are at the Geku.
From Isuzugawa Station
Ise Shrine Naiku is about 30 minutes walk from Isuzugawa Station on the Kintetsu Toba Line. Go right out of the station, past the car parks and turn right onto Route 12.
Bus
From Iseshi Station
Mie Kotsu bus station is on the JR side of Iseshi Station. The company's "CAN" bus, No.51 bus, and No.55 bus leave from bus stop No.10 in front of the the station, and go first to the Geku (Geku-mae bus stop, 5 minutes from Iseshi Station) and finally the Naiku (Naiku-mae bus stop, 20 minutes from Geku-mae bus stop).
Board the bus from the central door and take a numbered ticket or swipe your IC card. Exit the bus from the front door and pay or swipe your IC card when you get off.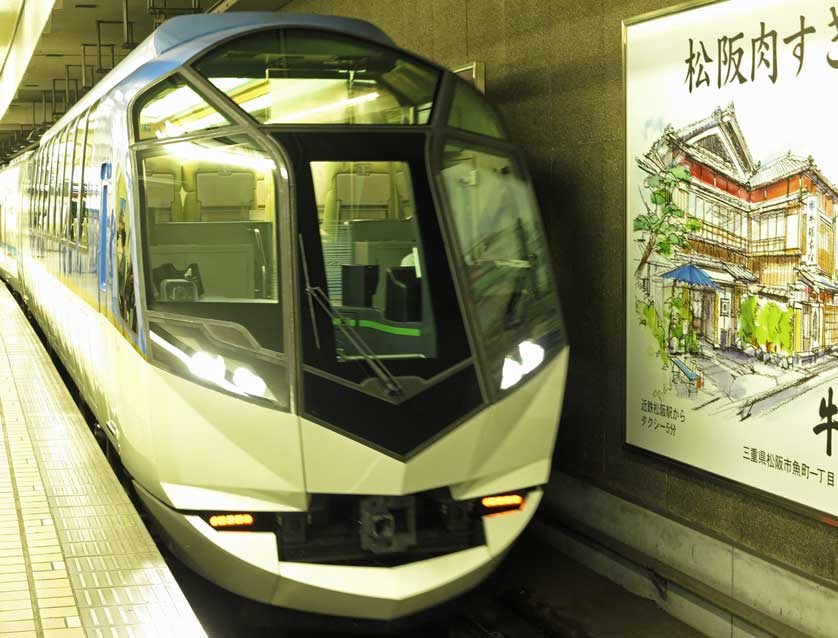 Shimakaze Luxury Express at Nagoya Station
Related Ise Articles
Read more on Ise Jingu and the Meoto-iwa sacred rocks
Book Hotel Accommodation in Nagoya Japan
Ise Grand Shrine in Mie Prefecture is Japan's most sacred and important shrine. It is demolished and rebuilt every 20 years.
All the themes of the city