Shirakawa-go
白川郷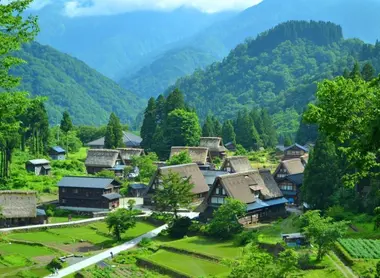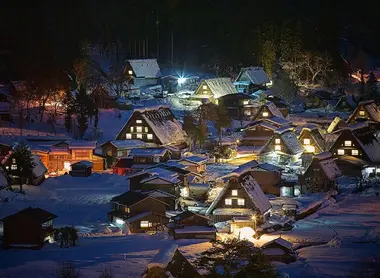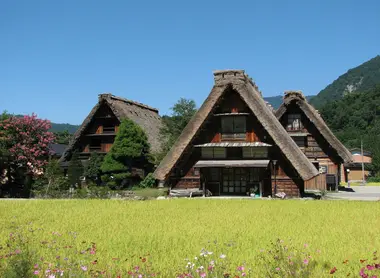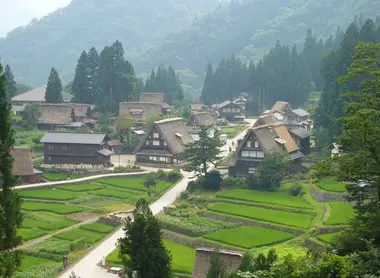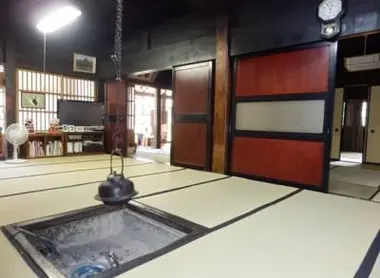 Traditional and rural
A UNESCO world heritage site, Shirakawa-go village is picture-perfect, rural Japan. Consisting of old thatched houses and rice paddy fields, it's true Japanese countryside.    
It can be difficult to find Shirakawa-go on a map: it is the name of an area in the valley of the river Shogawa, Gifu Prefecture. Shirakawa-go and Gokayama, a neighboring village, have become symbols of Japan's rural heritage: Ogimachi, Suganuma or Ainokura.
Rural Japan
Shirakawa-go is also renowned due to its houses being built according to what's called the gassho-zukuri style, specific to the region. It's an instantly recognizable style with steep roofs that resemble hands clasped in prayer, designed to withstand the heavy winter snowfall. The interiors are all wood, centered around a fireplace. The family homes in Shirakawa-go have been preserved in their original state for nearly 250 years.
The houses of the villages are arranged sparsely, separated by rice fields and connected by elevated paths. When viewed from a distance, it feels as if you could have traveled back in time with the sight of the shimmering rice fields and the old houses. However, it's in winter that many Japanese want to visit the area, when snow covers everything and the village is illuminated.
Visit Takayama and Shirakawago from Nagoya with Voyagin.
A night in a cottage
Ogimachi today is a tourist village where houses have been converted into bed and breakfast hotels, minshuku, or and folk craft and art museums. Staying overnight in the village and walking in the evening is a wonderful experience. Many minshuku also offer reasonable prices because the conditions are a little less comfortable than a hotel, especially regarding amenities (toilets, showers). Generally, guests sleep in one common room.
Go further
If you want to delve a little deeper into rural Japan, a visit to the lesser known villages of Ainokura and Suganuma would be a good place to start. The latter is more difficult to access and in the evening, completely cut off.
Visiting the village of Shirakawa-go can easily be done in a day trip. Such excursions, with departures from Kanazawa, Takayama and Nagoya, are common. To get to Shirakawa-go you'll need to travel by bus, since it's not connected to the railway network.
Activité au Japon : Découverte de Kanazawa, journée complète
All the themes of the city