Seisonkaku Villa
成巽閣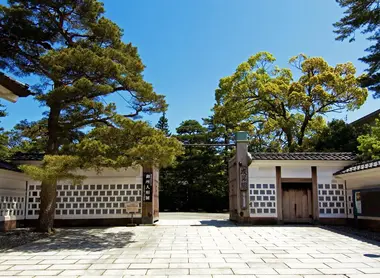 Feminine strength
The Seisonkaku villa in Kanazawa hides a very strong family history. And because she beared the name of Maeda, she played the difficult role of a woman.
When you enter this large building inside the garden of Kenrokuen, you enter the intimacy of a clan. The Seisonkaku villa is related to the heart of the MAEDA family with Takako, wife of a lord in the Kaga region (now Ishikawa Prefecture). While men made the law and died prematurely around them, women chooses to shave their heads, take over the family heritage and protect it. The villa served as the final resting place of Takako.
This treasure of a house was built in 1863 and is one of the most beautiful remains of the late Edo period (1603-1868). Composed of large tatami rooms on two floors, the villa has direct access to Kenrokuen garden.
It also offers visitors to aw at the ceilings decorated with scenes of the life of the family and engraved wood panels. But the must-see attraction is definitely the private collections including ornate dolls or rarer pieces such as ceremonial kimono worn by the women of the clan.
---
Address, timetable & access
All the themes of the city