Kongō Sanmai-in
金剛三昧院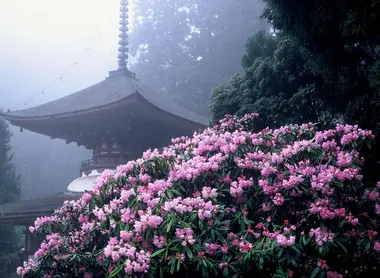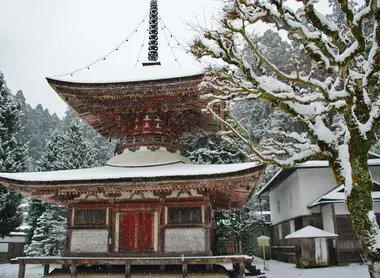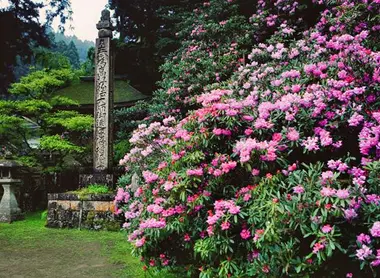 A reverse filial piety <br>
Dedicated to the deceased son, this temple with a precious pagoda has not aged in eight hundred years.
The monks of Kongō Sanmai-in like to say that in the 1200s, monastic life did not differ much from that of today. Despite what gossips might have to say and notwithstanding the coffee machines and other food distributors lining the corridors of this temple, which has become a hotel (shukubo), the foundations and decorations are period pieces.
Although we do not have the exact date of its construction, we know that its Tahōtō pagoda was erected in 1223 by the noble lady Masako HOJO (1157-1225). Wife of the first Kamakura shogun MINAMOTO no Yoritomo (1147-1199), decided to build the monument in honor of her son, MINAMOTO no Sanetomo, who was violently assassinated in 1219.
Later, a children's health care institution was added to it, especially pretty today thanks to its natural heritage listed rhododendron garden, of which the oldest plant dates back over four hundred years. From late April to mid-May, the opulence of these pink flowers evokes the joy that the little patients must have felt when they looked after them.
Construction shrouded in mystery
One of a kind, the Kongō pagoda of Sanmai-in, the main attraction of the place, is one of the last examples of the Tahōtō style that fell into disuse after the Heian period (794-1185). Two-stories, with its lower roof curved at the ends and a pyramidal superior roof, it is entirely made ​​of hinoki (Japanese cypress).
It also contains wooden statuettes representing the five Buddhas of wisdom (Dhyani Buddhas) and a hibutsu (secret Buddha), only accessible to the public every five hundred years, the next time will be around 2400 ... Listed in 1900 as a national treasure, this pagoda, all the Koyasan sites, joined the world heritage list in 2004.
The temple houses many works of great beauty, such as the room of paintings on fusuma (opaque sliding doors) decorated with designs on gilded backgrounds, which are classified as important cultural property, it can be nice to spend a night to have access to them, as simple visitors can otherwise only see the exterior, including the northern library that can not be missed. Timeless Kongō Sanmai-in continues its peaceful existence in the shade of the rhododendrons.
---
Address, timetable & access
All the themes of the city