Suizenji Garden
Suizenji Garden Kumamoto 水前寺成趣園
A short tram or train ride southeast of Kumamoto Castle is Kumamoto's Suizenji Garden.
Originally a temple, this beautiful strolling garden and tea arbor in Kumamoto was built over a period of 80 years from 1632 by three successive Hosokawa feudal lords.
Suizenji Garden now covers an area of 64.6 hectares.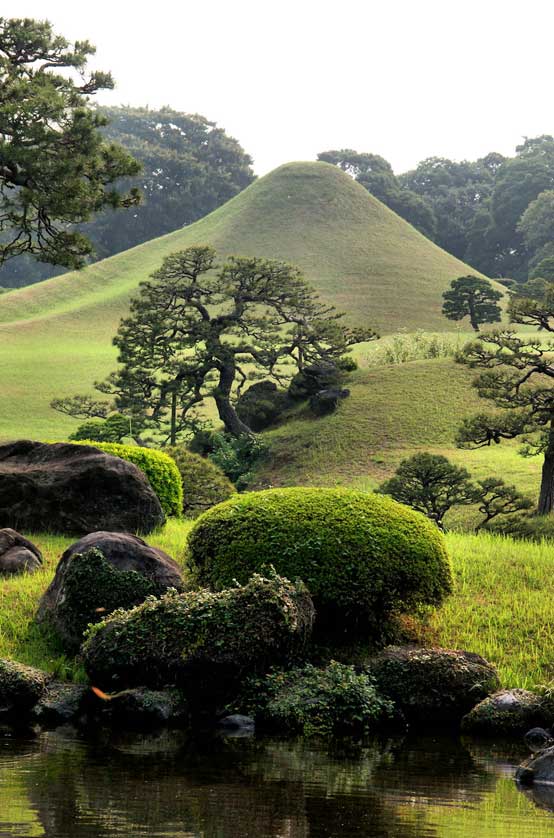 The cone shape of Mount Fuji is easily recognizable in the miniature at Suizenji Garden, Kumamoto
Layout
The layout of Suizenji Garden represents the 53 Stations or Post Towns of the old Tokaido highway from Kyoto to Tokyo.
Views of the 53 Stations of the Tokaido were made famous by such wood-block print artists as Hiroshige and were known and familiar to the general public, even if they had never visited them in person themselves.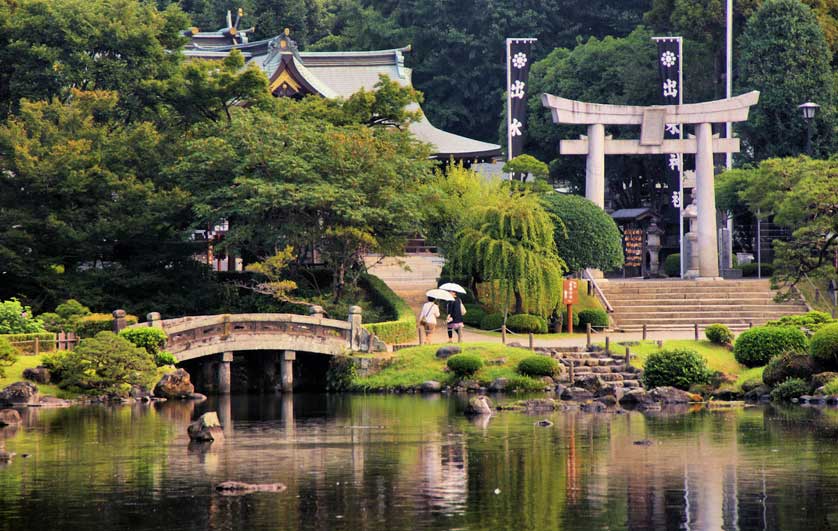 Izumi Shrine in Suizenji Garden, Kumamoto
Suizenji Garden contains an instantly recognizable, miniature Mount Fuji and Lake Biwa, the largest lake in Japan, near Kyoto, Izumi Shrine (dedicated to the ancestors of the Hosokawa clan), an Inari Shrine, a Noh stage (with Noh performances in spring and fall), a statue of the garden's creator Tadatoshi Hosokawa and a classical teahouse, the Kokin Denju-no-ma, moved here in 1912 from Kyoto's Imperial Palace (Gosho).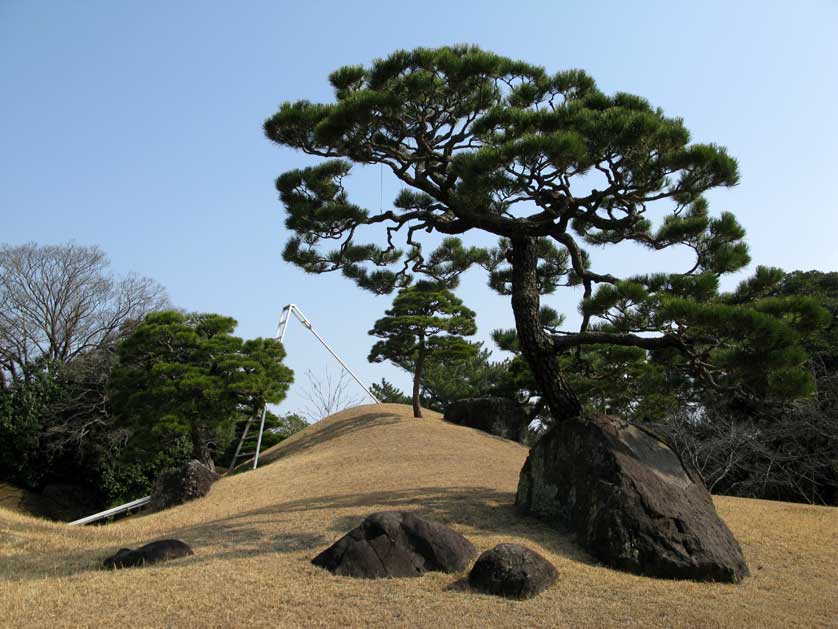 Suizenji Garden, Kumamoto
Suizenji Garden takes about 30-40 minutes to walk but is also a favorite spot for cherry blossom viewing or picnics and relaxing in general.
People visit Suizenji to paint, read and contemplate in these beautiful surroundings.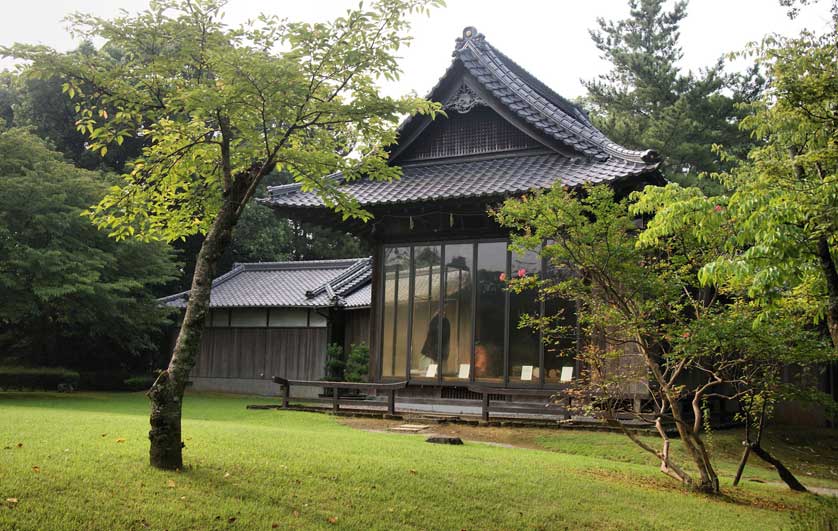 Noh stage at Suizenji Garden, Kumamoto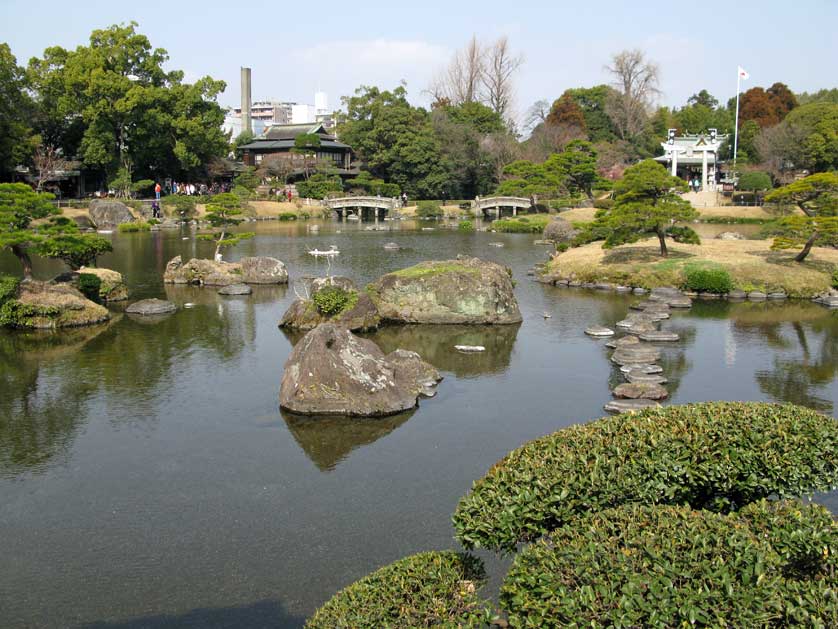 Suizenji Garden, Kumamoto
Access & Hours
Suizenji Garden
8-1 Suizenji Koen Kumamoto City
862-0956
Tel: 096 383 0074
Admission 400 Yen
Hours:
March-November 7.30 am-6 pm
December-February 8.30 am-5 pm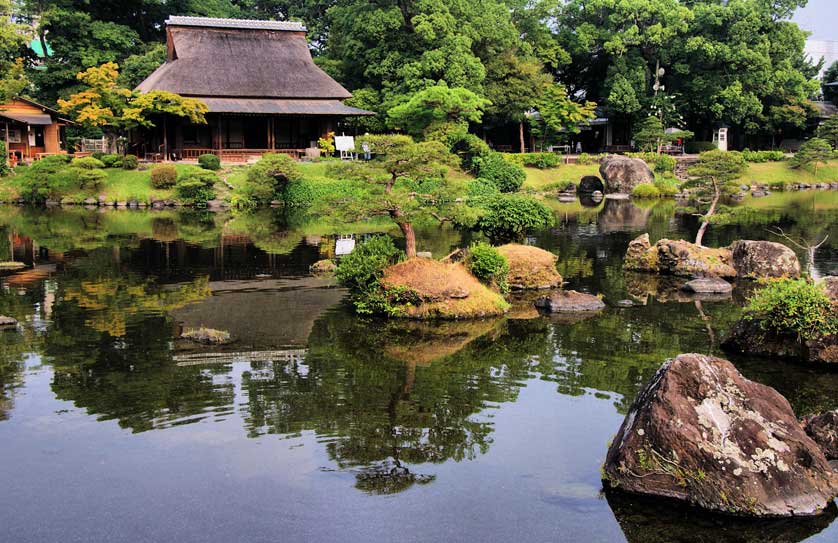 Kokin Denju-no-ma, Suizenji Garden, Kumamoto
Access: Train to Shin Suizenji Station on the Hohi Main Line. You are still some distance from the garden here. The tram stop at Suizenji Koen is right at the gardens.
Suizenji is about 5km from Kumamoto Station.
Hotels near Suizenji Garden
Suizenji is a nice place to base yourself on any visit to Kumamoto. There are a number of good value, business hotels near Suizenji Koen. There include the Extol Inn Kumamoto-Suizenji, Green Rich Hotel Suizenji and the Suizenji Comfort Hotel.
The Hotel Anesso Matsuya is just to the north east of Suizenji and has western-style rooms with free Wi-Fi and free parking.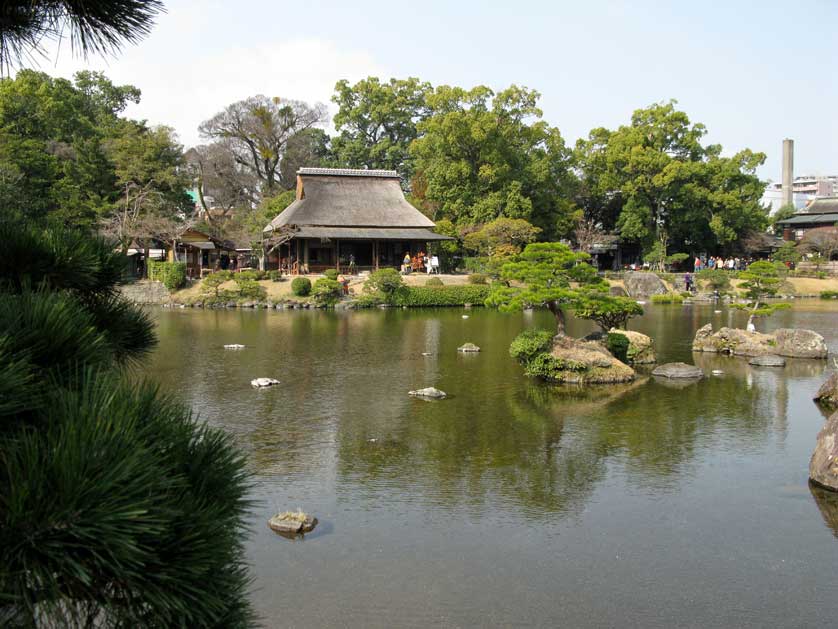 Suizenji Garden, Kumamoto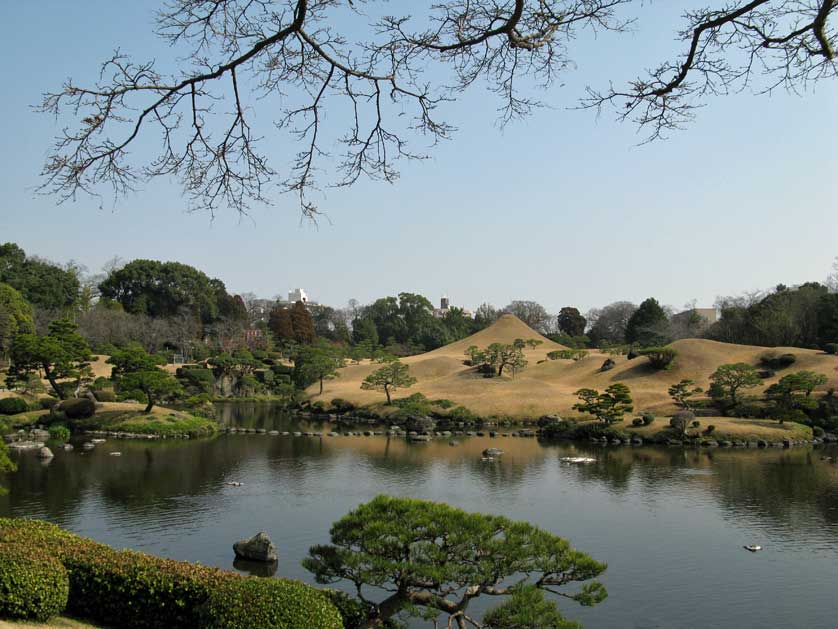 Suizenji Garden, Kumamoto, Kyushu
Book Hotel Accommodation in Kumamoto
Suizenji Garden: read a guide to the 17th century Suizenji strolling garden in Kumamoto, Kyushu, Japan.
All the themes of the city