The Funaya in Ine
伊根町の舟屋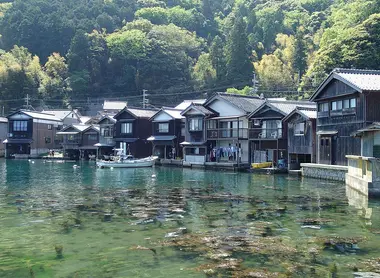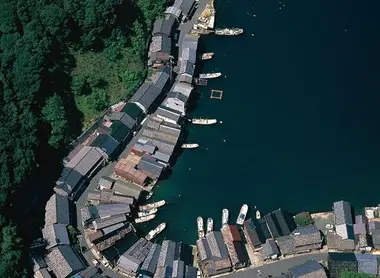 Life at the Waterfront
Today, very few Japanese fishermen's villages remain intact. Urbanization made them disappear. To regain the spirit of these old villages, visit the Bay of Ine.
Going to Inemachi, the Bay of Ine,  will give you a better understanding of the concerns Japan has in regards to space. Wedged between the sea and mountains on a strip of land about twenty meters wide, the village has had to adapt.
Boat Houses
These natural constraints have led to Funaya - boat houses. These Funaya consist of a unique blend between home, warehouse and boat garage. The architecture of the oldest one mirrors the white warehouses of the Edo era. The house is located on the shore of the bay and its ground floor is laid out like a fishing boat, and even has a repair shop. The upper floors house the living areas.
Reconversion
The Funaya in Ine are still fishermen's homes who have preserved their activity, but several of them have been converted into restaurants and izakaya (pubs). They offer a relaxing time with breathtaking views of the bay and its clear waters.
We experience the atmosphere of the small fishing village, far away from mass tourism and closer to authenticity. The village is also ranked amongst the most beautiful villages in Japan.
---
Address, timetable & access
All the themes of the city