Shirakawa District
白川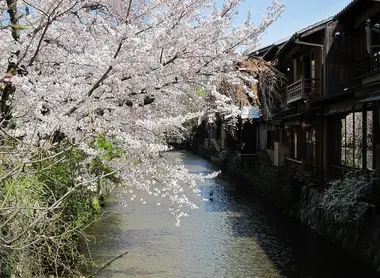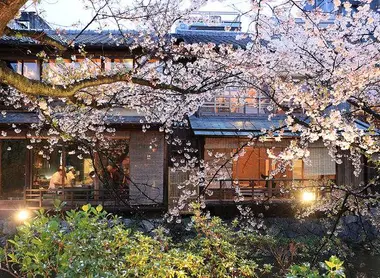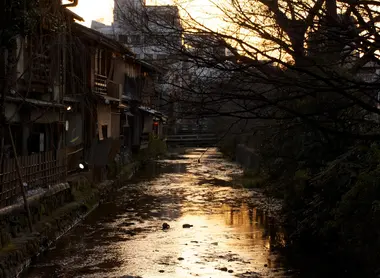 Gion without the crowds
Although walking distance from the busy street of Hanamikoji dori in the heart of the famous Gion district in Kyoto, the district of Shirakawa is often a peaceful haven. Enjoy walking along the canal and admiring its ancient weeping willows, cherry blossoms and traditional houses.
Shirakawa district, located north of Gion, is found along the small Shirakawa Canal, crossed by picturesque bridges and lined with weeping willows and cherry trees. In spring, the pale pink of cherry blossoms and the green willows form a delightful contrast. On both sides of the canal, the cobbled streets with their traditional wooden houses, called machiya, and tea houses, called ochaya, seem to transport visitors to the past. Occasionally the sound of the geta (wooden sandals), of the geisha and maiko (apprentice geisha) treading the cobbles will pull you from your reverie.
A photogenic stroll
To the south, the Tatsumi-bashi bridge over Shirakawa Canal (meaning "white river" in Japanese, and so called because it is composed of sand and granite), attracts tourists as well as honeymooners, who come to take commemorative photos in this picturesque place. The bridge and its surroundings have become even more famous thanks to the novel "Memoirs of a Geisha" by Arthur Golden, and its film adaptation, although the Gion scenes of the film were actually shot near Los Angeles.
At the intersection of Gion-Shinbashi and Shirakawa-Minami is the small shrine of Tatsumi-Daimyojin. It is dedicated to the goddess Benzaiten, a goddess of the arts, eloquence, and water. The maiko therefore go to pray to her for help with honing their artistic abilities.
Like the rest of Gion, Shirakawa, was and still is an area devoted to entertainment. Further down the canal to the north, there are many opulent houses as well as expensive restaurants and bars. Often reserved for regular customers only, the casual visitor can simply admire the scene, especially in the evening, when the streets are lit by lanterns, giving it a magical atmosphere.
All the themes of the city