Kyoto Parks & Gardens
Parks and Gardens in Kyoto
Kyoto has a wealth of gardens many of them central parts of the thousands of temples, palaces and shrines in the city. As well as these set gardens, Kyoto has a fine Botanical Gardens and a number of worthwhile public gardens and other green spaces affording residents and visitors to the ancient capital of Japan pleasant areas to relax, picnic, BBQ, jog and stroll.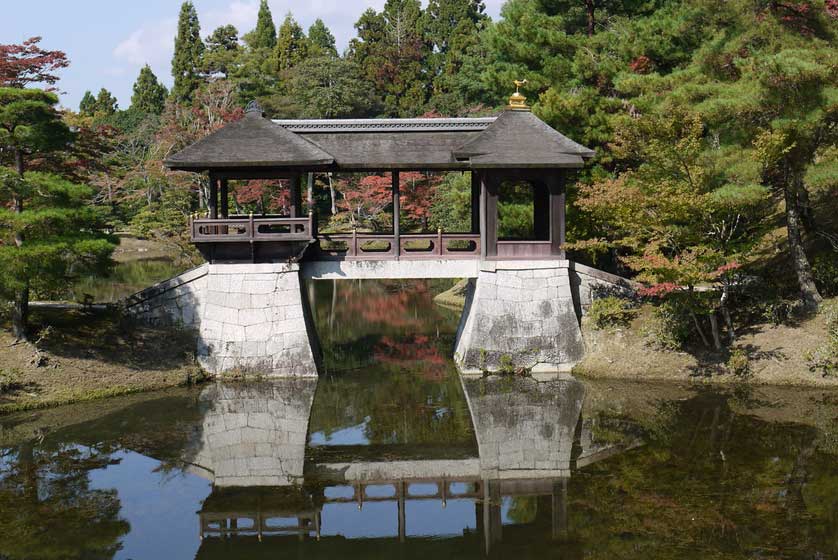 Shugakuin Rikyu Imperial Villa, Kyoto
Hakusasonso Hashimoto Kansetsu Garden & Museum 白沙村荘 橋本関雪記念館

Hakusasonso Hashimoto Kansetsu Garden & Museum is the former home, studio and garden of Hashimoto Kansetsu (1883-1945), a distinguished painter of the Taisho and Showa eras in the nihonga style. Hashimoto was born in Kobe but established his home and studio in Kyoto. The property with its lovely garden full of historic stone work, ponds and pavilions is the largest artist's residence in Japan.
Haradani Garden 原谷苑
Haradani Garden is a private garden in the hills north of Kinkakuji Temple in the north west of Kyoto. Haradani-en is known for its superb cherry blossoms in spring and draws 1000s of mostly older visitors. Haradani-en covers 13,000 square meters with a variety of cherry trees to see, especially the late-flowering weeping cherry blossom. Other plants and flowers in Haradani-en include azaleas, apple, rhododendron and dogwood.
Kyoto Botanical Garden 京都府立植物園

Kyoto Botanical Garden was built on land donated by the Mitsui family to Kyoto city to commemorate the enthronement of the Emperor Taisho, in 1924. It is the oldest botanical garden in Japan and is blessed with over 12,000 species of plants. Kyoto Botanical Garden has both European and Japanese-style gardens, and with its many cherry trees is a wonderful place in spring. The glass houses at Kyoto Botanical Garden contain tropical plants, carnivorous plants, orchids, cacti and plants from savanna regions.
Maruyama Park 円山公園

Maruyama Park located behind Yasaka Shrine in the Gion area of Kyoto is the city's most popular place for hanami - cherry blossom viewing - and a pleasant place to stroll. Maruyama Koen was turned into a public park in 1871 and formerly opened in 1886. Maruyama Koen is a 5-10-minute walk from Shijo Keihan Station. From Kyoto Station, take the #206 or #207 bus to the Gion bus stop.
Murin-an 無鄰菴

Murin-an is a 19th century Japanese garden in the Okazaki area of Kyoto. Murin-an was built by the Meiji-era Japanese oligarch Aritomo Yamagata (1838-1922), who served as Prime Minister of Japan and is remembered for his strengthening of the Japanese military. Yamagata was a keen garden designer and he laid out Murin-an with the help of Ogawa Jihei (1860-1932) between 1894-1898.
Umekoji Park 梅小路公園

Umekoji Park (Umekoji Koen) is a large, multi-purpose park west of Kyoto Station in the south of Kyoto. The large grounds of the park are home to the Kyoto Aquarium and the Umekoji Steam Locomotive Museum. Umekoji Park has wide open spaces for ball games and leisurely picnics as well as a walking course and a children's play area with swings and slides.
Kamo River Banks 鴨川

The banks of the Kamo River from Kyoto Botanical Garden south to Sanjo Bridge are a favorite place for Kyotoites to relax, stroll, cycle, play ball games, picnic, practice musical instruments and admire the cherry trees in season. In the evening sit down to watch the sun set before heading off to eat or drink especially in the area around Demachiyanagi Station, where the confluence of the Kamo and Takano rivers is a popular place for parents with children to chill.
Kyoto Imperial Palace 京都御所

Kyoto Imperial Palace (Gosho), in the center of Kyoto is a vast open space enjoyed by the city's residents every day. Escape the noise of the traffic to sit, walk or cycle among hundreds of ancient and historic trees. The park is roughly 1.3 km (slightly short of a mile) north to south and about half that east to west. It has a great variety of trees, and is very popular for both hanami (cherry viewing) and the fall colors.
Shosei-en Garden 渉成園

Shoseien Garden is a traditional Japanese formal garden affiliated with its much larger neighbor to the west, Higashi Honganji Temple; both are part of the Shinshu Otani-ha sect of Jodo Shinshu Buddhism. Shosei-en Garden is a ten-minute walk from Kyoto Station, and two blocks from the aforementioned Higashi Hoganji. There are several tea houses, a large pond, a small waterfall, many stone lanterns, and trees and plants that are in bloom throughout the year.
Shugakuin Detached Palace 修学院離宮

Shugakuin Detached Palace (Shugakuin Rikyu) is an imperial villa that was built in the mid-17th century for the retired Emperor Gomizuno-o in the Higashiyama district of northeast Kyoto, so that he could enjoy the beauty of the natural surroundings. Shugakuin Rikyu is a place of breathtaking beauty and a wonderful example of the art of the Japanese garden.
Katsura Rikyu 桂離宮

Katsura Rikyu was planned in painstaking detail to be a place of high aesthetic beauty and an ideal example of Japanese Villa design. Japanese traditional architecture designed by the most skillful masters, exotic trees, a lake with an elaborate shoreline, and beautiful views from any spot within the villa make Katsura Rikyu famous all over Japan and beyond.
Takaragaike 宝ヶ池

Takaragaike is a pleasant man-made irrigation lake in northern Kyoto, dating from the 18th century, when it was built to supply a ready supply of water for the area's rice fields. Now there is pleasure-boating, a jogging and walking track, gazebos, cherry-blossom viewing in season and fine views of Mount Hiei. Nearby is the Kyoto International Conference Center (Tel: 075 705 1234), built in 1996, where the Kyoto Protocol on Climate Change was negotiated in 1997 and the luxury Kyoto Grand Prince Hotel.
Kyoto Parks & Gardens: read a guide to the many public parks, gardens and green open spaces in the historic city of Kyoto in Japan.
All the themes of the city