Utsumi
Utsumi, Chita Peninsula 内海
Chidorigahama Beach (千鳥ヶ浜) in Utsumi on the east side of the Chita Peninsula south of Nagoya is promoted as one of the best beaches in the Chubu area.
The 1.6 km-long strand of beach has fine, white sand which stretches out in the shape of a gentle bow.
If you have visited beaches in South East Asia, the Algarve or the costas in Spain, you may find the water clarity a little to be desired. That being said, Utsumi is still very popular in the peak swimming season in July and August but visitors are scarce the rest of the year.
Chidorigahama Beach has a more natural and spacious feel than Blue Sun Beach to the north in Shinmaiko but if you want to find a more remote spot for swimming try taking a ferry to Himakajima Island, Shinojima Island and Sakushima Island off the opposite coast of the Chita Peninsula in Chita Bay.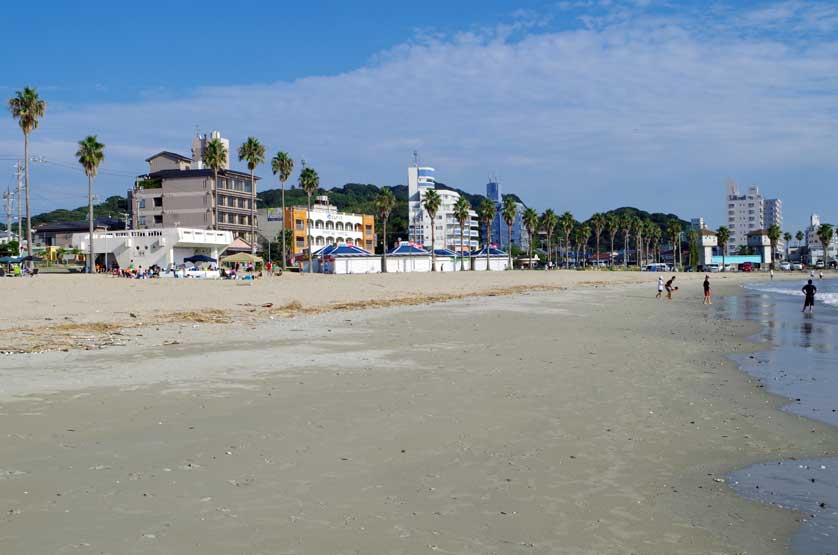 Chidorigahama Beach, Utsumi, Minami Chita, Nagoya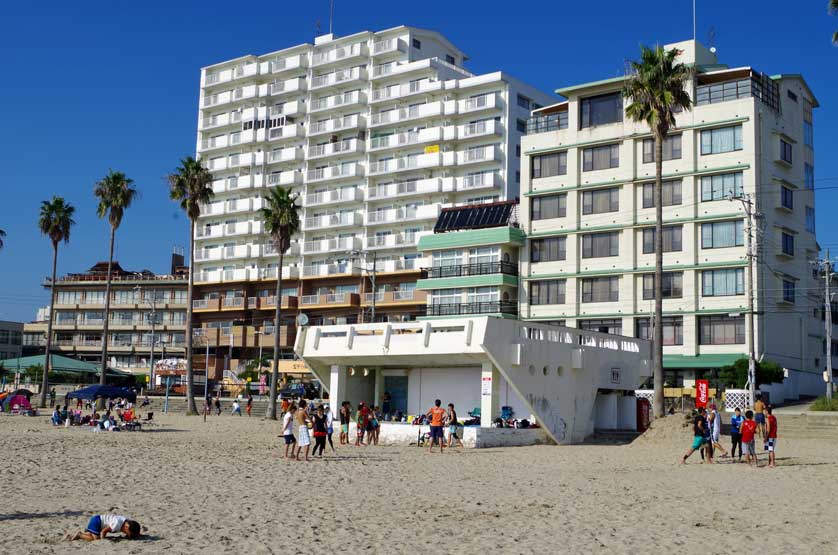 Chidorigahama Beach, Utsumi
Utsumi Facilities
The big plus of Utsumi is that it can be reached by train or car from Nagoya without having to take a boat. Riding a ferry to one of Aichi Prefecture's offshore islands increases the cost of a day at the beach considerably and also takes a fair bit of time and planning.
The down side of Utsumi is that is gets very crowded in peak season and the facilities provided for large crowds are poor. There's little in the way of recycling, garbage collection and proper showers and toilet facilities. By the end of the season the beach can be littered with rubbish and the toilets have been overwhelmed and are plainly inadequate to cope with the large influx of people.
In high season Utsumi is popular with young people and is pretty much party central in August. Expect crowds, noise and lots of eating and drinking. There's also a fireworks display held in August.
There is an outdoor stage, beach volleyball courts, a BBQ area and a separate landing area for jet skis.
Throughout the year Utsumi is also a favorite spot for windsurfers and anglers who congregate beyond the concrete ship at the far end of the beach opposite the small shrine.
Iwajiri Temple, near Utsumi, is also worth a visit and has a number of Buddhist "Important Cultural Properties." Out of season people come to Utsumi to visit Shirasu-no-yu Onsen (1000 yen entry for adults).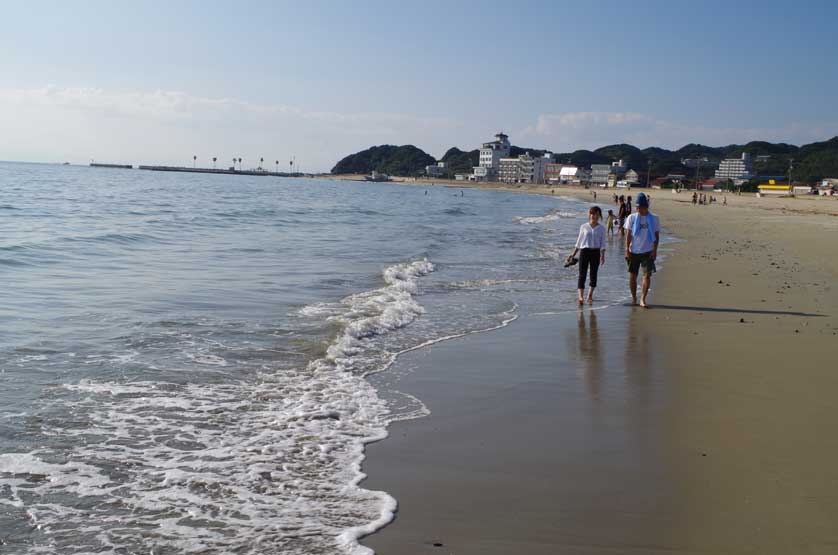 Utsumi, Minami Chita, Nagoya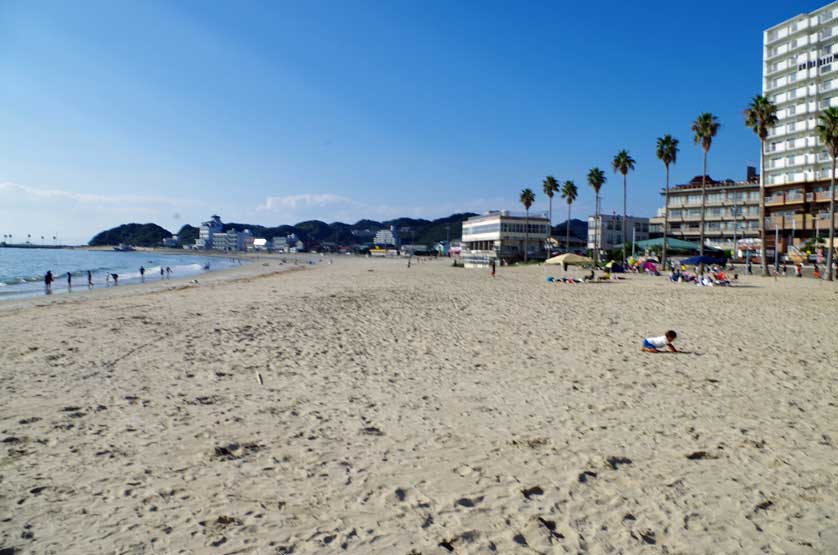 Utsumi, Minami Chita, Nagoya
Utsumi Transport - Getting to Utsumi
From Nagoya Station or Jingu-mae Station take a Meitetsu Limited Express to Utsumi. Travel time is 59 minutes from Nagoya Meitetsu Station or 51 minutes from Jingu-mae. Alternatively you can change at Fuki if you are riding a Kowa bound train. From the station it is a 15 minute walk to Chidorigahama Beach. Buses from Kowa Station go to Morozaki via Utsumi Station and then along the coast road south to Morozaki Port.
If coming by car drive south from Nagoya on National Highway 155 which continues as National Highway 247 south of Tokoname and Chubu International Airport. Alternatively take the Minami Chita Toll Road and exit at the Minami Chita IC. In the area there is car parking for 1,500 cars.
There are a number of ryokan, minshuku and hotels in and around Utsumi including The Beach Kurotake, the Ryokan Syuku Kaifu, Kaieikan Shachitei, Shiboriya, the Marrionnier Resort Hotel, Genji Koh, Nagoya Kohansou Hot Spring Resort and Kanemoto Ryokan.
Many of the upmarket ryokan near Utsumi offer ocean views, full course Japanese sea food cuisine and hot spring baths (onsen).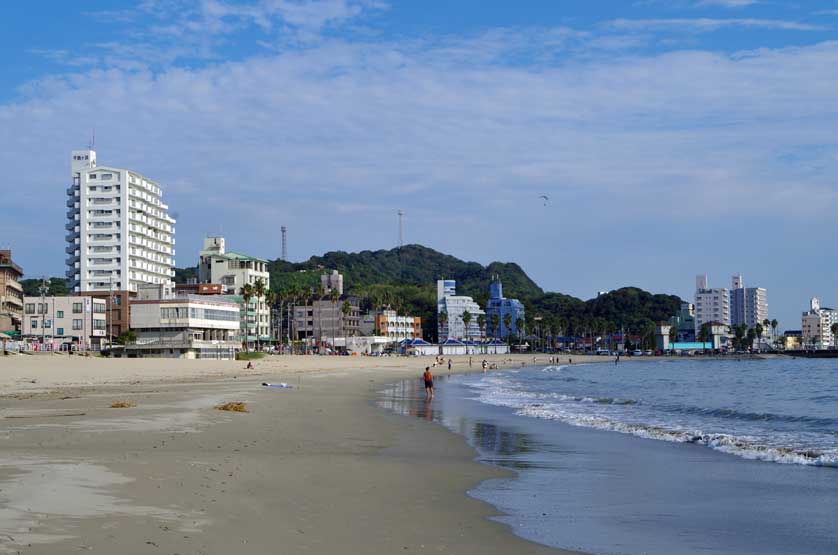 Chidorigahama Beach, Utsumi, Minami Chita, Aichi
View a map of Nagoya & Central Japan
Related Nagoya Resources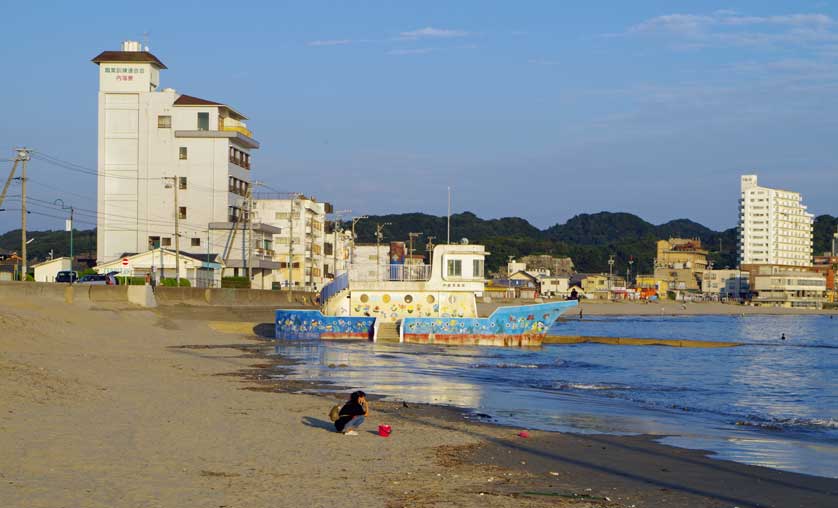 Utsumi, Aichi Prefecture
Book Hotel Accommodation in Nagoya
Utsumi's Chidorigahama Beach on the south west tip of the Chita Peninsula in Aichi, south of Nagoya, is a very popular beach resort in summer.
All the themes of the city