Nipponbashi Osaka
Osaka Area Guide: Nipponbashi 日本橋
Alan Wiren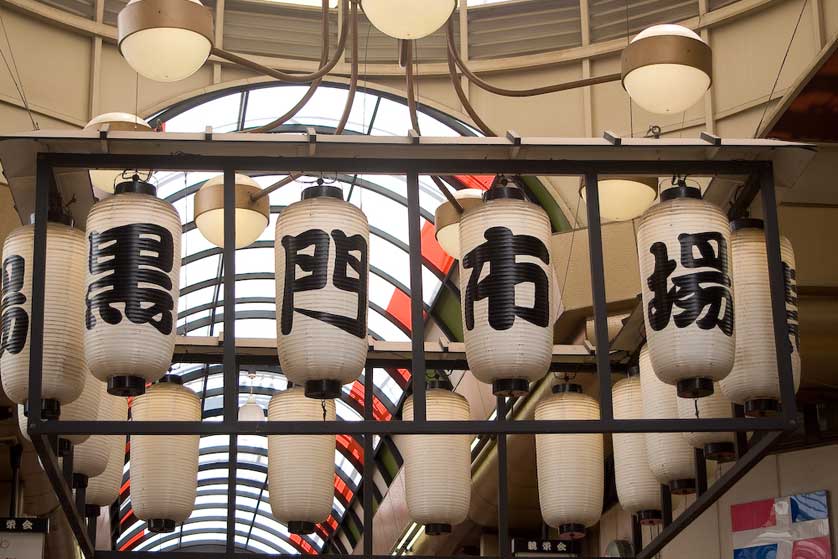 From the seventeenth century, Japan's central island became laced with government commissioned roads connecting the capital city of Edo (modern day Tokyo) with other important cities.
Post stations were set up along these routes to ensure that lodging and supplies were available to those traveling on official business.
Along the route between Edo and Kyoto, one such station on the Osaka Kaido extension of the Tokaido, named Nagamachi, was established within view of Osaka's auspicious temple, Shitennoji. This is the root from which the place now known as Nipponbashi grew.
Even from that beginning the location was well known. Chikamatsu Monzaemon used it as the setting for his eighteenth century Bunraku puppet play, Harakiri of a Woman at Nagamachi, a love suicide noted for its unusual plot line.
Perhaps the area's longest standing attraction is a Buddhist temple named Daijoubo. Although not as grand an institution as Shitennoji, it possesses a prized and ancient, carved figure of Bishamonten, a deity who wards off the evils that may approach from the north. This gave the temple its nickname: Nagamachi Bishamondo, an echo of the name of the imperial temple, Bishamondo, in Kyoto.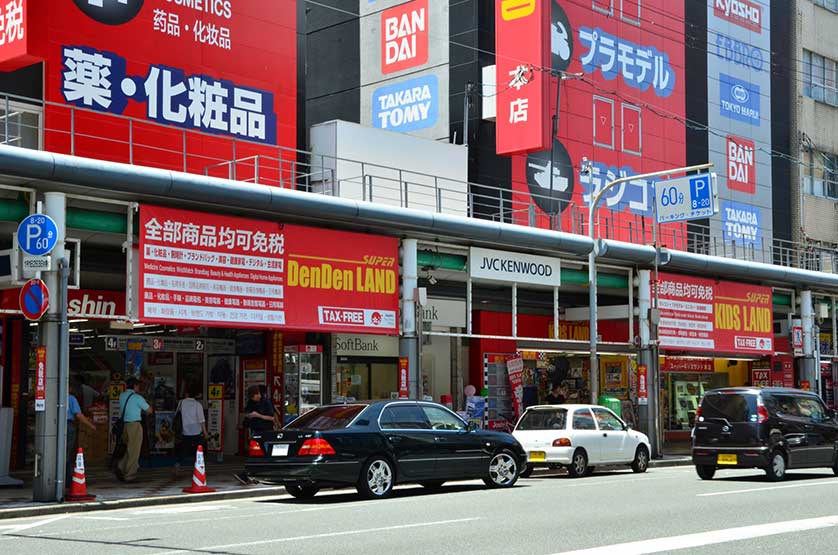 Den Den Town, Osaka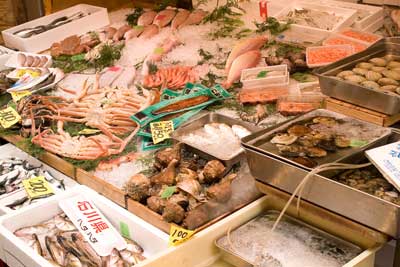 The nineteenth century artist, Hasegawa Sadanobu I, used the nickname as the title of an image of the temple that he included in his collection of woodblock prints, One Hundred Views of Osaka. Like many temples in Japan, Daijoubo has burned and been moved several times, but the Bishamonten remains intact, and can be seen, within the current structure that is tucked into Nipponbashi's side streets.
The government sanctioned inns and supply houses of the post roads were not very lucrative, themselves, but they did inspire independent entrepreneurs to set up shop nearby.
In the nineteenth century Nagamachi became home to a marketplace that borrowed its name from another temple in the area that could be entered through a black gate. Both temple and gate are long gone, but Kuromon Ichiba, "Black Gate Market," still thrives. Catering to retail and wholesale buyers, it is a long, covered walkway lined with merchants dealing in food supplies.
The north end hosts a couple of vendors of cooking and serving implements followed by fishmongers, greengrocers and butchers. There are even a few shops that sell flowers that would grace the dinner table.
Some are of an older style, where you will find the proprietor standing by his wares, ready to trim and pack up a selection for the home cook or to haggle over the bigger deals with restaurateurs. Others are in the style of supermarkets with offerings plastic-wrapped and bar coded, ready to be brought to checkout.
Prices are very reasonable, here, but even if you are not in need of provisions it is a place that should not be missed. The atmosphere is traditional and uniquely Osaka, and the definitive characters and open air displays have proven irresistible to many a photographer.
By the late 1800's Japan's post roads were being replaced by railways and the post stations had fallen into disuse. Osaka's municipal government redefined the Nagamachi area as running south from a bridge that spans Dotonbori Canal, along the street named Sakai-suji, for about 1 kilometer, and changed its name to that of the bridge: Nipponbashi.
City planning, however, did not stop the area from defining itself. From the turn of the 20th Century until the Second World War Nipponbashi became a center for the trade in used books and clothing. After the war it was reborn as a center for trade in electronic goods of all kinds, and became famous for offering discount and negotiable prices, as well as duty free shopping for foreign customers.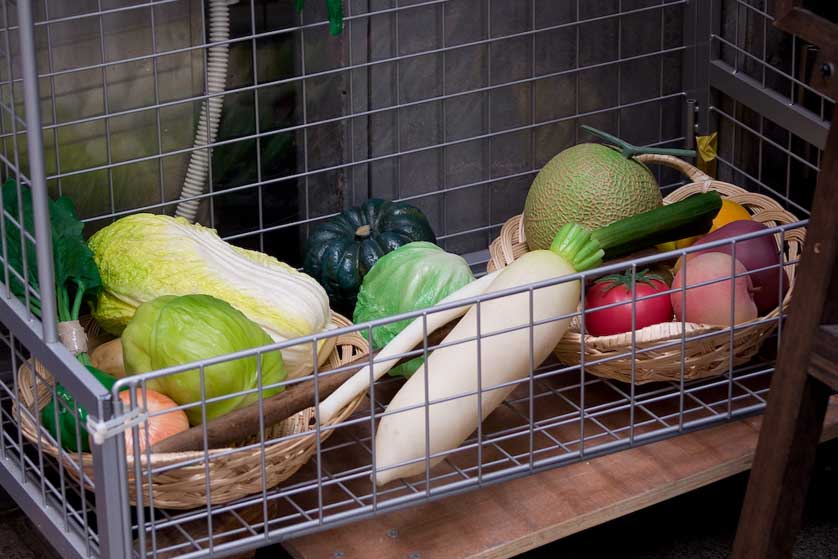 Replica fruit and vegetables on sale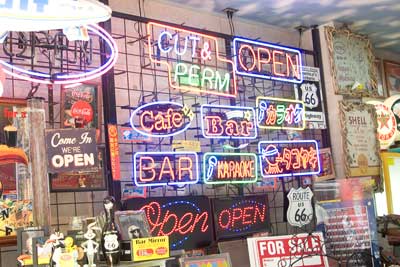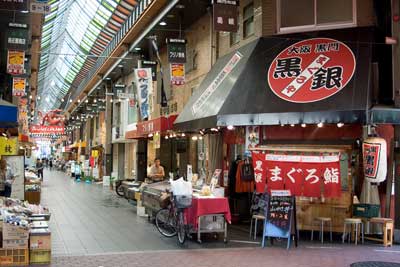 Den Den Town
At the turn of this century, Nipponbashi's markets were well defined. Walking along the section of Sakaisuji known as Den Den Town (from Nipponbashi Subway Station on the Sennichimae Line to Ebisucho Station on the Sakaisuji Line) you would encounter virtually nothing but electronics shops.
Read more on shopping in Nipponbashi.
The occasional restaurant that popped up in the cracks was nearly a shock to the system. Kuromon Ichiba (the northern half of the street one block to the east) was just as exclusively a fish market. Time, however, continues to prove that Nipponbashi's most inherent attribute is its adaptability.
Recently large department stores devoted to electronic goods have opened in other parts of Osaka and the number of consumer electronics variety stores in Nipponbashi has decreased.
The ones that have survived tend to be those that offer the very high end products, or those that have a solid, professional customer base: selling tools and supplies to electricians.
This is still the best place in Osaka to find, say, just the right motherboard (especially if you're look for one that comes with an English manual) or a high quality wire stripper, or components for a beyond-killer stereo system. But now there are other attractions: the Otaku culture is moving in.
Along the main drag you will find more and more shops offering anime CDs. They are being joined by stores devoted to manga and manga inspired goods. If you are getting ready to take on the role of one of the characters from these Japanese cartoons or comic books at a cosplay event, you will very likely find a place in Nipponbashi that can supply your every need.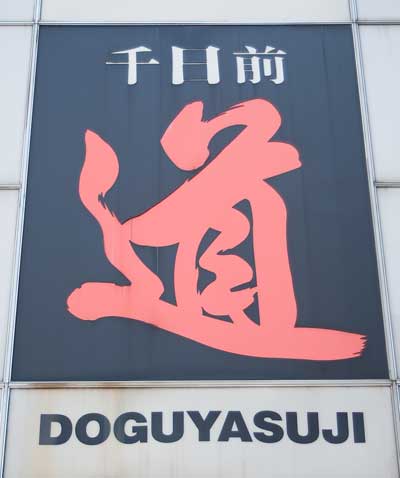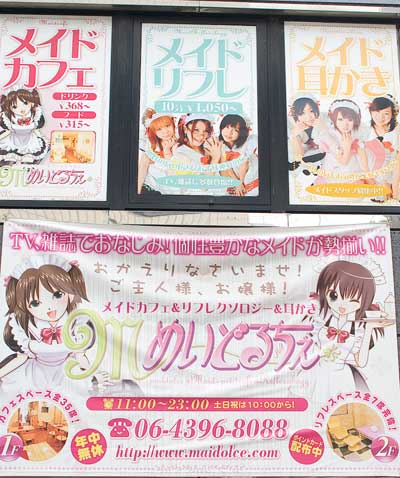 Den Den Town has become the venue for the annual Nipponbashi Street Festa, a grand scale cosplay event held in March, but you will find young women dressed in frilly, provocative maids' uniforms in this area at any time of year.
Some are just coming and going from work, but not in the homes of the well-to-do. Others are there to invite you to their workplaces: one of the many maid cafes that are a recent addition to the area. These are places where you can be served tea and trimmings by young ladies performing in costume as very deferential maids.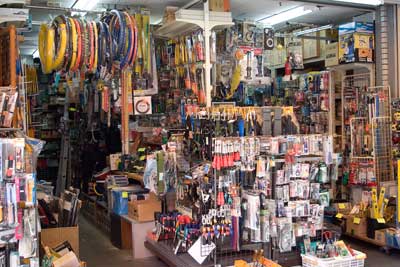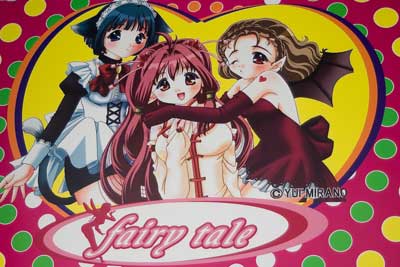 Two blocks down from Nipponbashi station, Den Den Town bears off to the west, and on the north side of this street you will find another kind of market in a covered walkway called Sennichimae Doguyasuji.
It is a 150 meter stretch crammed with restaurant supply stores, and like Kuromon Ichiba , it caters to retail as well as wholesale customers at very reasonable prices.
Anyone who lies somewhere along the continuum from rank amateur to seasoned professional chef will find it fascinating. When I bought my gas range there, the shopkeeper said in a confidential tone, "The box says, 'professional use only,' but don't worry. It will work fine at home."
Daijoubo: Osaka-shi Rosoku-ku, Nipponbashi 3-613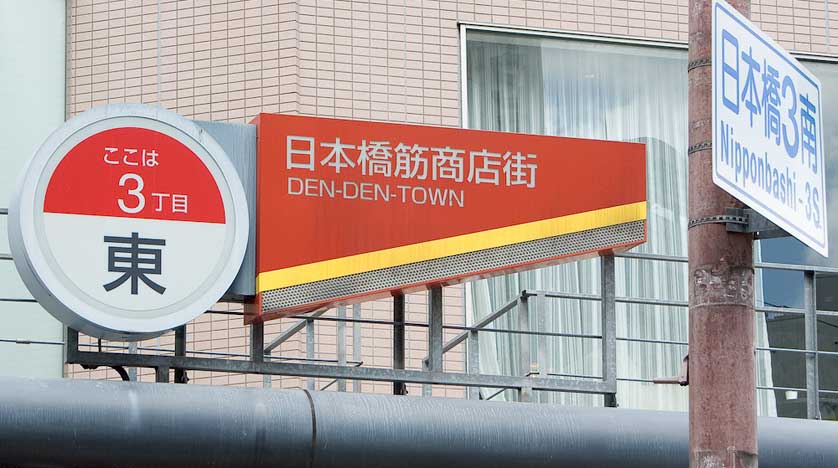 Nipponbashi Hotels
Hotels convenient for Nipponbashi are hotels in nearby Namba and include the Hotel Vista Grande Osaka, the Fraser Residence Nankai Osaka and the Hotel Monterey Grasmere Osaka.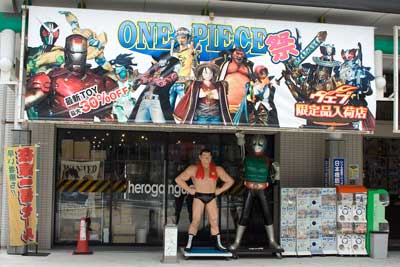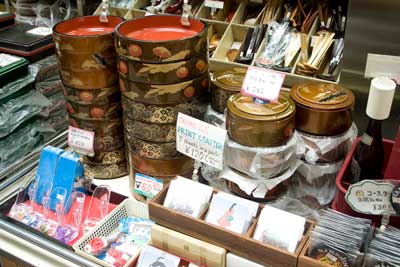 Access - how to get to Nipponbashi
Nipponbashi Station is two minutes from Namba on the Sennichimae Line of the Osaka subway. From Umeda take the Midosuji Line south and change at Namba Station. Nipponbashi Station is also on the Sakaisuji Line of the Osaka subway and the Kintetsu Line to Nara. Tsuruhashi is the nearest station on the Osaka Loop Line.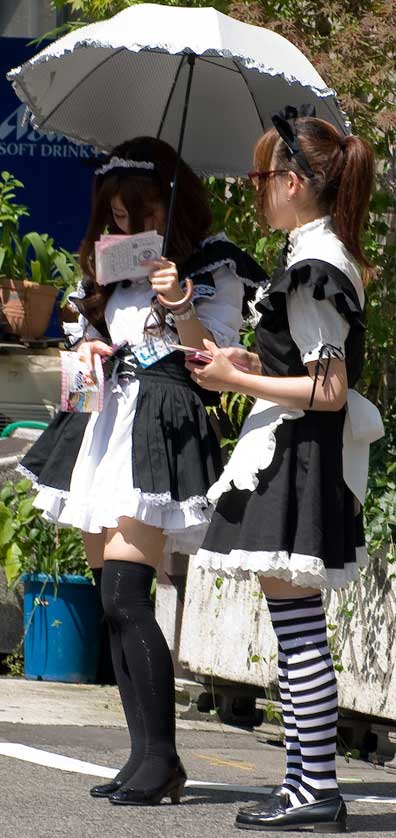 Maids touting for clients
Nipponbashi: read a guide to the Nipponbashi area of Osaka containing Den Den Town.
All the themes of the city