Shinsekai Guide
Shinsekai in south Osaka not far from Tennoji is a colorful and somewhat down-at-heel area of cheap restaurants and 80's style entertainments.
Osaka Guide: Shinsekai 新世界, 大阪
Naniwa Ward 浪速区
Johannes Schonherr
A wildly ambitious futuristic new entertainment area opened in southern Osaka in 1912 with a name to match: Shinsekai, translating to New World. The New World was partially modelled on New York, partially on Paris and at its center stood the Tsutenkaku Tower, a 64m high steel structure resembling the Eiffel Tower.
At the time, the Tsutenkaku was Asia's second highest building and it was connected to newly constructed Luna Park amusement center nearby via an aerial tramway, offering its passengers great views on the surrounding assemblage of fantastically shaped buildings.
Visiting Shinsekai must have been like visiting a mesmerizing dream, a visit of what Japan could be in the future, a place where the newest technologies of the West met the great ambitions of Meiji Japan in the setting of a fairy-tale-like cityscape.
Business thrived in the early days of Shinsekai and visitors flocked in from all over Kansai and beyond. The opening of neighboring Tennoji Zoo in 1915 added to the lure.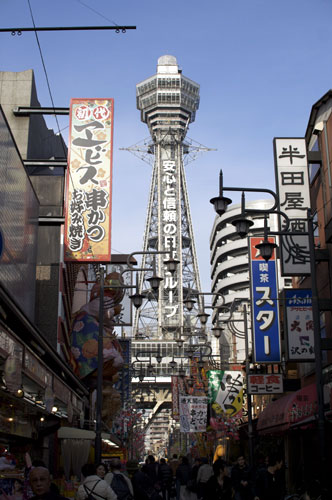 Tsutenkaku Tower, Shinsekai, Osaka
But even the most spectacular attractions can be short-lived. The glamor of Shinsekai faded very quickly. The public lost interest and Luna Park was forced to close in 1923.
In 1943, Tsutenkaku Tower was destroyed by a fire, and its remaining steel structure went to the steel mills to support the war effort.
Shortly after the war, Shinsekai received a new boost of popularity. People in Osaka needed a place to relax from the hard work of rebuilding the destroyed city. Nostalgic memories of Shinsekai as a fantastic attraction turned into a popular movement: Osakans wanted their Tsutenkaku Tower back.
In 1956, city hall gave in to the demands and a new Tsutenkaku Tower was erected, now 103 meters high, almost double the height of the original tower. On the ground below, the still existing old Shinsekai businesses were joined by new restaurants, cinemas and pachinko parlors. Soon, Shinsekai thrived again.
At some hard-to-pinpoint moment, however, possibly around 1980 or so, the area went into freeze-frame mode. That is to say that Shinsekai went on with its daily business just fine but that time simply seems to have stopped.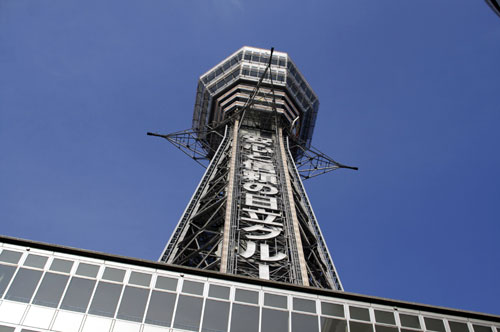 Tsutenkaku Tower, Shinsekai, Osaka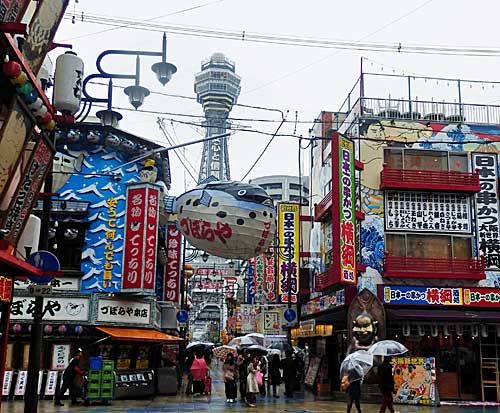 Shinsekai entertainment area with Tsutenkaku Tower and large fugu
Visit to a Time Capsule
Visiting Shinsekai today is like entering a time capsule. Not that that would be a bad thing. On the contrary, it explains today's continuing fascination with Shinsekai.
None of the fantastical fairy-tale-shape buildings of the initial days of Shinsekai seem to have survived. The only old architectural attraction remaining is the (new) Tsutenkaku Tower.
The spirit of the area however has hardly changed in the last 30 to 40 years. The streets of Shinsekai are densely packed with traditional Japanese restaurants tracing their traditions back to the beginnings of the area. Their overblown advertising outside is still decidedly 1960's in style.
Traditional Kansai restaurants dominate, offering local fare like takoyaki (small pieces of octopus in a wheat flour ball), okonomiyaki (Kansai pancakes) and especially kushi-katsu (deep-fried meat or vegetables on a wooden stick). The latter being the most famous specialty of the area.
Some of the smaller noodle restaurants are proud of still using the same soup broth they first concocted more than 80 years ago. They never exhaust the original broth when selling the soup, they add new water and new ingredients according to the original recipe, they store the broth in different pots when they need to clean the original one but the basic broth has never been changed.
When walking towards Dobutsuen-mae subway station, you enter a vintage arcade. It feels somewhat dingy and it's truly a relic from another time. There are small old-style food outlets right and left, takoyaki vendors, smoky old-style mahjong game parlors, one restaurant has an aquarium with living suppon turtles outside. Inside the restaurant, the suppon will be served.
Some of the eateries in this arcade have always long lines of customers waiting patiently outside. Other restaurants might be almost empty except for dinner times.
Those long lines do not mean that the food in those restaurants is any better than in the others around. They only indicate that the restaurant has been featured in a popular TV drama and that fans of the TV show line up to experience the moments their favorite TV characters went through.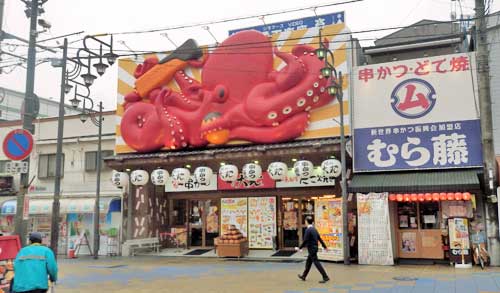 Aji no Daimaru takoyaki restaurant, Shinsekai, Osaka
Making your own Takoyaki
New restaurants settling in in the area follow the old formula: they offer an exciting but decidedly local experience. At the Aji no Daimaru restaurant, easily recognizable by the huge octopus replica dominating its front, you can make your own takoyaki.
Your group should be three or four people to make the most out of the experience. From the menu, you can choose a great variety of things that can go into your "takoyaki". The quotation marks are important here.
Real takoyaki means a small piece of octopus leg boiled in a ball of batter. Depending on your choice, your "takoyaki ball" might not be real takoyaki but it will certainly be real Shinsekai style. Here, you are free to choose whatever you want to go into those balls. Octopus? Squid? Shrimp? Cod roe? The menu provides a large selection.
Choose some ingredients you like and a gas-powered takoyaki cooking plate will soon arrive on your table. With it a bowl of batter and the various ingredients you ordered. Now it up to you to pour the batter into the holes on top of the cooker plate, to place the ingredients and to make sure that the result will be tasty little brown balls. Restaurant staff are always available if you have any questions.
No Modern Fast Food
There is a great variety of food available in Shinsekai, including fugu, the notorious poisonous blowfish. Most of it is strictly Kansai cuisine, though.
There are a few kissaten (Japanese coffee houses) offering ham sandwiches along with filter coffee but they too are part of the old Shinsekai. Dark, smoky places that haven't changed their menu since the days of the Osaka Expo in 1970.
Otherwise ubiquitous modern fast food outlets such as McDonalds or Mosburger never got established here and neither did the family restaurant chains such as Denny's or Jonathan's.
There aren't even any convenience stores inside Shinsekai though there are plenty on the streets surrounding the neighborhood.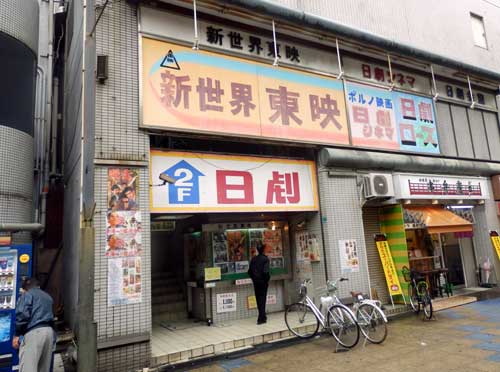 Shinsekai Toei Movie Theater, Osaka
Shinsekai Toei Cinema
Shinsekai is home to one of the last old-style grind house movie theaters in Osaka, running their films with almost no interruption around the clock, save for a break between 5am and 9am.
The Shinsekai Toei has three screening rooms and is open every day and night. Enter the second floor of the theater and you will find a counter selling DVDs and VHS tapes.
That's however not where you buy your theater tickets. You buy them from a ticket machine. The machine offers three categories corresponding to the three screening rooms: the push buttons marked yellow will get you tickets for the samurai movies on display, the blue buttons for the pink movies and the red buttons for the gay pink movies.
Pink movie theaters have become rare in Japan these days, gay pink movie houses are close to extinction. In Shinsekai, however, old traditions live on.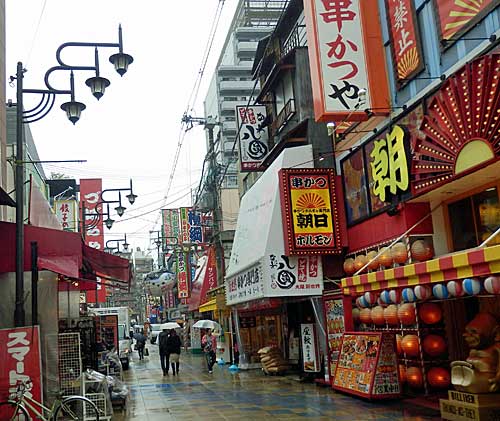 Shinsekai restaurant street on a rainy morning, Osaka
Cheap Hotels
The nameless wide street right on the southern end of Shinsekai, stretching from Dobutsuen-mae subway station to the Shin Imamiya Station on the Nankai Main Line, has in recent years been converted in to a strip of low budget hotels.
These are hotels catering to an international crowd of both backpackers and general budget-minded travelers with English-speaking reception staff. A single room in those hotels costs about 2500 yen per night, a double about 3800 yen. The hotels are basic, clean and safe - just don't expect much in terms of luxury.
Access - how to get to Shinsekai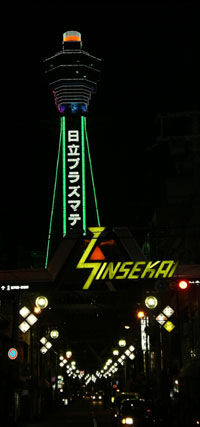 The Shinsekai area of Osaka is east of Tennoji Station in the Tennoji district of south Osaka. Shitennoji Temple is another big attraction in this area of Osaka along with the modern Harukas shopping mall housed in a huge, new tower at Abeno Station.
The nearby area of Kamagasaki in Nishinari-ku has a large population of homeless people and day-laborers. Tobita-Shinchi (Sanno 3-chome) is the largest brothel area in western Japan, where prostitution is more-or-less carried on in the open.
Getting to Shinsekai
Dobutsuen-mae Station on the Sakaisuji and Midosuji Lines, Ebisucho Station on the Sakaisuji Line.
Railway
Shin Imamiya Station on the JR Osaka Loop Line.
Shin Imamiya Station on the Nankai Main Line.
Aji no Daimaru Restaurant
Osaka, Naniwa-ku, Ebisu Higashi 3-1-15Tel: 050 5281 2243
Open daily, weekdays 11am - 10pm, Saturday, Sunday, public holidays 10am - 10pm
Price range: about 2000 yen per meal including drinks.
Web presence including full menu and prices: www.hotpepper.jp (in Japanese)
Book Hotel Accommodation in Osaka
Find Bars, Restaurants and Clubs in Osaka Japan
Osaka Entertainment Guide: bars, restaurants, clubs
All the themes of the city