Sasayama Guide Hyogo Prefecture
Sasayama Guide Hyogo Prefecture: Sasayama is a picturesque castle town with historic buildings and museums in Hyogo Prefecture, Japan.
Tamba Sasayama Guide 丹波篠山市
Jake Davies
Sasayama is a small castle town in the middle of Hyogo Prefecture.
While close to major tourist destinations such as Kyoto, Osaka, Kobe and Himeji, it has not seen a lot of foreign visitors as it does not lie on any main transportation routes.
This is beginning to change and more and more visitors are finding it a great place to explore and experience many aspects of traditional Japan without the overcrowding associated with more popular destinations.
Its growth in popularity has been largely due to a recent government program called Japan Heritage.
This in essence is trying to lure visitors, both domestic and international, away from the most well known sites and out into the regions.
Here, away from Japan's big cities, a wealth of sites already registered as National Treasures and Important Cultural Properties await the adventurous and intrepid traveler.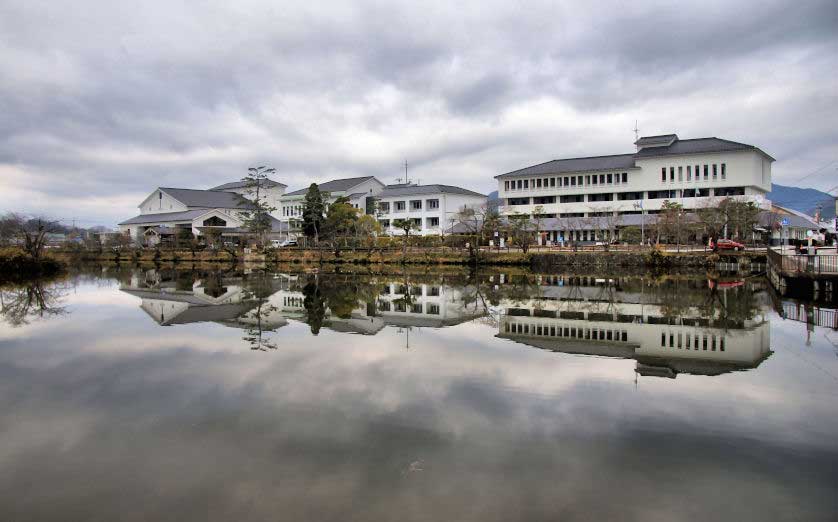 The town center of Tamba Sasayama reflected in the wide moat of the castle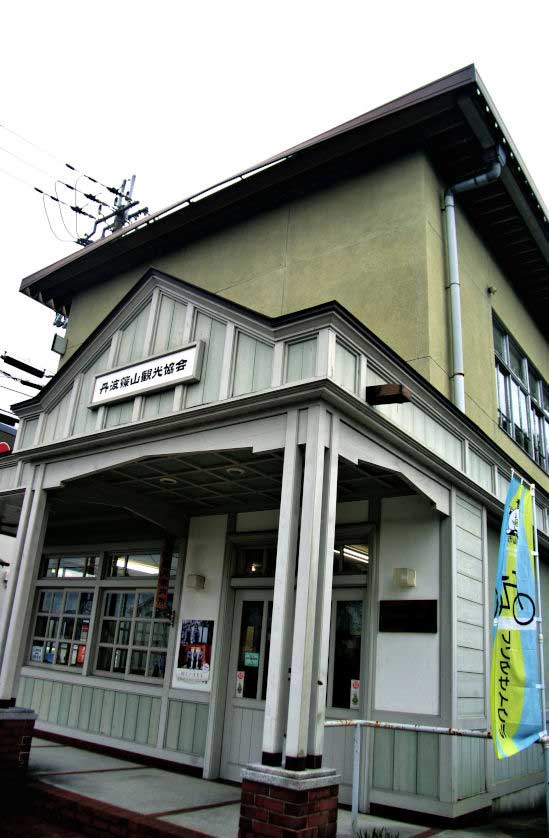 Sasayama Tourist Information Office in Sasayama, Hyogo
Sasayama History
Sasayama grew up around Sasayama Castle built here by Tokugawa Ieyasu in the early years of the 17th century.
Having been spared from any major industrial development, much of the town has retained the layout and architecture of the former times of the Edo Period.
The castle has no keep, actually one was never built, but the massive stone fortifications and large moats still exist and a huge "palace," the Oshoin, has been rebuilt.
Around the castle is a well preserved samurai district and the town still has a large merchant district with traditional white-walled storehouses and shops dating back several hundred years. These areas have been registered as a Preservation District for Groups of Traditional Buildings.
Tourist Information
There is a small Tourist Information Office not far from the castle, near where the bus from the railway station drops you off.
Here you can pick up maps and leaflets, though there is actually very little in English.
Sasayama Tourist Office97 Kitashinmachi, Tamba-Sasayama-shi, Hyogo 669-2332Tel: 0795 52 3380Open 9 am to 5 pm everyday.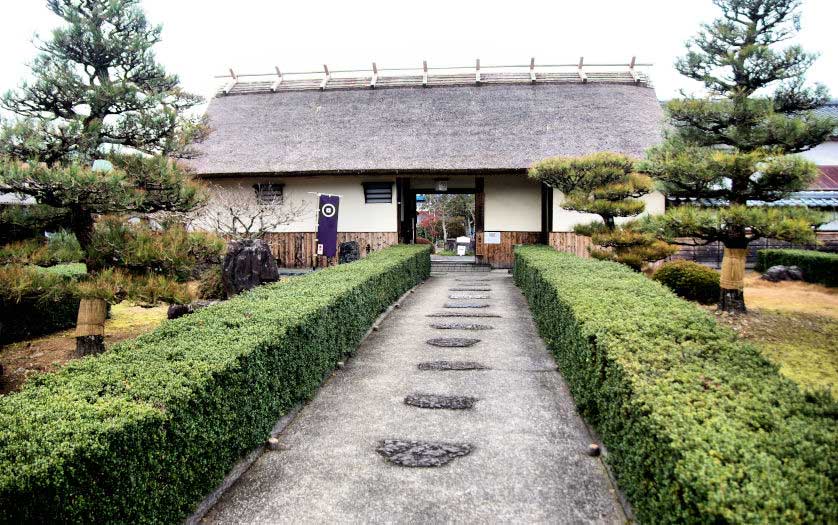 The Nagayamon, or "long gate", entrance to the Aoyama Historical Village in Sasayama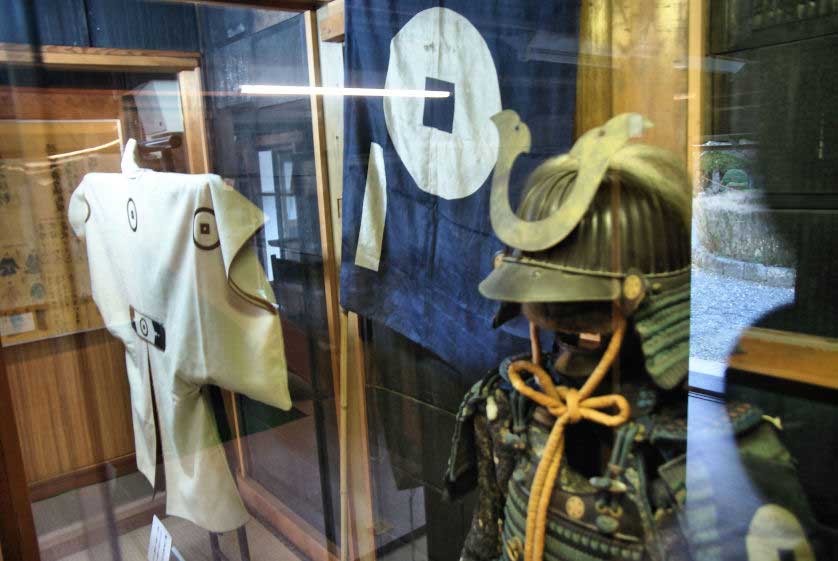 Displays of samurai armor at the Aoyama Historical Village in Sasayama

Aoyama Historical Village
More information in English can be picked up nearby at the Aoyama Historical Village.
The Aoyama were the lords of the castle and this was their secondary residence, their primary residence being across the moat within the castle.
On display in various buildings are historical materials relating to the castle and the Aoyama clan, including armor, clothing, documents and weapons etc.
There is a large collection of Chinese books which apparently are quite rare in Japan. One building has more modern types of displays and these are on Dekansho Bushi, a collection of local folk songs that are the focus of the Japan Heritage registration.
The Dekansho Bushi Festival takes place every summer during the Obon holiday, and on display in the room are videos of past festivals as well a lot of other materials in English relating to Sasayama.
Aoyama Historical Village48 Kitashinmachi, Tamba-Sasayama-shi, Hyogo 669-2332Tel: 0795 52 0056Open 9 to 4:30. Closed Mondays.Entry 300 yen for adults.www.withsasayama.jp (in Japanese)
There is a joint ticket that covers four different sites in Sasayama, the Aoyama Historical Village, the Oshoin Palace in the castle, the Anma Residence a former samurai home, and the Sasayama History Museum.
At 800 yen this gives a good discount if you plan on visiting all of them during your stay in the town.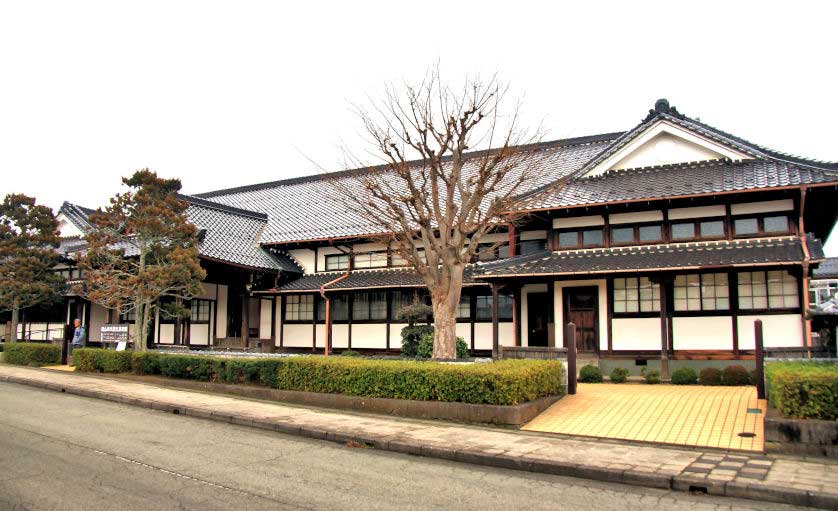 The Sasayama History Museum in a former courthouse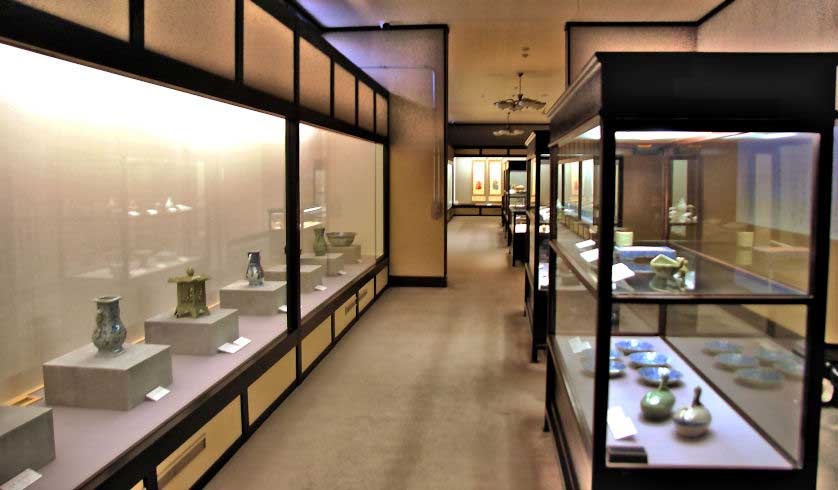 Historical arts and crafts on display at the Sasayama City History Museum

Sasayama City History Museum
The Sasayama City History Museum is housed inside a former courthouse built in 1891. This stylish, old building's interior is mostly dark wood, and the displays are fairly old-fashioned with lots of illuminated glass cases.
Though called a history museum, actually many of the displays are arts and local crafts. There are lots of folding screen paintings, hanging scrolls, etc as well as swords, fans, dolls, and ceramics etc.
Sasayama City History Museum53 Gofukumachi, Tamba-Sasayama, Hyogo 669-2322Tel: 0795 52 0601Open 9 am to 5 pm. Closed Mondays.Entry 300 yen for adults, or use the joint ticket mentioned above.withsasayama.jp/REKIBUN (in Japanese)
Hyogo Museum of Ceramic Art
Hyogo Museum of Ceramic Art is a new, large, modern museum devoted to ceramics of all kinds, although Tamba Yaki is given prominence.
The museum has a massive permanent collection of ceramic works that includes both international and domestic pieces, as well as historical and modern examples.
Special exhibitions and themed exhibitions are put on four times a year. The museum also houses many studios and workshops as well as seminar rooms.
Hyogo Museum of Ceramic ArtKamitachikui 4, Kondacho, Tamba-Sasayama, Hyogo 669-2135Tel: 0795 97 3961Open 10 am - 6 pm. Closed MondaysEntry to the museum is free but exhibitions have different charges.www.mcart.jp/global/en
Tamba Traditional Art Craft Park
Next door is the Tamba Traditional Art Craft Park, a large site that includes an exhibition area devoted to Tamba Yaki that includes works by 52 contemporary artists.
There are also studios and workshops where you can try your hand at making some pottery. There is a big shop selling local art and crafts, and a spacious restaurant.
Visitors can also see a working example of a Noborigama, a "climbing kiln," that steps up the hillside.
Tamba Traditional Art Craft ParkKamitachikui 3, Kondacho, Tamba-Sasayama, Hyogo 669-2135Tel: 0795 97 2034Open everyday, 9 am to 5 pm in the winter, 9 am to 6 pm the rest of the year.Entry 200 yen.tanbayaki.com/english
Both sites are accessible by bus from JR Aino Station on the Fukuchiyama Line, or in the summer only by bus from Sasayamaguchi Station.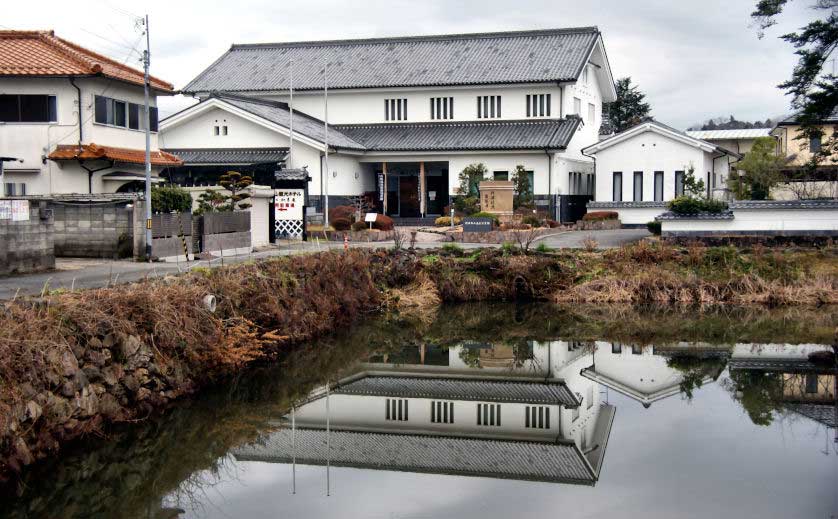 Alongside the castle moat in Sasayama is a small Sake Museum
Roasted chestnuts on sale along the main street of central Sasayama

Food & Drink
The Tamba-Sasayama area has long been known for it's local produce and food and drink.
There are numerous sake breweries still in operation, the most prestigious being Homei Shuzo.
Housed in 200 year old buildings, you can tour the brewery for free but sake production itself only takes place during the winter. Tastings and sake for sale are of course available.
Homei Shuzo73 Gofukumachi, Tamba-sasayama, Hyogo 669-2322Tel: 0795 52 6338Open 9.30 am to 5 pm. Closed Tuesdays.
Not far away is a small Sake Museum with displays of traditional equipment and tools.
Satoshi Tamba Brewery Memorial Hall1-5 Higashishinmachi, Tamba-Sasayama, Hyogo 669-2324Tel: 0795 52 0003Open 10 am to 4 pm. Closed on weekends and holidays during the wintertourism.sasayama.jp/association
Food Festivals
Various food festivals are held throughout the year with the major one being in October after the harvest. Tamba Beef, Tamba Rice and Tamba Tea are all touted, but the most well known local specialties are chestnuts, reputed to be the best in Japan, matsutake mushrooms, black beans, and Wild Boar Stew.
Access
Central Sasayama is a 30 minute bus ride from the closest train station, Sasayamaguchi on the JR Fukuchiyama Line. It is just over an hour from Osaka Station. The cheapest fare is 1,140 yen. Limited Express trains take 51 minutes but cost 2,630 yen.
By car Sasayama is easily reachable from Kameoka on National Highway 372 in about 1 hour. The town is also about 1 hour north of Kobe by car.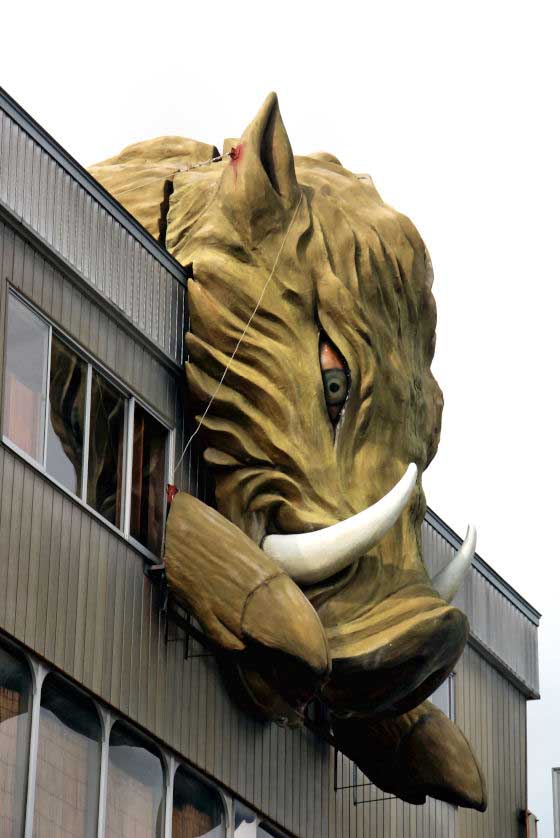 Wild boar stew is a speciality of the area around Sasayama in Hyogo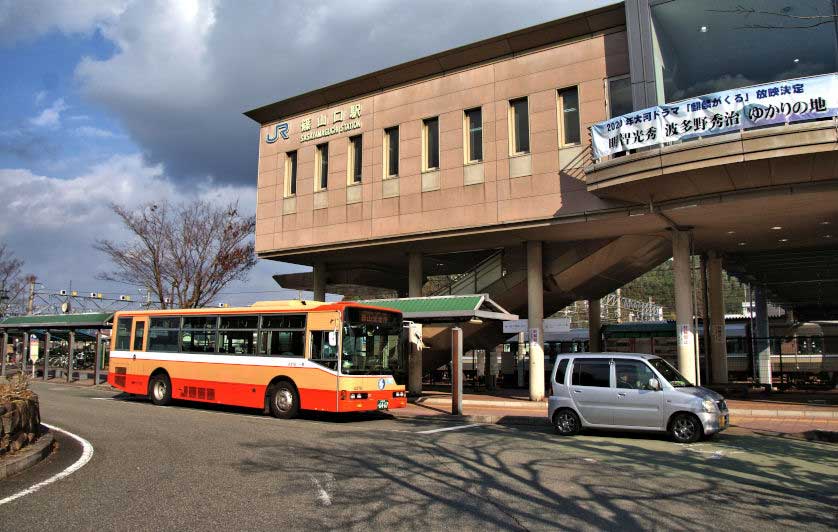 Local buses heading for central Sasayama from JR Sasayamaguchi Station

Book Hotel Accommodation in Japan Near Sasayama
All the themes of the city