Tondabayashi Guide
Tondabayashi guide: Tondabayashi in Osaka Prefecture includes the Jinaimachi district, a well preserved historic village that dates back to the 16th century.
Jinaimachi Tondabayashi City Guide 豊岡市
Jinaimachi, Tondabayashi City Guide
Jake Davies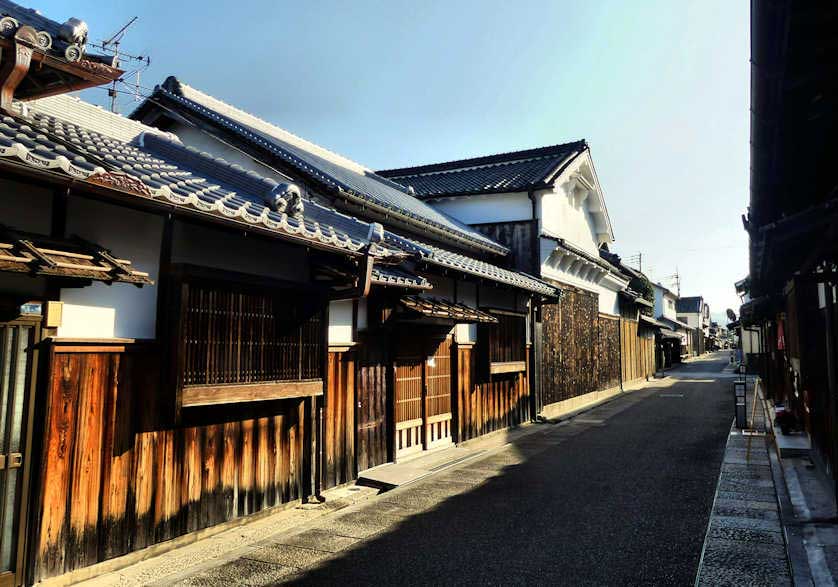 Jinaimachi is a 16th century merchant town that still retains much of the architecture from earlier times
Jinaimachi is a well preserved historic village that dates back to the 16th century that is now completely surrounded by 20th century modern urban sprawl, but which still offers a slice of history and glimpses of a time gone by.
Located in Tondabayashi, in southern Osaka, an area of the Kansai region that is largely under the radar for most tourists but was actually an important area in ancient and medieval Japan.
Sakai, the most important port in Japan in historical times is not far away, and across the pass through the mountains to the east are the Kashihara and Asuka areas where in many senses Japan originated.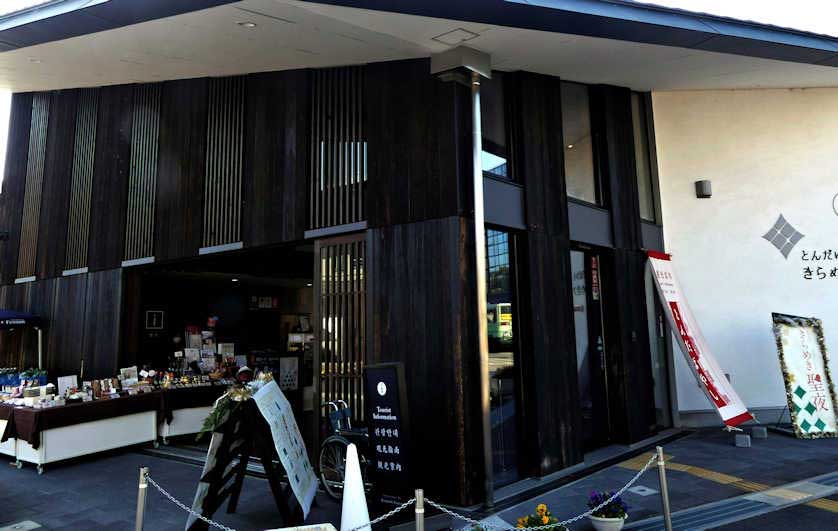 Tondabayashi Tourist Information Office is the best place to start your exploration of the town
Jinaimachi
Jinaimachi has about 150 buildings that date back to the Edo, Meiji and Taisho periods, and so offers an excellent opportunity to wander streets that have little changed since the time of the samurai. It is not surprising that the area has been registered as an Historic Preservation Area for Groups of Traditional Buildings.
During the Edo Period the town was classed as a Zaigomachi, a merchant town in the countryside, and its wealth was made by trade in lumber, cotton, oil and sake.
It was established earlier during the waning years of what is known as the Sengoku Period, or the Warring States Period in Japanese history.
In collaboration with Koshoji Temple in Kyoto, a group of village headmen from the area established a branch of the temple and built the town around it. This branch temple, Koshoji Betsuin, still stands today in the middle of the town.
During these turbulent times when centralized political power had withered, defense was a primary concern, and the town was built with this in mind.
Defensive earthworks were built along the riverbank, and small moats were built in some spots, however the main defensive feature were groves of bamboo, which are well nigh impossible to penetrate.
The town was laid out on a grid plan with 6 streets oriented north-south, and 7 oriented east-west. The original defensive features have long since disappeared, but the town layout has not changed, which is one of the reasons it was chosen as preservation district.
The best place to begin is probably the Tourist Information Office located in a modern building just across from Tondabayashi Station and at the northern edge of Jinaimachi itself.
Here you can pick up pamphlets and leaflets in English, but most useful will be the walking map of the town. In English, this shows the optimal route to meander through the town and pass by all the important sites and landmarks as well as giving background information and details about what you can see. The center also has a wide range of local souvenirs as well as events and festivals in the area.
19-8 Honmachi, Tondabayashi, Osaka 584-0093Tel: 0721 24 5500Open 10 am to 9 pm every day.
The streets are atmospheric and of course offer anyone who has an interest in traditional Japanese architecture many examples to view and study, lots of tile roofs, white-plaster walls, and dark wood. For many it is the interiors rather than the exteriors that are of most interest, and there are several properties in the town that can be entered.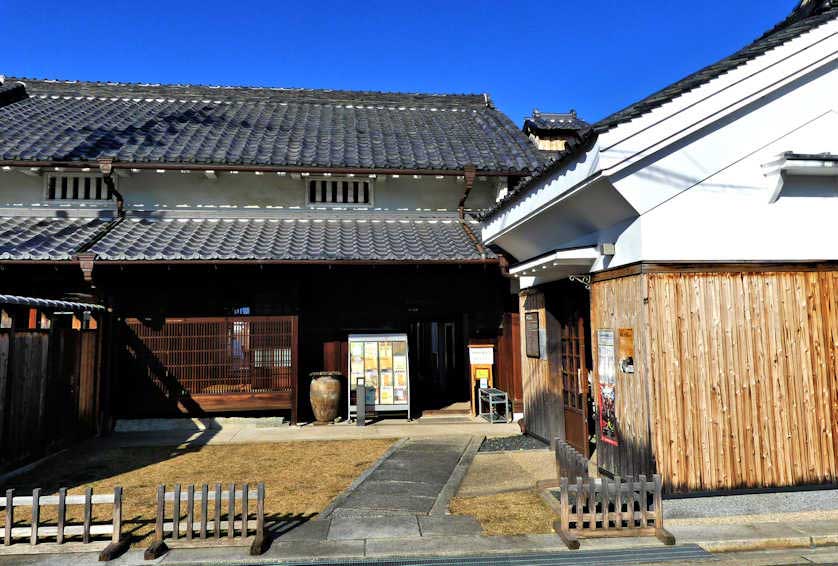 The former Tanaka Family Residence in Jinaimachi is open to the public and free to enter
Former Tanaka Family Residence
The Former Tanaka Family Residence was built in 1875 and is unusual because it is not a machiya, townhouse, but rather built in the style of a wealthy farmer's residence.
It was donated by the family to the town who has renovated it and opened it to the public. Throughout the rooms, which contain examples of furniture and storage units, etc there are diagrams and photos on the walls showing plans and construction methods. It is free to enter and the volunteer staff are particularly friendly and helpful.
7-2 Honmachi, Tondabayashi, Osaka 584-0093Tel: 0721 25 6771Open 10 am to 5 pm. Closed Mondays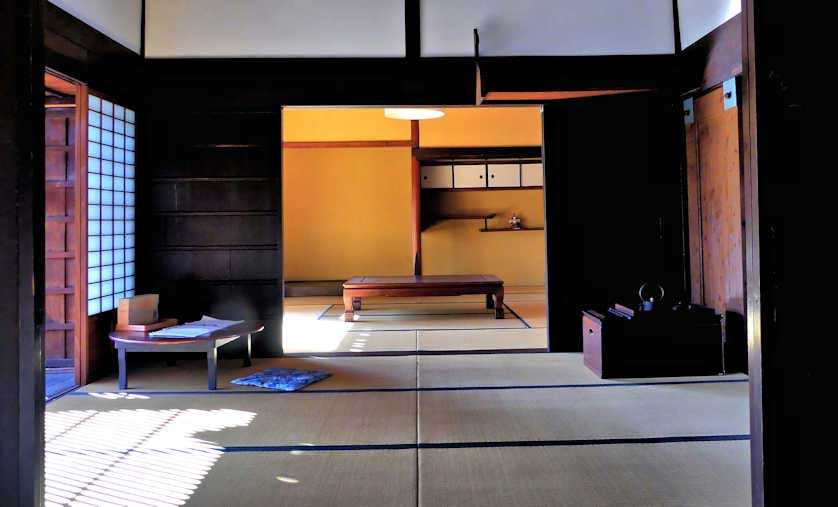 Interior of the Former Tanaka Family Residence in the Historical Preservation District of Jinaimachi in Tondabayashi
Jinaicho Center
The Jinaicho Center is a kind of information center as well as a place to sit and rest where there are various displays on the history of the town.
15-4 Tondabayshicho, Tondabayashi, Osaka 584-0033
Tel: 0721-25-1000Open 10 am to 5 pm. Closed Mondays.
The Jinaimachi Kouryukan Center is similar to the Jinaicho Center, and at both places you are likely to bump into local people, as both centers also function somewhat as community centers. Both are free to enter.
9-29 Tondabayshicho, Tondabayashi, Osaka 584-0033Tel: 0721 26-0110
Open 10 am to 5 pm. Closed Mondays.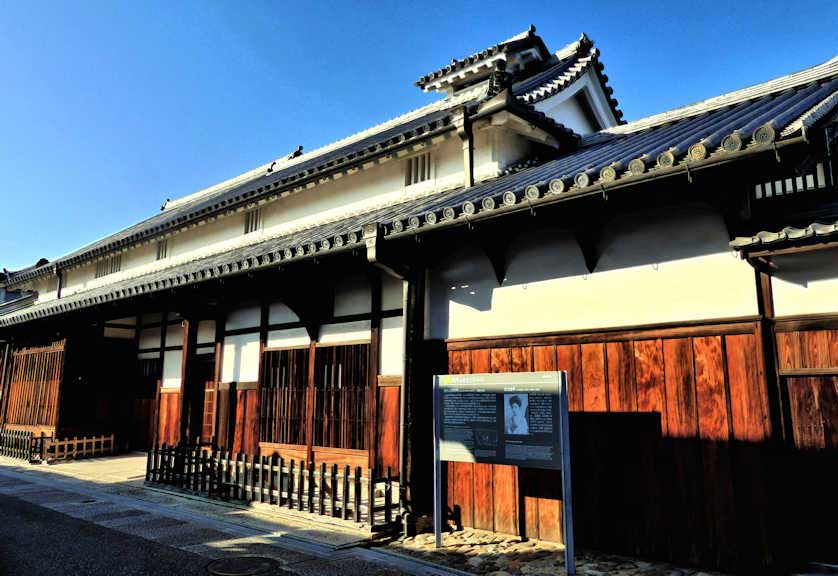 Entrance to the Sugiyama Mansion in Jinaimachi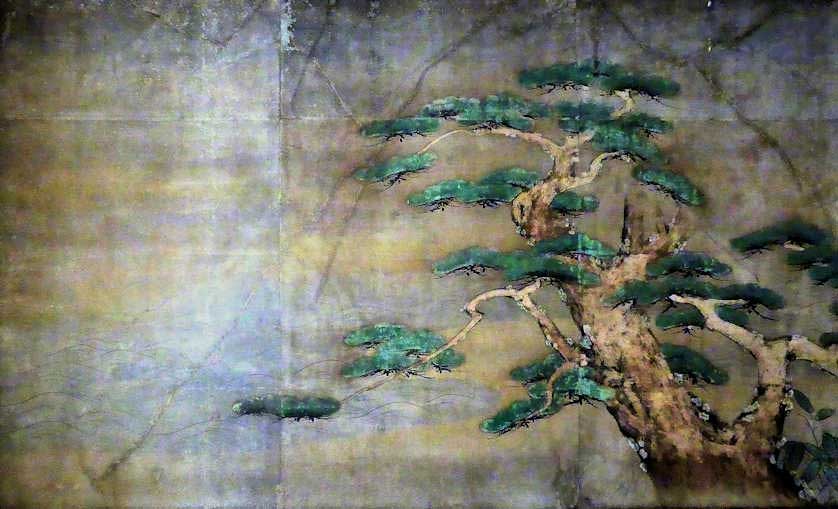 One of the many paintings on display in the Sugiyama Residence in Jinaimachi
Sugiyama Residence
The most impressive property in Jinaimachi is undoubtedly the Sugiyama Residence. The Sugiyamaa family was one of the original eight families that built Jinaimachi and obviously became very wealthy, initially trading in cotton, and then later brewing sake.
If their property was owned by a samurai or an aristocrat it would be classed as a manor house. Both floors of the structure can be explored and there are many examples of painted screens and doors. The property also has large gardens that can be viewed from different angles at the rear of the building.
14-31 Tondabayashicho, Tondabayashi, Osaka 584-0033Tel: 0721 23 6117Open 10 am to 5 pm. Closed Mondays
Entry 400 yen for adults, 200 yen under 15's
Most of the historical residences in the town however are still lived in and cannot be entered but all the features of their architecture are on display and can be appreciated.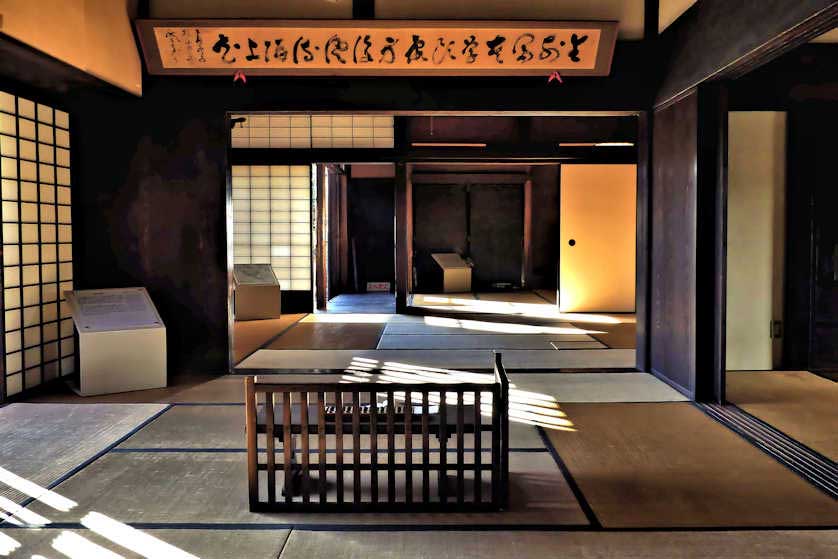 Interior of the Sugiyama Family Residence in Tondabayashi
Great Peace Tower
At various spots in Tondabayashi, and while journeying to the town, you will not fail to see a most curious structure.
The Great Peace Tower look as if it has appeared out of some science-fiction story. 600 feet, 180 meters, tall, and called Dai Heiwa Kinen To in Japanese, it is a cenotaph dedicated to all victims of war.
It was constructed by PL Kyodan, a new religion founded in the 1920's in Japan and known as Perfect Liberty in English. It claims to have branches in other countries outside Japan.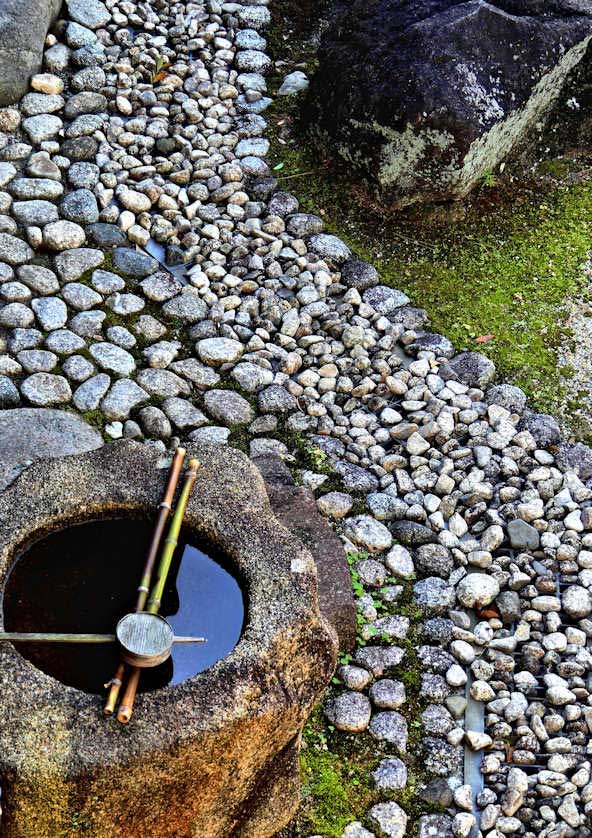 Detail of part of the garden of the wealthy Sugiyama merchant family
Access
Jinaimachi is located just 200 meters south of Kintetsu Railways Tondabayashi Station. Tondabayashi Nishiguchi Station is a little to the southwest of Jinaimachi. Tondabayashi is about 30 minutes from Tennoji, or 50 minutes from Osaka Station.
Tondabayashi is also the venue of one of the world's largest fireworks festivals in August.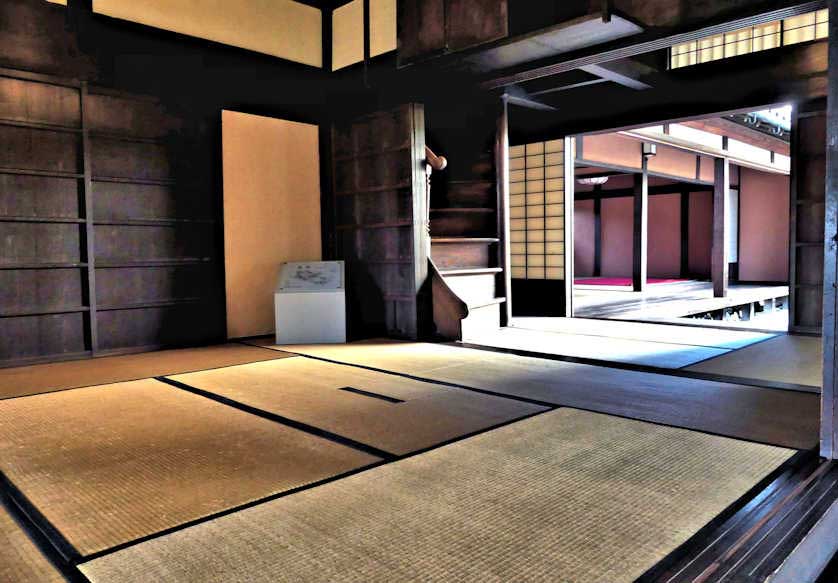 Rooms in the rear of the Sugiyama Mansion look out onto gardens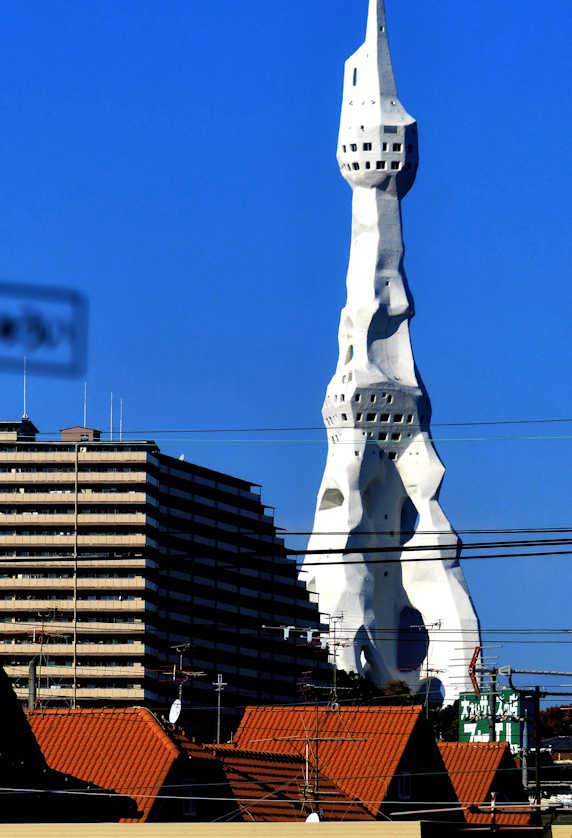 Dai Heiwa Kinen To, an unusual 180 meter high white tower in Tondabayashi
All the themes of the city