Aizen Matsuri
愛染祭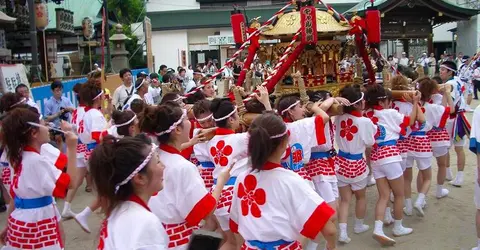 Japanese fete
Summer is synonymous with festivities in the country of the rising sun. At the beginning of the hot weather, the Japanese go out dressed in yukata (light cotton kimono) and take part in big events.
Aizen Matsuri is one of those good-natured fetes where, more than for purely religious reasons, locals get together to enjoy themselves. Multiple stands line the streets with food stalls, and games where you have to try to catch crabs and even turtles in a paper bag to attract as much good fortune as possible. The temple celebrated from June 30th to July 2nd is Shoman-in Aizen-do. Aizen-Myoo the matchmaker and happy marriage deity is revered there.
The festival began when the girls of the pleasure district went to the temple and prayed to find their ideal match. Exceptionally, during Aizen Matsuri, the statue of Aizen-Myoo can be seen by the public. Go check it out between two performances of traditional dancing or before dusk, where the illuminated lanterns take center stage.
---
Address, timetable & access
All the themes of the city