Keitakuen Garden
Keitakuen Garden, Tennoji Park, Osaka 慶沢園天王寺公園 大阪市
Jake Davies
If ever the cliché of "an oasis in a concrete jungle" applied, then Keitakuen Garden in the Tennoji district of south Osaka would be it. Located behind the Osaka City Museum of Fine Art in Tennoji Park, it is a delightful garden that is not so well known and therefore gets relatively few visitors.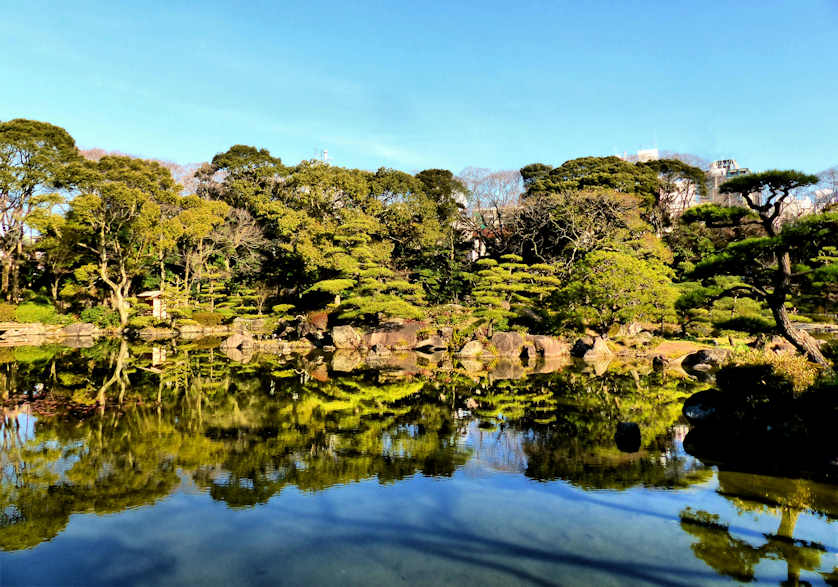 The large pond at Keitakuen Garden in Tennoji Park, Osaka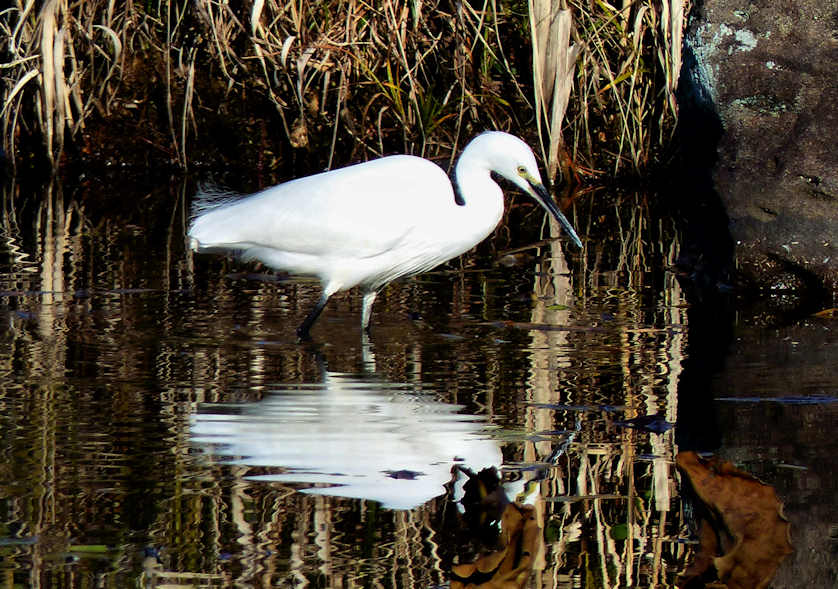 An Egret looking for breakfast in the pond at Keitakuen Garden, Tennoji Park, Osaka
Keitakuen Garden is a quite large, stroll type garden (Kaiyu-shiki-teien in Japanese) centred on a large pond. Keitakuen was built for the very wealthy Sumitomo Family, merchants and industrialists who made their modern fortune with the Besshi Copper Mine on Shikoku.
The building that now houses the Museum of Fine Art was their main family home in Osaka and the garden was attached to it. Both the house and garden were donated to the city of Osaka by the family in 1926. The garden was designed by Ogawa Jihei (the 7th), (1860 to 1933) who many consider a pioneer of modern Japanese garden design.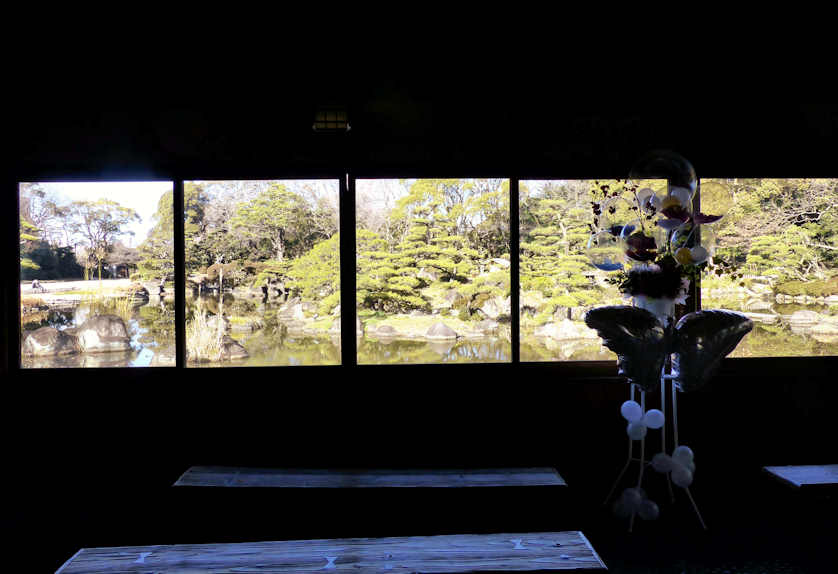 Time for a rest and to enjoy the view from the waterside pavilion at Keitakuen Garden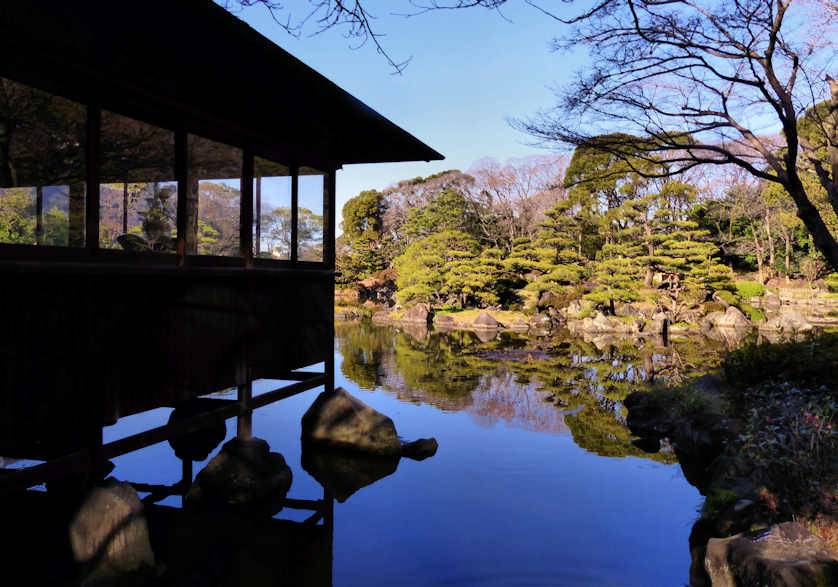 The pavilion and pond at Keitakuen Garden
His "artist" name was Ueji and he designed many gardens, especially in the Okazaki area of Kyoto, and perhaps his most well known one is the garden at Heian Shrine.
He specialized in stone and water, and both are very much in evidence here at Keitakuen. The large pond has a small island and there are several bridges of different types. The pond contains carp and turtles and other aquatic creatures, and numerous birds make visits including herons and egrets. There are also obviously many insects throughout the year.
The gardens contain over 200 types of plants and trees including Japanese apricot which blooms from February to April, cherry blossoms from March to April, azaleas in April and May, also in May the irises flower. There are water lilies in the pond from May to July, and, of course, the maples change their color in November.
Many of the plants and trees have small signs which include English, and upon entry you are given a map and pamphlet which is available in English or Chinese as well as in Japanese. There is a small tea-house, a gazebo, and a pavilion over the water, a great place to rest and enjoy the view.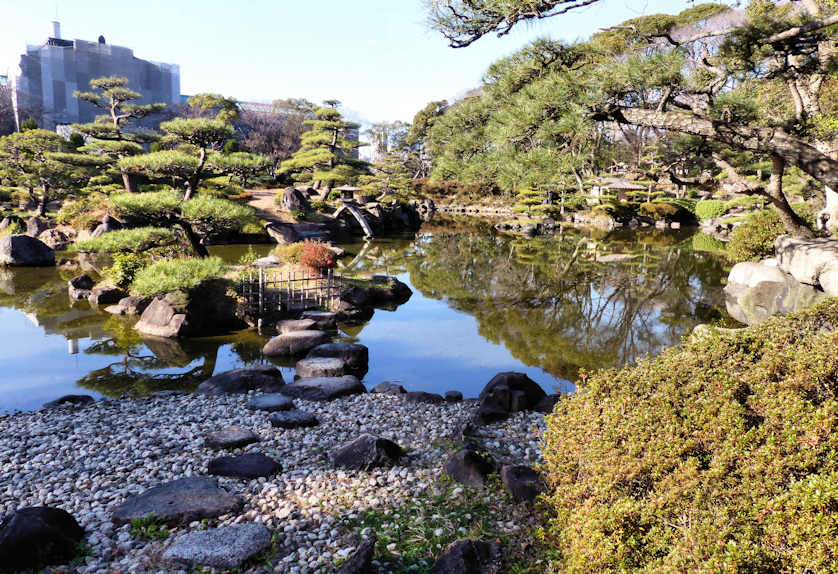 A small island and beach in Ketakuen Garden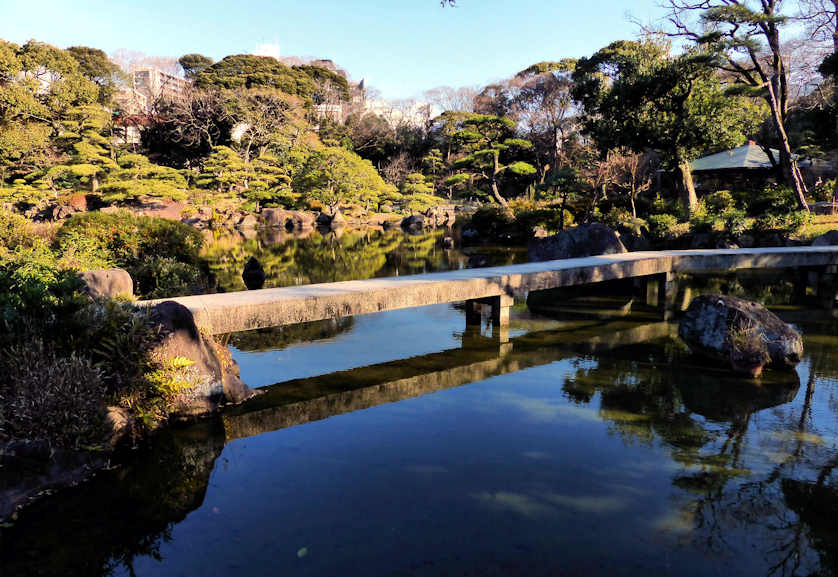 One of the bridges across the pond in Keitakuen Garden
Access - how to get to Keitakuen Garden
Tennoji Garden (www.city.osaka.lg.jp)
1-82 Chausuyama-cho
Tennoji-ku, Osaka City 543-0063
Tel: 06 6771 4874; Fax: 06 6771 4856
Hours: 9.30 am-5 pm (last entry 4.30 pm); Closed Monday (Tuesday, if Monday is a holiday). Open until 8pm on weekends and National Holidays for much of the year outside of winter.
Admission: Entry is only 150 yen (free for over 65's)
Access: JR Loop Line, 400 meters from the Chuo Exit of Tennoji Station
Exits 15 & 16 from the Tanimachi Line and Exit 5 from the Midosuji Line of the Osaka subway.
West gate of Kintetsu Abenobashi Station and the city bus Abenobashi and Tennoji Ekimae stops on the Hankai Uemachi Line.
Parking: Parking space for 500 cars (parking space for 9 buses)
Discount for the disabled: Free (A certificate required)
Discount for the aged: Osaka city residents older than 65 years old are free of charge
Around Osaka City Museum of Fine Arts & Keitakuen Garden
Other places to visit in the vicinity of Keitakuen Garden include Tennoji Park, Tennoji Zoo, Abeno Harukas, Shinsekai and the Tsutenkaku Tower, Shitennoji Temple and Isshinji Temple.
Books on Osaka
Recommended books on Osaka include the Offbeat Guide to Osaka and Exploring Osaka: Japan's Second City by David M. Dunfield.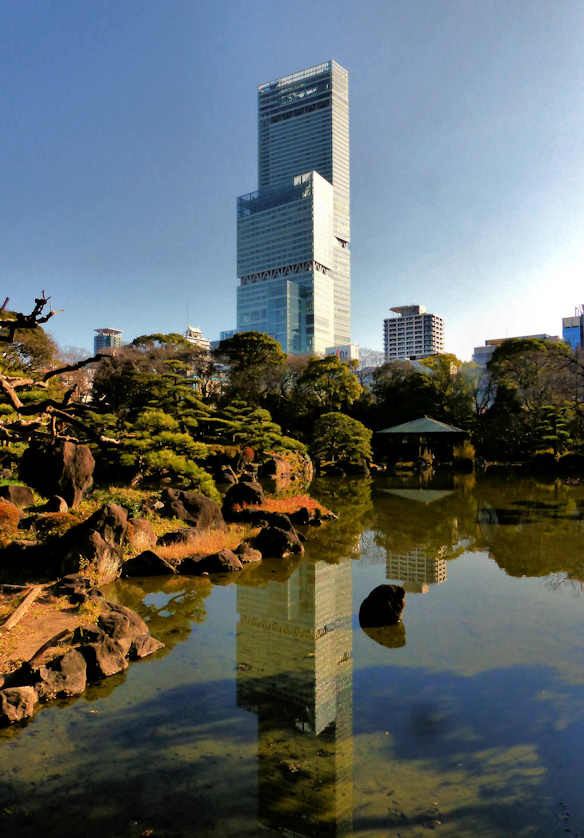 Abeno Harukas, the tallest building in Japan is reflected in the pond at Keitakuen Garden in Osaka
Keitakuen Garden in Tennoji Park, Osaka, behind the Osaka City Museum of Fine Art is a beautiful garden designed by master gardener, Ogawa Jihei.
All the themes of the city