South Hepburn
サウス ヘップバーン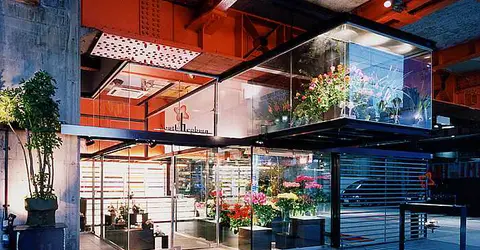 Happiness flowers
At this fashionable florist in Osaka, plants and their beautifying petals, evanescent splendors, brighten up the lives of travelers.
The flower arrangements from South Hepburn would not have left Audrey, the actress who played Eliza Doolitle, unmoved. In My Fair Lady (1964) by George Cukor, the frail saleswoman wanted to rise to the height of elegance of her flowers.
Here, there is no need for labels to detect the subtleties of pansies (panji) or other hydrangeas (ajisai) and chrysanthemum (kiku) symbols of the Emperor. The futuristic architecture, bathing the stands in light, immediately catches the eye. Composing your own bouquet with finely selected stems can make your purchase even more enjoyable. For green fingers, Dipladenia seeds make it possible to reproduce the flowery paths of Japanese gardens at home.
Ephemeral artwork or a thank you gift for a local meeting, South Hepburn's compositions delight. An opportunity to seize the impermanence of things dear to Buddhism.
---
Address, timetable & access
All the themes of the city