Hōzen-ji
法善寺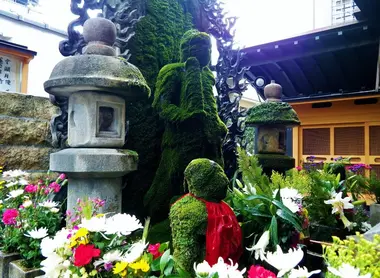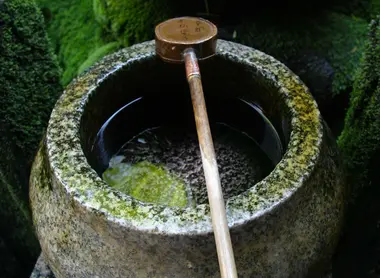 Obscure allée du désir
Entrele grésillement des néons et la frénésie du quartier de Dôtonbori se trouve uneruelle à l'écart du temps : la Hôzen-ji Yokochô, gardienne de l'âme duvieil Osaka.
On a building corner, lanterns replace regular lighting, pavers provide shade to the asphalt. Traditional taverns offer the culinary specialties of the city to the hungry. Pictures of okonomiyaki (Japanese pancake salt) and Kushiage (skewer of vegetables and fried meat) show you the way to go.
Atmosphere, atmosphere
Between the bars and shops, the small temple of the Pure Land sect of Jodo, Hozenji, stands modestly. In its center, the celebrity of the neighborhood, the statue of Fudo-Fudō, one of the five kings of the Buddhist pantheon of science, associated with fire and anger, looks very peaceful under a blanket of moss. Vendors who pour water over their shoulders before working, tipsy guests who sprinkle where they can all participate in the maintenance of these silky fleece plants lit by the dim light of dozens of lanterns.
The writer Sakunosuke Oda (1913-1947) immortalized in his novel Meoto Zenzai (1939) the special atmosphere of the place. Those familiar with the language of Shakespeare can not wait to dive into the soft darkness of the Hozenji yokocho because the book was translated into English under the title "Sweet Bean Broth for Two."
---
Address, timetable & access
All the themes of the city